This salad is full of goodness...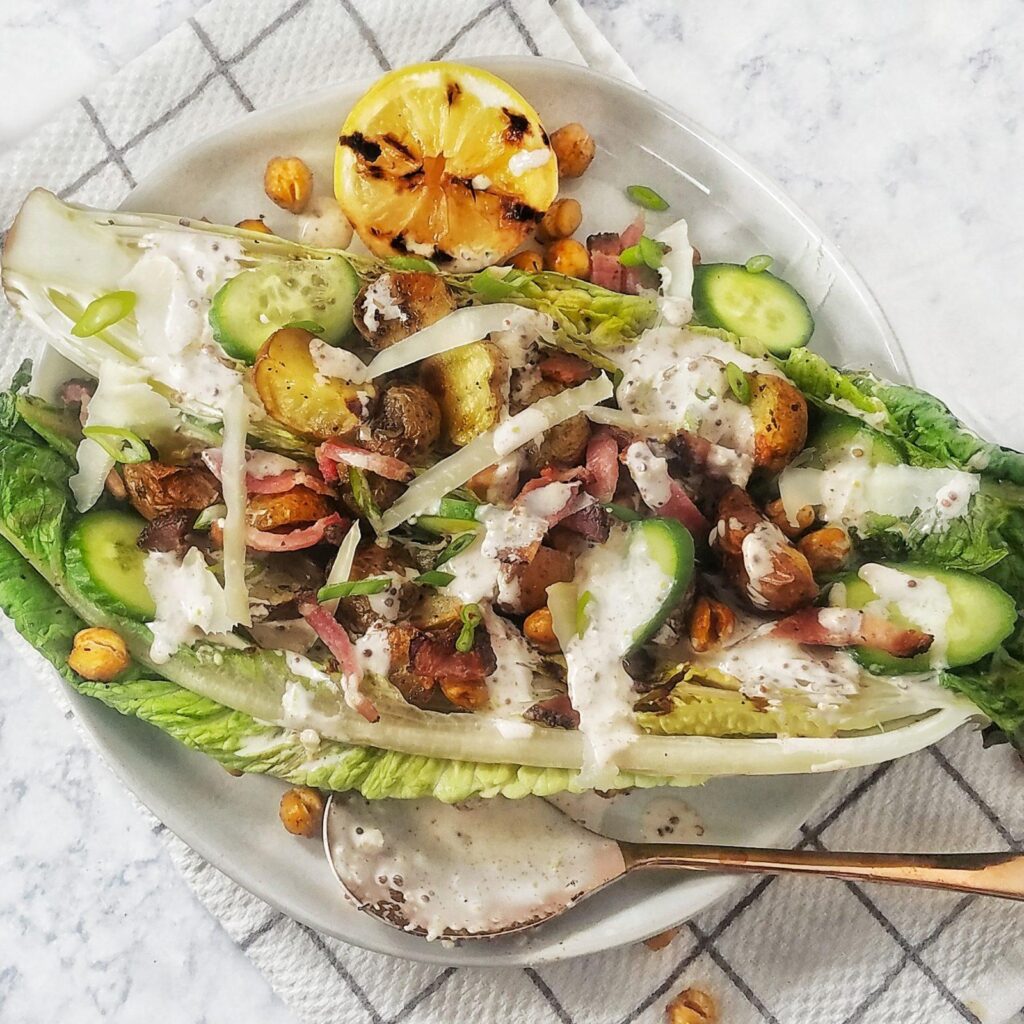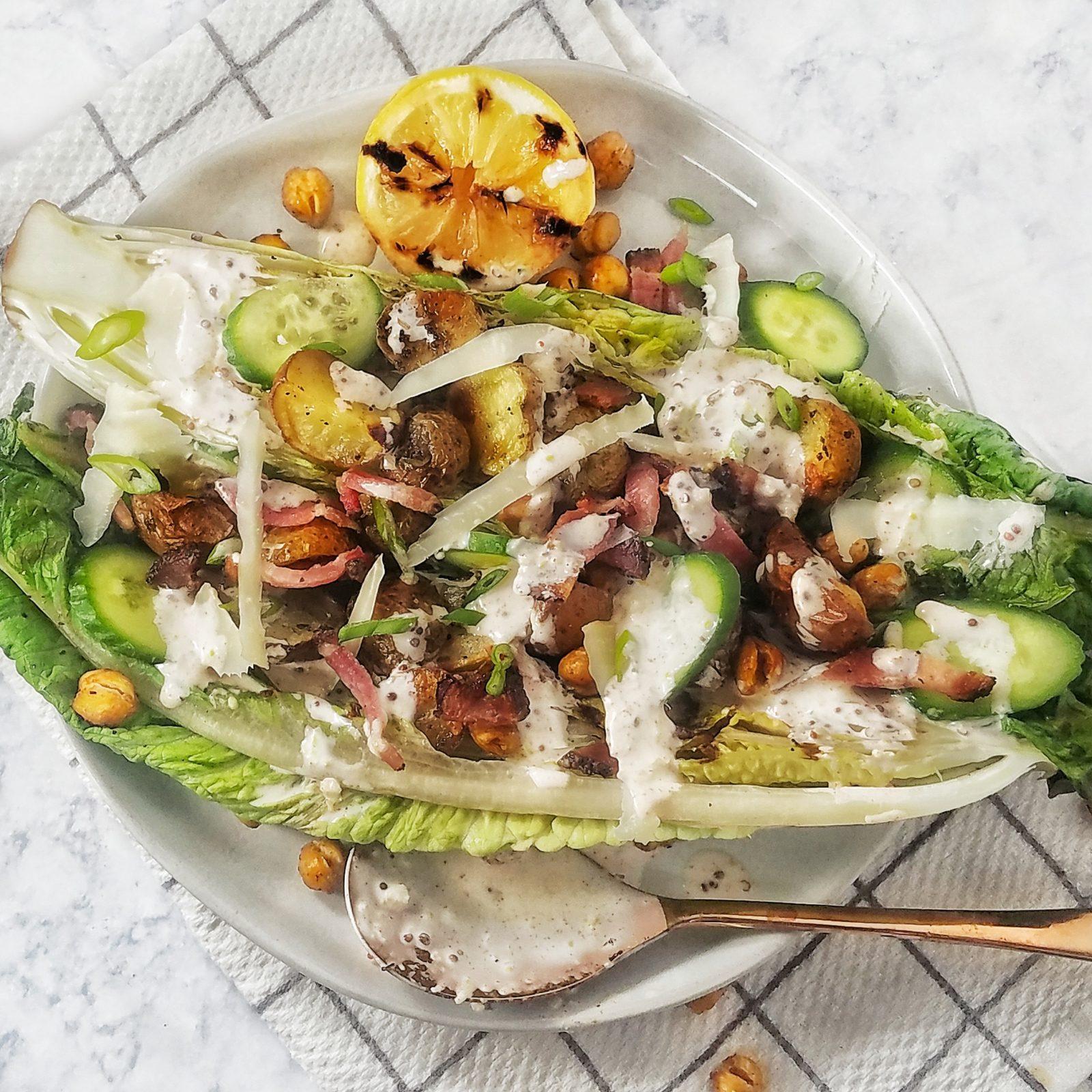 Salads need a lot of texture, and this salad has it. There are two ways to make this lovely salad.
Traditional - chop everything up and throw it into a bowl.
Grill the romaine lettuce - err... what? Ya, you read that right... Grill the lettuce. Romaine is perfect for this because it's nice and hardy. Not only are the grill marks beautiful, but it'll also add unexpected texture and smokey taste. Trust me, it'll impress your guests and your taste buds. *wink*
You'll love this recipe because it's...
Crispy
Crunchy
A little spicy
Simple
Actually satisfying...
---
Hello Crispiness...
In this salad, I decided to use chickpeas instead of croutons. I love the texture it brings to this salad. Plus, it's healthier than traditional croutons.
For the beans, I followed the minimalist baker's recipe for actually crispy chickpeas. The minimalist baker "...share[s] plant-based recipes requiring 10 ingredients or less, 1 bowl, or 30 minutes or less to prepare. All eaters are welcome." Check her out, you won't be disappointed!
Basically, you will dry your chickpeas very well, discard any skins, and toss in a tablespoon of oil. Roast on 350 degrees Fahrenheit for about 45 mins. Once they are out of the oven, toss with one teaspoon of seasoning; I chose paprika. As the chickpeas cool, they will continue to crisp up. To view the whole recipe, click the link above.

Prepping your ingredients...
In addition to the chickpeas, I roasted fingerling potatoes. I prefer a mix of golden, red and purple. If you can find purple potatoes, it really adds something extra. I cut the potatoes in half and tossed them in one tablespoon of oil, a teaspoon of dried herbs, and a large pinch of salt and pepper, and salt.
I know, most of us keep the potatoes and salad separate but let me tell you something, incorporating potatoes into a salad is a match made in heaven. Also, it makes a beefier salad; therefore, way more satisfying. Once the chickpeas and potatoes have finished cooking, set aside to cool.
Now let's continue "beefing" up this salad with some crispy bacon, cucumber, red onion, scallions, and cheddar cheese.17 Regardless of what method you use to fry the bacon, make it crispy, then crumble it. As for the vegetables, slice them thinly. When it comes to cheese, I prefer to use a vegetable peeler to create thin, wide strips.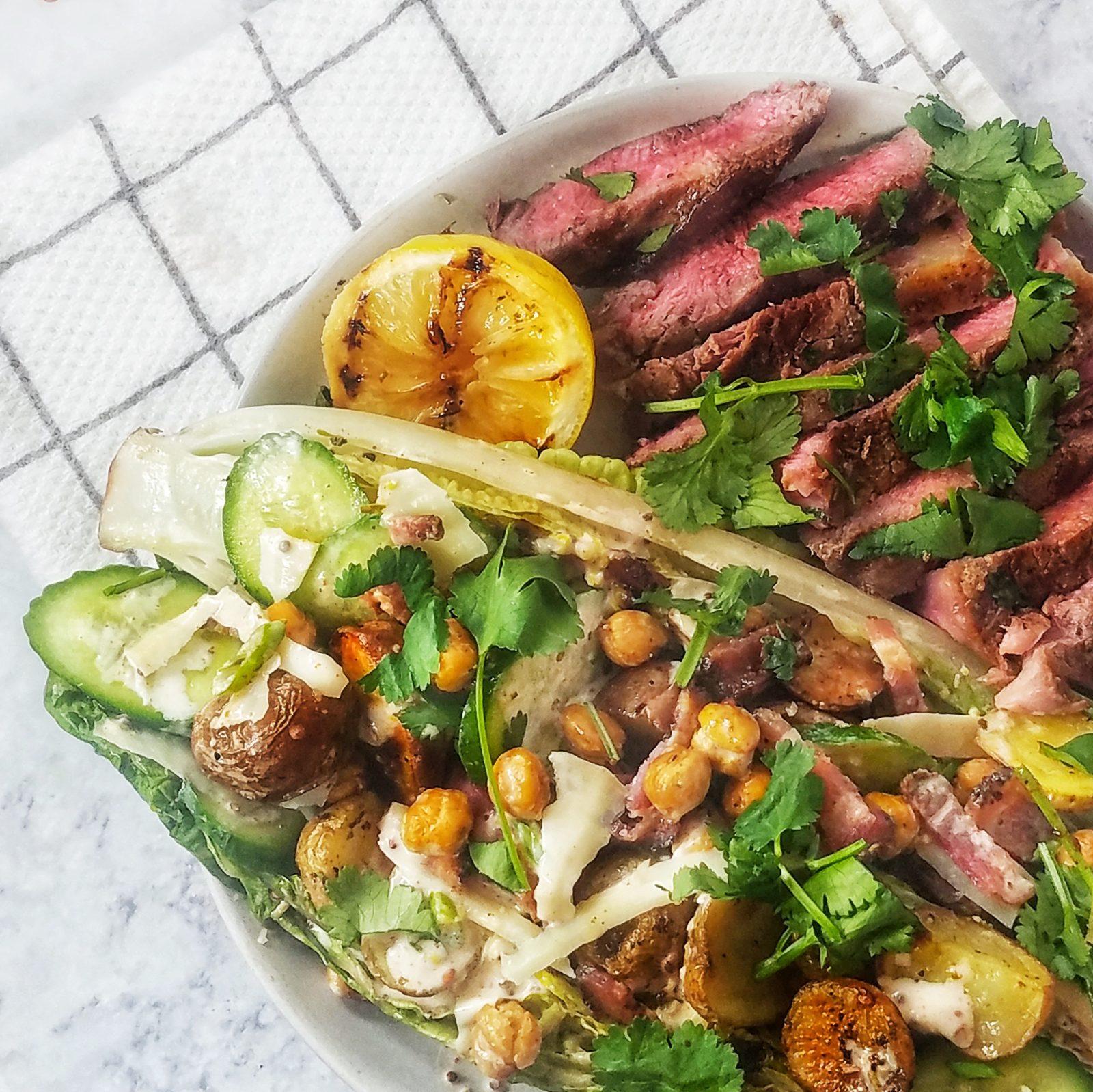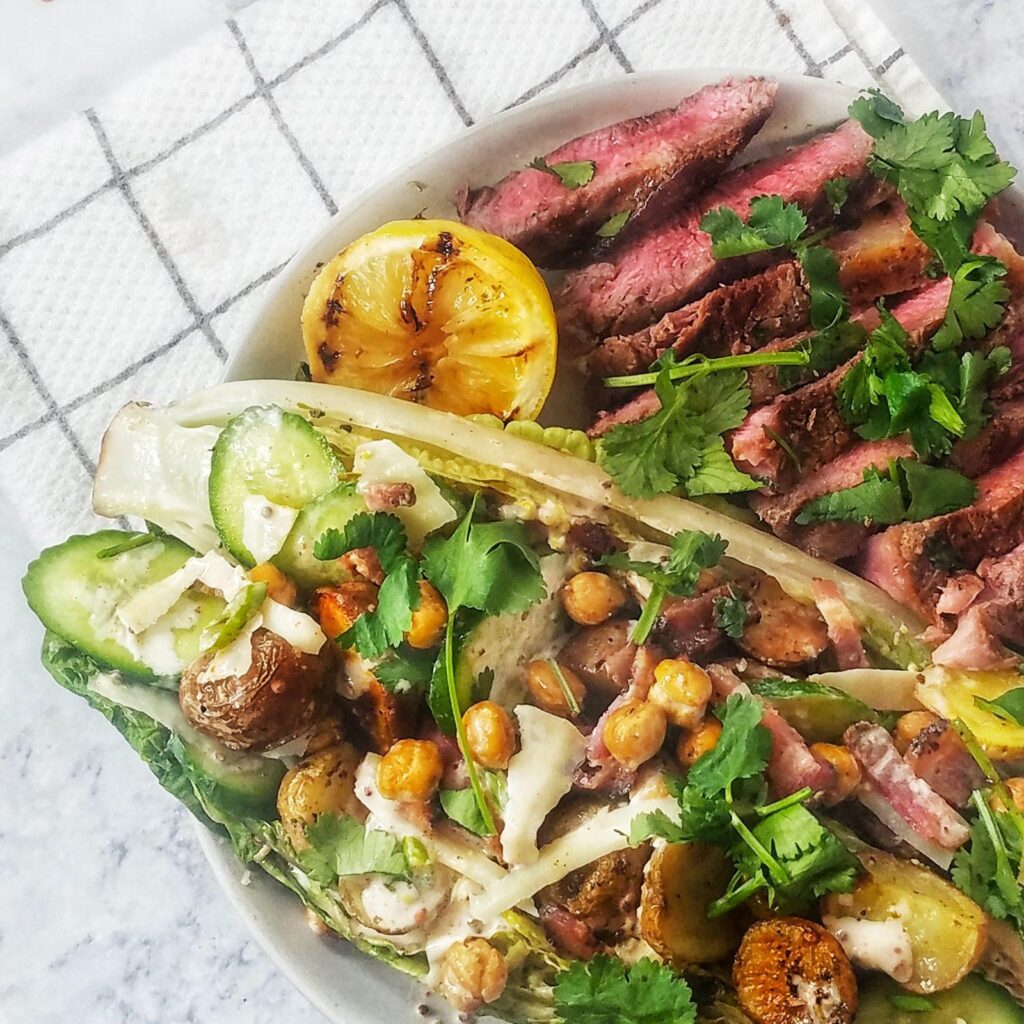 It isn't a salad without dressing...
While the chickpeas and potatoes are roasting, make the dressing and base of your salad. In a sixteen-ounce mason jar, add all salad ingredients except for water. Cap and shake the jar, then thin with water to the desired consistency. Season with salt and pepper if needed. The leftover dressing will keep in the fridge for about a week.
Check out the recipes below for more ways to use this dressing. I have made this dressing in several different ways including using fresh thyme which I highly recommend, but it's not necessary.
The main components of this dressing are the mayo, stone-ground mustard, horseradish, lemon, olive oil, and water. However, to be honest, I've done it without the olive oil, too. You can really mix and match with different herbs and spices. Even a good squeeze of sriracha will give this simple dressing some punch.
Pro tip: If you decide to grill the romaine, grill the lemon, too. It will caramelize the lemon, and give it a sweeter-like bite.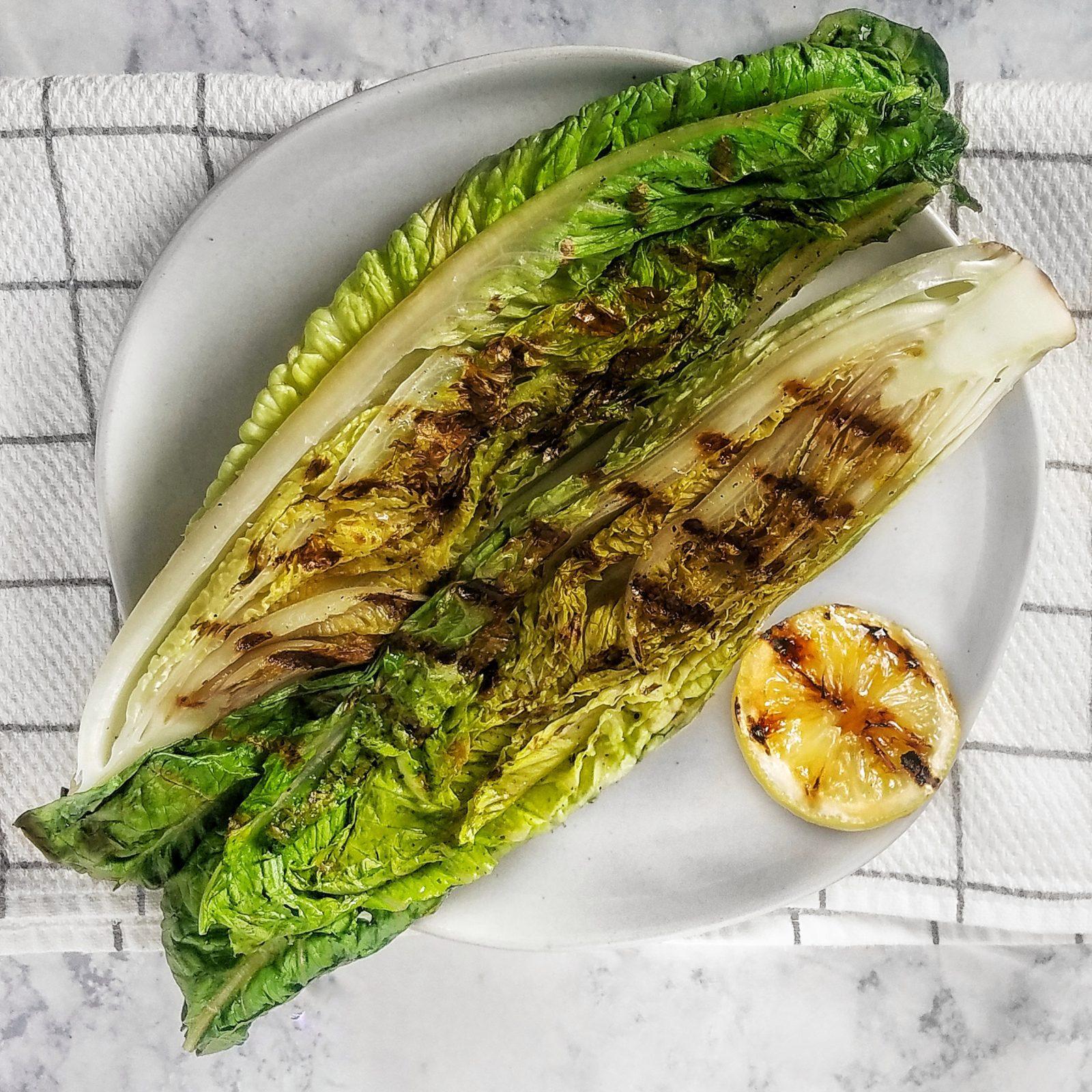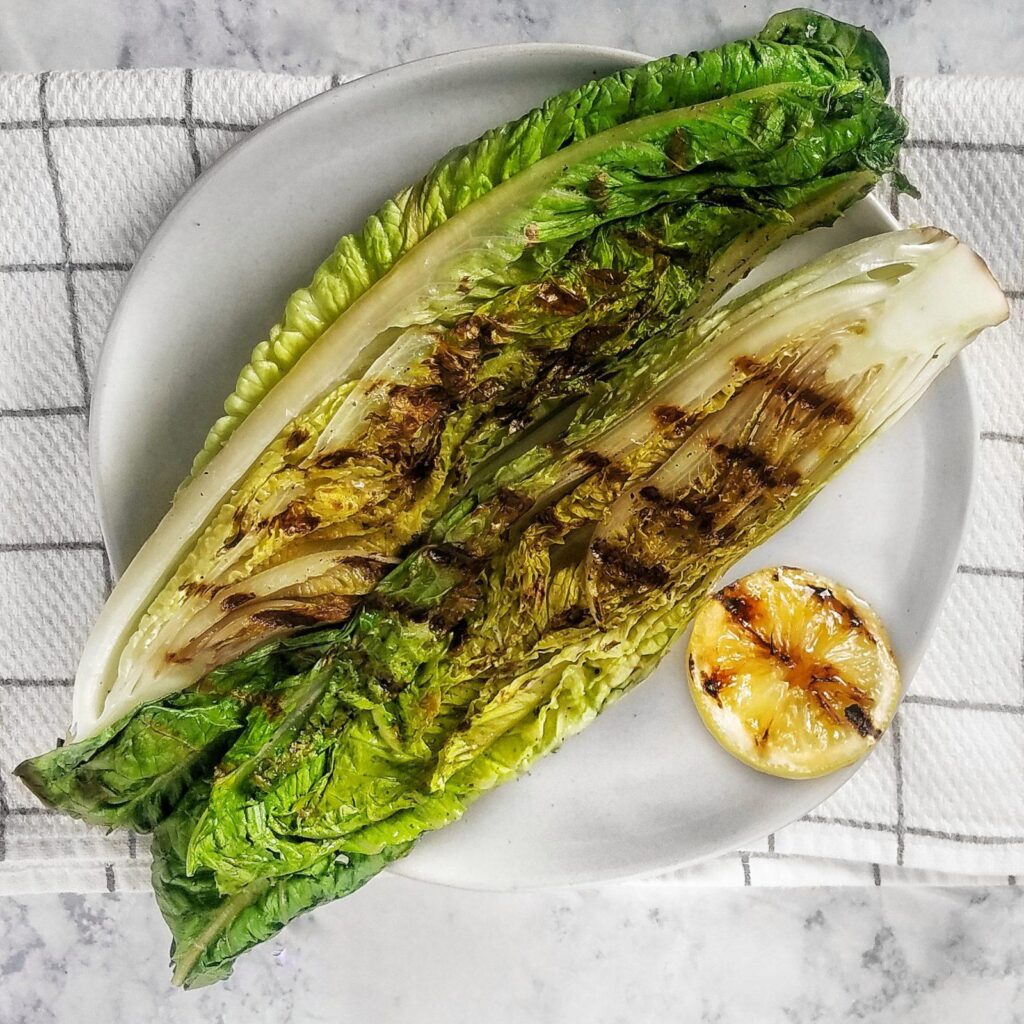 Tell me more about this grilled lettuce...
Honestly, just try it. There is something so satisfying about a good wedge salad. Plus, It doesn't take a whole lot more of your time, especially if you are already using a grill (I use a cast iron grill plate #apartmentliving).
Start by cutting the romaine hearts lengthwise, leaving the bottom intact. This is important because it will keep the lettuce from falling apart. Brush the cut side with olive oil and season with salt and pepper; then, place the cut side down onto a hot grill. Set a plate on top of the lettuce to ensure good contact with the grill. Leave it on the grill plate for a couple of minutes.
Once the romaine has nice, black grill marks on it, remove and set aside. Grilling the salad is not necessary, but it is highly recommended. Give it a go and tell me what you think.
If you decide to go the traditional route, try mixing in some baby spinach, kale, arugula and swiss chard for extra nutrition and a bump in color.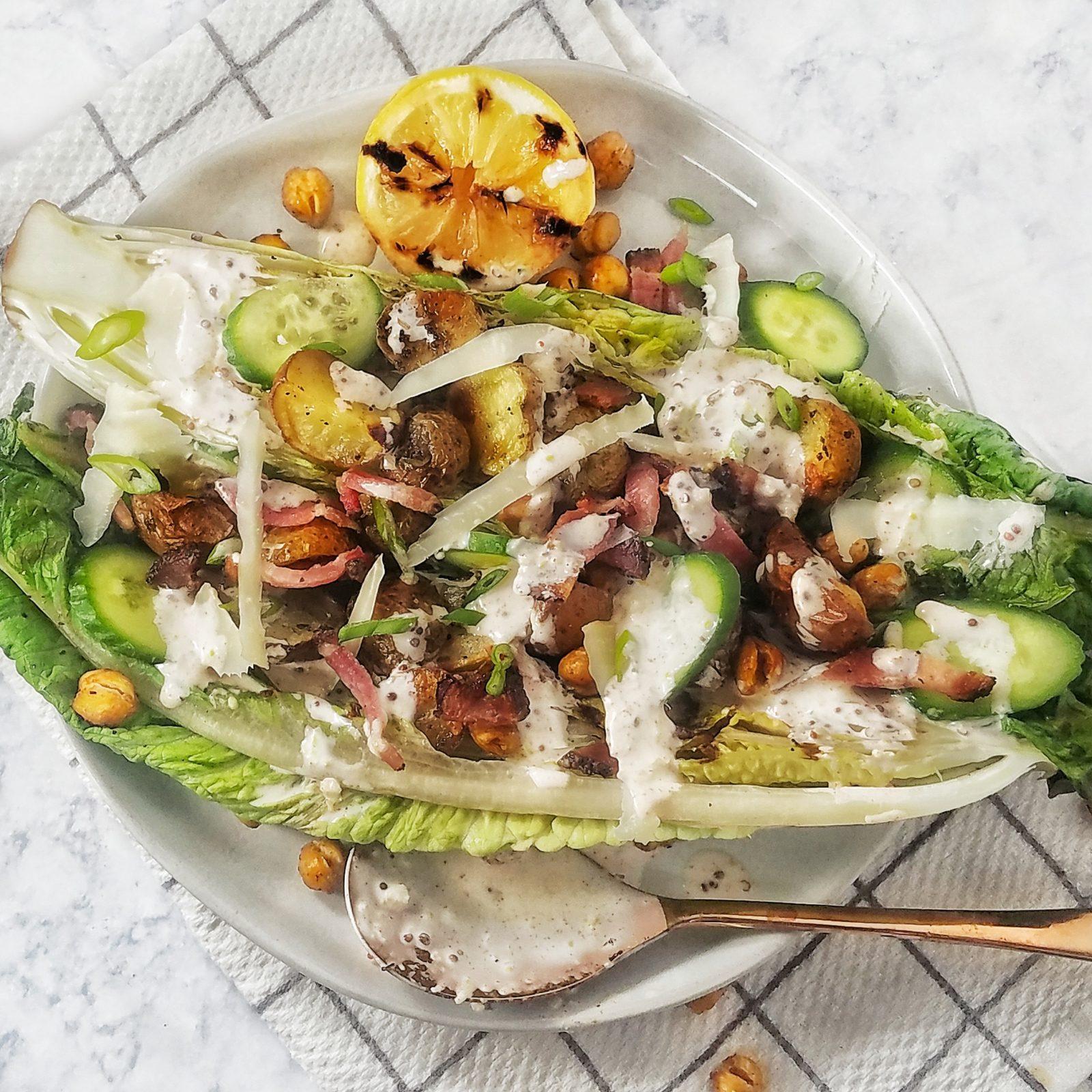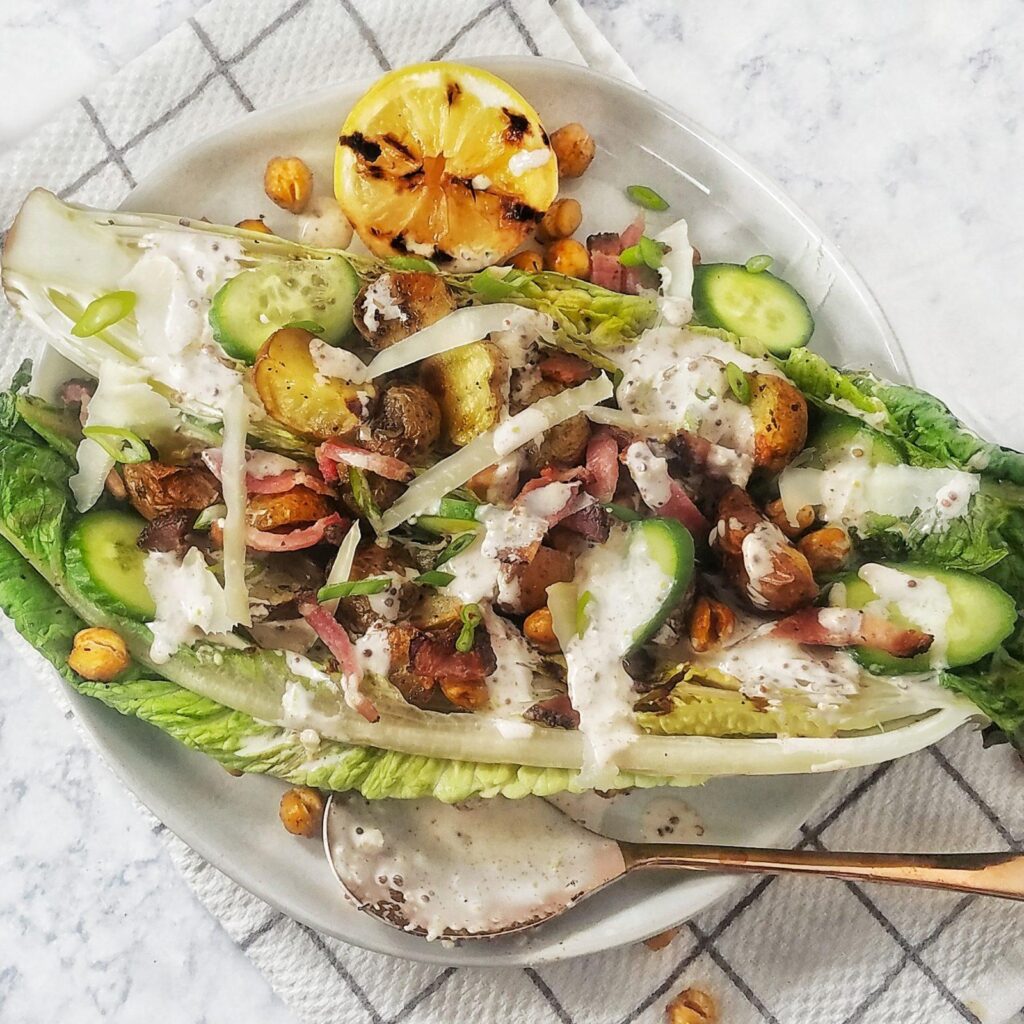 Assembling the Salad
Plate the halved romaine and top with chickpeas, potatoes, cucumbers, scallions, red onions, shaved cheese, and creamy dressing. Serve this wedge salad immediately.
---
Craving more? Use up that dressing with this recipe...
Here are some other recipe(s) I think you might enjoy…
---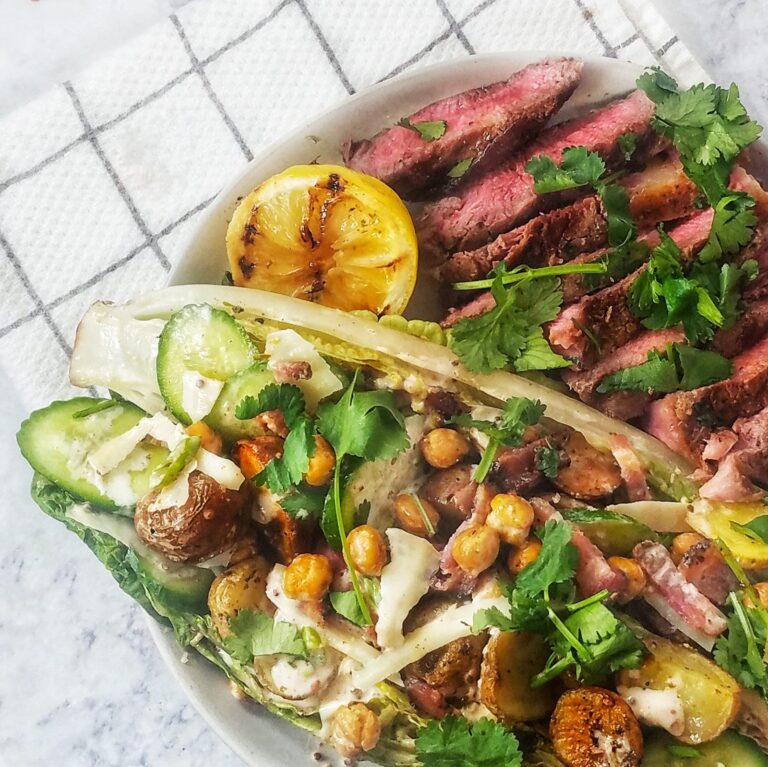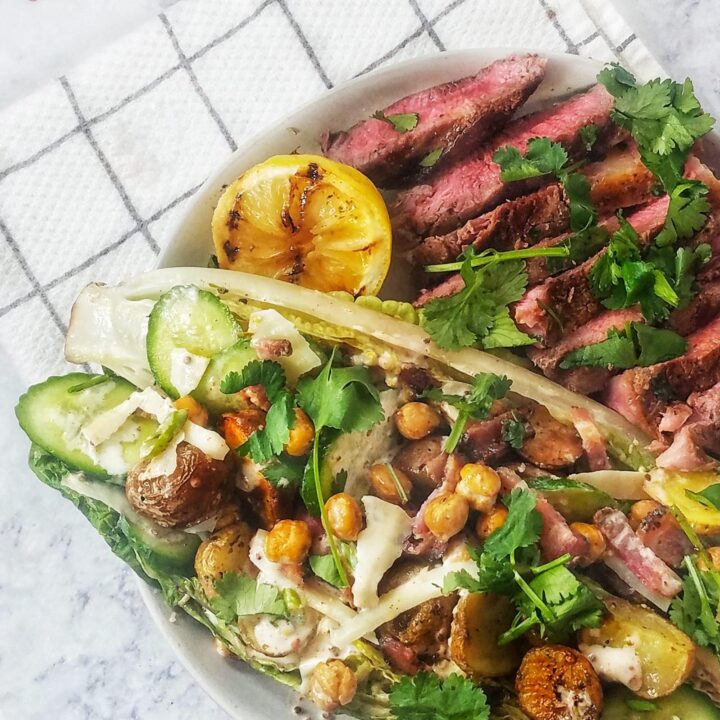 Salad with Potatoes and Spicy Mayo Dressing
This tossed salad has crunchy romaine lettuce, mixed greens, tangy cheddar cheese, mini tri-colored potatoes, crispy chickpeas, bacon and buttery avocado. This easy salad is coated in a spicy, creamy dressing, and finished with a healthy dose of everything bagel seasoning
Ingredients
Salad Base
1 c. Romaine
1 c. Salad mix, kale, swiss chard, arugula, spinach, ect., see notes
1 small Cucumber,, thinly sliced
1 stalk Scallions,, chopped
½ small Red onion, , thinly sliced
4 oz White cheddar cheese,, shaved
8-10 slices of Bacon, cooked + crumbled
1 tablespoon Fresh thyme, optional
S+P, to taste
Potatoes
1 bag Fingerling potato mix (red, gold + purple,, halved or quartered
1 tablespoon olive oil, extra virgin
1 tablespoon Fresh thyme, or ½ tablespoon dried Italian seasoning blend
1 teaspoon Garlic powder
½ teaspoon Salt
¼ teaspoon Pepper
Chickpeas
1 can chickpeas, rinsed + dried
1 tablespoon olive oil
1 tablespoon seasoning of choice
Dressing
½ c. Mayo
1 tablespoon Dijon mustard,, stone ground
1 teaspoon Prepared Horseradish
1 clove garlic, finely minced
1 lemon,, zest + juice
½ tablespoon pure maple syrup
¼ c. Olive oil,, extra virgin
1 teaspoon Paprika
Sriracha or other variety hot sauce,, optional
Water,, to thin
S+P, to taste
Instructions
Chickpeas + Potatoes
Preheat oven to 350 degrees Fahrenheit and line a large baking sheet with parchment paper.
Rinse, then dry chickpeas extremely well (discard any skins). Season with a pinch of salt, and coat with approximately 1 tablespoon of olive oil. Place on one side of the baking sheet.
Next, depending on the size of your fingerling potatoes, chop potatoes into halves or quarters, then toss with 1 tablespoon of olive oil (or leftover bacon grease) and seasonings: 1 tablespoon fresh rosemary or thyme, ¼ teaspoon freshly cracked pepper and ½ teaspoon each of garlic powder, paprika and salt. Place the potatoes on the other side of the baking sheet.
Bake for about 45 minutes or until the potatoes are fork tender and the chickpeas crisp up.
When done, toss chickpeas in seasonings while warm: I used garlic powder, turmeric and paprika (s+p to taste)
If you are making a traditional salad, let the chickpeas and potatoes cool before adding to salad.
Grilled romaine
Slice the romaine hearts lengthwise, keeping the base intact. (make sure to rinse and dry the lettuce.
Grill the romaine halves over high heat using a heavy plate to press the leaves against the grill. This will only take a couple of minutes. You're just looking for the grill marks.
Salad Dressing
Add all ingredients except for water into a mason jar, shake to combine. Thin with water to desired consistency.
Assembly
Assemble salad starting with the base, then top with veggies, shaved cheese, and dressing.
Enjoy!
Notes
Potatoes and chickpeas will continue to crisp while cooling. |  If you are not grilling the romaine lettuce, try mixing with a variety of dark greens | If you are not grilling, (potatoes and chickpeas should be at room temp.) just chop and toss everything together. 
Recommended Products
As an Amazon Associate and member of other affiliate programs, I earn from qualifying purchases.
Nutrition Information:
Yield:

6
Serving Size:

4 people
Amount Per Serving:
Calories:

831
Total Fat:

63g
Saturated Fat:

15g
Trans Fat:

0g
Unsaturated Fat:

45g
Cholesterol:

68mg
Sodium:

2785mg
Carbohydrates:

44g
Fiber:

10g
Sugar:

16g
Protein:

26g
Nutrition facts are for personal reference only as calories may vary on a case by case basis.