This is the real deal Mango Dragonfruit Refresher Copycat Recipe!
If you love the Mango Dragonfruit Refresher, you're going to love this copy cat recipe because it tastes just like the real thing and your wallet will thank you. Plus, all of the ingredients can be found on Amazon Prime, so you can make this ASAP!
For those of you who like the Dragon Drink, check out the notes on the recipe card at the bottom of this post!
You'll love this recipe if you...
love Starbuck's Mango Dragon Fruit Refresher
want to drink one every day *cough cough*
don't want to leave your house
don't want to spend $5 every time you buy one
want the option to make it caffeine-free
---
---
What is the Mango Dragonfruit Refresher actually made of?
I looked up the ingredients on the Starbucks website. Here is what was listed for the mango dragon fruit refresher:
Water
Sugar
White grape juice concentrate
Natural flavors (I assume that's the mango)
Citric Acid (additive/preservative)
Natural Green Coffee Flavor (caffeine)
Freeze Dried Dragonfruit Pieces (gives it that bright pink color)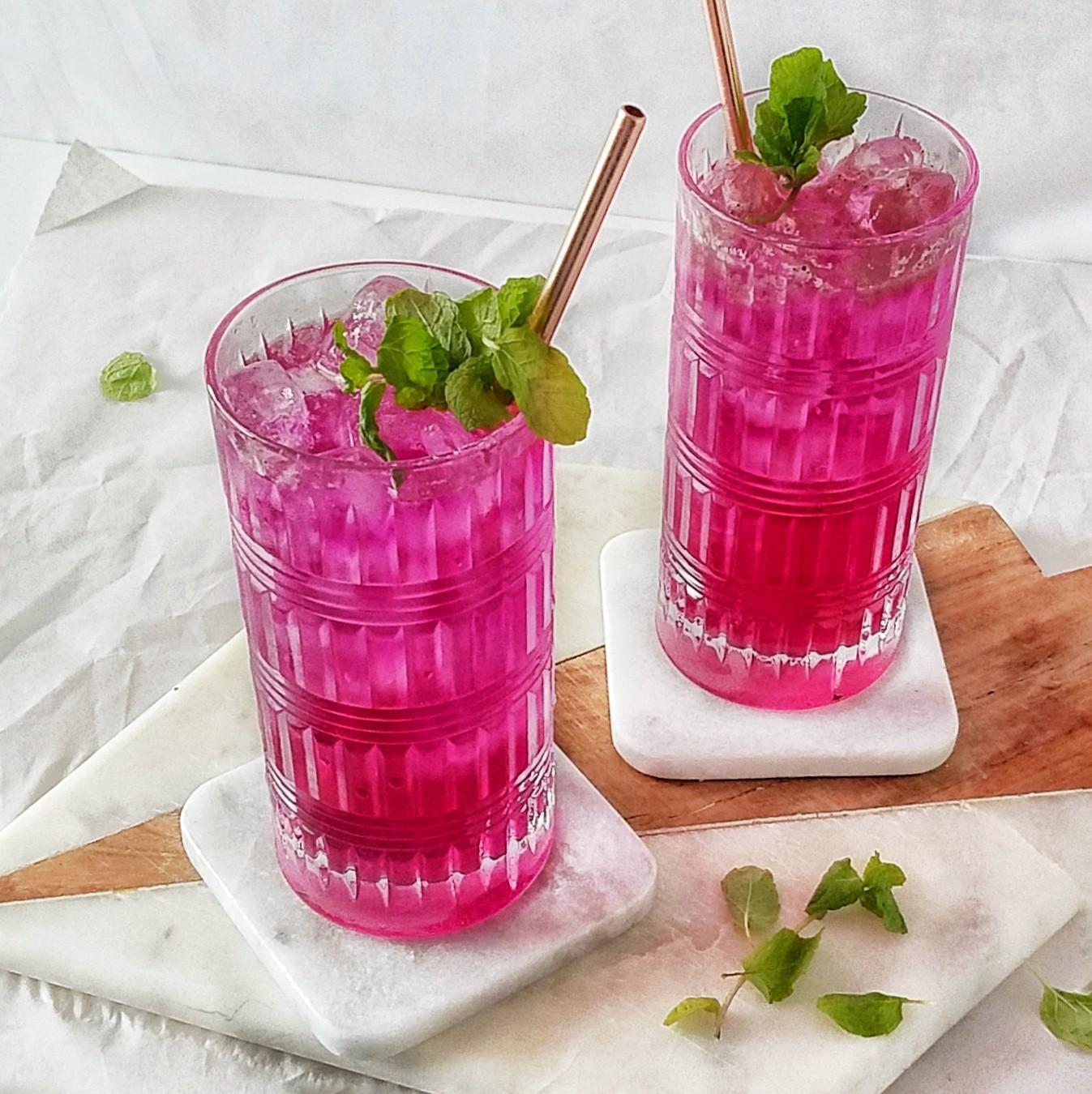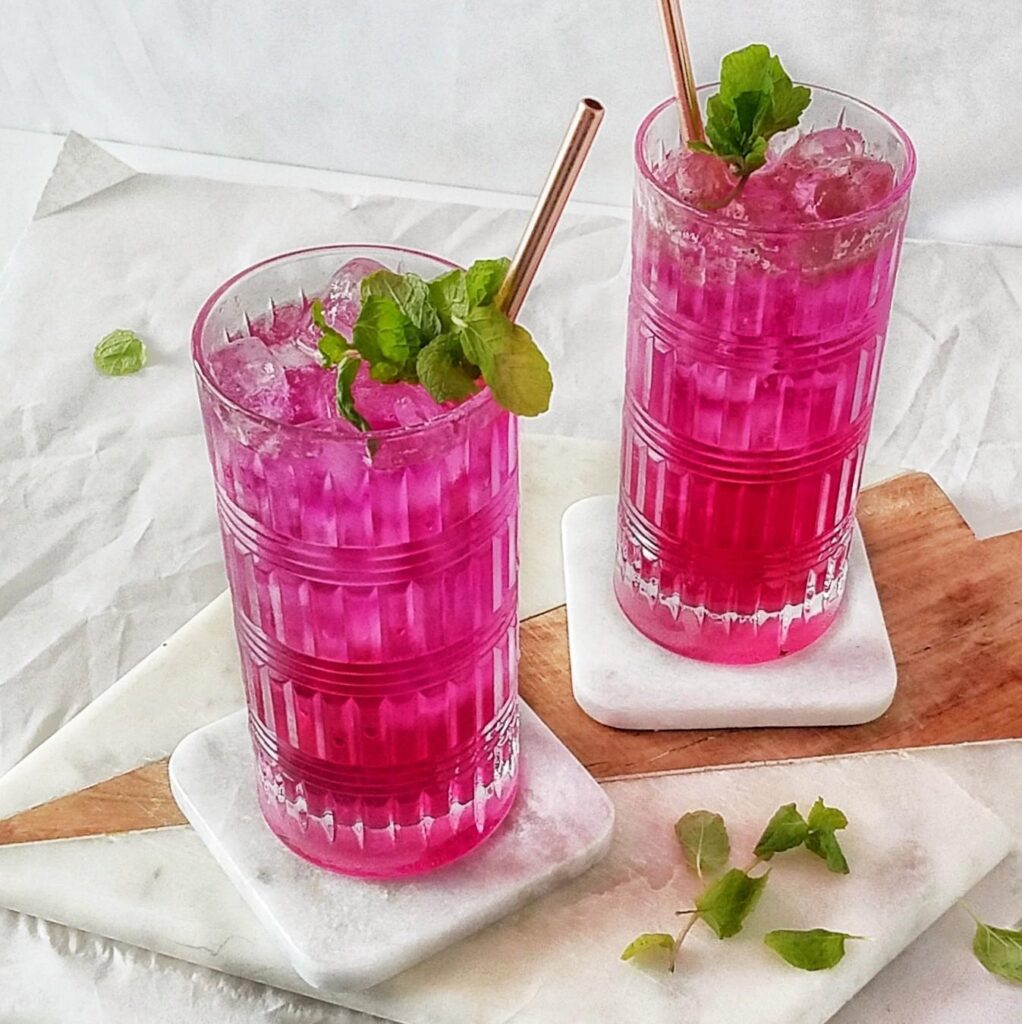 *Disclaimer: some of the links on this post are affiliate links. Please refer to my Disclaimers and Policies page. Thanks!*
Doing my research...
While doing research for this beverage, I came across a few recipes, but none of the recipes I found had green coffee bean extract. They also used fresh, pink dragon fruit. Frankly, I am all for fresh ingredients; however, I do not have unlimited access to pink varieties of dragon fruit.
Furthermore, the recipes called for mango juice, and I'm not sure if that's readily available to me, either. Now, I know the freeze-dried dragon fruit is what gives it that beautiful pink color. How do I know this?
Well, I know this because some varieties of dragonfruit are pink, and secondly, I had purchased a mango dragon fruit refresher from my local Starbucks, and they ran out of the freeze-dried dragon fruit pieces. The result was a light green colored refresher instead; I did think it tasted different.
Where to find the ingredients?
Next, I hopped on Amazon and looked for green coffee bean extract and powdered (freeze-dried) dragon fruit. To make these refreshers, I decided to try out Monin's mango fruit puree instead of pureeing mangos myself, but you can try fresh mango puree.
*If you decided to use fresh mango, you may have to use more. Also, it will not keep as long.*
You can find links to the ingredients below:
Freeze-dried dragon fruit | Suncore Foods - 100% Pure Pitaya Dragon Fruit Natural Supercolor Powder, 1 Pack
Green coffee bean extract | Maximum Strength Pure Green Coffee Bean Super Extract Powder (50% Active Chlorogenic Acid), 4 Ounce, Powerfully Supports Metabolism for Weight Management and Fat Burn, Non-GMO and Vegan Friendly
Mango puree | Monin - Mango Purée, Tropical and Sweet Mango Flavor, Natural Flavors, Great for Teas, Lemonades, Smoothies, and Cocktails, Vegan, Non-GMO, Gluten-Free (1 Liter)
Sugar-free mango option (I have not tried this. If you do let me know how it turns out!) | Monin Mango Flavor Concentrate 375ml Bottle
Other items I used in this post...
Rose gold straws | JOYECO 10 Pcs Metal Reusable Straws Stainless Steel Drinking Sucker Full Variety, Multi Size with Carry Bag Brushes for 20 30oz Tumblers, Boba, Smoothies, Rose Gold
1500 mL Glass Pitcher | Glass water Pitcher Teapot With Handle for family-1500ml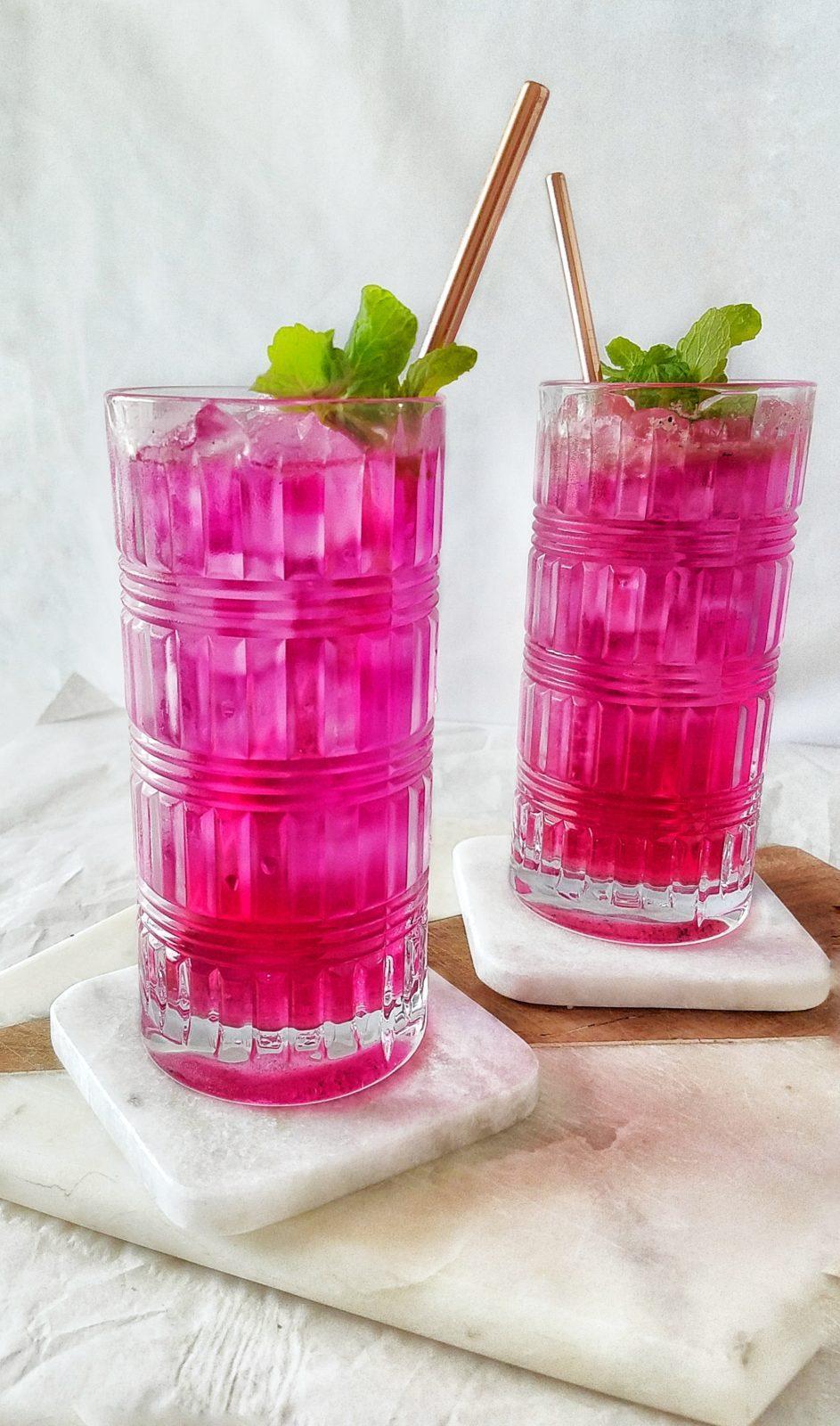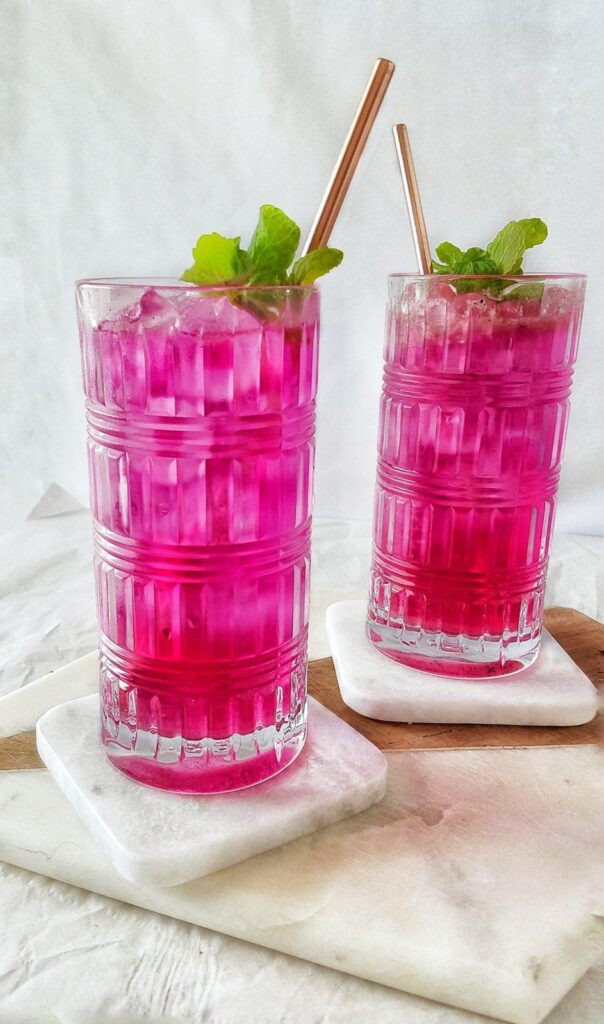 Making the Starbucks Mango Dragonfruit Refresher...
This recipe makes approximately 48 oz (without ice), and depending on how you plan to enjoy this, there are two ways you can make it:
Party-style: If you plan on serving this all at once, you can put all the ingredients into the pitcher (or bottle), and serve it over ice to your guests. First, I wanted to make sure my powdered products were going to dissolve, so I whisked it with the water until everything had dissipated. Then, I added the rest of the ingredients and stirred it until combined. Serve it over ice, and you're done!
Solo/make-ahead: Since I drink it daily, I prefer to make it ahead of time. This way I don't have to mess around with making it from scratch every single day. Here's what I do, I mix everything except for the mango puree into a large pitcher to keep in the fridge.
When I'm ready to make it, I fill my 24 oz. cup with ice. Next, I dispense one full pump of mango puree (about 1 tbsp) into my cup and pour in the juice mixture; then, I stir my drink with the straw. If you are using a smaller glass (12 oz), you only need a half pump of puree or ½ tablespoon.
*the mango puree can settle at the bottom which is why I prefer to add it to my cup. You can add all ingredients to a bottle and shake before serving*
---
Craving more?
Want more Starbucks copycat recipes? Check out these links...
Starbuck's Pumpkin Cream Cold Brew
Starbuck's Strawberry Acai Refresher
Starbuck's S'mores Frappuccino Recipe
Mocha Coconut Frappuccino Recipe
*recipe adapted from genius kitchen*
---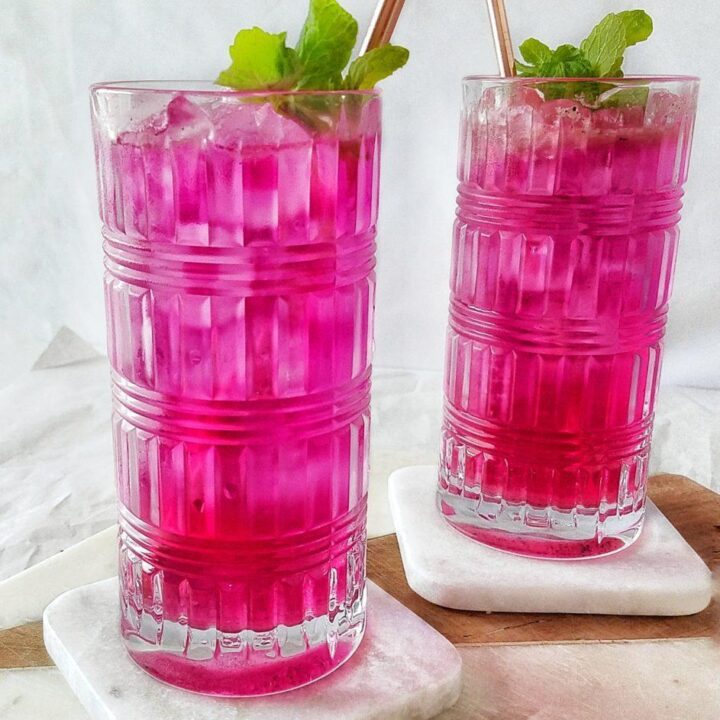 Starbucks Copycat Mango Dragon Fruit Refresher
Easy recipe for the Starbucks mango dragon fruit refresher that includes caffeine with accessible ingredients that can be found online!
Ingredients
3 c water
ice
fresh dragon fruit pieces, , optional
Instructions
Make and serve: Whisk together powder ingredients and water until dissolved. Add white grape juice and mango puree. Mix to combine. Serve over Ice.
Make ahead: stir together all ingredients except mango puree. Store in the fridge until ready to use. When ready to enjoy. dispense 1 pump/1 tablespoon into a 20 -24 ounce glass with ice. Fill with drink mixture. Use ½ pump/half tablespoon for 12-16 oz glasses
Notes
This recipe makes approximately 48 ounces. I store the beverage in a 50-ounce pitcher. 
Just like the original refresher recipe, the green coffee bean extract provides a caffeine boost. Omit for caffeine free. The suggested serving size for green coffee bean extract is ⅛ - ¼ teaspoon per serving. 
For those of you who enjoy the other versions, try swapping out the water for coconut milk or lemonade. I haven't tried this, but if you do let me know how it turns out! 
Nutrition Information:
Yield:

6
Serving Size:

6 cups
Amount Per Serving:
Calories:

76
Total Fat:

0g
Saturated Fat:

0g
Trans Fat:

0g
Unsaturated Fat:

0g
Cholesterol:

0mg
Sodium:

12mg
Carbohydrates:

19g
Fiber:

1g
Sugar:

17g
Protein:

1g
Nutrition facts are for personal reference only as calories may vary on a case by case basis.