This recipe for Starbucks Strawberry Acai Refresher is lightly caffeinated with green coffee bean extract and has sweet notes of passion fruit for delightful afternoon sipping.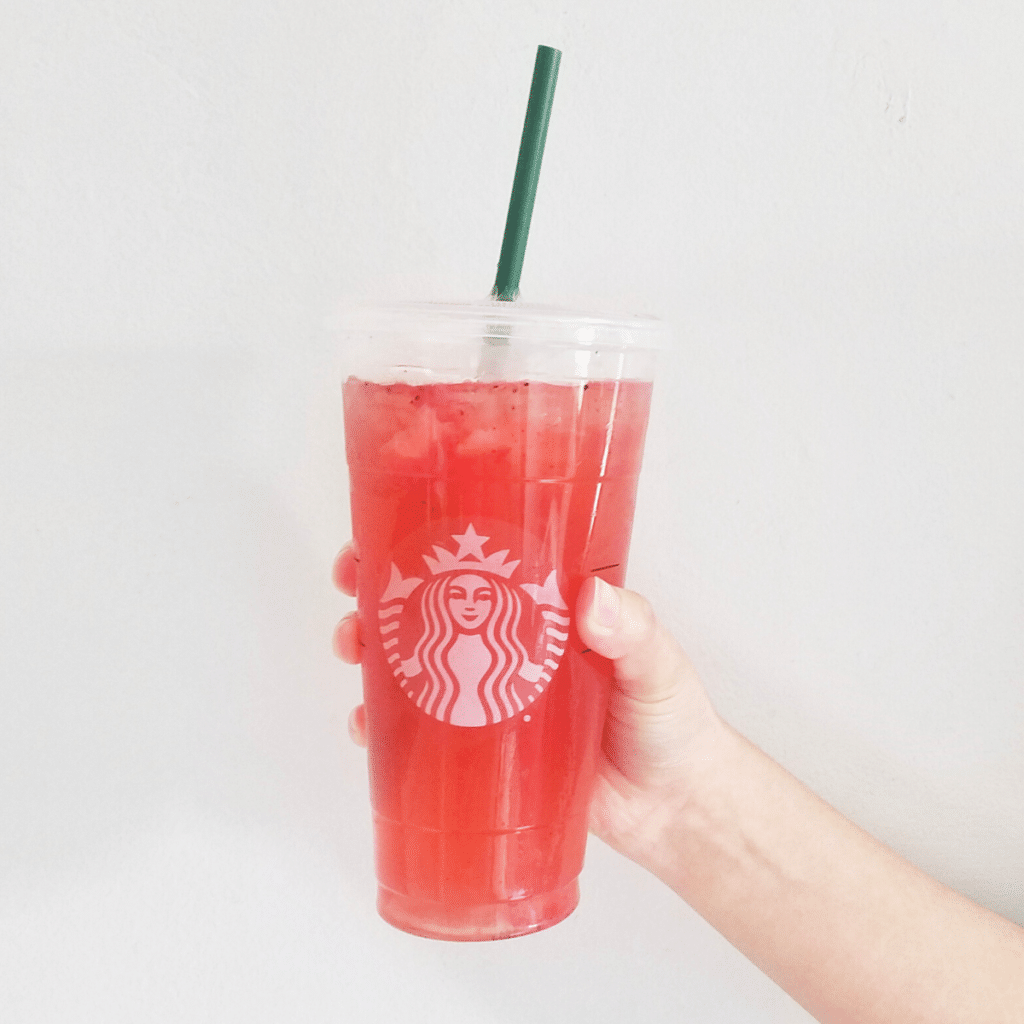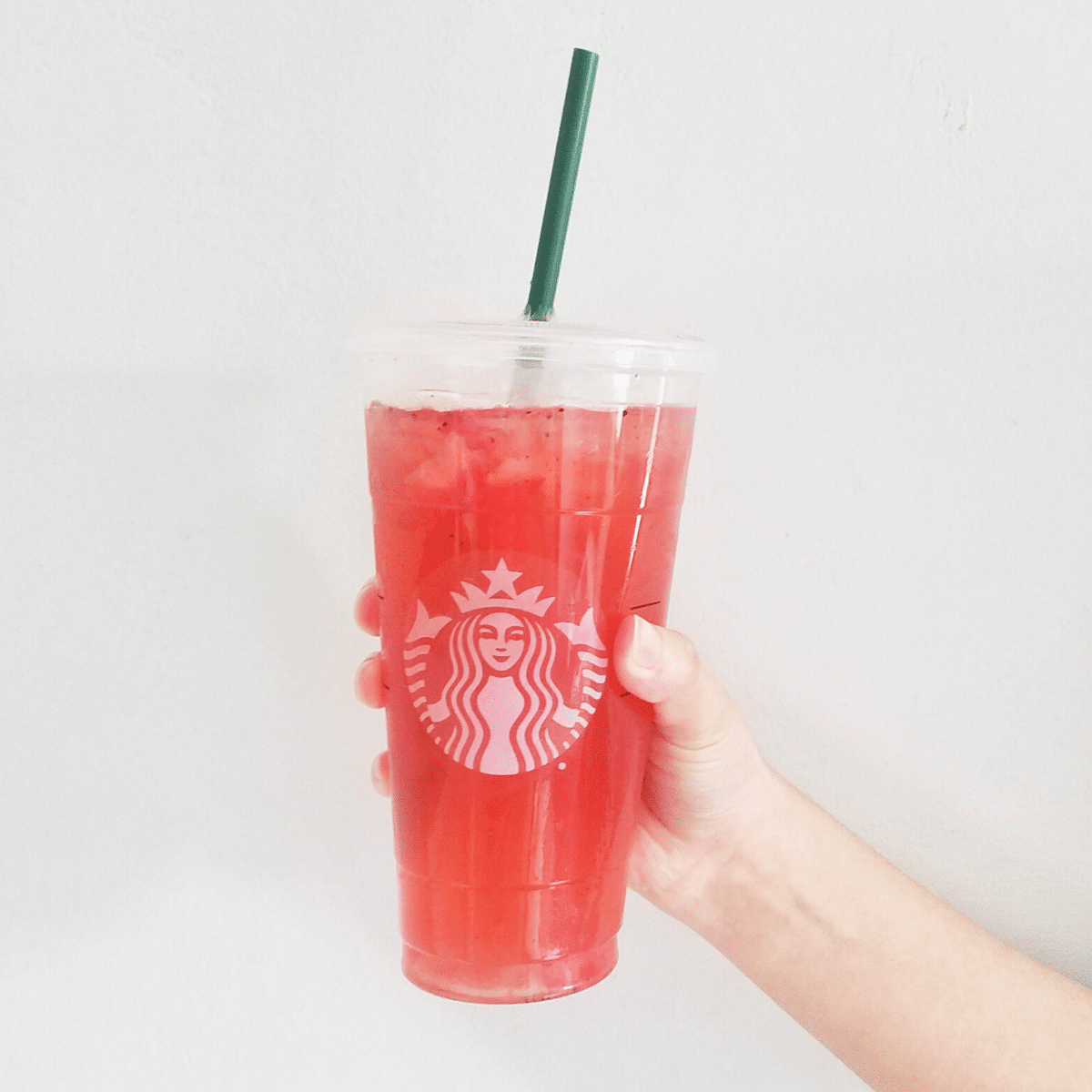 *This post contains affiliate links. Please see my disclaimers page for more info*
Making Starbucks versions at home.
I prefer making versions of Starbucks drinks, like this Strawberry Acai Refresher because that means it's completely customizable. Especially when the original Starbucks drink always tastes so watered down. Less sugar? More strawberry? It's easy.
This was inspired by my Mango Dragon fruit Refresher recipe, and pairs well with this BLT Chicken Salad Sandwich, which is now discontinued. In fact, I spent many hours at my local Starbucks when I was in college, so naturally, I have lots of Starbucks copycat recipes you can check out, on this site.
What is the Starbucks Strawberry Acai Refresher made of?
I looked up the ingredients on the Starbucks website. Here is what was listed for the Strawberry Acai Refresher:
Water
Sugar
White grape juice concentrate
Natural flavors (I assume that's the passion fruit)
Citric Acid (additive/preservative) 
Natural Green Coffee Flavor (caffeine)
Freeze Dried Strawberry Pieces
How to make the Strawberry Acai Refresher
This recipe makes approximately 48 oz (without ice). Here's how to make Starbuck's Strawberry Acai Refresher.
First, make sure the powdered products dissolve; I use a small electric whisk.
Add powdered ingredients with two tablespoons of water to a bowl and whisk together. This will make a slurry.
Once the slurry is made, transfer it into your pitcher.
Slowly pour in the rest of the liquid ingredients, then add the passion fruit puree, to taste.
Pour into a pitcher or bottle to keep in the fridge. Gently stir or shake before serving. Pour over glass and top with fresh, frozen or freeze-dried strawberry slices.
Watch the video below to learn how to make this Strawberry Acai Refresher copycat recipe.
Variations
Please write how you make the recipe variations in the comments to help other reader make this drink.
Dragon Drink - Replace some or all of the water with coconut milk. The brand of coconut milk you buy will determine the texture of the drink. Start with a splash of coconut milk in your Strawberry Acai Refresher, then if you need to, alter the amount of water next time.
Lemonade - Replace the water with lemonade.
No caffeine - Omit the Green Coffee Bean Extract
Less Sugar/Sugar free - You can replace Monin's passion fruit puree with their passion fruit concentrate. The concentrate is sugar-free, but it will alter the taste of the drink. Furthermore, to make this Strawberry Acai Refresher totally sugar-free, also purchase sugar-free White Grape Juice.
Storage
Store any excess Strawberry acai refresher in a lidded jar. For best results, shake before serving. Ingredients may settle at the bottom.
Additionally, if making the dragon drink version, do not store premade with the coconut milk. It is best to pour the coconut milk into your single serve drink before consuming.
Top tip
Make sure you purchase white grape juice not apple juice.
The beauty of making these drinks at home is you can customize it to your liking! I personally add more strawberry.
Scroll down to see full recipe.
---
Craving more?  Check out these other Starbucks recipes.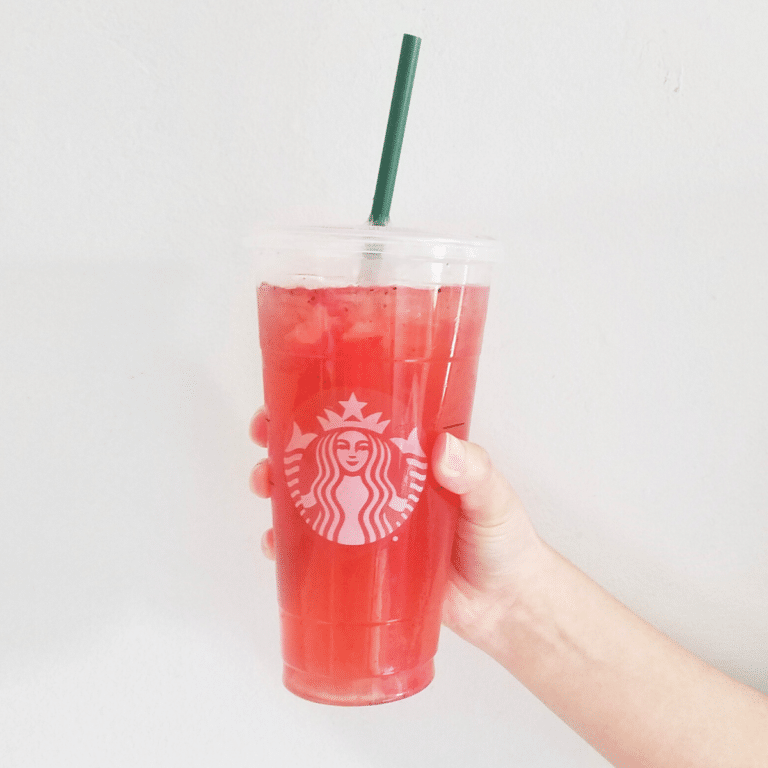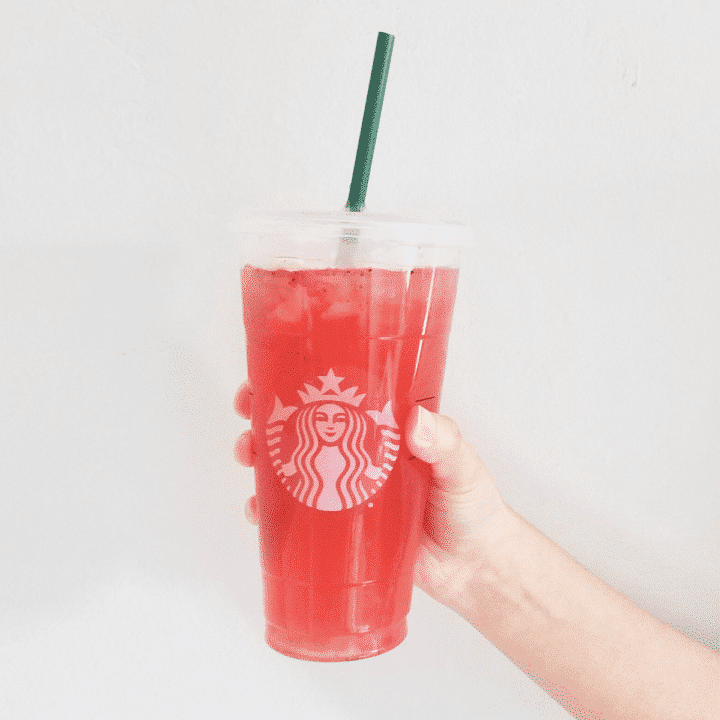 Starbuck's Strawberry Acai Refresher copycat recipe
The real deal Starbuck's strawberry acai refresher recipe.
Instructions
Add powdered ingredients with a few tablespoons of water and stir until dissolved. This will make a slurry (a loose paste) ensuring you don't have large chunks of powder throughout.
Once the powder is thoroughly mixed, slowly stir in the last bit of water, passion fruit puree and white grape juice. I use a glass jar with a lid to break up any excess powder.
Serve over ice with freeze-dried, frozen, or fresh strawberries.
Notes
store in a bottle or pitcher, agitating before use. 
You may need to add more water to adjust the taste depending on how much ice you use.
The original refresher at my starbucks always tastes very watered down. I prefer to add a bit more strawberry powder/passion fruit.
When storing excess, leave out the extra strawberries. Add with ice before drinking. 
The color may be different depending on the acai powder. 
The sugar-free passion fruit option will adjust the taste slightly, and the measurements may not be exact, start by adding a little at a time.
For those who like the pink drink, replace the water with coconut milk
Nutrition Information:
Yield:

2
Serving Size:

48 oz
Amount Per Serving:
Calories:

304
Total Fat:

1g
Saturated Fat:

0g
Trans Fat:

0g
Unsaturated Fat:

0g
Cholesterol:

0mg
Sodium:

31mg
Carbohydrates:

67g
Fiber:

6g
Sugar:

45g
Protein:

9g
Nutrition facts are for personal reference only as calories may vary on a case by case basis.