What's the secret to juicy, crispy chicken quarters?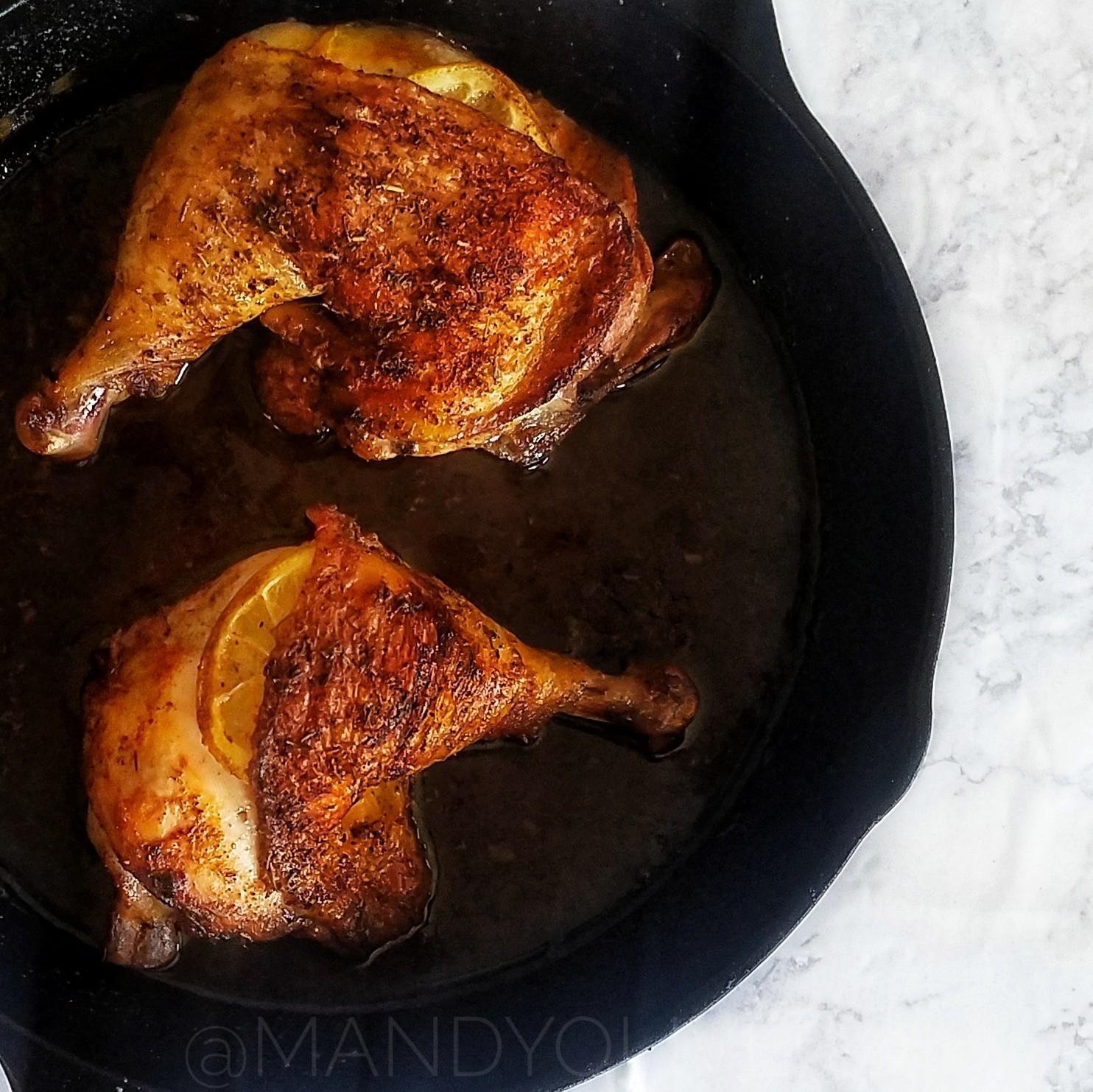 Let's just say goodbye to dry, sad chicken, and start cooking chicken quarters (or thighs) that are juicy and full of flavor.
You'll love this recipe because it's...
simple and easy
can be made in about 30 minutes
uses less than 10 ingredients
versatile
*Need side dish ideas? Make sure you read to the end of the post!*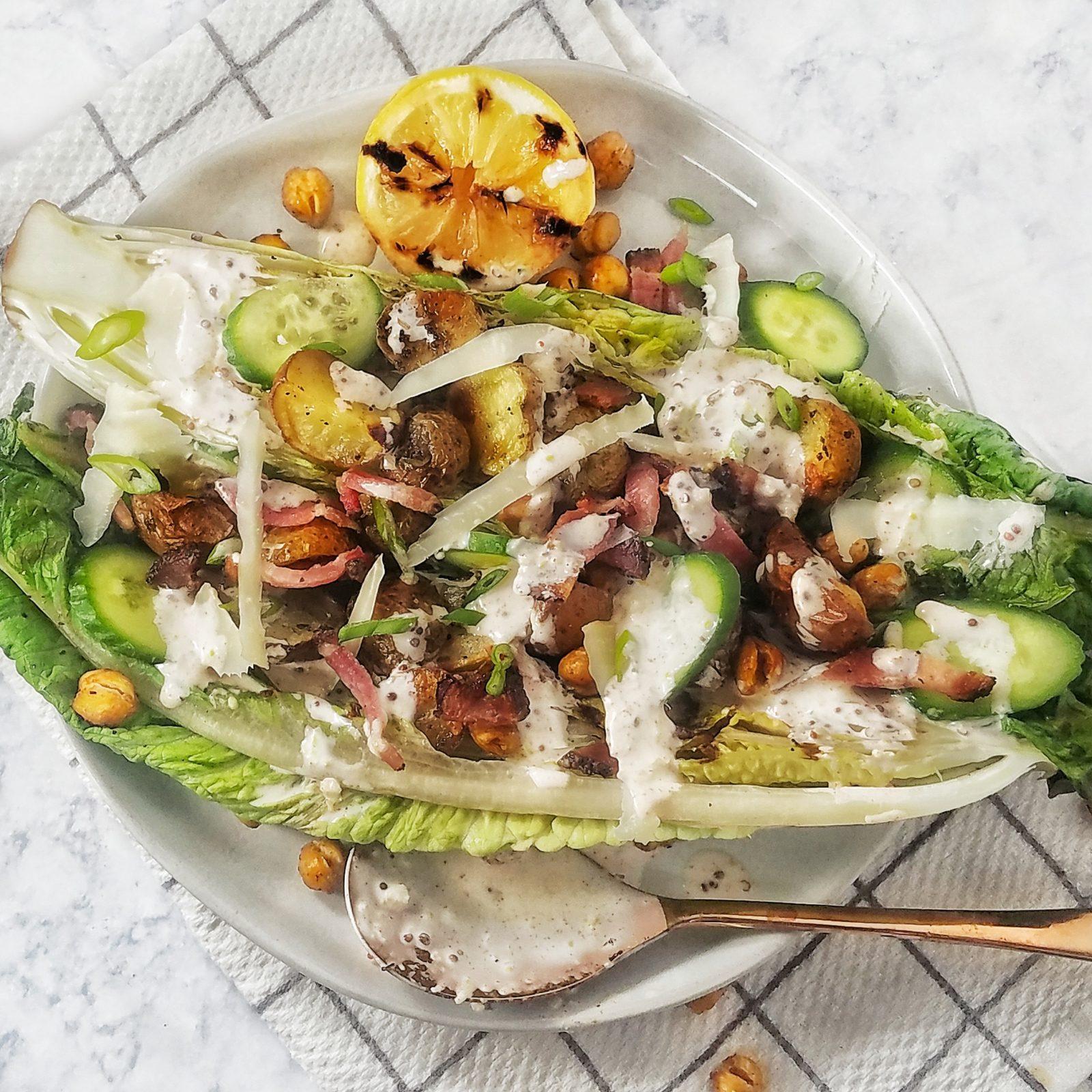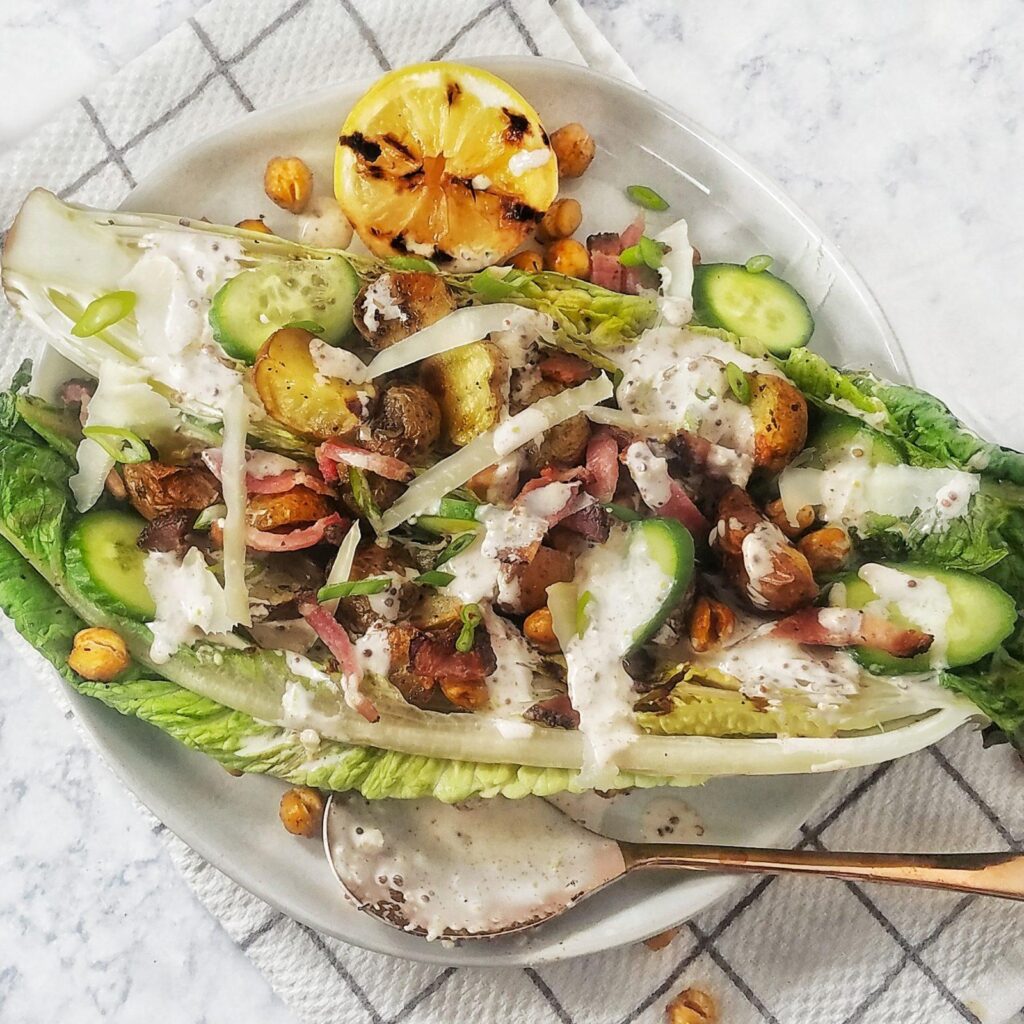 This post contains affiliate links. For more information, please refer to my Disclaimers and Policies
---
Here is the first secret to cooking juicy chicken.
There are a few key components for preparing succulent chicken quarters.
Bone-in, skin-on chicken will always produce more flavorful meat because the bone marrow and fat attached to the bone injects itself into the chicken quarters.
The skin provides a protective layer between the muscle and the hot pan which keeps the meat from drying out too quickly.
Use a cast-iron pan. I like cast iron for a few reasons: It's oven safe, heats evenly and gets very hot. I have used many cast iron pans, and I think Lodge makes the best ones. If you don't have a cast-iron pan, you should. You can find it, here.
Keep reading because the cooking method is extremely important!
What even are chicken quarters?
A chicken quarter is just the section of the chicken that includes the thigh and leg. Why do I prefer chicken quarters over a thigh and leg individually? Well, part of the reason is that I cut and section my own chicken, and that is one less cut I have to make.
Another reason is when you buy chicken quarters, you have the option to serve it as is or separate the thigh and leg to provide more variety. Lastly, they are budget-friendly. Regardless, this method will work with any piece of chicken that has skin on it.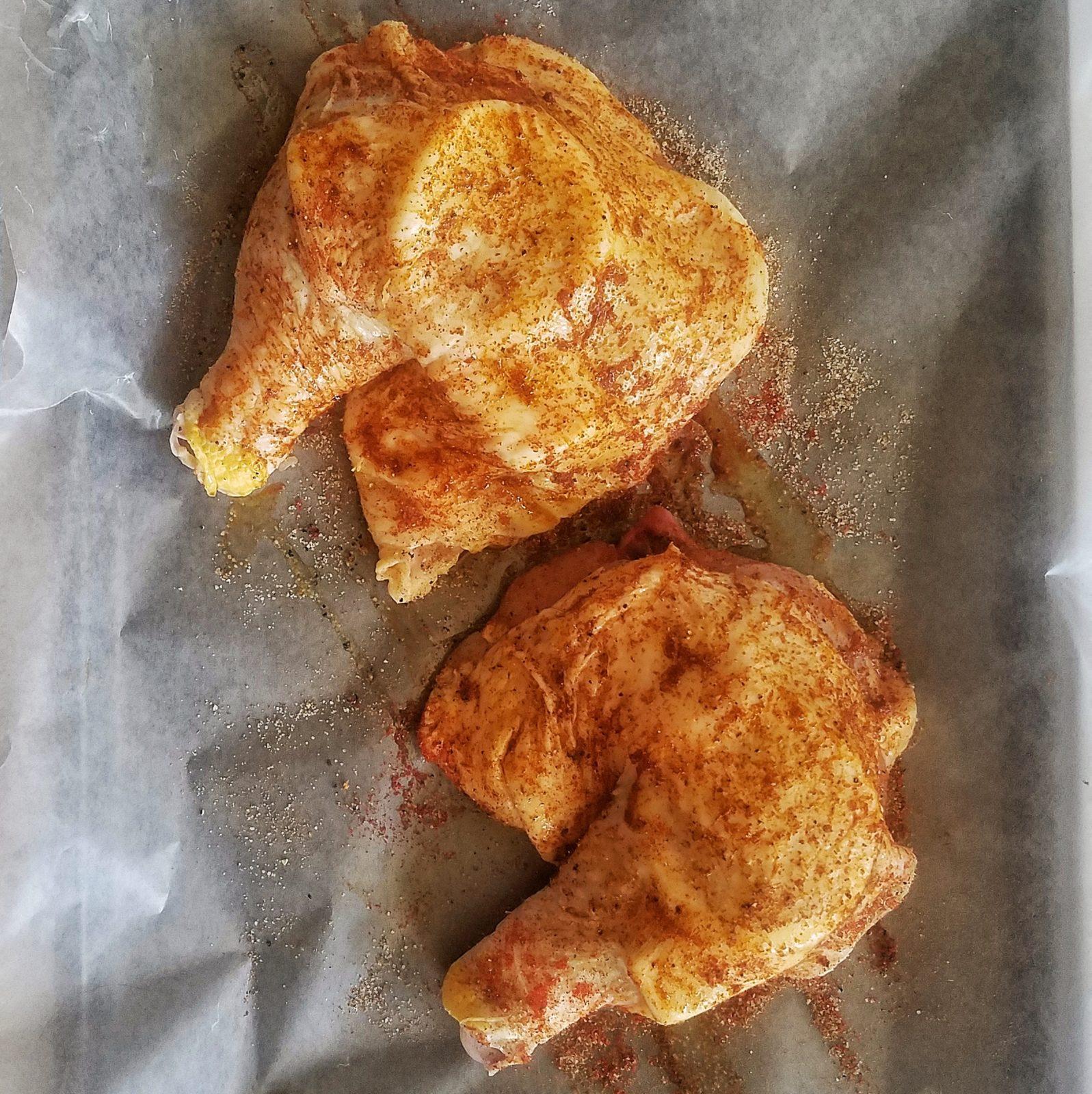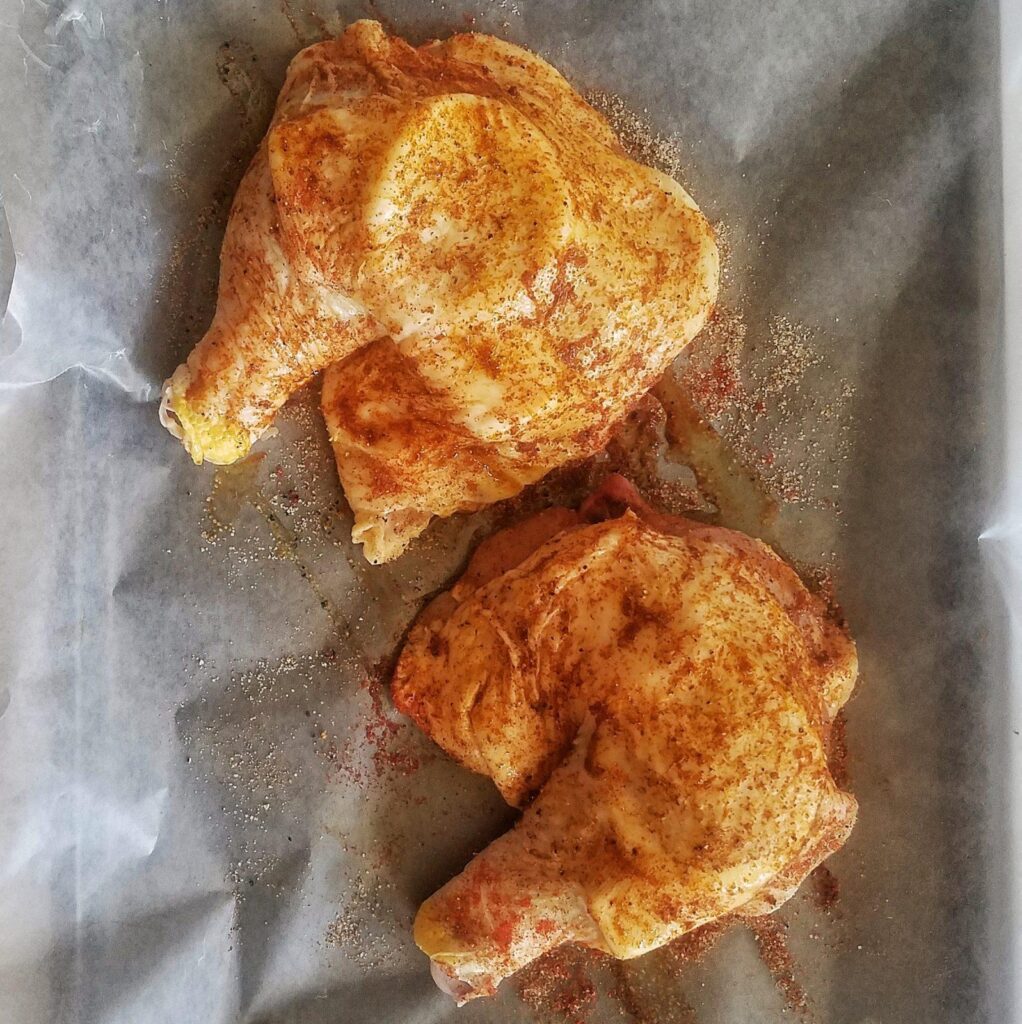 How to prep chicken quarters that are juicy and crispy...
As I said earlier, a cast iron pan is a must in your kitchen. The versatility is unmatched. I use mine for EVERYTHING from breakfast to cakes. When it comes to cooking juicy, crispy chicken, cast iron pans have the ability to get very hot and hold heat well which gives the skin that extra crispiness. My favorite is Lodge pans. They are heavy duty and inexpensive; you can find one, here.
The third secret is to pat the chicken dry with clean paper towels. This is important because the drier the skin is the crispier it gets. After, season the chicken with celery salt, dried herbs, and smoked paprika; then, drizzle a small amount of olive oil onto the skin. Using your hands, gently massage the seasoning into all of the crevices of the chicken.
Next, separate the skin from the muscle of the chicken by sticking your finger underneath the skin. Once the skin has been separated, slide the pats of butter and lemon slices in between the muscle and skin.
---
Why does this work?
Not only does the lemon infuse the chicken with flavor, but it continuously steams the meat giving it moisture. In addition, the butter simultaneously bastes the meat of the chicken and provides additional fat to fry the skin to crisp perfection.
When using butter, it should be slightly frozen. This will make it easier to cut into pieces while keeping it whole. Note that you should be using real, sweet cream stick butter; I prefer unsalted, so I have more control of the seasonings.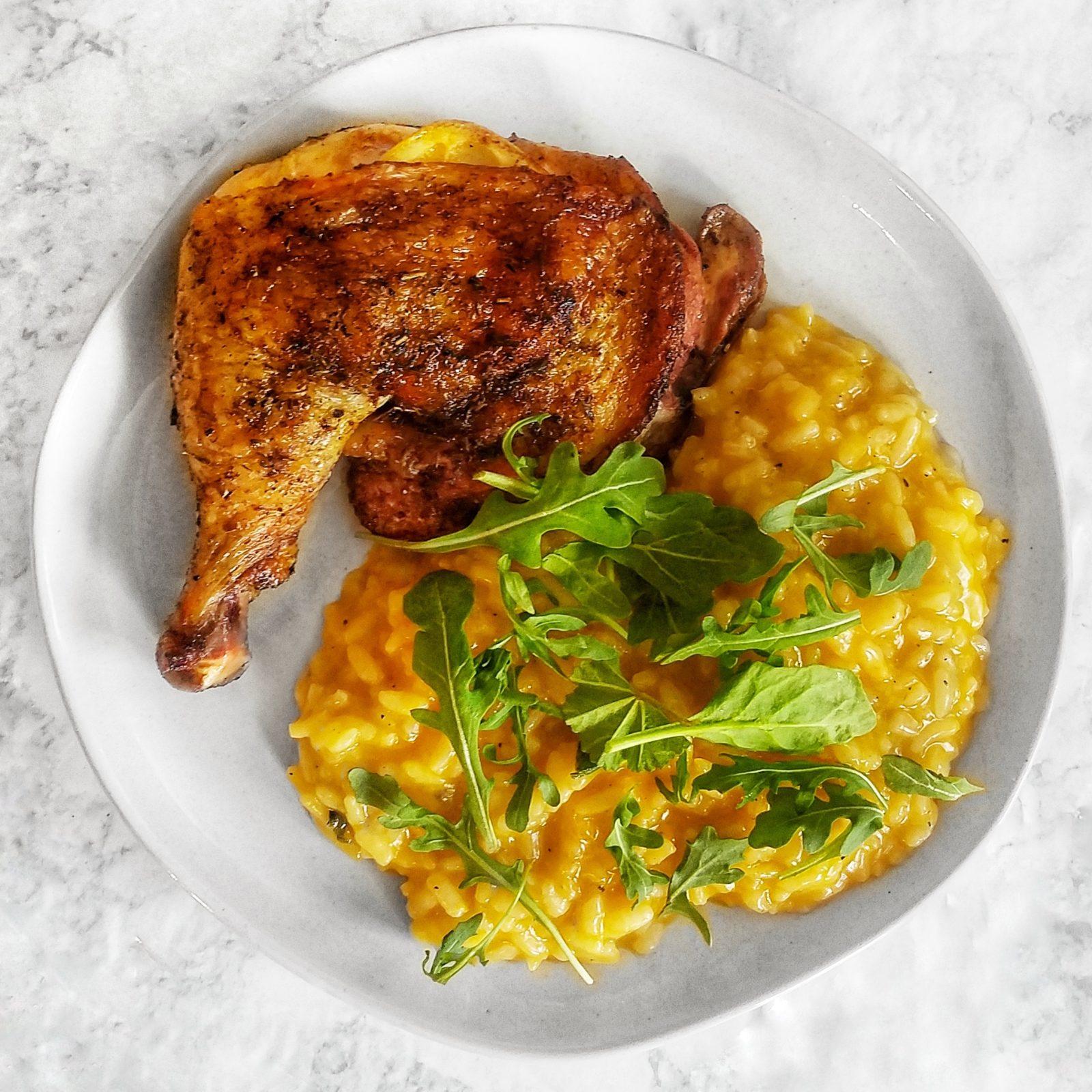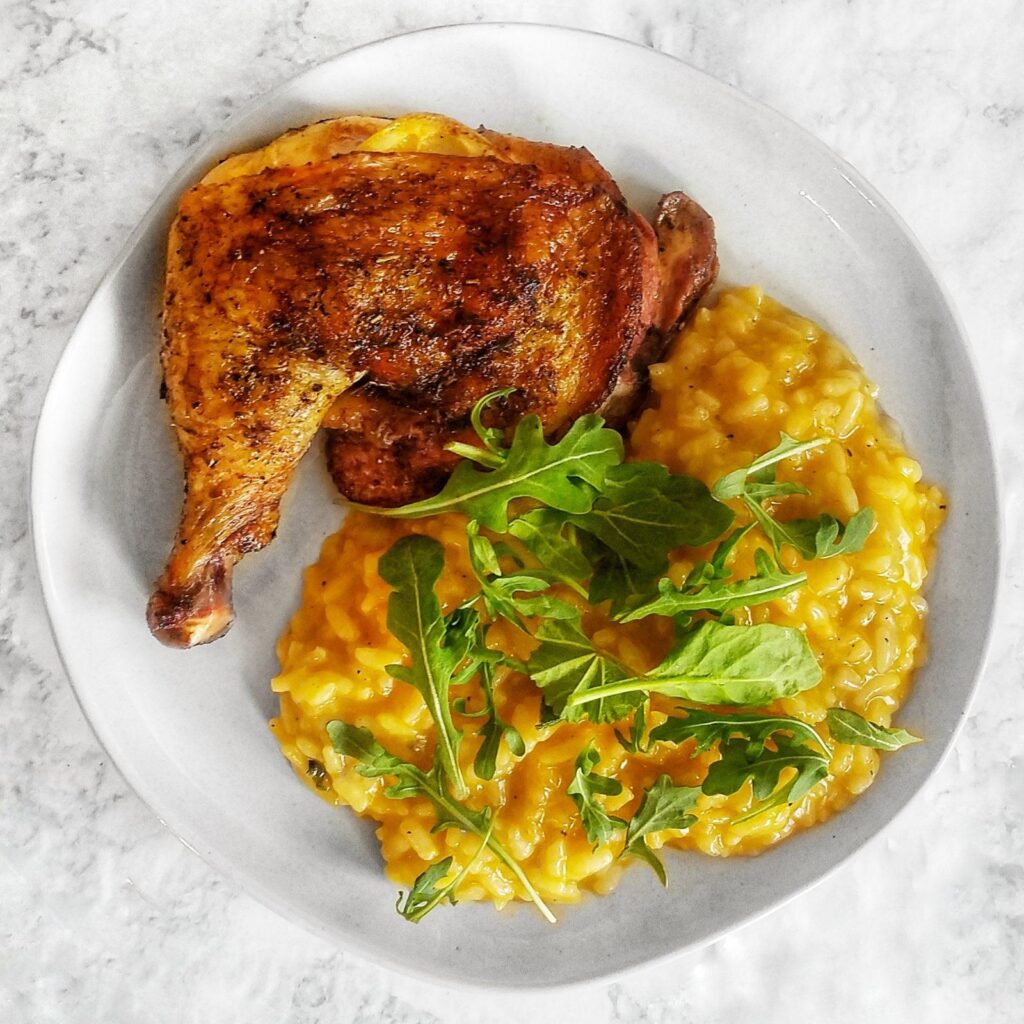 How to cook chicken quarters...
Once the chicken has been stuffed, carefully place it skin side down into a hot, oiled cast iron pan. It should begin to sear immediately and begin to crackle. When the skins are a deep golden brown color, flip them skin side up and slide it into a hot oven preheated to 450 degrees Fahrenheit, roast the chicken for about 10 to 15 more minutes.
Check the chicken at the halfway point and turn the pan 180 degrees. Bake until a meat thermometer registers to 160 degrees at the meatiest part of the thigh without touching the bone. Let the chicken rest for ten minutes before serving. The chicken will continue to cook while it is resting.
---
Craving more? Here are some other recipe(s) I think you might enjoy…
*Any nutritional data provided is for personal reference only as these are approximations, and data may vary on a case by case basis. Please refer to my disclaimers page.*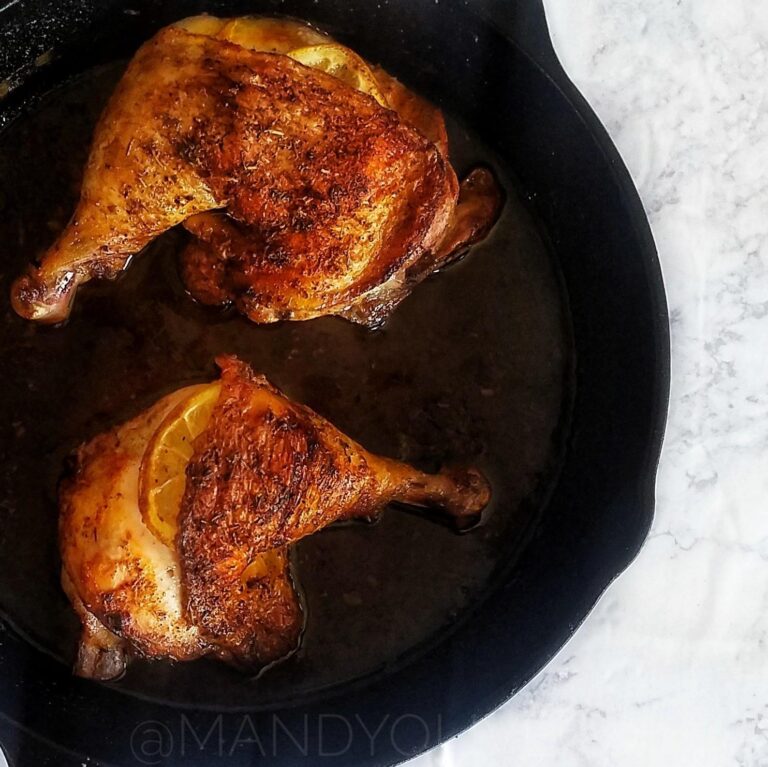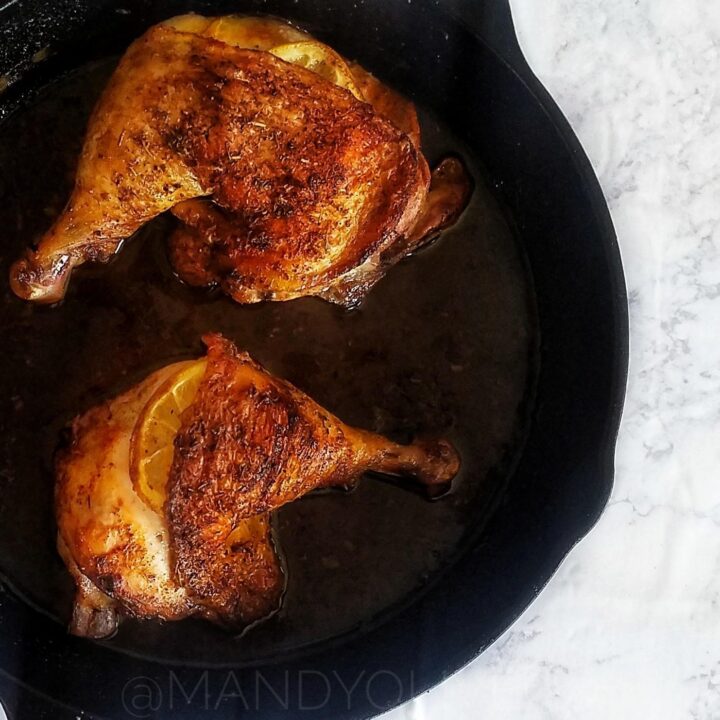 How to cook juicy, crispy chicken every time!
This is the secret for cooking juicy, crispy chicken quarters, or thighs every time! It's quick simple and easy.
Ingredients
Chicken quarters, or thighs, , Skin on
Real sweet cream butter, , cut into small squares or cubes
lemon, , sliced
seasoning of choice, , I chose celery salt, pepper, paprika and dried herbs
olive oil
Instructions
Preheat oven to 450 degrees Fahrenheit.
First, prep your workspace with wax paper and paper towels. Pat each chicken piece dry with the paper towels.
After the chicken is completely dried, slide pats of butter and lemon underneath the skin. I use about 2 chunks of butter and 1 slice of lemon per piece of chicken.
Next, season the chicken and drizzle each piece with olive oil. Rub the mixture into all the crevices.
Now, heat a cast iron pan with enough oil to lightly coat the pan. Once the pan is very hot, carefully place the chicken skin side down.
Let the chicken cook for about 10 to 15 minutes or until the skin is a deep golden brown. Flip each piece of chicken over, and place into a hot oven.
Continue to cook in the oven for about 10-15 minutes, until the internal temperature reaches 165. Remove from oven and let cool for 10 minutes.
Notes
swap out salt for celery salt for a "fried chicken" taste. 
Recommended Products
As an Amazon Associate and member of other affiliate programs, I earn from qualifying purchases.
Nutrition Information:
Yield:

4
Serving Size:

1 Servings
Amount Per Serving:
Calories:

131
Total Fat:

10g
Saturated Fat:

3g
Trans Fat:

0g
Unsaturated Fat:

6g
Cholesterol:

38mg
Sodium:

455mg
Carbohydrates:

3g
Fiber:

1g
Sugar:

1g
Protein:

7g
Nutrition facts are for personal reference only as calories may vary on a case by case basis.