Need a quick and easy side dish to elevate your dinner? Try these roasted potatoes with pea pesto.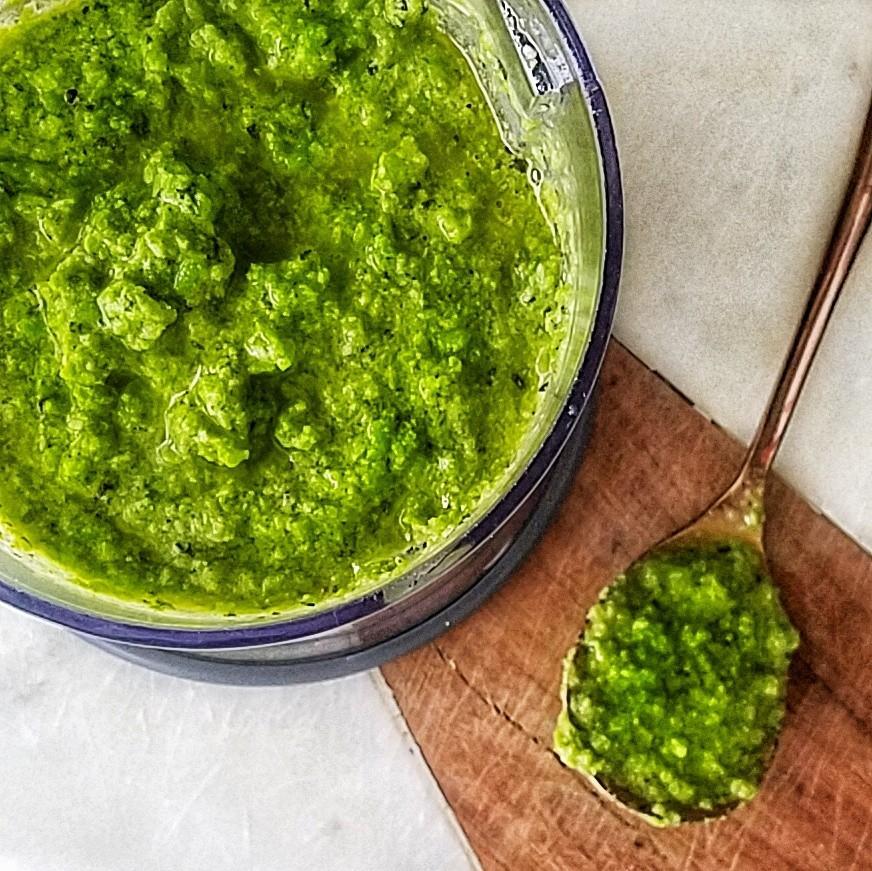 I wanted to create a recipe for these roasted potatoes with pea pesto because I love peas because these little pods are a good source of protein, not to mention, they are cheap! Although, I never know how to use up the bag of frozen peas, so it just ends up taking up space in my freezer.
I've never been the type of person to serve peas as a side vegetable. It's kind of hard to eat like do I use a spoon, or stab them with my fork? Unless my peas are whole, the only way I end up eating them is in my ramen. It got me thinking. How else are we supposed to enjoy these beauties?
The answer is pea pesto. Weird? maybe. Delicious? absolutely.
Why pesto? Well, I have a couple of pesto recipes on my blog (which are linked below). I like pesto because of its versatility. I can make it using virtually anything, and I can use it in a plethora of recipes like these simple roasted potatoes with pea pesto.
You'll love this recipe because it's...
a different way to eat peas
packed with protein
quick and easy
less than 10 ingredients
made without nuts
Want more pesto recipes? Check out the links below!
---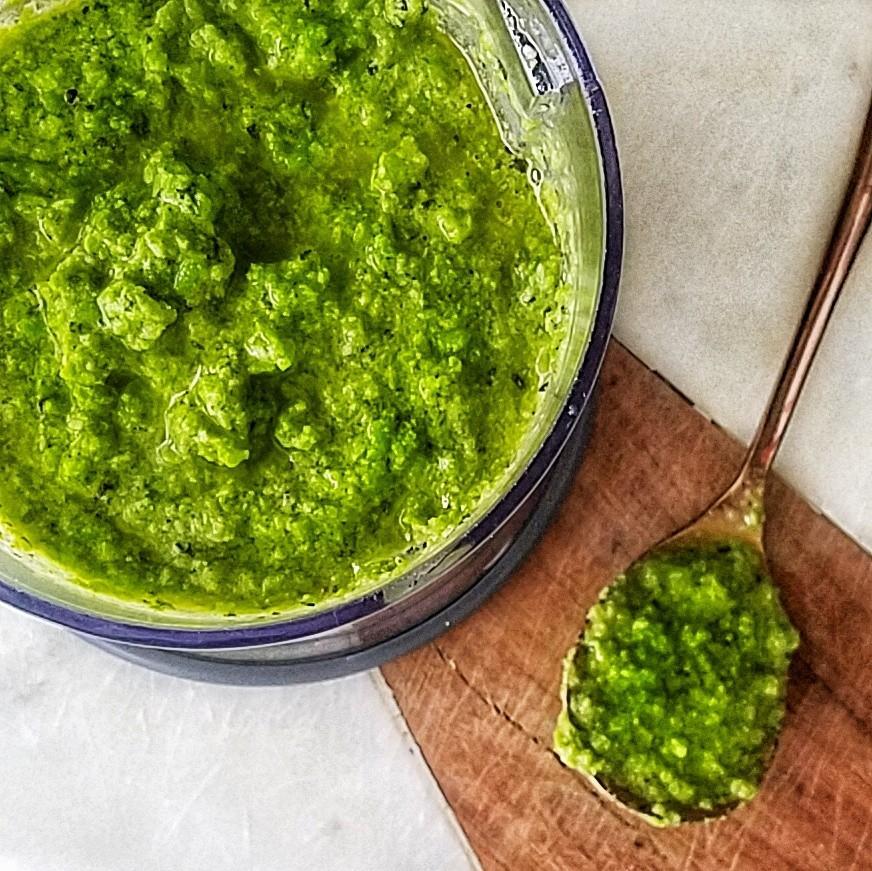 How to make pea pesto...
Seriously, this recipe is so easy to make, it doesn't need an explanation. This pesto can be made with or without nuts or seeds. I personally like using walnuts or pistachios in my pestos, but you don't have to use them if you don't want to.
As for the mint, pack the leaves into your measuring cup. I used an entire container of fresh mint and probably could've used a little more. I think next time I make this, I will add in a little lemon zest to brighten the flavor.
Please note, this pesto is on the thicker side, so you may need more olive oil. It should move through the food processor easily, but be thick enough to be "spreadable" not soupy. In addition, if you are using frozen peas, make sure it has thawed first.
To make this pea pesto, dump all ingredients into a food processor, and pulse until everything is combined. The peas should not be completely pureed; there should still be some texture to the pesto. If the pesto is too thick, add in a couple of tablespoons of oil at a time until the pesto moves freely in the blender.
Some recipes will tell you to slowly add in the olive oil, but I just add it in all at once because my food processor doesn't have a spout. I don't ever have a problem doing it this way.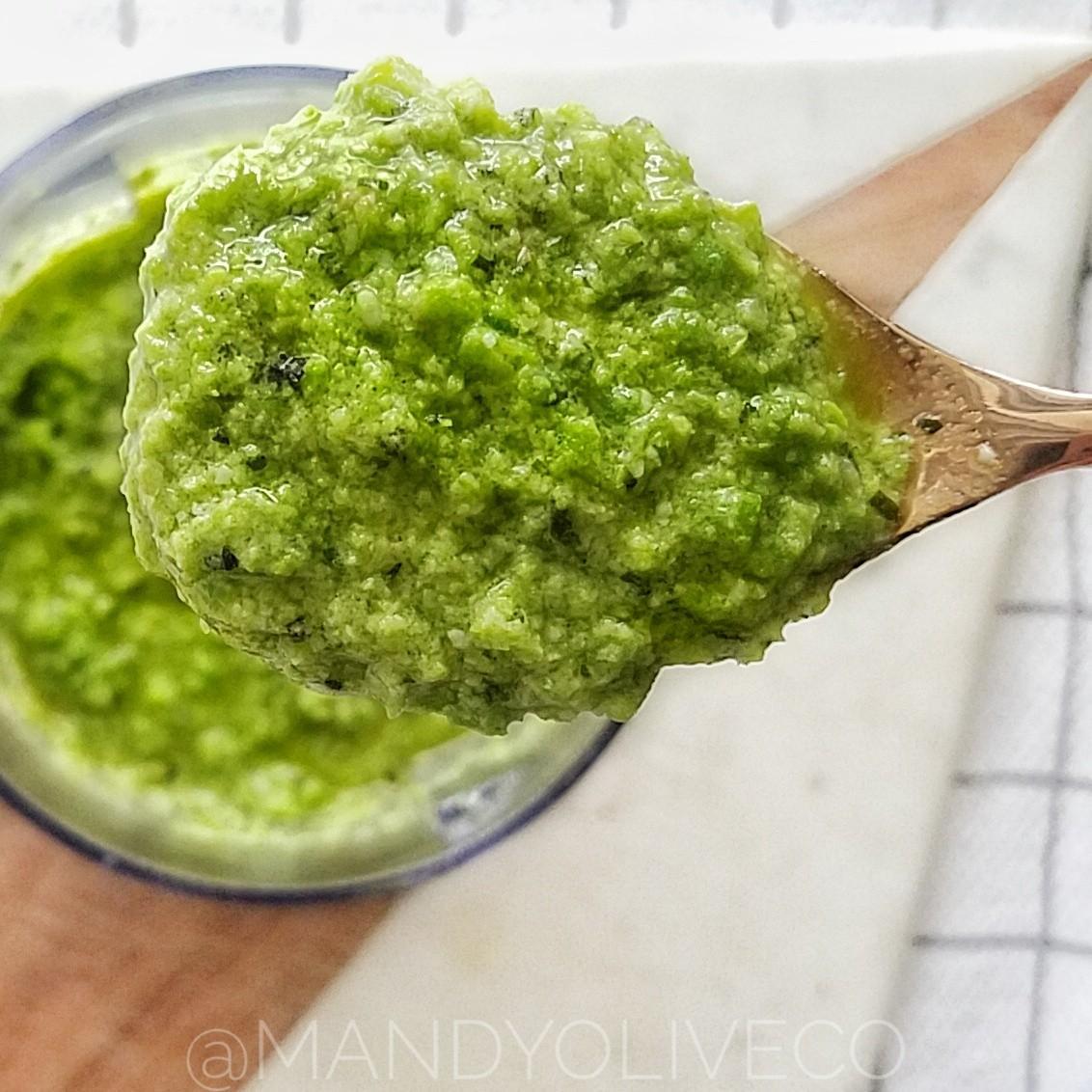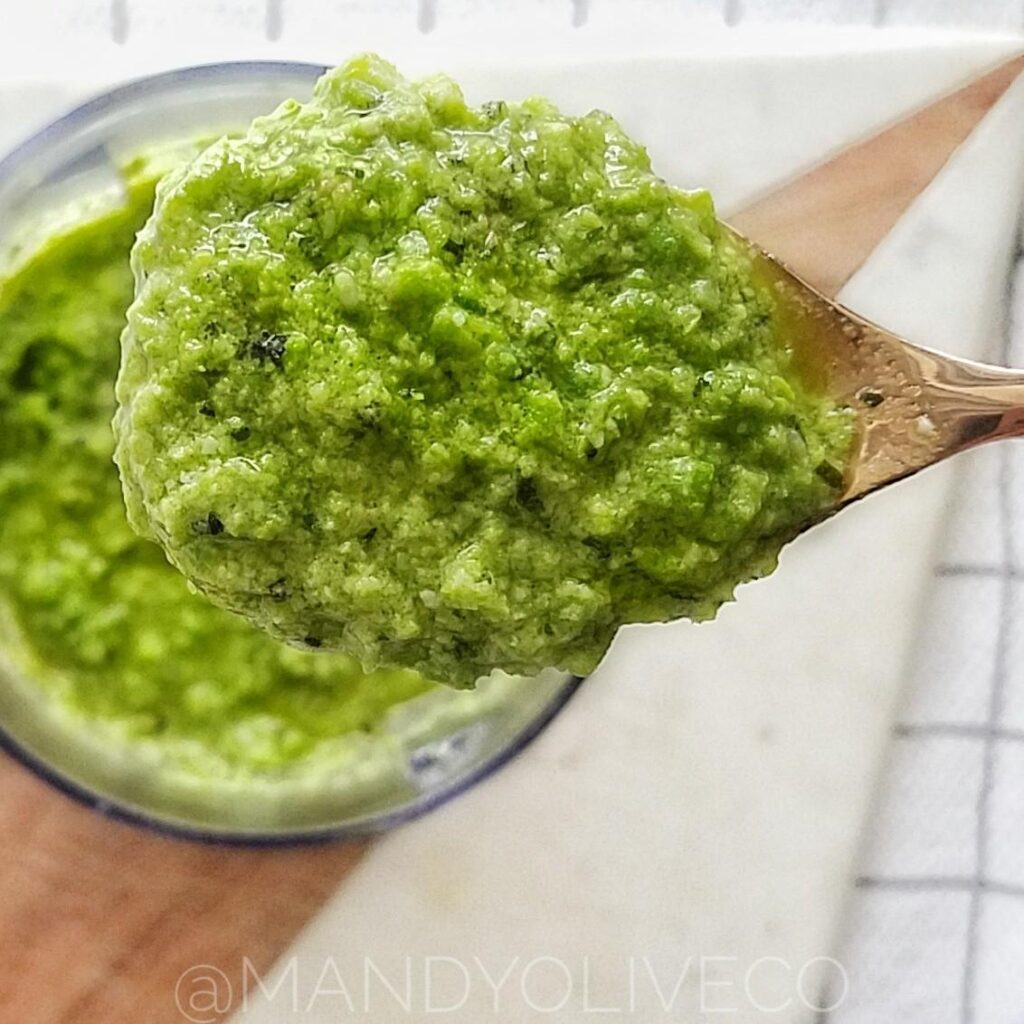 How to make these roasted potatoes with pea pesto...
This side dish is seriously so easy. First, preheat the oven to 450 degrees Fahrenheit, and line a baking sheet with parchment paper. Next, toss the fingerling potatoes in olive oil and spices.
We are keeping them whole for this recipe. Now, lay them out onto the baking sheet, and let them roast in the oven until the potatoes are fork-tender.
Once they have finished cooking, gently smash them with the back of a fork. Some of the larger ones may not break as easily, so poke them with the fork, first, to break the skin. Be careful not to crush them completely because the potatoes will be hard to pick up.
After you have crushed each potato, turn the broiler on high and place them back into the oven for five to ten more minutes. This will help the skin and exposed parts of the potato to crisp up. Finally, spoon a small amount of pea pesto onto each potato, and serve.
Other variations and notes...
Need these in half the time? You have a couple of options.
Microwave the potatoes for 5-10 minutes, or until they are tender. Smash the potatoes, and roast them using the broiler setting on your oven. You'll just have to watch them to prevent potential burning.
Skip the smash and toss the hot baby potatoes with a few spoonfuls of pesto.
Need a really good recipe to serve these with? Check out the links below for crispy, juicy chicken!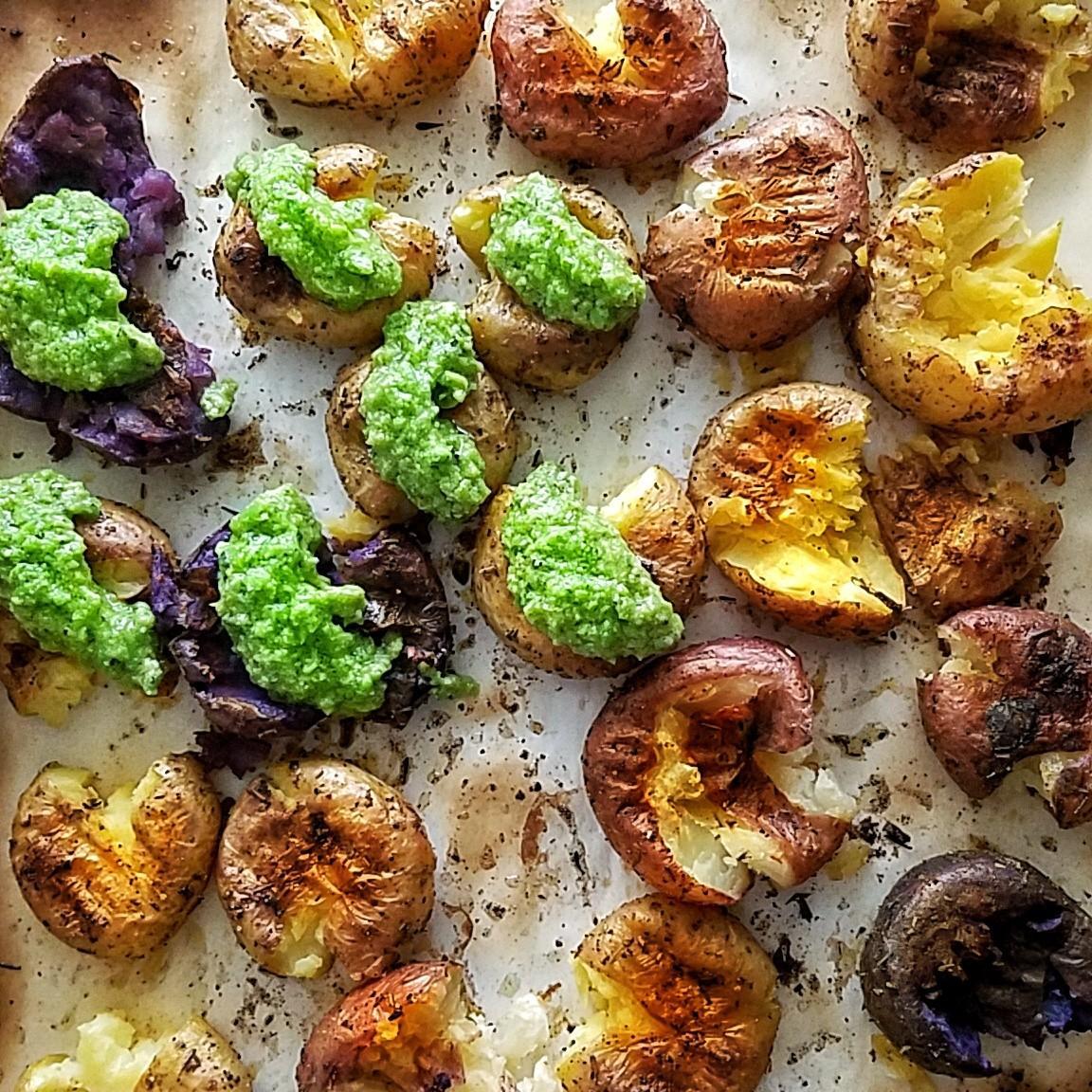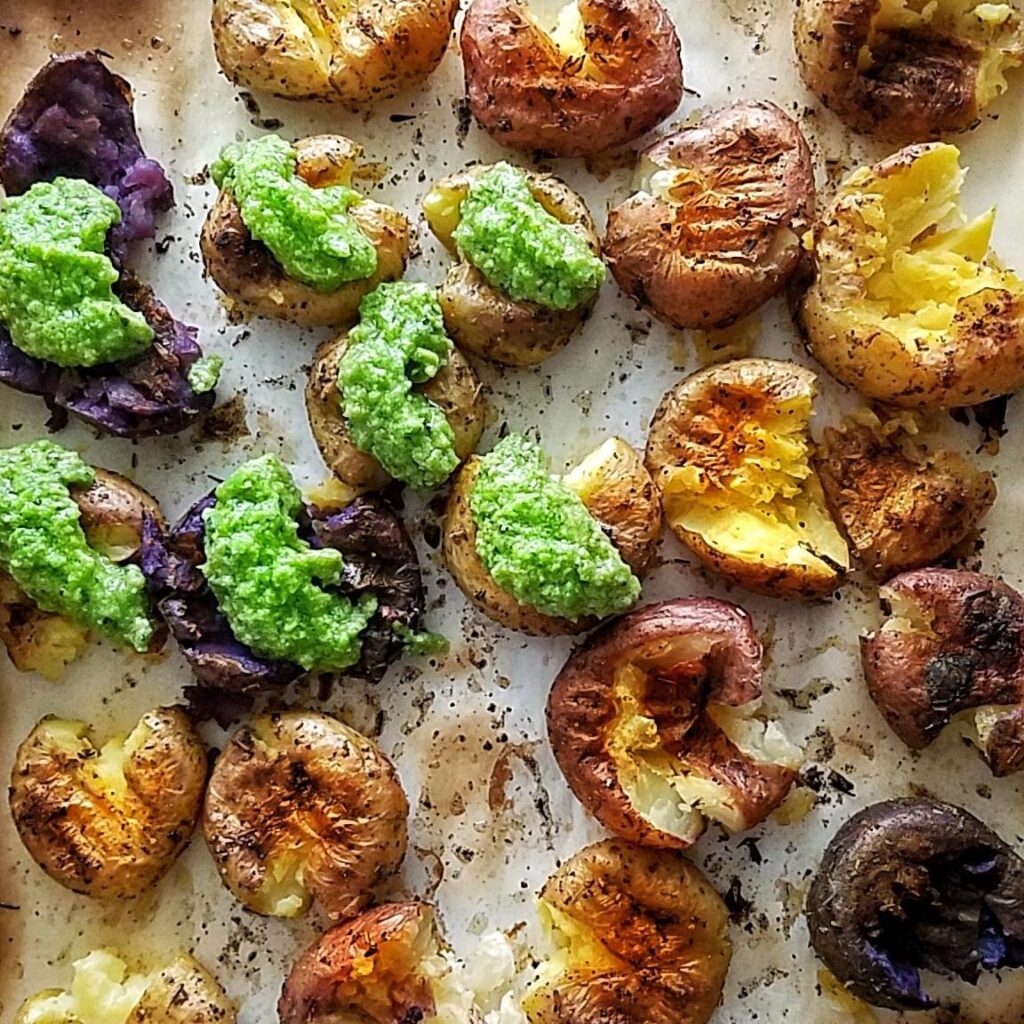 Not into peas? Here are some other pesto recipes to try...
---
Craving more? Try these recipes.
---
With Love,
Mandy
---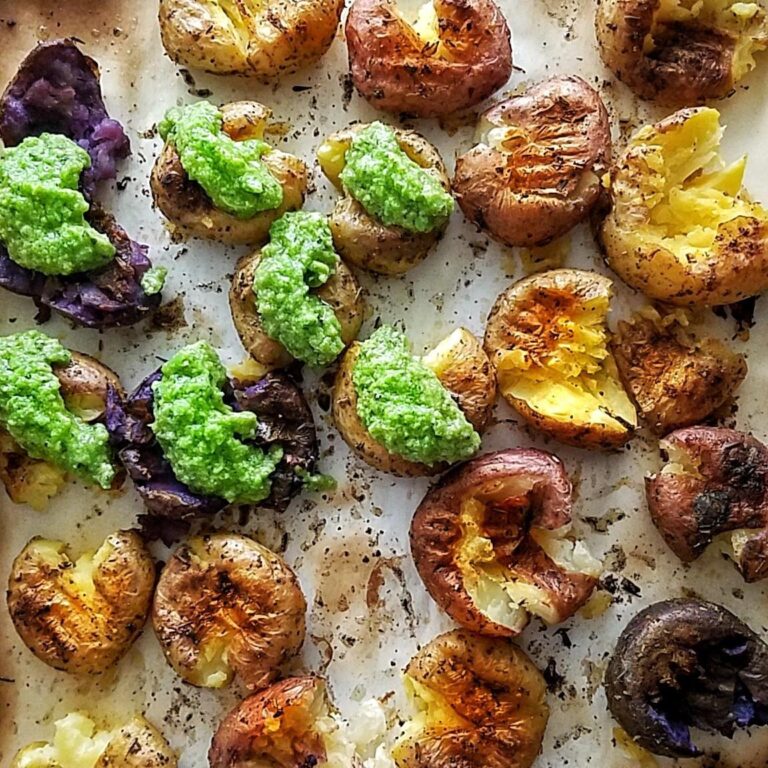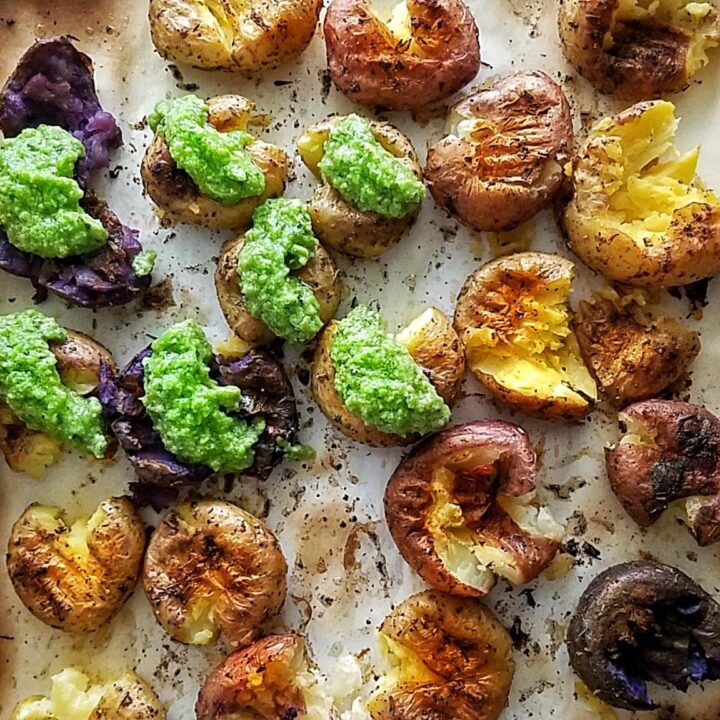 Roasted potatoes with Pea Pesto
That's right, peas. This minty pea pesto is made without nuts and served over crispy, creamy fingerling potatoes for a quick and easy side dish.
Ingredients
Pea Pesto
1 ¾ c peas, thawed if frozen
¼ c fresh mint,, packed
½ c lightly packed Parmesan cheese, finely grated
2 cloves garlic
½ c good quality olive oil
salt and pepper, optional
2 tablespoon nuts or seeds (I like walnuts or pistachio), optional
Potatoes
1 bag fingerling potatoes
2 tablespoon olive oil
1 teaspoon sea salt
1 teaspoon dried herb blend
½ teaspoon freshly cracked black pepper
½ teaspoon smoked paprika, optional
Instructions
Potatoes
Preheat oven to 450 degrees Fahrenheit, then toss the whole potatoes in olive oil and seasoning. Bake until fork tender, about 15 - 20 minutes.
Once the potatoes are done, smash each potato using the back of a fork. Place the potatoes back into the oven under the broiler. Let the potatoes cook for another 5 - 10 minutes.
Remove from oven, and spoon a small amount of pea pesto onto each potato and serve.
pea pesto
Add all ingredients into a food processor, and pulse until combined being careful not to puree the peas. Season with salt and pepper if needed.
Notes
The pesto will be thick, but it should move easily in your food processor. If the pesto is too thick, add in a couple of tablespoons of olive oil at a time.
Recommended Products
As an Amazon Associate and member of other affiliate programs, I earn from qualifying purchases.
Nutrition Information:
Yield:

6
Serving Size:

1 Servings
Amount Per Serving:
Calories:

406
Total Fat:

32g
Saturated Fat:

6g
Trans Fat:

0g
Unsaturated Fat:

25g
Cholesterol:

9mg
Sodium:

640mg
Carbohydrates:

24g
Fiber:

6g
Sugar:

5g
Protein:

9g
Nutrition facts are for personal reference only as calories may vary on a case by case basis.