You need to try these slow roasted sweet potatoes
I came across this article on Saveur.com about slow-roasted sweet potatoes, and my first response was, "why would I roast my potatoes for 2.5 hours!?"
Well, the short answer is that they will just taste better. It gives the sugars time to caramelize, and the flavor time to develop.
Listen, I am all for quickly roasting sweet potatoes in a high-heat oven, but you really need to give these a try.
You'll love this recipe because it's...
sweet
simple
a set it and forget it kind of dish
creamy
---
*this article contain affiliate links, please see my disclaimers page for more info.*
Start by seasoning the sweet potatoes
Preheat your oven to 275 degrees Fahrenheit, and cover a baking sheet with aluminum foil. Trust me on this one, the sugar oozes out of the potato, which will leave a mess on your baking sheet.
Gently, poke each potato a few times with a knife. Then, coat each sweet potato in olive oil, salt, pepper, and medium-ground fennel seed.
I buy my fennel seed off amazon, and use a manual coffee grinder to crush the seeds.
Place it into your oven, and set the timer for two hours. Depending on the size of your potatoes, this will take about 2 - 2.5 hours. When the middle of the potatoes are soft, and the bottoms have started to brown, turn the oven to broil.
Lightly char the sweet potatoes
Let the top of the potato toast, lightly, for about two minutes. Be sure to stand by so the potatoes don't burn. This step isn't necessary, but I like the slightly charred taste.
Remove from the oven to rest for at least ten minutes before handling. Once they've cooled, cut the potatoes down the center, and gently press the sides down to open.
Top with whipped ricotta
Blend the lemon, maple syrup, garlic, and ricotta in a food processor; or, mix together in a bowl. You can also use plain yogurt in place of the ricotta, which will give you a tangier taste. Season the whipped ricotta with salt and pepper, if needed.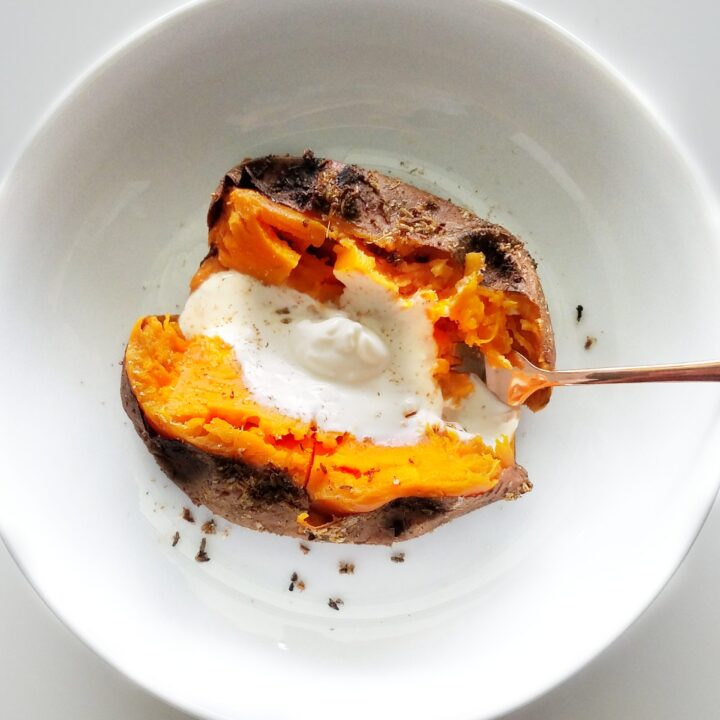 Slow Roasted Sweet Potato with Whipped Ricotta
Cook Time:
2 hours
30 minutes
Total Time:
2 hours
30 minutes
Why slow-roasted sweet potatoes? because it causes the sugars to caramelize resulting in a sweet spud.
Ingredients
Sweet potatoes
4 sweet potatoes
2 tablespoons olive oil
2 teaspoons salt
1 teaspoon black pepper
2 teaspoons medium-ground Fennel seed
Whipped Ricotta
½ cup ricotta (or plain yogurt)
1 tablespoon pure maple syrup, plus more if needed
½ small lemon (zest + juice)
1 clove garlic
Instructions
Preheat the oven to 275 degrees F.
Gently poke the raw sweet potatoes a few times with a knife.
Grind whole fennel seed to a medium ground consistency.
Coat the sweet potatoes with olive oil, fennel seed, salt, and pepper.
Bake for 2.5 hours or until the bottoms start to caramelize and the inside is soft.
Meanwhile, whip ricotta, lemon, and maple syrup. (store in the fridge until ready to use.)
Once the potatoes are done, broil them on high for 1 - 2 minutes, or until the skin is slightly blistered.
Split each sweet potato open, and top with ricotta, and freshly grated nutmeg.
Notes
You can also use plain yogurt instead of ricotta for a tangier flavor
Recommended Products
As an Amazon Associate and member of other affiliate programs, I earn from qualifying purchases.
Nutrition Information:
Yield:

4
Serving Size:

1
Amount Per Serving:
Calories:

227
Total Fat:

10g
Saturated Fat:

3g
Trans Fat:

0g
Unsaturated Fat:

7g
Cholesterol:

10mg
Sodium:

1131mg
Carbohydrates:

31g
Fiber:

5g
Sugar:

11g
Protein:

6g
Nutrition facts are for personal reference only as calories may vary on a case by case basis.