How to make a flavorful roasted squash side dish...
This recipe will show you how to make roasted squash and how easy it is. It is an excellent side dish for just about any dinner. I've amped up the flavor of this roasted squash with a maple tahini dressing, which is both sweet and nutty, which is a perfect complement to the roasted squash.
You'll love this recipe because it's...
simple
a set it and forget it kinda side dish
goes with almost any dinner
slightly sweet
super easy
---
Squash is seriously the perfect side dish...
First, line a baking pan with parchment paper and a light coat of cooking spray. Next, slice your squash in half, lengthwise, and scrape out all the seeds. You can save the seeds from roasting or discarding them. I decided to bake my seeds to use as a garnish, but if you want, you could use nuts like walnuts.
Here's what I did to roast the seeds...
Clean the seeds by removing any of the membranes.
Pat the seeds dry.
Coat in a small amount of oil, about a teaspoon.
Add a large pinch of salt, and toss.
Roast at 325 for about 20 -30 minutes, or until golden brown, stirring the seeds every 10 minutes to ensure they cook evenly.
Let the seeds cool.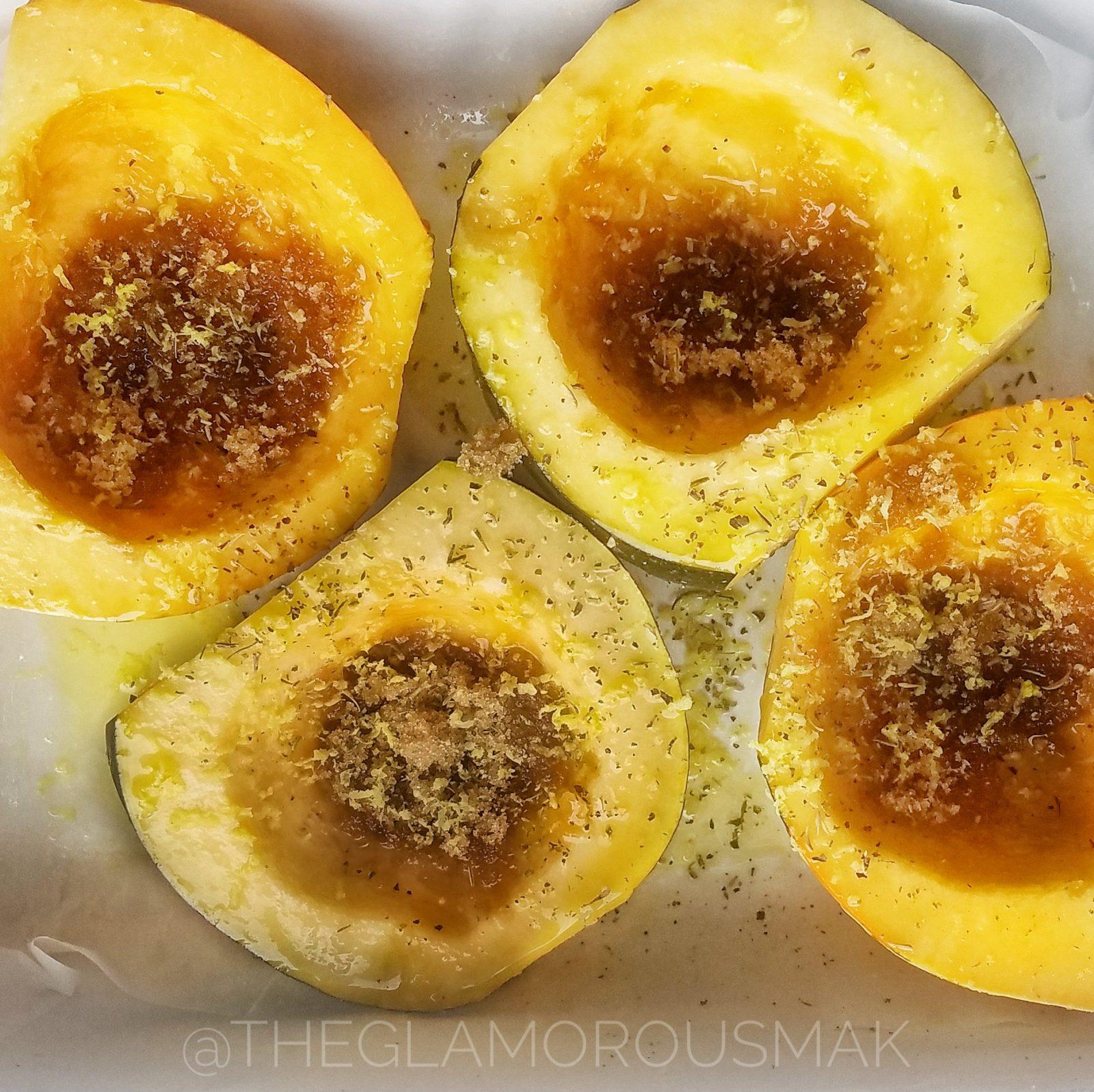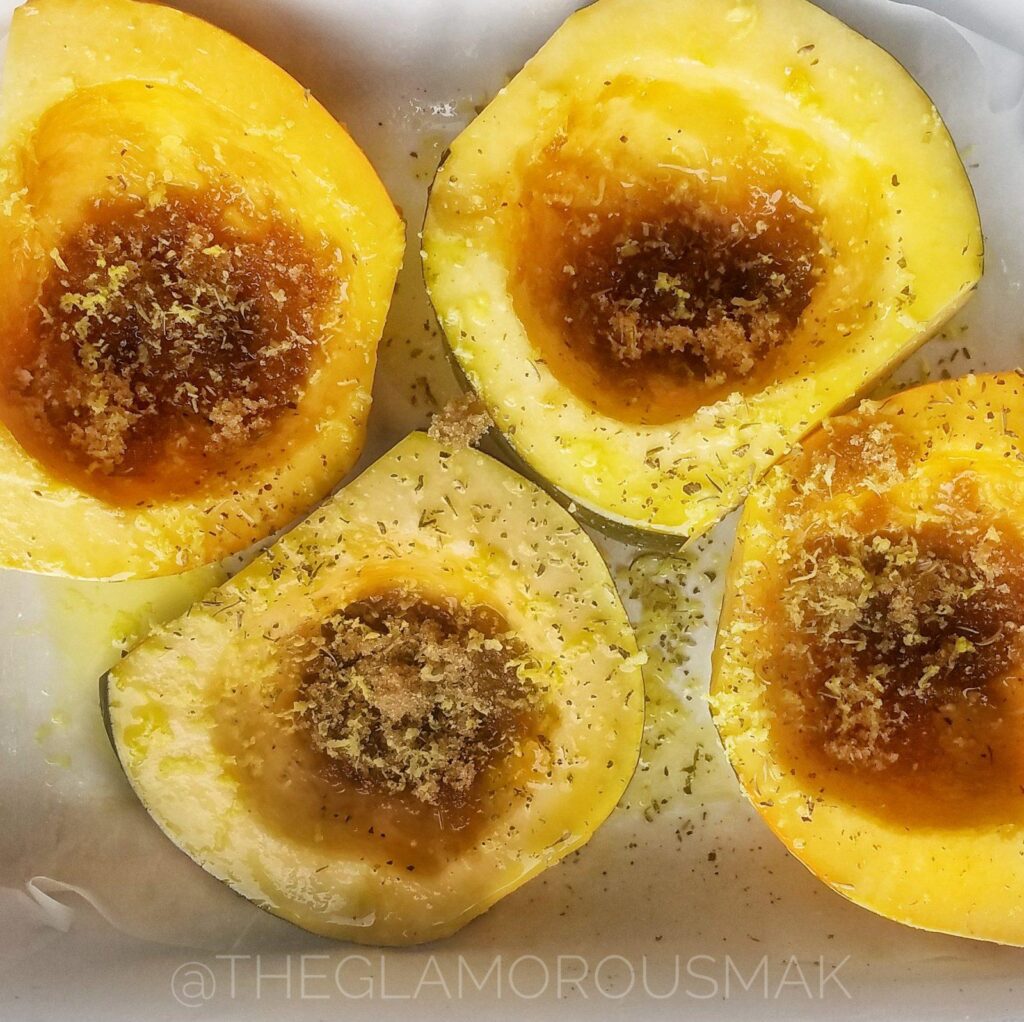 How to make roasted squash...
I love squash because they're like little boats that you can fill with all kinds of goodness. I filled mine with sugar. First, lightly score the meat of the squash with a knife, don't poke through to the bottom. It will help the squash soak up some of the liquid we are about to pour in. Now, in a small bowl, mix olive oil, salt, brown sugar, pure maple syrup, herbs, and spices. Brush this mixture onto the squash, and evenly pour the remaining mixture into the boats. Cover the baking pan with aluminum foil, and bake for about 45 minutes. At the halfway point, brush the sugar mixture all over the squash. Recover with the foil and finish cooking.
Tahini Dressing goes with everything...
In the meantime, make the dressing. When I make homemade dressings, I use a mason jar because shaking is much easier than whisking to combine. However, tahini can clump up, so you may have to break it down with a fork. This dressing is effortless and goes with almost anything. Just throw all of the ingredients into the jar, and give it a shake. Make sure you taste this dressing first. If the tahini dressing is too bitter, add a teaspoon of maple syrup until it's sweet enough for you. Many times I have had to add more than two teaspoons of maple syrup.
Finish it off...
Once the squash has finished cooking, it will be very soft, and easy to pierce with a fork. If there is any remaining sugary liquid, brush it around to distribute. Then, while the squash is piping hot, top it with half the tahini dressing. Again, brushing the dressing around, so it doesn't pool into the middle. You can serve it like this or add some crushed nuts or roasted seeds.
---
craving more?
Here are some other recipe(s) I think you might enjoy…
Brussels Sprouts with Tahini Dressing
---
Do you like this recipe?
Want to remember this for later?
Save this recipe directly to your Pinterest board by clicking the Pin button on the photo below!
With Love,
Mandy
*Any nutritional data provided is for personal reference only as these are approximations, and data may vary on a case by case basis. Please refer to my disclaimers page.*
---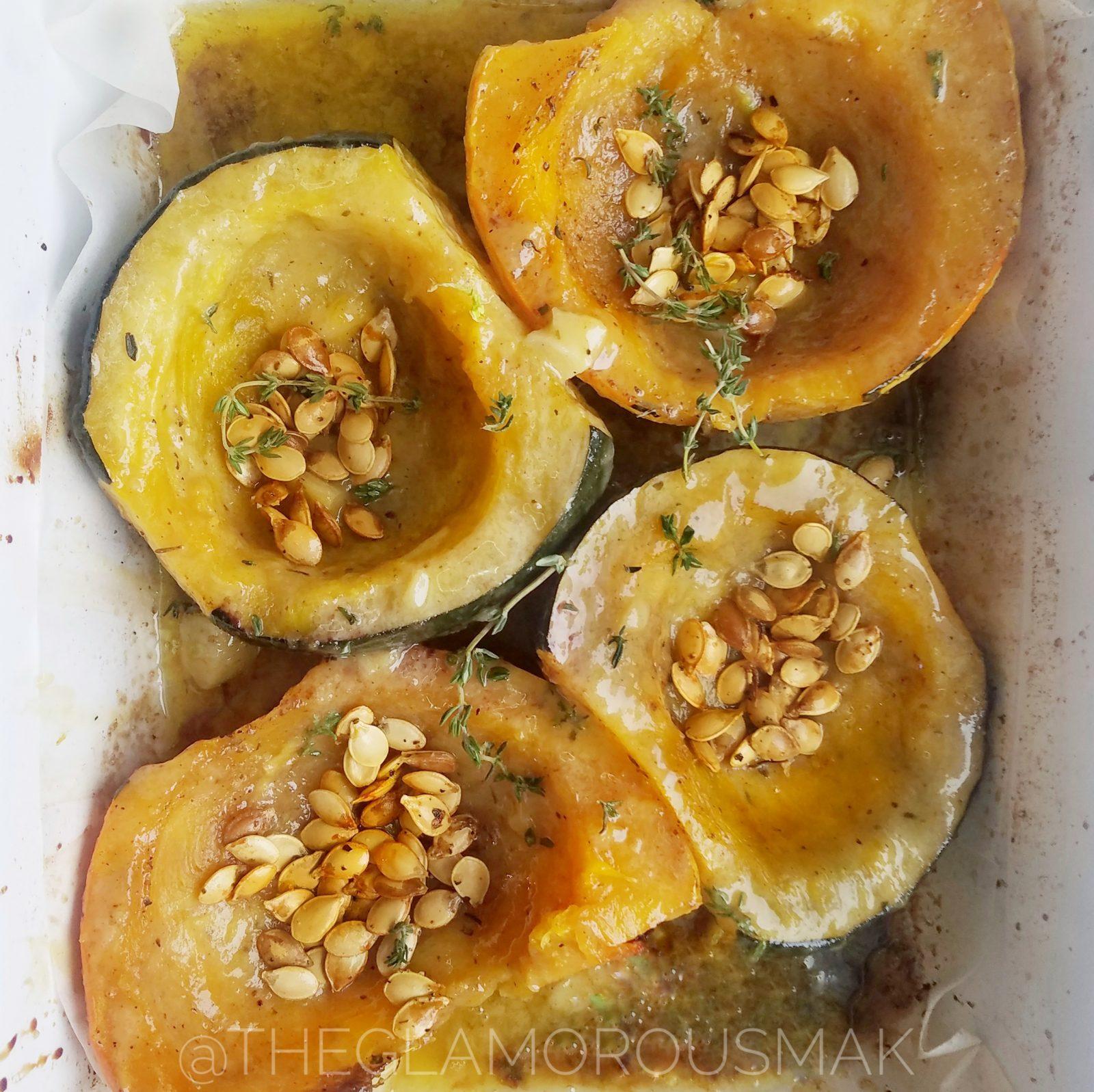 Roasted Squash with Tahini Maple Dressing
How to cook acorn squash in the oven. This roasted squash is a simple recipe with a sweet and nutty tahini dressing for an easy side dish.
Ingredients
Squash
Acorn or buttercup squash, halved
2 tablespoons Brown sugar
1 tablespoon Pure maple syrup
2 tablespoons Olive oil
1 teaspoon dried herbs
½ teaspoon Cinnamon
¼ teaspoon Nutmeg
1 inch ginger, grated
½ teaspoon salt
Freshly cracked black pepper.
Roasted squash seeds or crushed nuts, optional
Tahini dressing
2 tablespoon tahini
2 teaspoon pure maple syrup, or more
1 lemon, juice + zest
1 teaspoon stone ground mustard
¼ c olive oil
1 tablespoon fresh thyme, , optional
Water to thin, if needed
Instructions
Preheat oven to 400 degrees Fahrenheit, line a baking dish with parchment and spray the inside with cooking spray.
Cut the squash in half, lengthwise, and scrape out the seeds, you can save these to roast in the oven or toss. poke the "meat" of the squash with a fork or knife.
In a small bowl, mix together brown sugar, maple syrup, olive oil, salt, cinnamon, nutmeg, and ginger.
Brush mixture onto squash, cover the acorn squash with aluminum foil and roast until fork tender, about 30 - 40 mins for smaller squash. They should be soft, and you should easily be able to pierce and scrape the squash with your fork.
Meanwhile, make tahini dressing. Place all dressing ingredients, except water, into a mason jar with lid. Shake vigorously then add water if the dressing is too thick to pour.
Once the squash is done, dress it with about half the tahini dressing, top with roasted squash seeds or crushed nuts.
Notes
Note: you may have to break up the tahini with a fork because it has a tendency to clump together. Also, DO NOT pour out oil on top of tahini, just scoop out the tahini while disturbing as little oil as possible.