I do not care for Brussels sprouts, but...
I really dislike Brussels sprouts, but I know how incredibly healthy they are for you. According to the website Healthline, a half cup of these miniature cabbages is rich in vitamin K, vitamin C, and omega-3 fatty acids. (If you want to learn more, the article is linked below).
Therefore, instead of writing them off as gross vegetables, I kept making them until I found something I liked. I bring you roasted Brussels sprouts with tahini dressing.
You'll love this recipe because it's...
30 minutes or less
healthy
quick and easy
actually a delicious way to eat Brussels sprouts
it has bacon...
---
---
Prep the Brussels sprouts with tahini dressing...
Start by washing, and prepping, about 4.5 cups of Brussels sprouts. You can use frozen, but I prefer fresh. Depending on the size, halve or quarter each of them; then, in a large bowl, toss with spices. Start with a tablespoon of olive oil and a large pinch of salt.
Next, sprinkle cinnamon, nutmeg, salt, and pepper, then cook for about thirty minutes at 450 degrees Fahrenheit. When it's done, it shouldn't be mushy, but you should be able to stab it with a fork.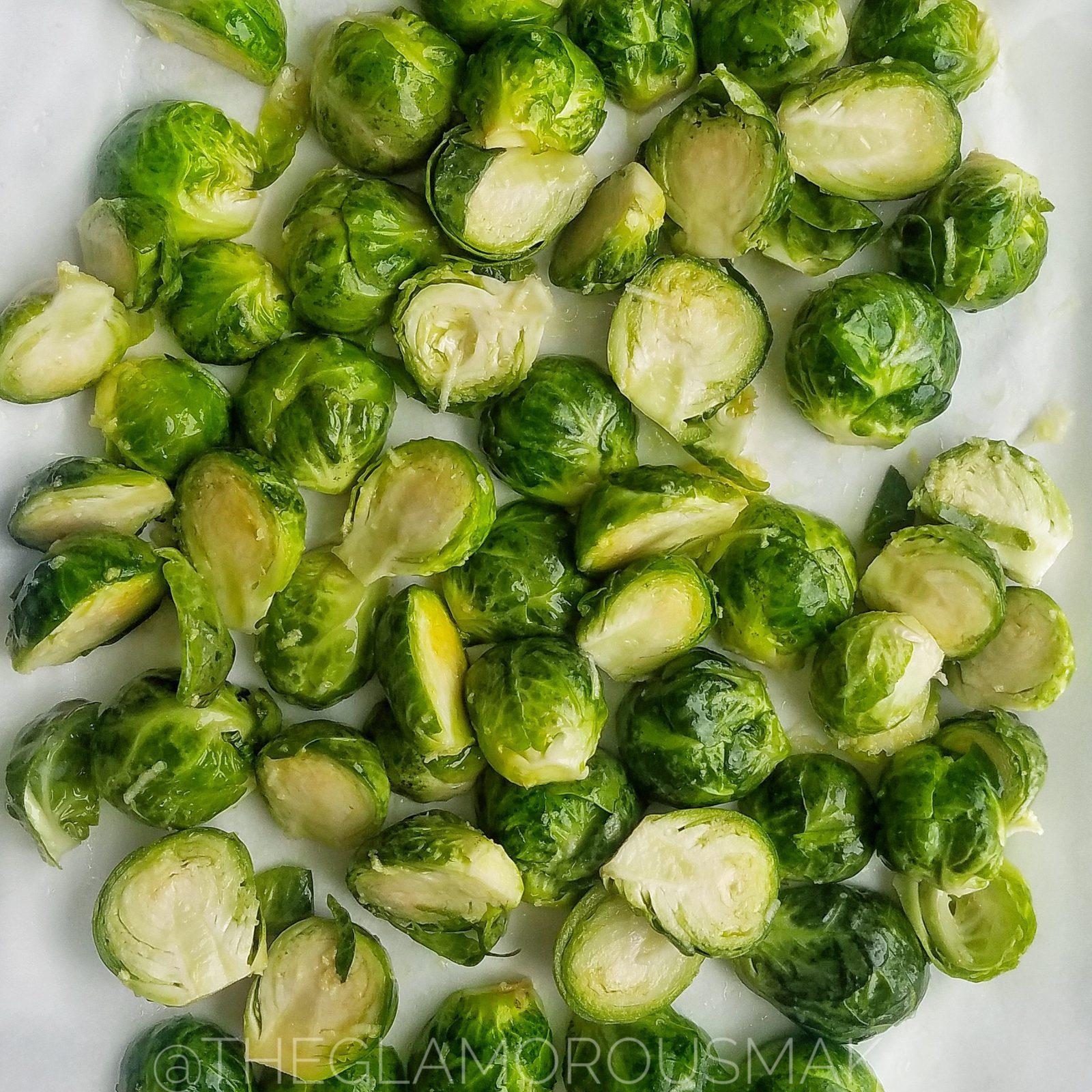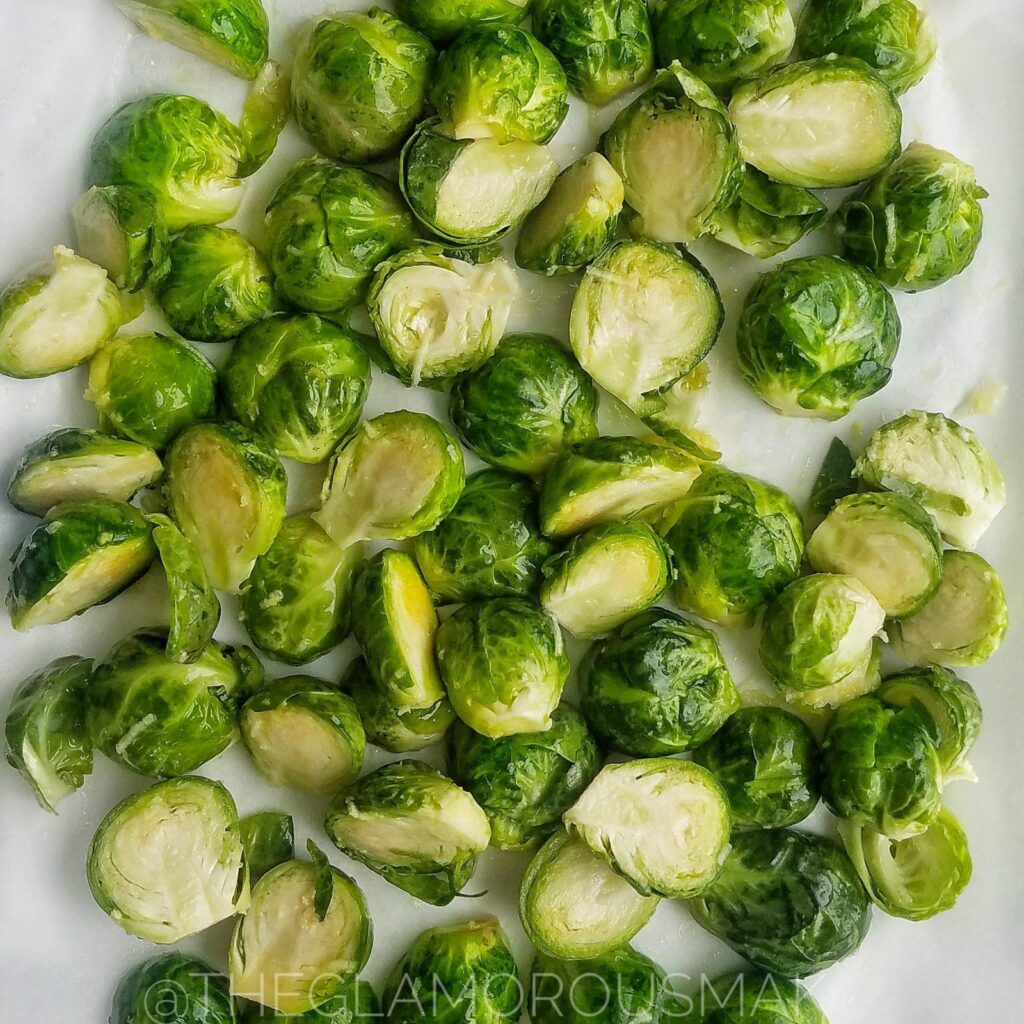 Make the bacon and dressing...
While the Brussels sprouts are roasting, make the bacon and tahini dressing. I made the bacon on the stove, but you can do it in the oven if that is easier for you. After the bacon cools, crumble it
In the meantime, make the dressing. When I make homemade dressings, I use a mason jar because shaking is much easier than whisking to combine. However, tahini can clump up, so you may have to break it down with a fork.
This dressing is very simple and goes with almost anything. Just throw all of the ingredients into the jar, and give it a shake. Make sure you taste this dressing first. If the tahini dressing is too bitter, add a teaspoon of maple syrup until it's sweet enough for you. Many times I have had to add more than two teaspoons of maple syrup.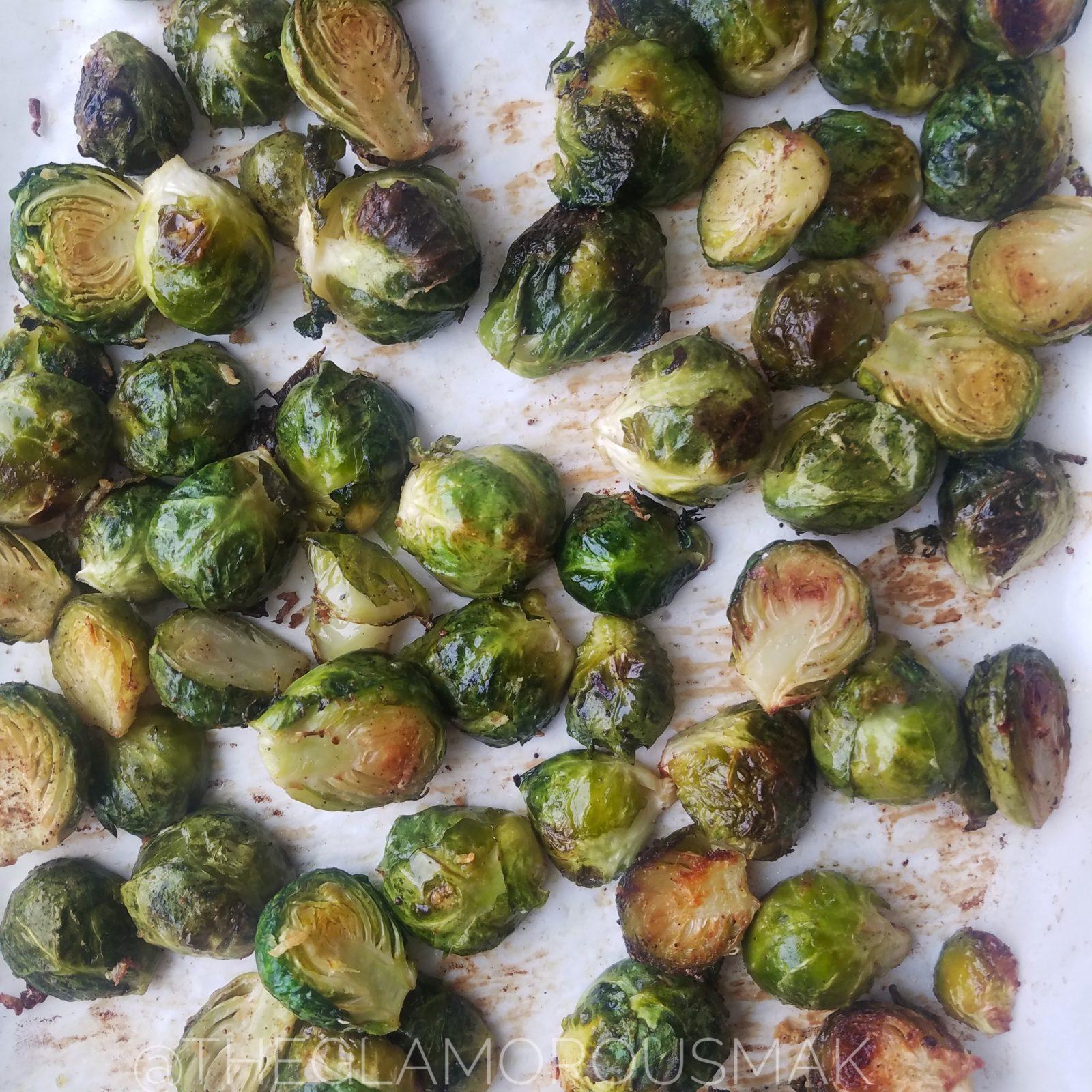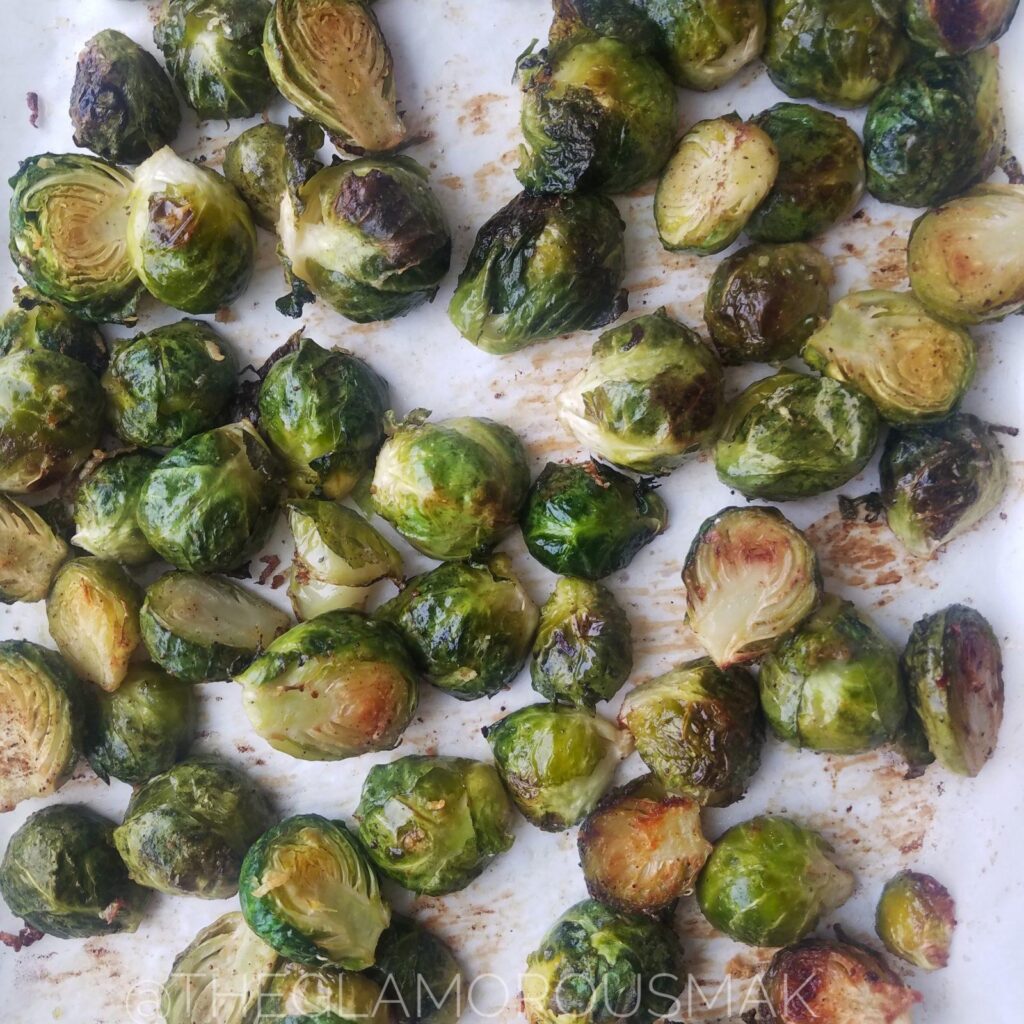 Assemble...
Toss Brussels sprouts and bacon with half of the dressing, or until lightly coated. Add salt and pepper to taste. I decided to top mine with toasty squash seeds to add a little crunch, but walnuts would be good, too.
Boom, done. An actually delightful way to eat Brussels Sprouts. Make sure to serve it hot!
Craving more?
Here are some other recipe(s) I think you might enjoy…
---
*Learn more about Brussels sprouts by reading this Healthline article:
Healthline: 10 Brussels sprouts benefits
---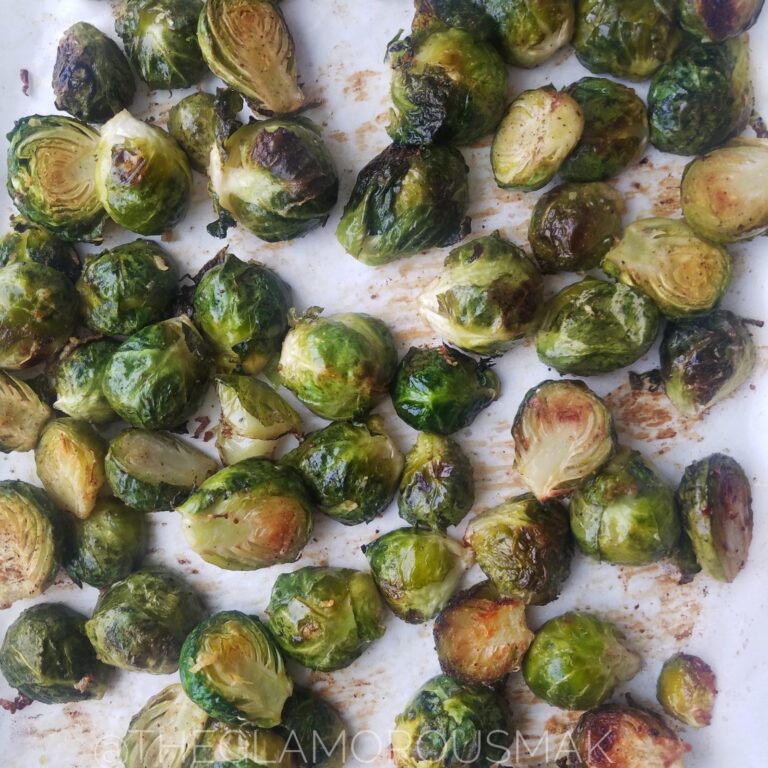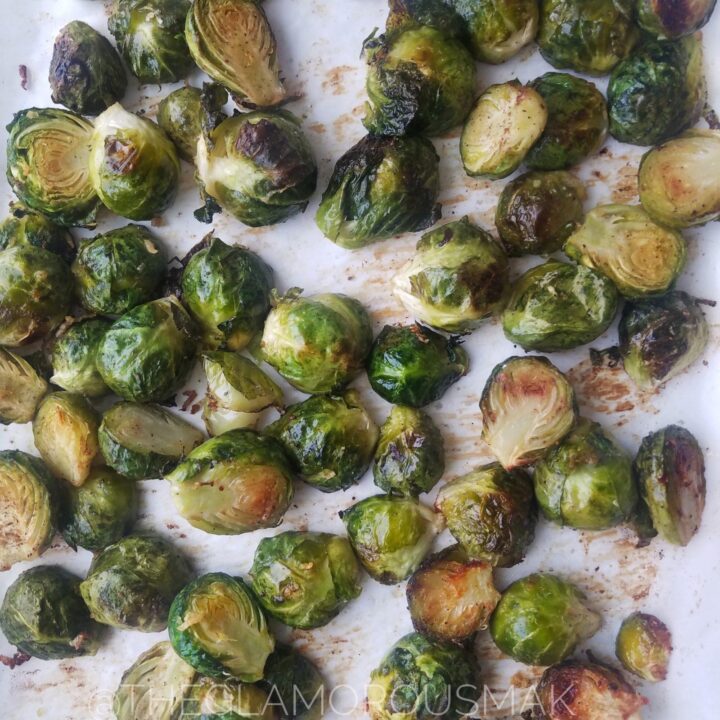 Brussel sprouts with tahini dressing
Best recipe for Brussels Sprouts with bacon and tahini dressing with maple syrup. A simple side dish for crispy caramelized oven roasted brussels sprouts with garlic and ginger.
Ingredients
Brussels sprouts
1 lbs Brussel sprouts
1 large pinch of Salt
¼ teaspoon ground nutmeg
¼ teaspoon ground cinnamon
1 tablespoon olive oil
Pepper to taste
Lemon tahini dressing
2 tablespoon tahini
1 tablespoon pure maple syrup, more to taste
1 small lemon, juice + zest
1 teaspoon stone ground mustard
2 cloves garlic, grated
¼ c olive oil
1 tablespoon fresh thyme
2 tablespoon water to thin,, or more
S + P
Extras (optional)
Bacon, crumbled
crushed walnuts
pumpkin, sunflower or squash seeds
Instructions
Preheat oven to 450 degrees F, and line a baking sheet with parchment paper.
Next, halve Brussels sprouts
Toss the Brussels sprouts in olive oil, grated ginger, grated garlic, nutmeg, cinnamon, a large pinch of salt and freshly cracked black pepper.
Lay onto a baking sheet, and cook until the Brussels sprouts are fork-tender, about 25 mins.
In a mason jar, add in tahini dressing ingredients. Break up the tahini with a whisk or fork. Cap the mason jar and shake vigorously. Thin with water until you reach the consistency that you want.
In a bowl, toss warm, roasted Brussels sprouts, crumbled bacon and half of the tahini dressing.
Serve warm.
Notes
Leftover tahini dressing will keep in the fridge for a few days.
Recommended Products
As an Amazon Associate and member of other affiliate programs, I earn from qualifying purchases.
Nutrition Information:
Yield:

6
Serving Size:

1 people
Amount Per Serving:
Calories:

230
Total Fat:

19g
Saturated Fat:

4g
Trans Fat:

0g
Unsaturated Fat:

15g
Cholesterol:

13mg
Sodium:

267mg
Carbohydrates:

9g
Fiber:

3g
Sugar:

3g
Protein:

8g
Nutrition facts are for personal reference only as calories may vary on a case by case basis.
sS