Kale, you're doing it wrong...
You're probably thinking kale? Yes. Kale. If you don't like kale, you're doing it wrong. Trust me, I was, too. This hearty green is PACKED with so much goodness. It gets a bad wrap because of it's tough, bitter flavor, but there's a trick to making kale more palatable.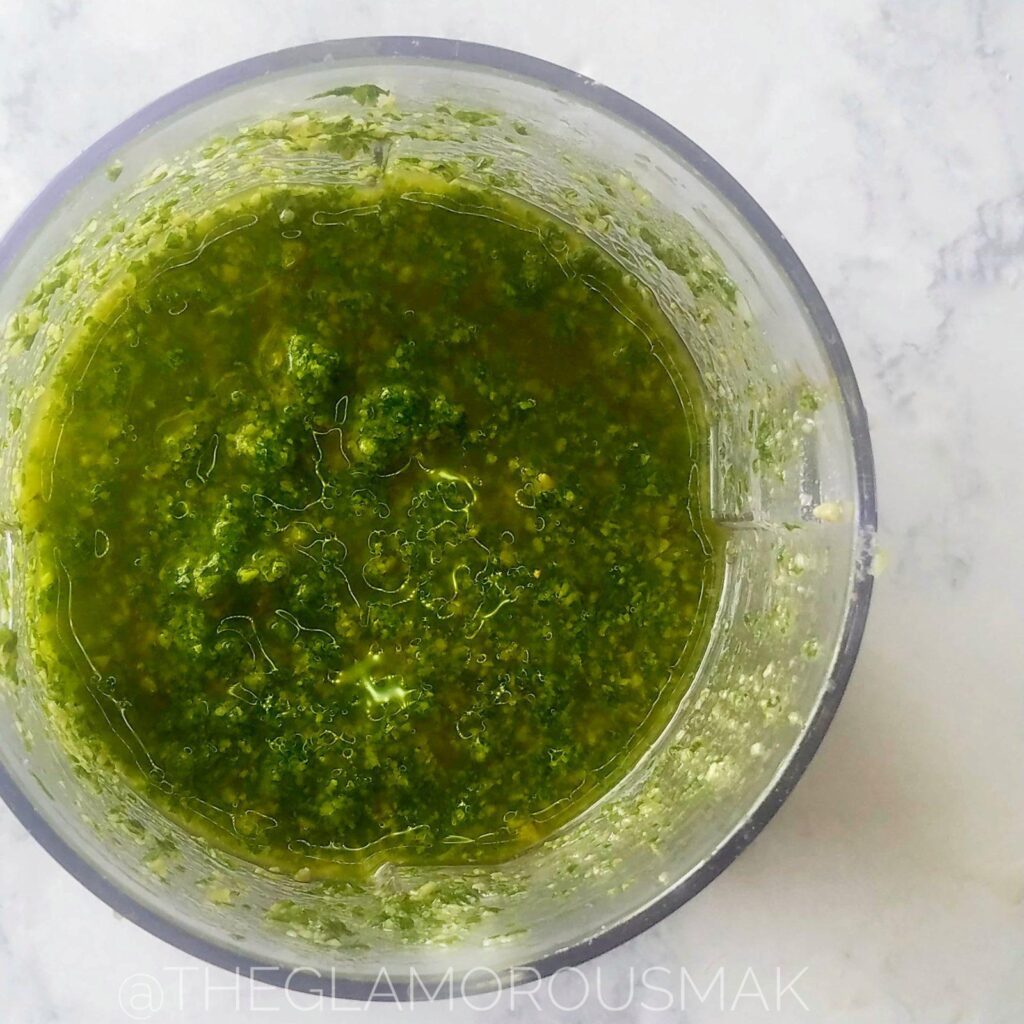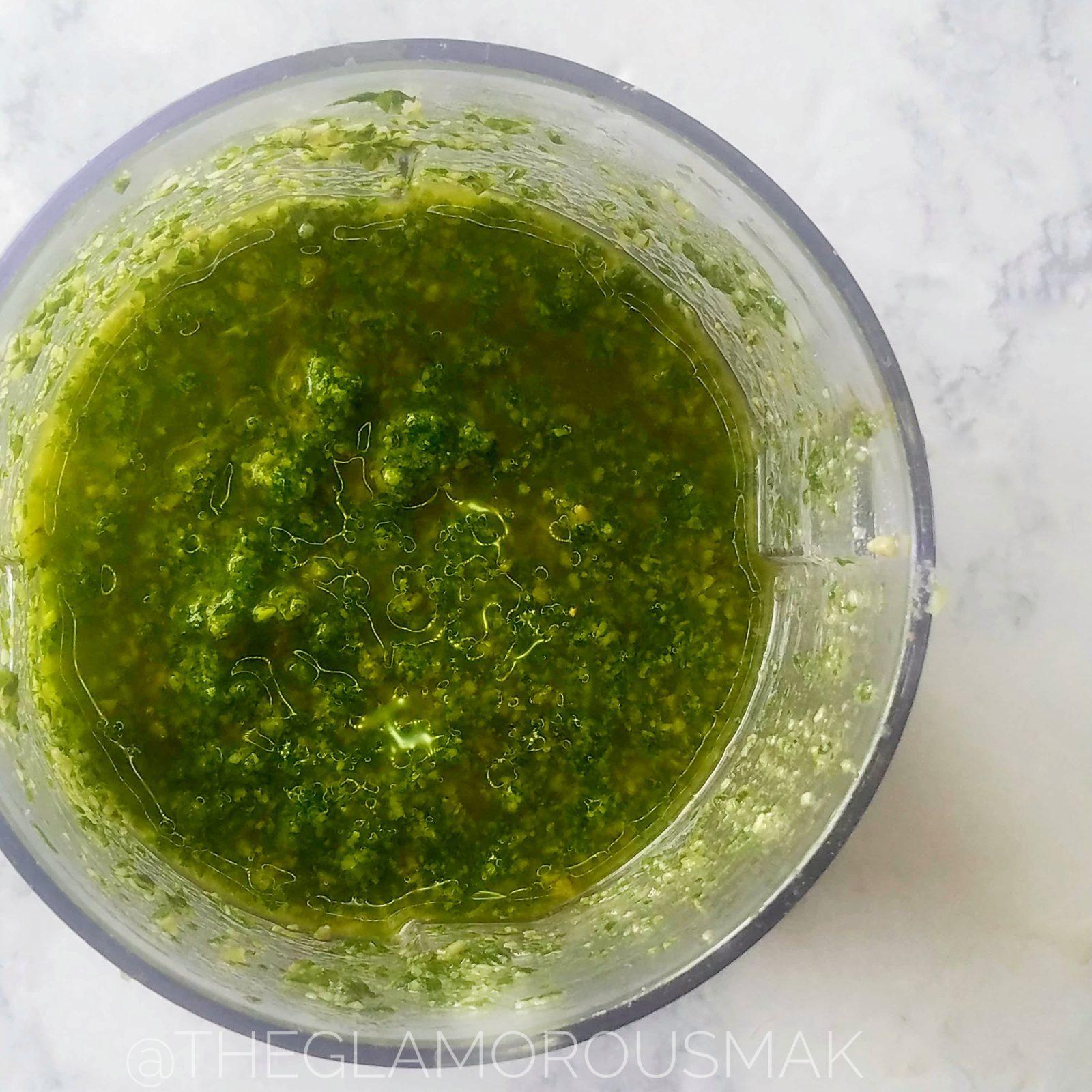 Want to know what it is?  Massage. You heard me right. Massaging kale helps to break down the fibers, and make it more tender. Massage the kale by gently gripping it between your hands, and squeeze it.  Repeat for about 30-45 seconds, or until it smells like grass. 
I know, that's the most unappetizing description, but it's certainly an accurate one. Now, you know how to do it right.
You'll love this recipe because it's...
Easy
Simple
Quick
Nutritious
Fresh
---
Still not convinced?
Turn it into pesto. Seriously, this is my favorite way to make pesto.  Not only is it incredibly easy, it's cheap and loaded with vitamins.  For this pesto, I did something a little different. 
Instead of using nuts or seeds, I used a nut butter. Now, in place of the nut butter, you can always stick with nuts or seeds; I particularly like pistachios, sunflower seeds, or pepitas. I just wanted to use something different, but if you decide to use nuts or seeds, add an extra tablespoon.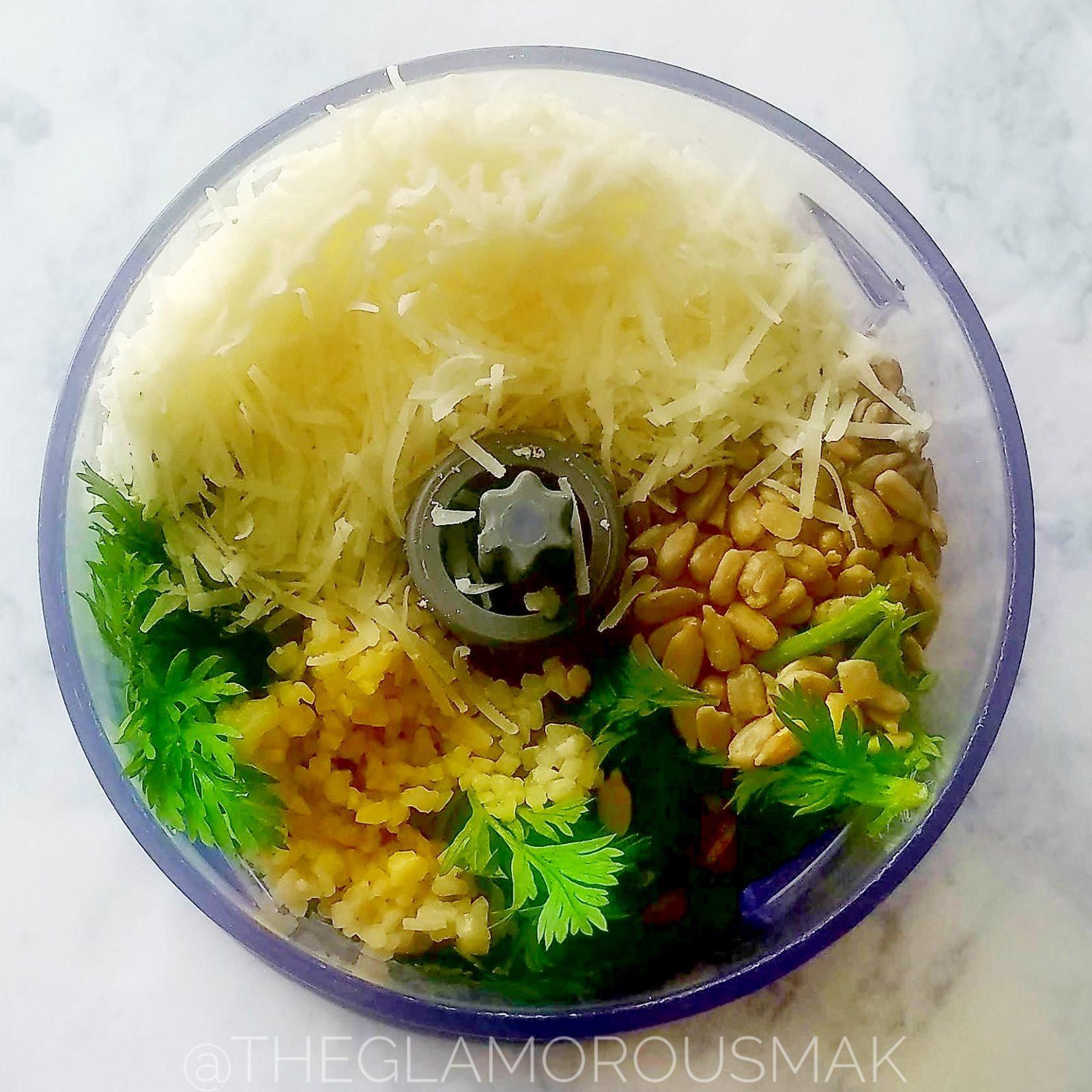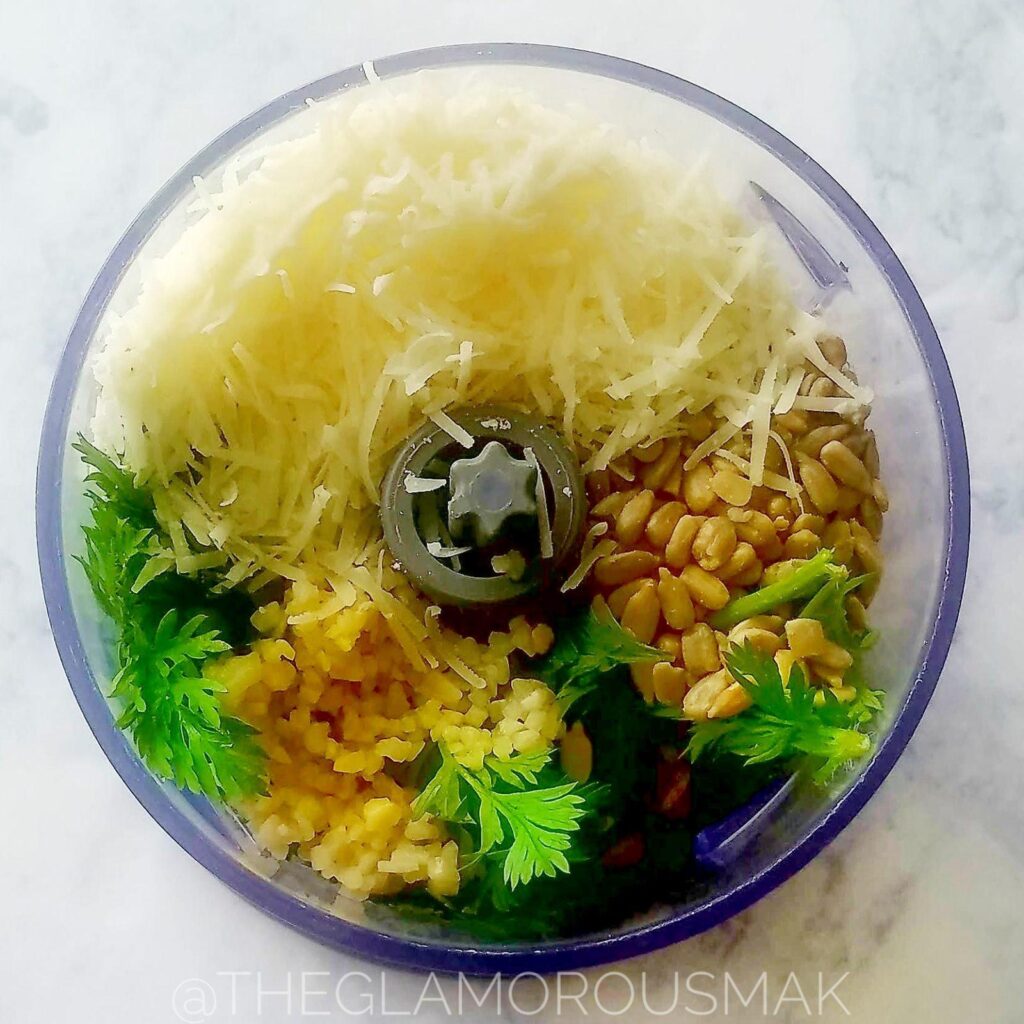 Make it into Pesto...
To start, In your food processor, pile in two cups of (massaged) kale, one clove of garlic, one tablespoon of nut butter (or two tablespoons of any nuts or seeds) and a half cup of grated Parmesan cheese.
Next, slowly stream in a half cup of quality, extra virgin olive oil while pulsing the kale mixture until everything is minced and incorporated.  We're not making kale puree, here; you want it to be slightly gritty. Finally, put it on everything.
Store in an airtight container, and cover the top of the pesto in olive oil. Keep refrigerated.
---
Craving more?
Here are some other recipe(s) I think you might enjoy…
---
With Love,
Mandy
*Any nutritional data provided is for personal reference only as these are approximations, and data may vary on a case by case basis. Please refer to my disclaimers page.*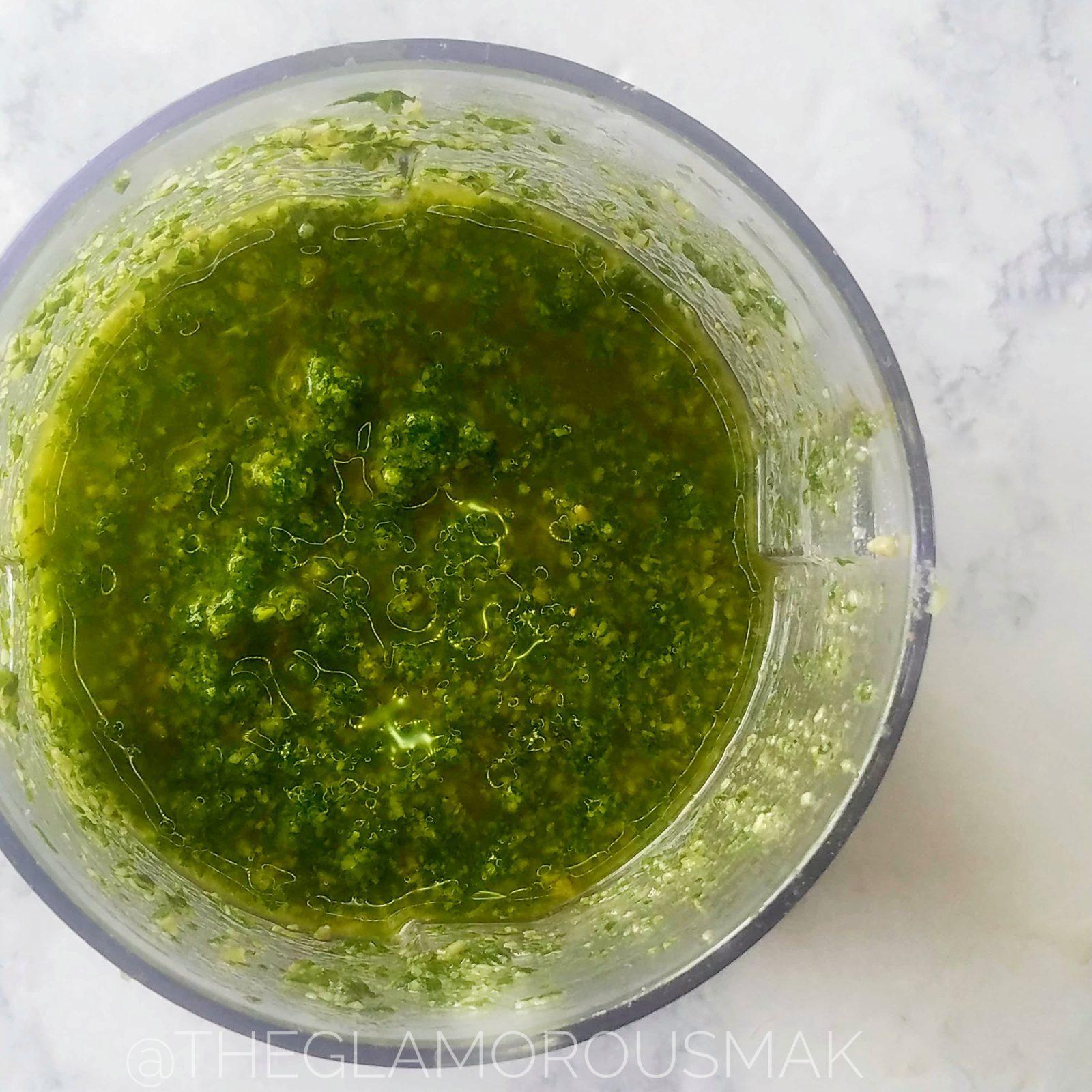 Kale Pesto
Boring pesto gets a kick with kale and nut butter. This cheap, easy, simple and healthy kale pesto can be put on everything. Pasta, breads, deli sandwiches or paninis.
Ingredients
2 c kale, , massaged (see notes)
1 tablespoon nut butter, , or 2 tablespoon nuts or seeds
1 clove garlic
½ c Parmesan cheese
½ c Good quality olive oil
Instructions
Gently massage the kale until fragrant (about 30-45 sec)
Add all ingredients into a food processor, except for olive oil. Slowly add in olive oil while pulsing the kale mixture until minced and incorporated. Do not over-process. We're not making kale puree.
Notes
Massage the kale by gently squeeze it between your hands. The kale will begin to wilt and become fragrant. This makes the kale more palatable.