The vanilla sweet cream nitro cold brew is described as smooth and slightly sweet with a full-bodied texture, here's how you can make a Starbucks Nitro Cold Brew with Sweet Cream at home.
This post contains affiliate links, see my disclaimers page for more info
What is nitro cold brew?
A Nitro Cold Brewing Keg uses Nitro cartridges to infuse nitrogen into your cold brew coffee. This reaction creates a smooth brew that's delicate on the tongue.
How do I make a nitro cold brew at home?
The Nitro Cold Brewer I chose was the Growlerwerks Ukeg Nitro Cold Brew Keg and their Nitro brewing kit, which has extra cartridges and filter bags.

Why did I choose this one?
I purchased this one because the Growlerwerks Nitro Cold Brewer brands itself as an all-in-one brew and pour keg. Although there are others at a slightly lower price, I have to brew my cold brew in a separate container, then pour the ready-made cold brew into the keg.
This process seemed more complicated at the time of purchase, and I liked that the Growlerwerks brewer came with everything I needed right off the bat.
Are there other options?
However, if you have space in your fridge or drink more than 12 cups of coffee per day, a different (or larger) Nitro cold brewer, like this one, may be a better option.
Nitro Cold Brewer Options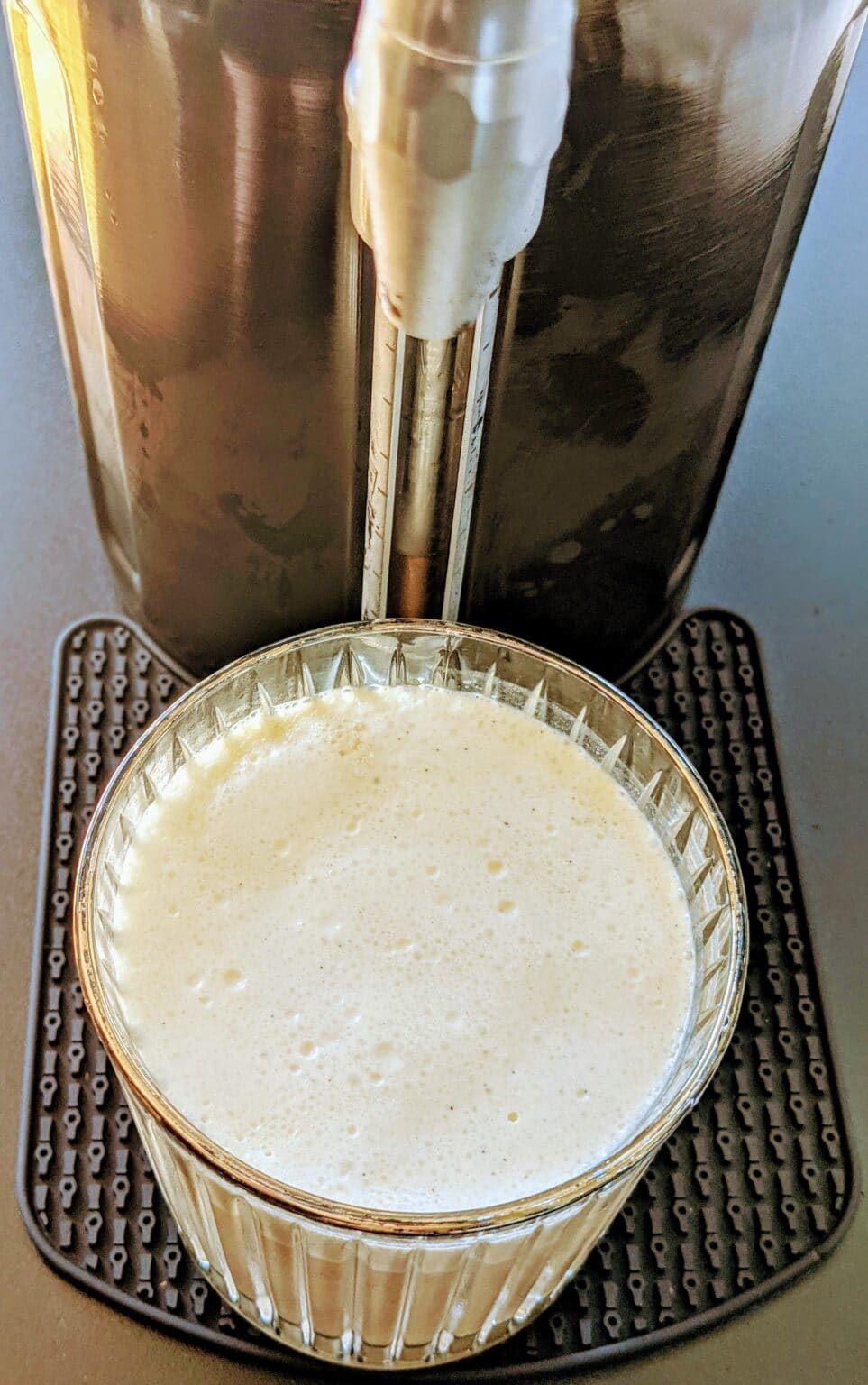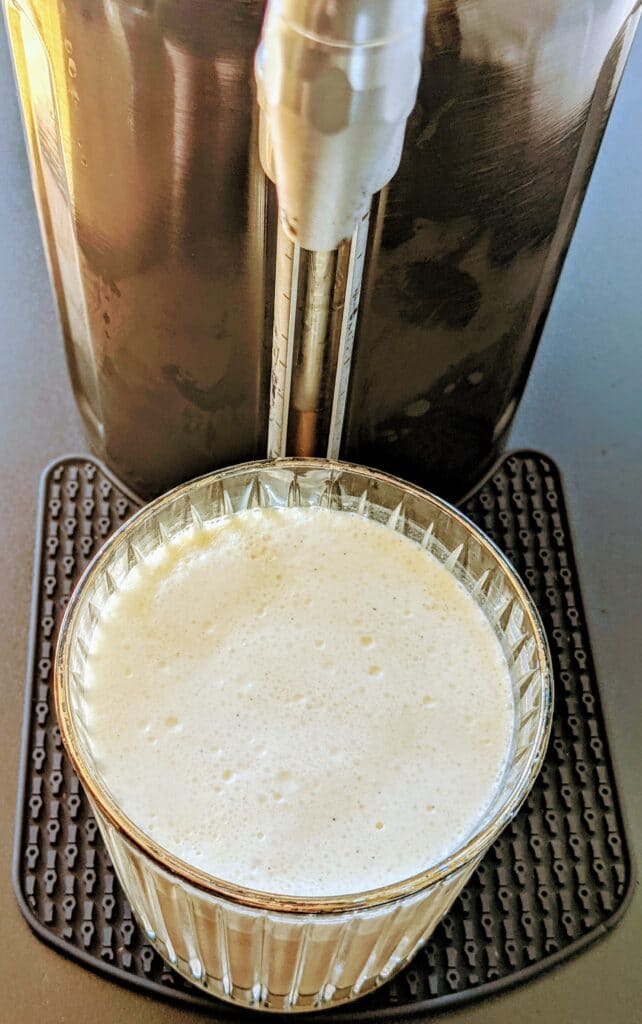 How do you use a nitro cold brewer?
Grinding beans.
First, grind your beans into a coarse grind. Anything too fine will seep through the filter bag. We have a Cuisinart Touchscreen grinder that I set to the coarsest setting.
Where to buy whole bean coffee

This grinder is sleek and beautiful on my counter, and for the price, it was a great purchase, but the design is a little strange. The grinds shoot out the side of the machine into its designated cup instead of dropping from the top. Again, it works well, just a little odd. I think the next grinder we buy will be the Baratza Encore.
Other grinders you may like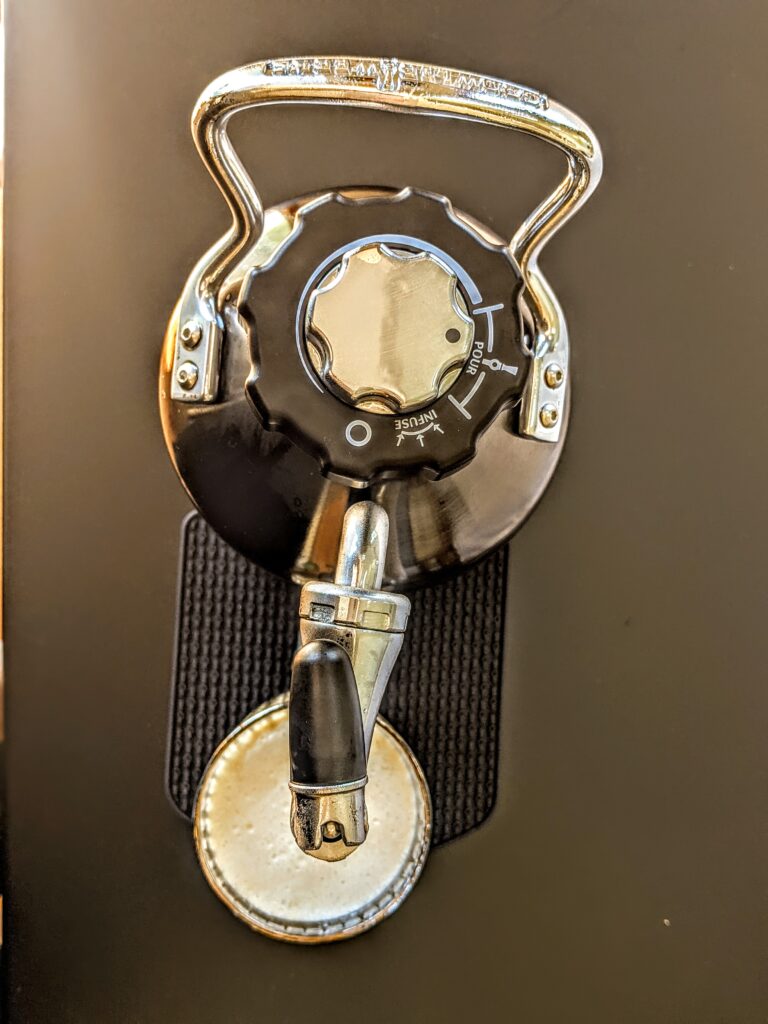 Growlerwerks Ukeg Nitro Cold Brew Keg
If you purchase the Growlerwerks cold brew, the process is straightforward.
Once you have coarse grounds, spoon them into two (2) filter bags with the provided funnel. Then, tightly tie off and place them into the brewer.
Next, pour cool water up to the brew line. It was somewhat difficult to see because the top is not very wide, but I managed with my phone light. Growlerwerks does give you exact measurements in the directions, which is about 2.5 cups of water.
Now, place the cap on and stick the whole Nitro Cold brewer in the fridge for 12 - 24 hours to steep. The next day, carefully remove the filter bags and top the cold brew off with more cold water.
After, tightly secure the lid and charge the cap with the provided Nitro cartridge. Shake the bottle for 60 seconds, then pour your Nitro Cold Brew into your favorite cup.
Other Brewer method
Depending on which brewer you have purchased, you may have to make a batch of cold brew before using the keg. You can purchase a Starbucks Brand cold brew kit, or you can make your own.
Here is a simple cold brew recipe to follow:
For every one (1) cup of cool water, use ½ cup of coarsely ground beans.
Place the water and coffee into a large jar, and give it a good stir. You can use filter bags or nut bags for this step.
Cap it, and refrigerate for 12-24 hours. Starbucks steeps its coffee for 20 hours.
Once it has steeped, remove the coffee beans. If you didn't use a bag, pour the cold brew over a fine-mesh sieve with a thin towel on top. Then, use the towel to release the coffee.
Dilute the cold brew concentrate with equal parts cold water. More or less depending on your taste buds. For a more robust cup, dilute with less water.
Starbucks cold brew recipe
If you want to make your own Starbucks Cold Brew entirely by hand instead of purchasing their Cold Brew Kit, I found some information on Reddit.
While Starbucks is not specific on the blend of coffee beans they use for their cold brew coffee, a Reddit post explained the process.
Use coarsely-ground medium roast beans like Guatemala or Ethiopian.
Brew for 20 hours using one (1) pound of beans with 2.8L of water. Filter the grounds out and dilute at a 1:1 ratio cold brew concentrate to cold water.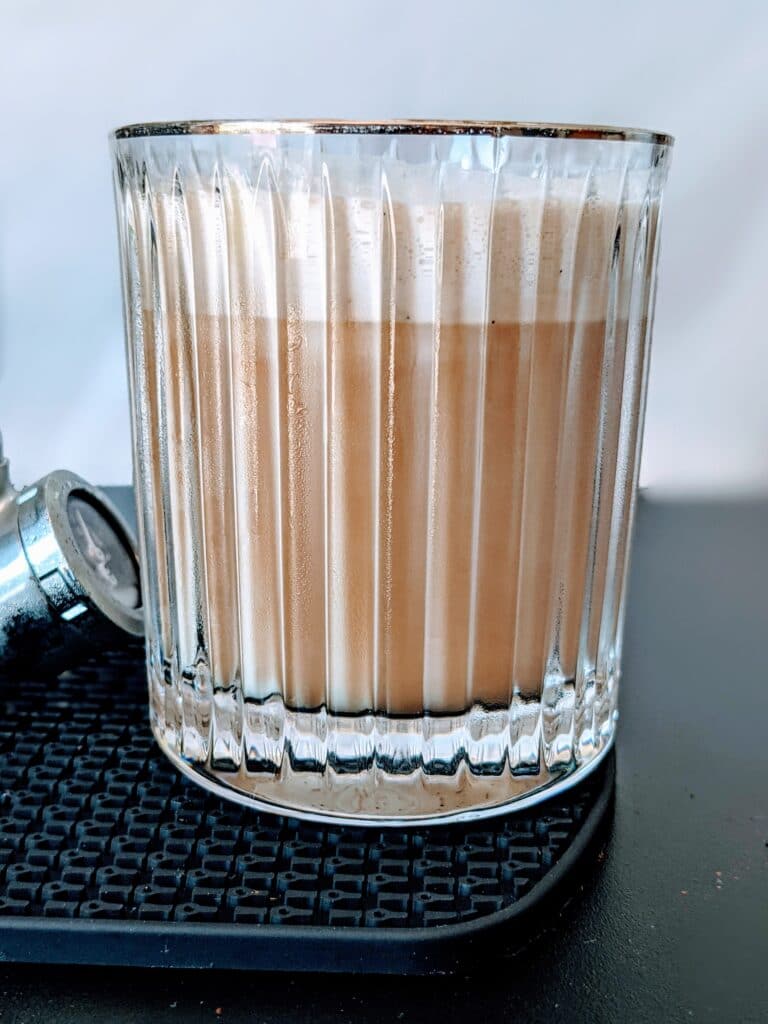 Starbucks Nitro Cold Brew recipes to try.
How to make Starbucks Nitro cold brew recipes at home? I have full recipes listed at the bottom of this page.
Vanilla Sweet Cream
The vanilla sweet cream is simple to make. All you need is a blender, heavy whipping cream, vanilla simple syrup, and a pinch of sea salt.
I use Monin Brand syrups, but Starbucks carries their brand of vanilla syrup. I suggest using a flavored simple syrup because you don't have to worry about dissolving sugar.
Mix cold heavy whipping cream and vanilla syrup in a blender until the vanilla sweet cream thickens slightly. The mixture should be dense enough to coat the back of a spoon, but no more.
Craving more? Here are some recipes I think you'll like.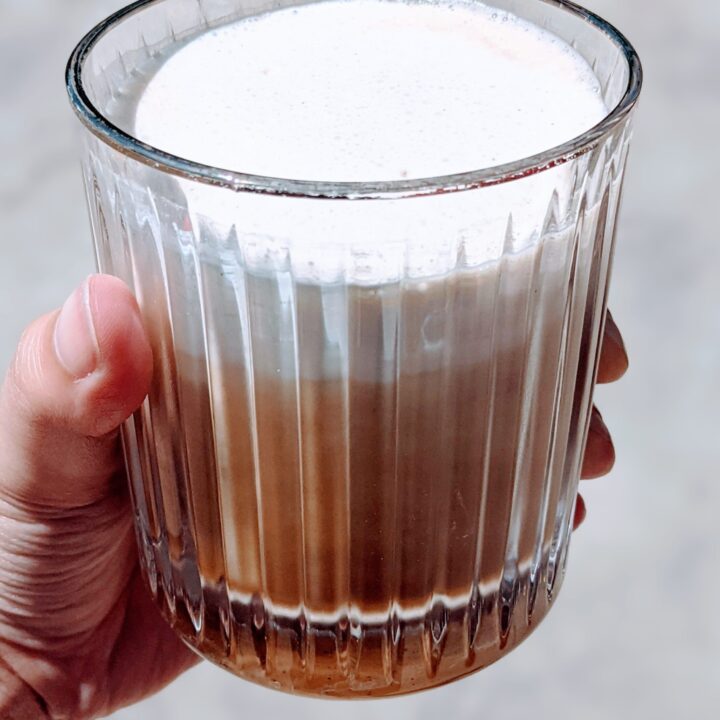 Starbucks Nitro Cold Brew with sweet cream
Total Time:
20 hours
10 minutes
Smooth, bold and refreshing. This vanilla sweet cream nitro cold brew is the perfect balance of creamy and sweet.
Ingredients
Cold Brew *see notes*
Vanilla Sweet Cream
½ cup of heavy whipping cream
A large pinch of fine sea salt, optional
Vanilla sweet cream nitro cold brew
Vanilla sweet cream
Nitro cold brew
Instructions
Cold Brew
The cold brewing method is determined by the nitro cold brew you have.
Method 1 Growlerwerks nitro cold brewing keg:
Fill two (2) provided filter bags with coarse ground coffee, 60g - 90g each.
Place inside the brewer with the strings hanging out.
Fill with cool water to brew line, about 2 ½ cups.
Refrigerate overnight, then remove the bags.
Fill the rest of the way with cold water, and charge your cap with the provided nitro cartridges.
Set to infuse and shake for 60 seconds.
Turn the dial to pour and enjoy.

Method 2 Making cold brew in separate container:
Some Nitro brewers have you make the cold brew concentrate separately. You can purchase Starbucks cold brew kit or make your own.
Here is a basic recipe:
For every ½ cup of coarse ground beans, add one (1) cup of water. Once the cold brew concentrate is ready. After brewing, cut with a 1:1 ratio of cold brew concentrate to cold water.
In a large mason jar with a lid, add coarse ground coffee and water. Use filter bags for easier clean up.
Steep for 12 - 24 hours in the fridge.
Cover a fine mesh sieve with a thin towel and strain out the beans.
Dilute the cold brew concentrate to your desired strength.
Fill your brand nitro brewer according to manufacture instructions and charge the cap with nitro.
Brew and enjoy.
Vanilla sweet cream
In a blender combine cold heavy cream, vanilla syrup, and salt.
Blend on high for 30 seconds or until the mixture thickens slightly. It should coat the back of a spoon but no more.

Vanilla Nitro cold brew
To your glass, add 2 - 3 pumps of vanilla syrup.
Dispense your nitro cold brew into the glass and top with vanilla sweet cream

Notes
Cold brew:

You can brew with your own beans or purchase the Starbucks branded cold brew kit on Amazon.
For stronger cold brew, make dilute the concentrate with less water.
Vanilla sweet cream:

If you whip it too long, it will be too thick to pour. You can thin the Vanilla sweet cream with a couple tablespoons of half and half.
Keep in a mason jar in the fridge. Shaking before use.
Recommended Products
As an Amazon Associate and member of other affiliate programs, I earn from qualifying purchases.
Nutrition Information:
Yield:

1
Serving Size:

16 oz
Amount Per Serving:
Calories:

585
Total Fat:

67g
Saturated Fat:

35g
Trans Fat:

2g
Unsaturated Fat:

28g
Cholesterol:

161mg
Sodium:

1339mg
Carbohydrates:

235g
Fiber:

2g
Sugar:

229g
Protein:

13g
Nutrition facts are for personal reference only as calories may vary on a case by case basis.