EASY Jalapeno Pomegranate BBQ Brisket Sandwiches on Pretzel Buns
These BBQ brisket sandwiches with jalapeno pomegranate BBQ sauce on toasty pretzel buns are a nod to a smokehouse classic made right in your kitchen.
You'll love this recipe because it's
smoky
simple
tender
juicy
tangy
juicy
---
---
This article may contain affiliate links. Please see disclaimers for more info.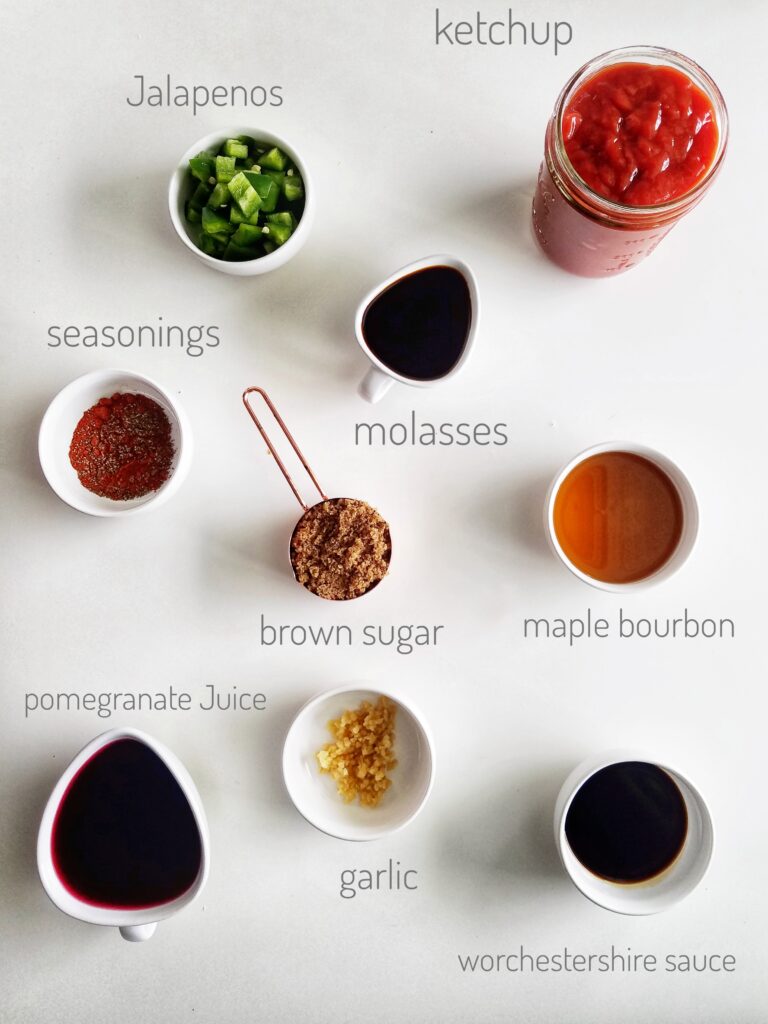 It's all about the sauce
Just trust me. The pomegranate is the way to go. It adds a tartness that freshens up your standard BBQ sauce. Plus, it's so simple to make from scratch.
I promise it's easy. Just saute the jalapenos, garlic, and seasonings, then add the rest of the ingredients. Bring the mixture up to a boil, then simmer over low heat until the sauce thickens up-- about 15 minutes.
That's it. Once it cools, you can blend the BBQ sauce with a standard or immersion blender, if you'd like a smooth sauce.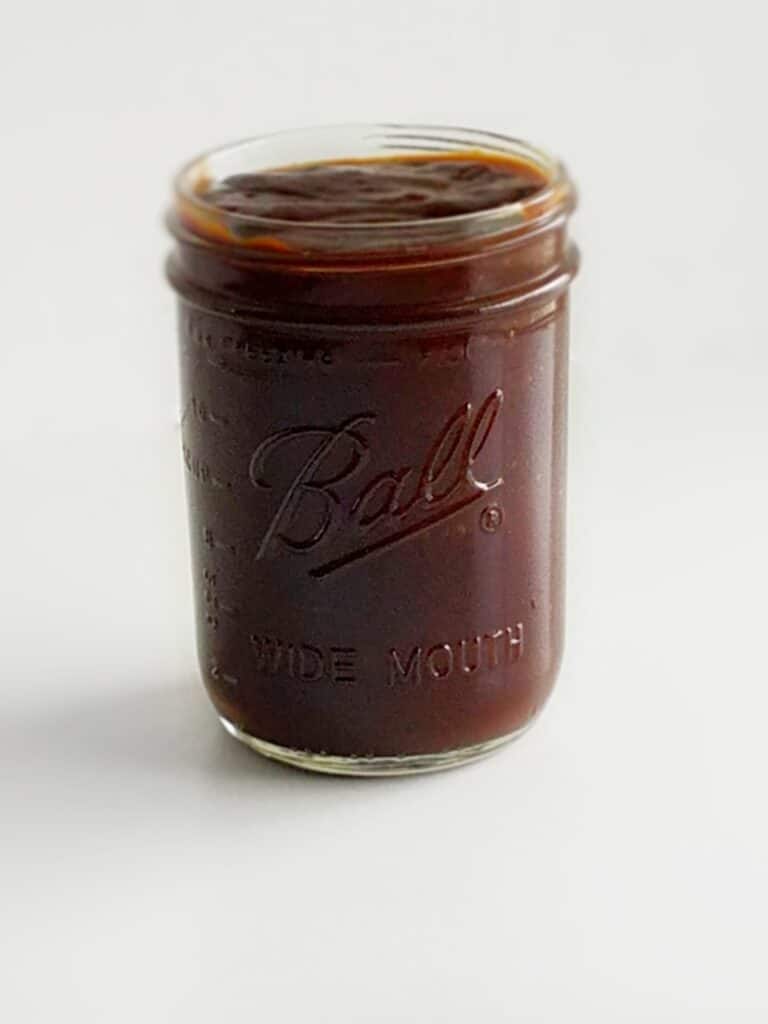 Preparing the brisket
We're starting these BBQ brisket sandwiches overnight by heavily salting all sides of the brisket and leaving it to brine in the fridge.
I used a 9 x 13 baking dish to house my flat brisket. Using about one tablespoon (more or less depending on the size of your brisket) of kosher or fine sea salt, rub the salt into the muscle and fat cap.
I left my brisket uncovered, but you can cover it with plastic wrap if you feel weird about it.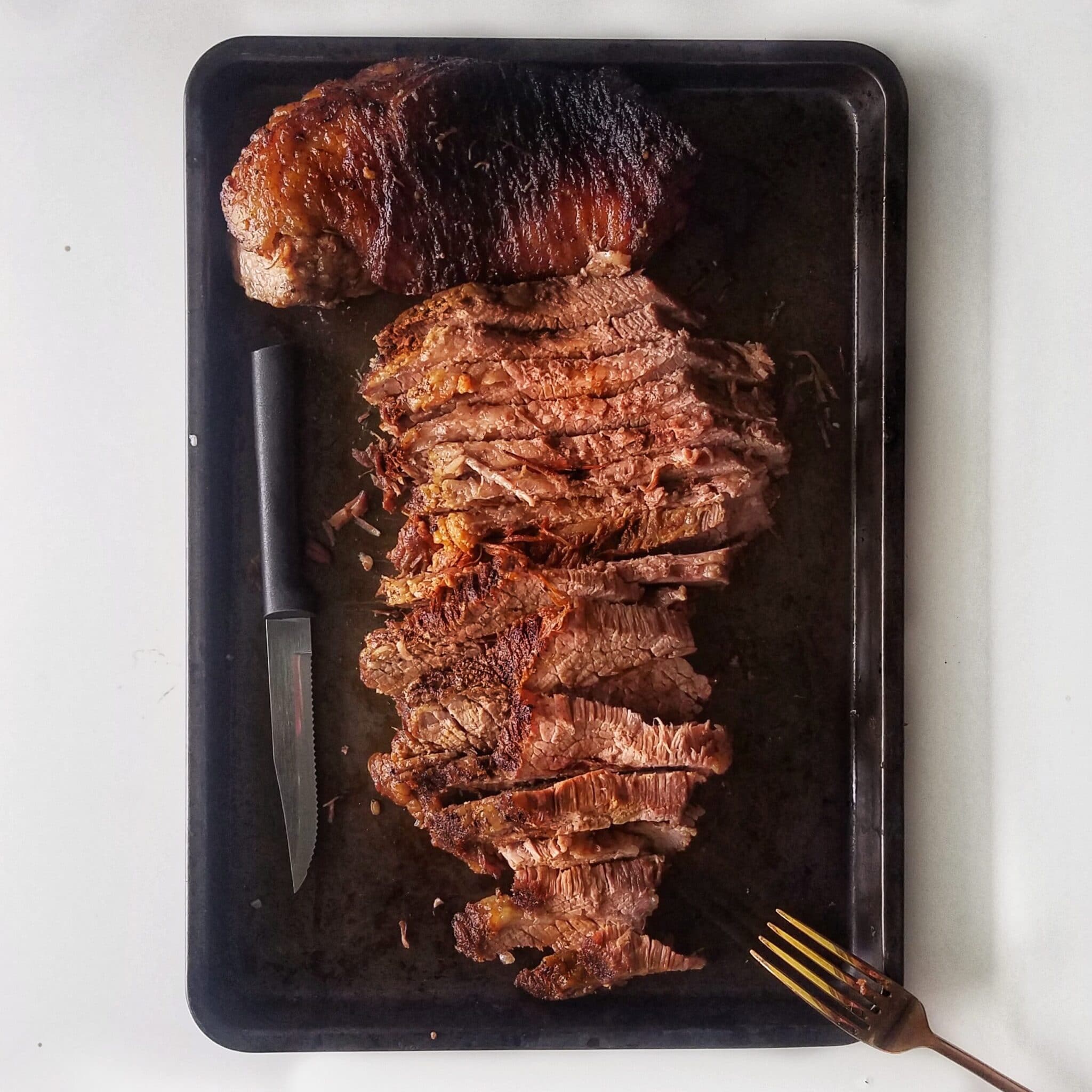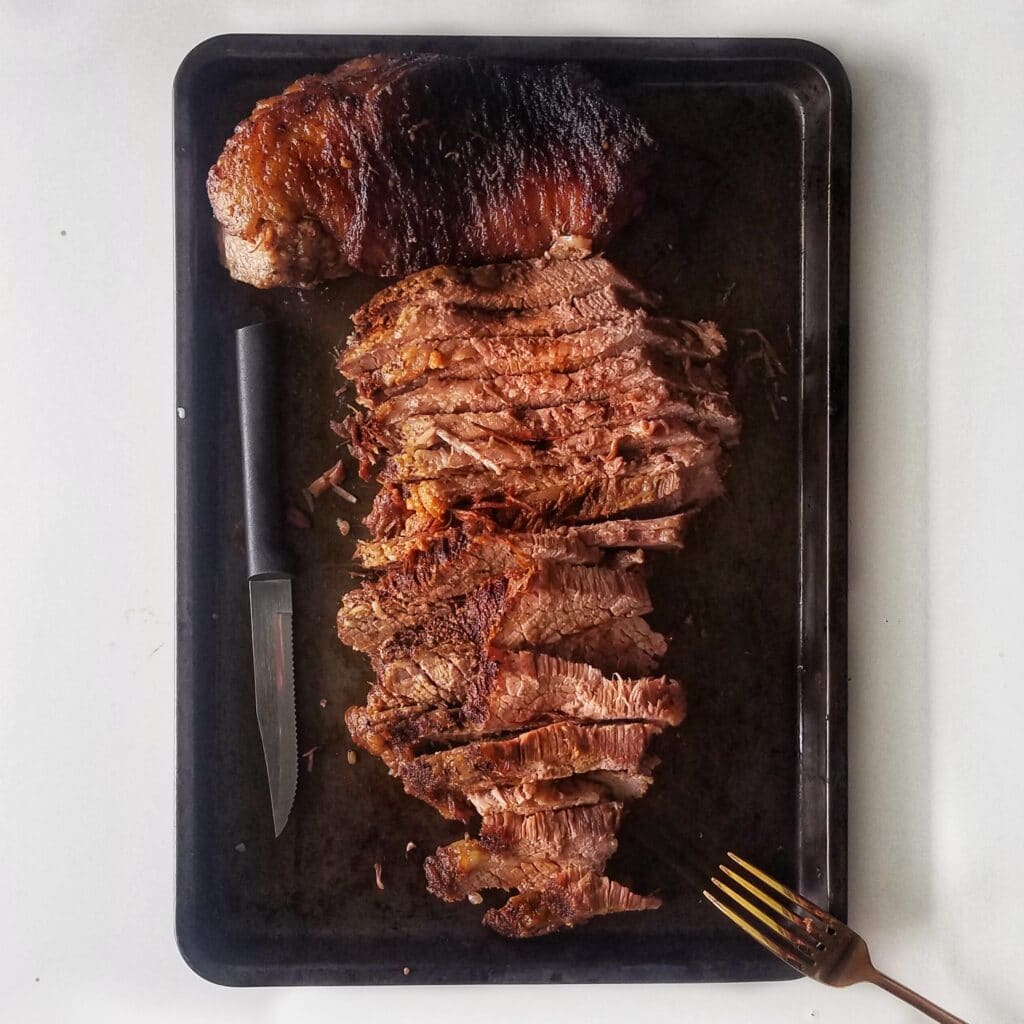 Cooking the brisket
Since brisket has a large amount of collagen, it needs to cook low and slow, but before I slide it into the oven, I'm going to sear all sides of the meat in a large dutch oven. This will seal in the juices and begin to melt the fat.
Next, situate the roast so the fat cap is on top, then cover the dutch oven and slide it into a 300 degree Fahrenheit oven to cook for about an hour per pound. My roast was just under 3 pounds and took approximately 3.5 - 4 hours to cook.
After an hour, check the roast. You can use an oven-safe probe thermometer with a temperature alarm, so you can just set it and forget it.
Most Dutch oven lids can easily handle 300 degrees just fine but double-check the manufacturer's rating for the knobs.
Or in the slow-cooker
If you're going to cook it in the slow-cooker, follow all of the previous instructions: salt, set overnight, sear, then cook in your slow-cooker on low for about 8-10 hours.
How to know when the brisket is done?
When the brisket is done, you will be able to pick up the roast by it's middle with a pair of tongs. The sides will flex but not fall apart, and the internal temperature will be around 200 degrees Fahrenheit. Be sure to thinly slice the brisket against the grain.
Assembling the BBQ Brisket Sandwiches
To serve these sandwiches, lightly toast the buns using your broiler, then melt some smoky cheddar cheese. Top with thinly sliced brisket, Jalapeno Pomegranate BBQ sauce, sliced jalapenos and red onions.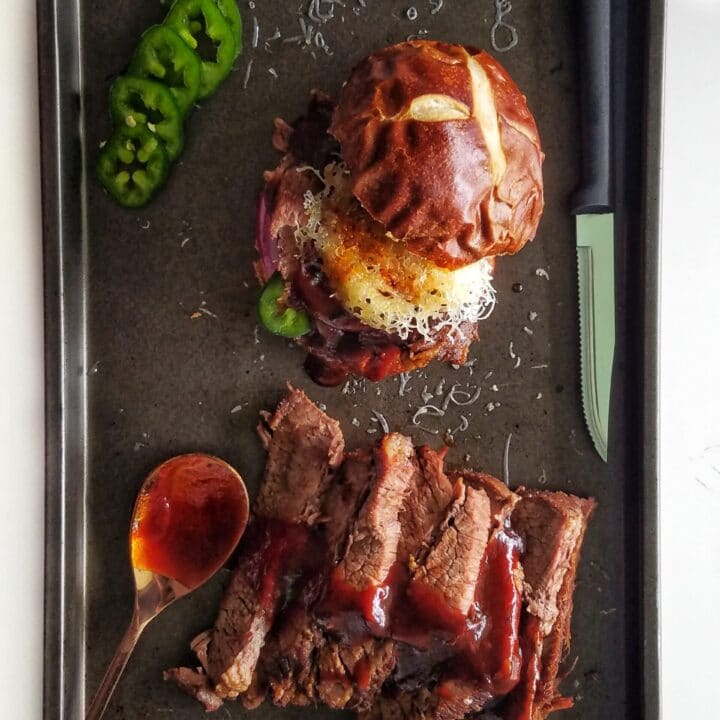 Jalapeno Pomegranate BBQ Beef Brisket Sandwiches
Cook Time:
3 hours
30 minutes
Total Time:
1 day
3 hours
50 minutes
Spicy jalapeno pomegranate barbecue brisket sandwiches on pretzel buns with smokey cheddar cheese and red onions
Ingredients
Jalapeno Pomegranate BBQ Sauce
2 cups Ketchup  
½ cup pomegranate juice
⅓ cup brown sugar, packed (plus more for sweeter sauce)
¼ c. molasses
¼ c. maple bourbon (optional)
1 - 2 jalapenos, (de-seeded for less spice)
3 - 4 cloves garlic grated
1 tablespoon Worchestershire 
2 teaspoons liquid smoke (plus more if needed)
2 teaspoons smoked paprika
A large pinch of freshly cracked black pepper
2 tablespoons cooking oil
Beef Brisket
3 lbs flat beef brisket
Salt
Freshly cracked black pepper
Smoked paprika
Cooking oil with high smoke point (I used coconut oil)
Beef stock or water (see notes)
Sandwiches
pretzel buns
sliced red onions
sliced jalapenos
smoked cheddar cheese
Instructions
Jalapeno Pomegranate BBQ Sauce

Heat and oil a small saucepan over medium heat. Begin by sauteing the jalapenos until soft; then, add the garlic and cook until fragrant. Season with the smoked paprika, salt, and pepper.
Next, add in ketchup, pomegranate juice, bourbon, Worcestershire, liquid smoke, brown sugar, and molasses. Stirring to combine while scraping the bottom with a spatula to ensure the seasonings, jalapenos, and garlic isn't stuck to the bottom of the pan.
Let the barbecue sauce come up to a slight boil, then turn the heat down to a simmer over low heat. Leave uncovered, stirring occasionally, until the sauce begins to thicken-- about 15 minutes.
OPTIONAL: Allow the sauce to cool, then blend with an immersion blender or standard blender until the consistency of the barbecue sauce is smooth.
Beef Brisket

Start this brisket the night before you are going to cook it.
Begin by removing the meat from its package, and place it inside of a shallow baking dish-- pat dry with paper towels. Heavily salt all sides of the brisket with kosher or fine sea salt. Depending on the size of your brisket, you'll use about one tablespoon of salt, don't forget the edges! I use fine sea salt because that's what I keep in the house.
Store the brisket in the fridge overnight.
When you're ready to cook the brisket, pull it out of the fridge and let it rest at room temperature for at least 30 minutes.
Next, If the fat cap is thicker than ¼ of an inch, score the fat making sure not to go all the way through to the meat. Then, heavily season all sides with freshly cracked black pepper and smoked paprika. Set aside.
Heat a large dutch oven over medium-high heat with a couple of tablespoons of cooking oil.
Sear all sides of the brisket until each edge is browned, starting with the fat side down.
Once all of the edges are golden, situate the brisket so the fat cap is up. Cover the brisket and roast in a 300 degree Fahrenheit oven for approximately 1 hour per pound, or until the brisket reaches about 200 degrees Fahrenheit when measured at the thickest part of the meat. Let it rest for 30 minutes.
Remove the leftover fat cap and cut the brisket against the grain or shred to serve.
Sandwiches
Lightly toast the buns in the oven, top the buns with cheese and melt.
Top the buns with brisket, bbq sauce, sliced red onions, and jalapenos.
Notes
Dutch oven: An enamel dutch oven is oven-safe. However, be sure to check the manufacturer's temperature rating for the lid handle. Most dutch ovens are rated for at least 375 degrees F. Alternatively, you can cover the dutch oven with aluminum foil.
Beef stock or water: In most cases, the brisket will produce enough juice while cooking in the oven, but If it seems dry, add just enough liquid to cover the bottom of the pot. I checked my brisket after one hour to measure the temperature and juice level.
Slow-cooker method: Follow all directions up until oven roasting. Place the brisket in the slow-cooker on low for about 8 hours. The brisket should be tender but not mushy. We are looking for an internal temperature of 200 degrees Fahrenheit.
How to know when my brisket is done: My brisket was just under 3 lbs and took about 3.5 - 4 hours to cook. I'm big into using thermometers when cooking meat. However, since beef brisket has a greater amount of collagen, use these visual cues, in addition to a digital thermometer, to check your roast.
1. It's fork-tender. The fork should slip into the meat easily without much force.
2. Using a pair of tongs to lift the brisket in the middle. The brisket should flex and bend, but not break. This is easier to do with larger roasts.
Nutrition Information:
Yield:

8
Serving Size:

1
Amount Per Serving:
Calories:

729
Total Fat:

38g
Saturated Fat:

14g
Trans Fat:

0g
Unsaturated Fat:

20g
Cholesterol:

187mg
Sodium:

1318mg
Carbohydrates:

40g
Fiber:

1g
Sugar:

31g
Protein:

52g
Nutrition facts are for personal reference only as calories may vary on a case by case basis.