These Banh Mi pulled pork sandwiches are inspired by Vietnamese flavors made right in your slow cooker.
You'll love these Banh Mi pulled pork sandwiches because it's...
flavorful
made right in your slow cooker
easy
both sweet and savory
---
The making of these slow cooker banh mi inspired pulled pork sandwiches...
First, start by seasoning the pork shoulder with a large pinch of salt and pepper. Now, in a large pan, on medium-high heat, add a couple tablespoons of sesame oil, then cook the pork until all sides are golden brown. Once it's done, grease the crock pot with extra sesame seed oil, then put the pork into the slow cooker. Next, make the marinade to pour over the pork. Cook the pork on high for about 4 hours, low for 6 hours. When it's finished, the pork will easily pull apart with a fork.
With both sweet and savory characteristics, the marinade is inspired by the flavors of Vietnamese banh mi sandwiches. This recipe uses honey as the main sweetener. In addition, it has three tablespoons of brown sugar for more depth, a can of tomato paste for some acidity, a half a cup of low sodium soy sauce, fish sauce for umami and plenty of aromatics to round out the flavors.

Garnishing your Banh Mi pulled pork sandwich...
Traditional banh mi sandwiches use baguettes to house the meat and veggies. For these slow cooker banh mi inspired pulled pork sandwiches, I used ciabatta rolls which I toasted using the broiler setting on my oven. After, spread sriracha mayo onto the bread.
For the toppings, I topped my pulled pork with shredded red cabbage, to add extra crunch. In addition, pickled veggies are added for acidity which creates an extra layer of flavor and depth to the sandwich. Pickling vegetables is an uncomplicated process, and I have a quick pickle recipe available, free, for my subscribers. If you're interested, all you need to do is fill out the form below, and I'll send it to your inbox immediately. Plus, when you become a member, you get access to other exclusive recipes and other printables. The vegetables I decided to pickle were a red bell pepper, jalapenos, carrots, radishes, and cucumbers.
---
Craving more?  
---
Interested in a homemade, quick pickled veggie recipe and more, exclusive, recipes like slow cooker chipotle beef tacos? Signup for my FREE resource library using the form below, and I'll send it over immediately.
[wd_hustle id="resource-library" type="embedded"]
---
Here are some other recipe(s) I think you might enjoy…
---
Do you like this recipe?
Let me know by commenting below!
Please share this post with all your friends!
[DISPLAY_ULTIMATE_SOCIAL_ICONS]
Want to remember this for later?
Save this recipe directly to your Pinterest board by clicking the Pin button on the photo below!
With Love,
Mandy
*Nutritional data provided is for personal reference only as these are approximations, and data may vary on a case by case basis.  Please refer to my disclaimers page.*
---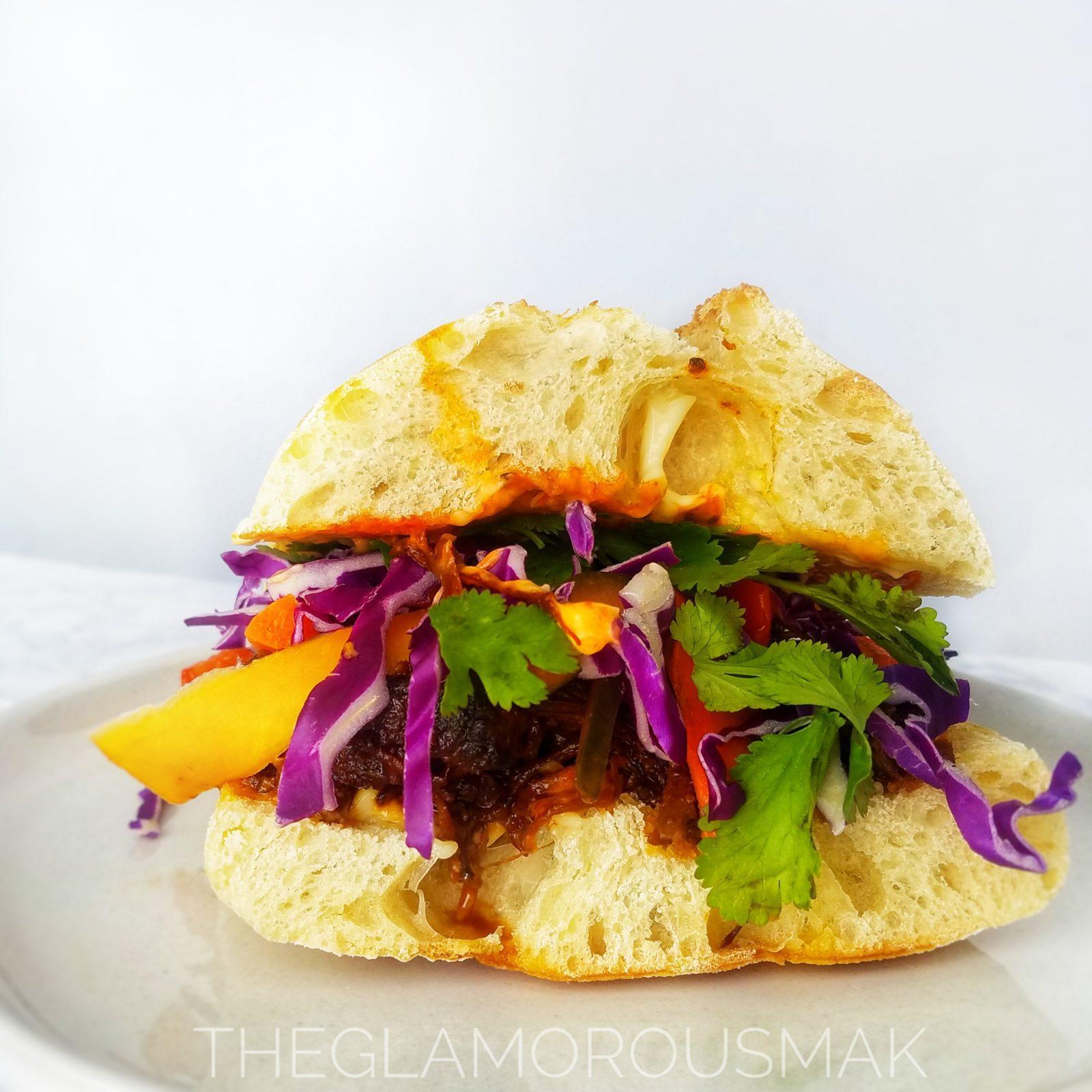 Banh Mi Inspired Pulled Pork Sandwiches
Banh mi pulled pork sandwiches made right in your crockpot slow cooker in a marinade inspired by Vietnamese street food and topped with pickled vegetables.
Ingredients
Marinade
1 c. pure honey
½ c. tamari soy sauce
1 6 oz can tomato paste
3 tablespoon brown sugar
2 tablespoon sesame seeds
2 tablespoon coarse ground coriander
2 tablespoon garlic, finely minced (about 5 cloves)
2 tablespoon fresh ginger, finely minced (about a thumb-sized piece)
1 tablespoon fish sauce
1 tablespoon liquid smoke
1 teaspoon chili flakes,, optional
Large lemon or lime, juice + zest
2 scallions,, cut into ½ inch pieces
½ c. fresh cilantro,, roughly chopped
Vegetable stock,, optional (see notes)
Pork
3 -5 lbs Pork shoulder
2 tablespoon Sesame oil,, plus more for crockpot
Sandwiches
Buns,, I used ciabatta
red cabbage,, shredded
Pickled veggies,, see notes
Fresh cilantro
sriracha mayo
Instructions
Using a large pinch of salt and pepper, season the meat. Coat the pan in sesame oil. On medium-high heat, sear pork until all sides are golden brown.
Coat slow cooker with sesame seed oil
Whisk all marinade ingredients together, and pour over pork.
Set on high for 4-5 hours
Pull apart with a fork.
To make the sandwiches, lightly toast the buns using the broiler. Dress the toasty bread with sriracha mayo, pulled pork, shredded red cabbage and pickled veggies.
Notes
You can marinate the pork overnight before searing to inject more flavor. Just pour marinade into the crockpot
Keep vegetable stock on stand by. I typically do not have to add liquid, but if the liquid gets below halfway, add some stock to help it out.
I have a recipe for pickled veggies in my resource library which is free. All you have to do is sign up using the sidebar, or at https://theglamorousmak.com/library