Spicy Pork Bulgogi Lettuce Wraps are a go-to in my home...
This spicy pork bulgogi is spicy (obviously), but also balanced by the deep, rich, molasses-y sweetness of brown sugar. It plays nicely with the gochujang hot chili paste which has a complex slightly sweet, but smokey flavor.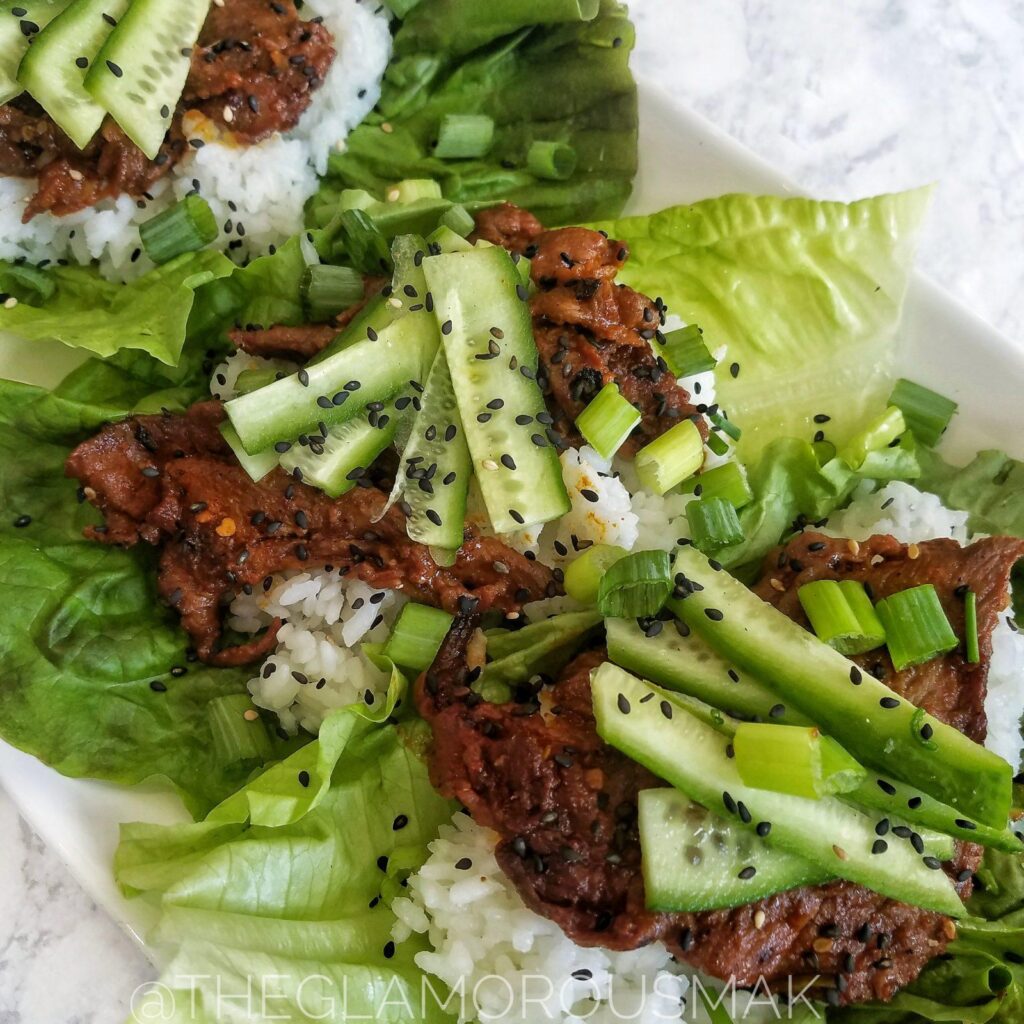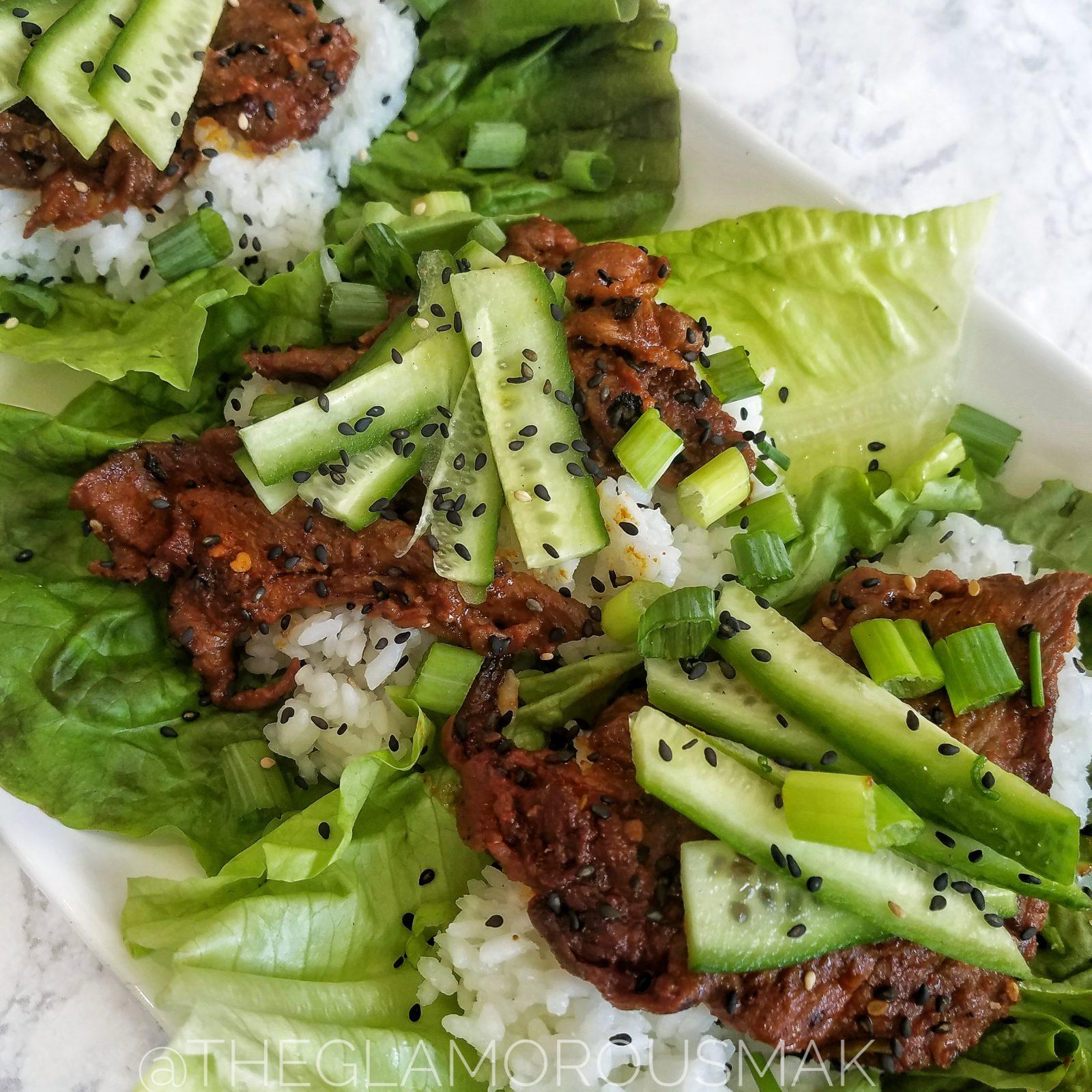 This article may contain affiliate links. Please see my disclaimers page for more info.
You'll love this recipe because it's...
Spicy
Easy to make
Slightly sweet
Garlicky
Crunchy & Chewy
---
Sliced pork...
If I can, I buy my pork belly, pre-sliced, at an Asian grocery store, but you can substitute it for pork butt.  If you do not have an Asian market close by, you can ask your butcher to slice the meat, an eighth of an inch thick (or as thin as they can). 
It's totally possible to slice your own meat. It's just not my favorite activity. I actually bought a manual meat slicer from Amazon to help cut uniform slices since the Asian market is almost an hour drive.
If you are slicing the meat yourself, put it in the freezer for about an hour or two.  The meat will become firm, which will be easier for you to slice.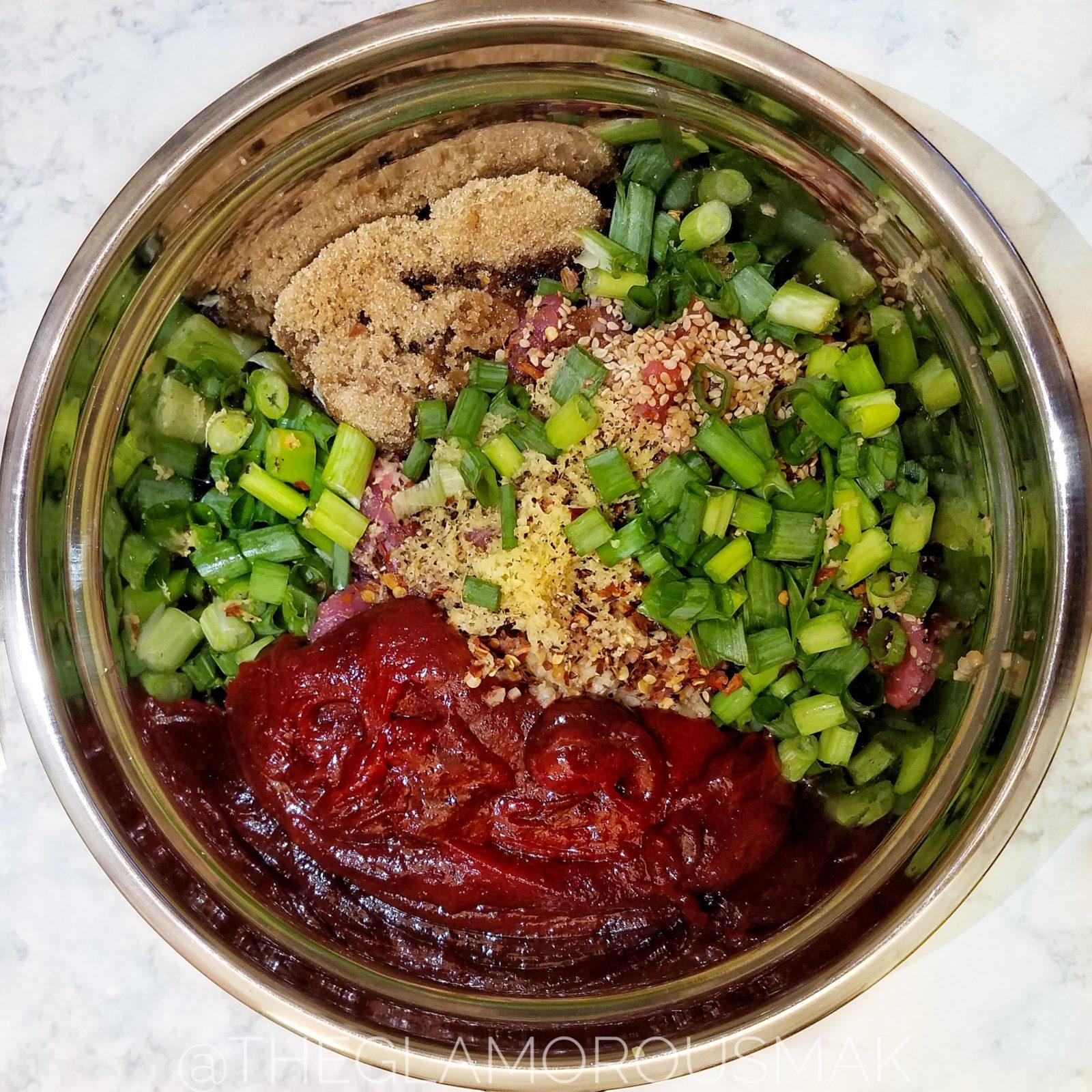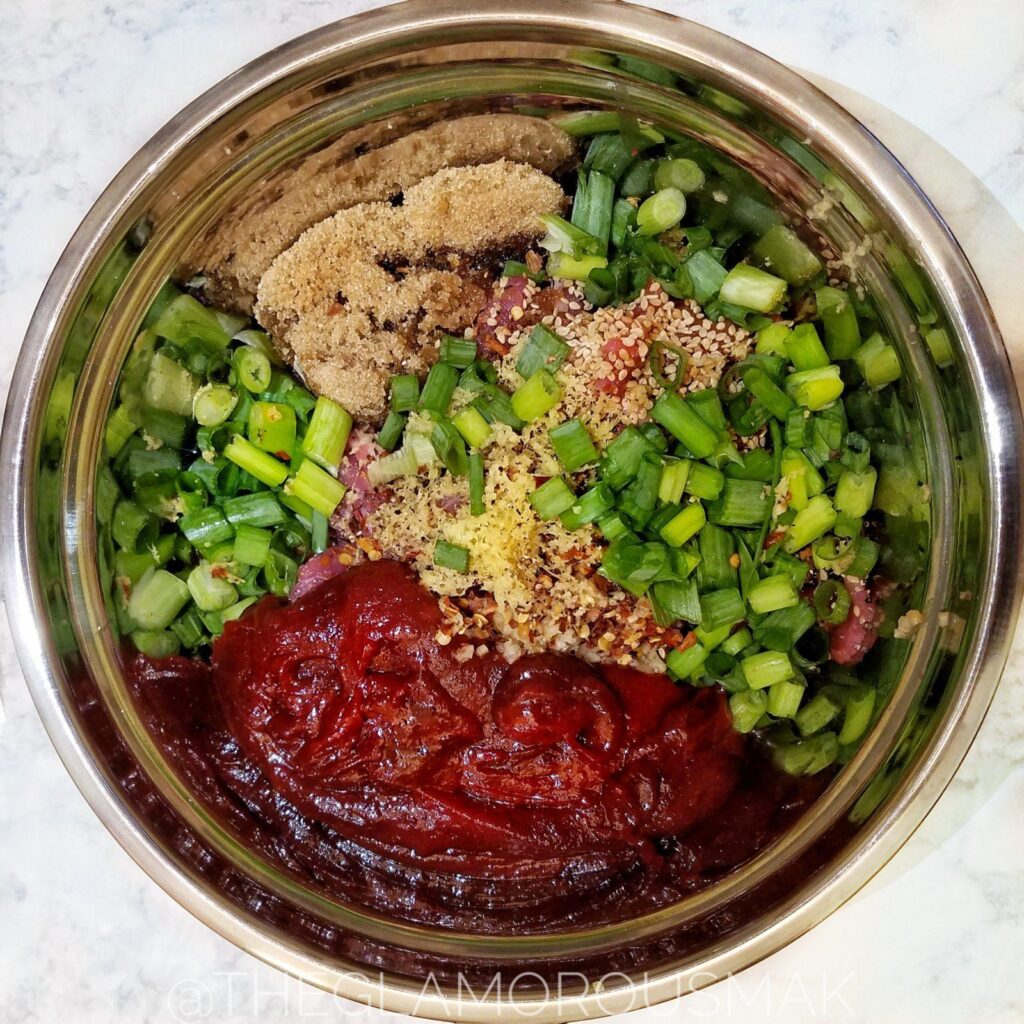 Making the spicy pork marinade...
You can find all of the ingredients at your local grocery store or online. Check out the recipe card for recommended products.
Once the meat has been sliced, place it in a large zip lock bag, and add in the marinade ingredients.  Start with a fourth of a cup, each, of gochujang (Korean hot chili paste), brown sugar and soy sauce. For spicier pork, you can use up to a third of a cup of gochujang (Korean chili paste).
Then, add in (up to) one tablespoon of gochugaru (Korean chili spice).  You can substitute the gochugaru with chili flakes, or omit it all together for less spiciness.
After, add in three scallions that have been cut into one-inch pieces, one tablespoon of rice vinegar, one and a half tablespoons of grated garlic, one inch of freshly grated ginger, two tablespoons of sesame seed oil, a large pinch of sesame seeds and black pepper. 
Thoroughly coat the meat in the marinade, and let it rest for at least an hour before cooking. Meanwhile, cook the rice, wash the red leaf lettuce and slice the cucumbers.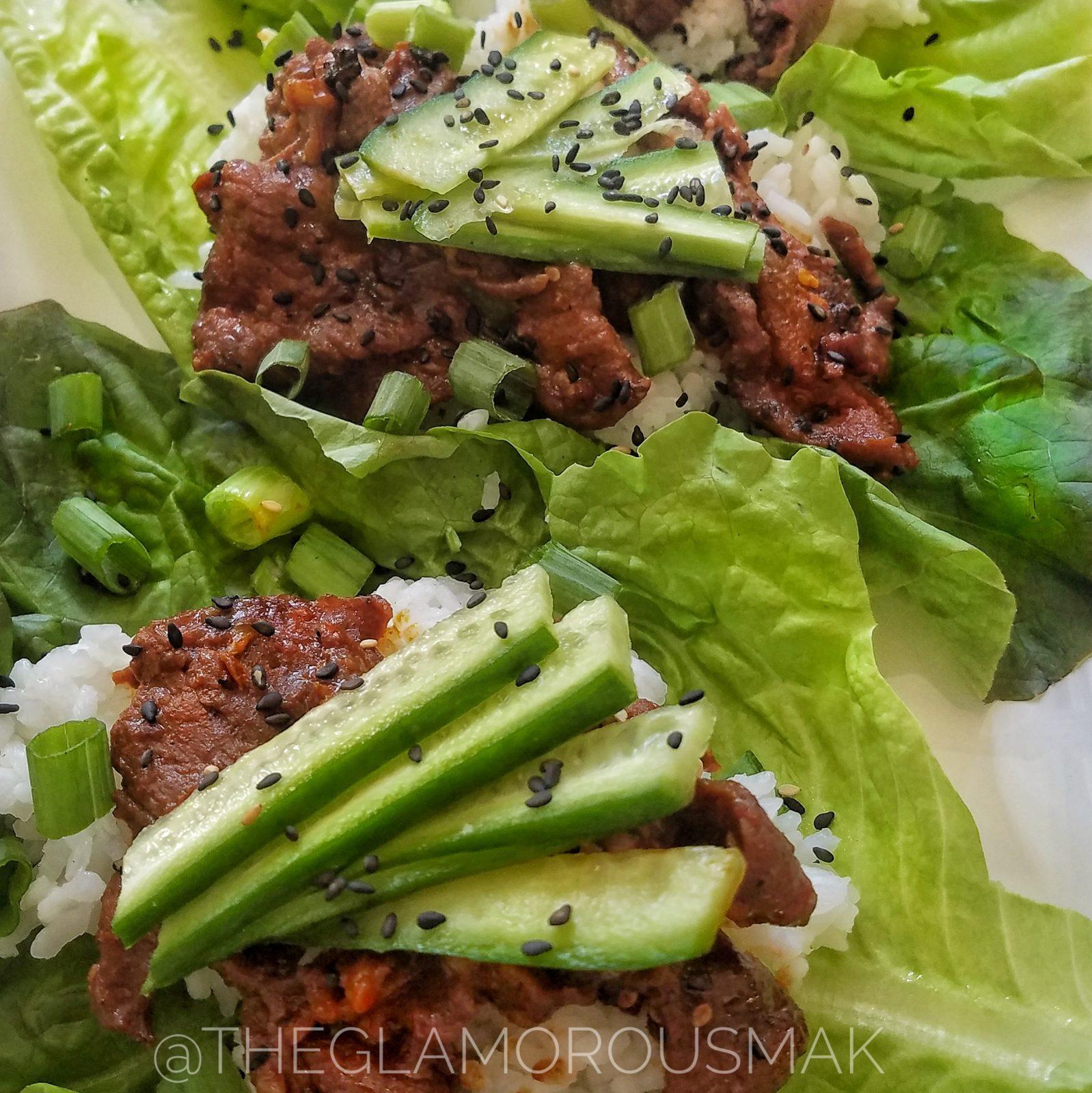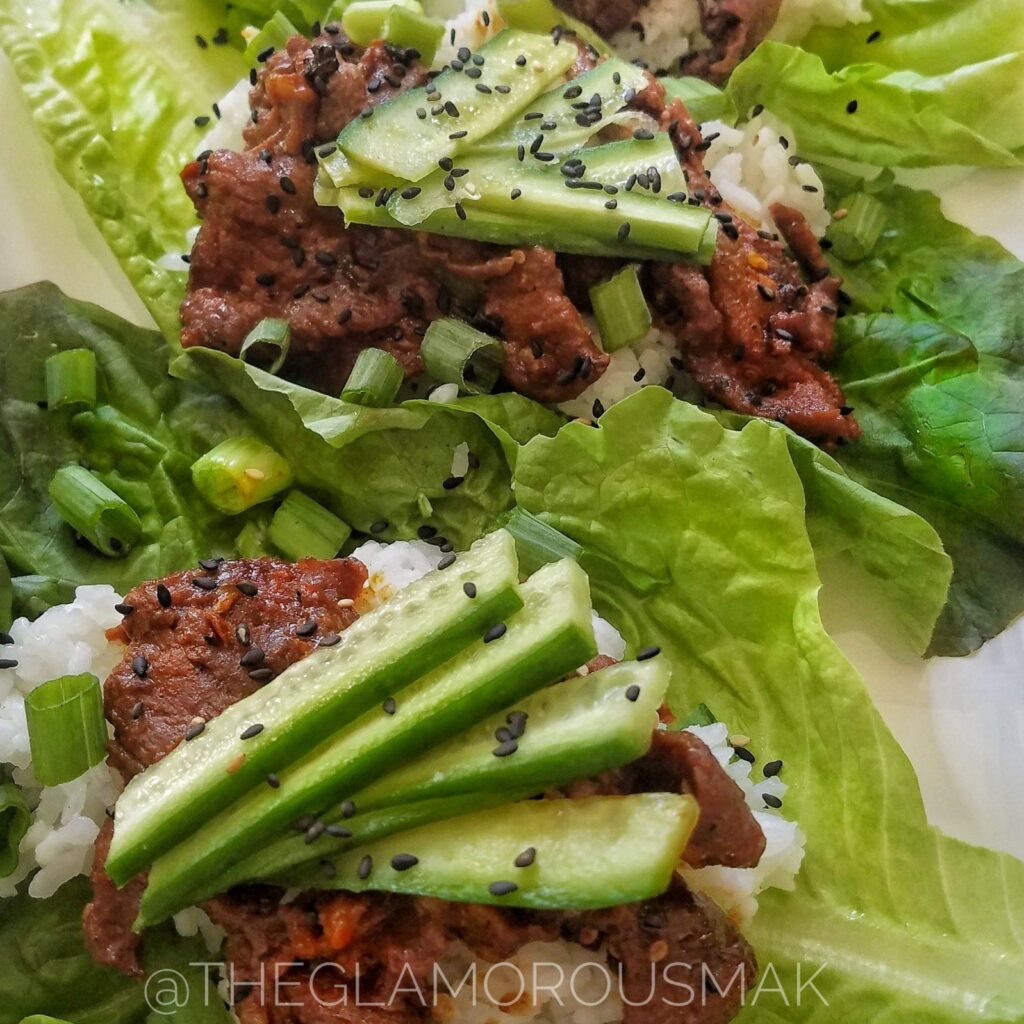 Cook and assemble...
In a large pan over medium to medium-high heat, coated in a little bit of sesame oil, cook the meat for about one to two minutes per side or until it is cooked through. Do not overcrowd the pan, and be sure to watch the heat because the sugar will make it burn, quickly, if you are not careful. 
Assemble lettuce wraps with one to two tablespoons of cooked rice, spicy pork bulgogi, and cucumbers. Additional toppings may include sesame seeds, scallions, and kimchi. ENJOY!
Craving more?
Here are some other recipe(s) I think you might enjoy…
---
If you make this recipe, be sure to tag me on Instagram @mandyoliveco and use the hashtag #mandyoliveco so I can see it!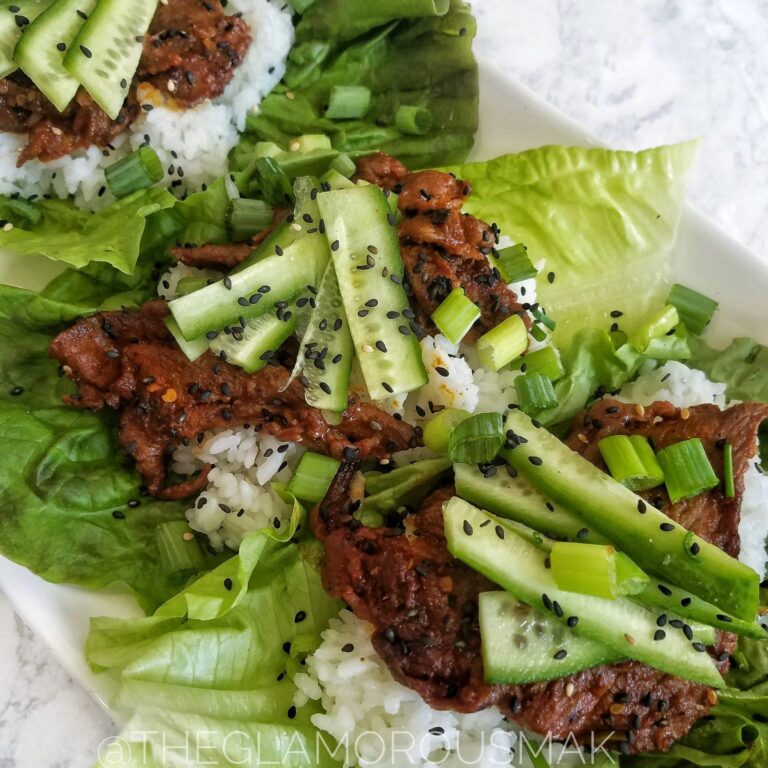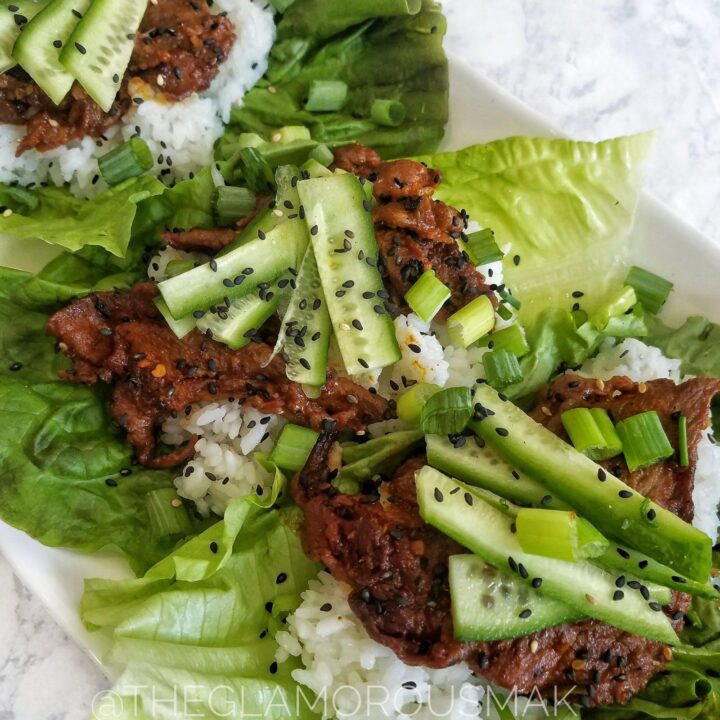 Spicy Korean Pork Bulgogi Lettuce Wraps
Total Time:
1 hour
30 minutes
Korean food is so on trend. Endulge in these spicy pork bulgogi lettuce wraps. Gochujang Korean hot chili paste comes together with sweet brown sugar, soy sauce and garlic to make a sweet and spicy marinade for an easy asian recipe.   
Ingredients
1 head red leaf lettuce, whole leaves washed and dried.
1 small cucumber, julienne (thin)
1 lbs thinly sliced pork belly or pork butt
Pork marinade
3 large scallions, cut into 1 inch pieces
¼ cup brown sugar, lightly packed
¼ cup tamari soy sauce
1 tablespoon rice vinegar
1 ½ tablespoons garlic, grated
1 inch piece fresh ginger, grated
1 tablespoon sesame seeds
1 teaspoon black pepper
2 tablespoons sesame oil, plus more for frying
Instructions
Place thinly sliced pork and marinade ingredients into a large ziplock bag. Shake to coat, and let marinate for at least one hour.
Meanwhile, cook rice according to package directions, and slice the cucumbers.
In a large pan coated with oil, cook the pork over medium-high heat, cook for about 1-2 minute per side, or until the pork is fully cooked and is starting to caramelized. Be careful not to burn. Set aside to cool.
Assemble the lettuce wraps: 1-2 tablespoon of rice, spicy pork bulgogi and fresh cucumber inside one large red lettuce leaf.
Notes
Pork should be sliced thinly, about ⅛ of an inch thick.  Pork can be found pre-sliced at Asian grocery stores. You can also ask your butcher to slice it for you, or if you are slicing yourself, place meat in the freezer for about an hour (until firm).  This will make it easier to slice.
You can substitute gochugaru (Korean chili pepper) with red chili flakes or omit completely.
Pork browns quickly because of the sugar, so watch the heat.  Do not burn.
Recommended Products
As an Amazon Associate and member of other affiliate programs, I earn from qualifying purchases.
Nutrition Information:
Yield:

6
Serving Size:

6 people
Amount Per Serving:
Calories:

512
Total Fat:

26g
Saturated Fat:

8g
Trans Fat:

0g
Unsaturated Fat:

17g
Cholesterol:

87mg
Sodium:

1669mg
Carbohydrates:

39g
Fiber:

2g
Sugar:

17g
Protein:

29g
Nutrition facts are for personal reference only as calories may vary on a case by case basis.