Garlicky Shrimp Pasta with Asparagus: Your staple for easy weeknight meals...
This garlicky shrimp pasta with asparagus is a game-changer for me. It has made me fall in love with pasta all over again. To be transparent, I'm not the biggest fan of pasta, especially spaghetti. When I was a kid, I feel like most of my dinners involved some form of traditional spaghetti. However, as an adult, I understand the versatility of pasta and its importance as a pantry staple. Nowadays, in my pantry, there is a shelf dedicated to pasta/grains because sometimes you need to use up half-rotten veggies, or quickly get dinner on the table with little mess. This shrimp pasta with asparagus does just that.
You'll love this recipe because it's...
Buttery
Garlicky
Simple
Can be made in 30 mins or less
Not traditional spaghetti...
---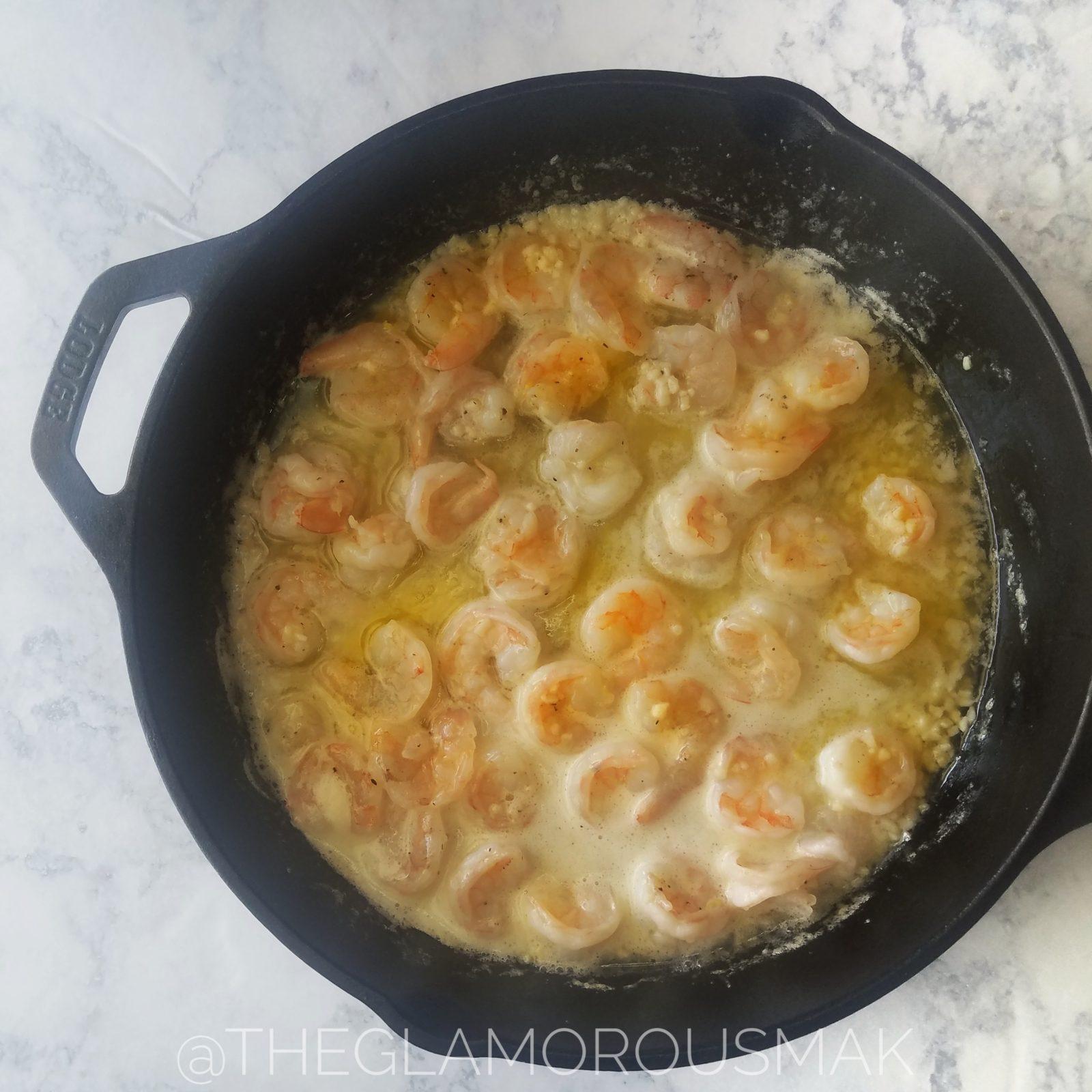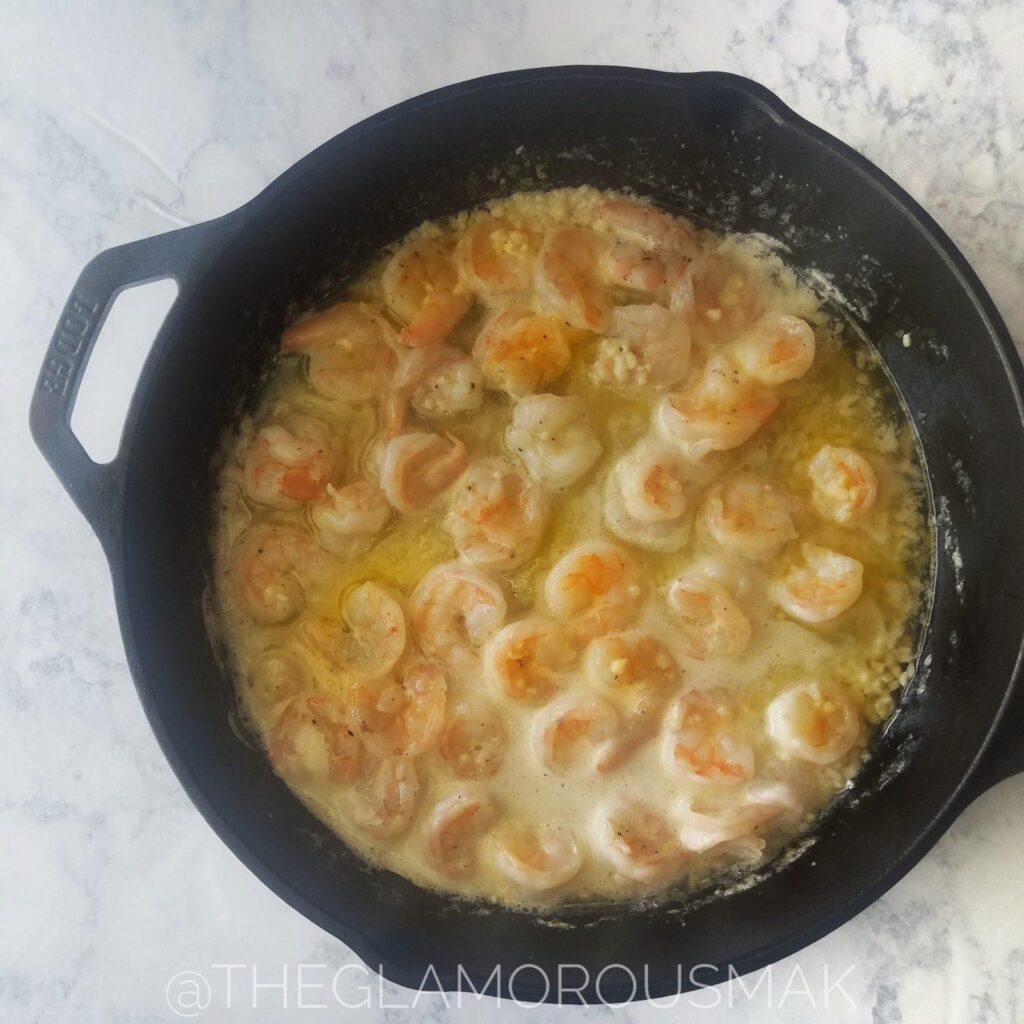 Cook the asparagus...
To start, bring a large pot of water to a boil with a tablespoon of salt. Cook the pasta according to the directions on the box.
After you start the pasta water, snap the ends off of your fresh asparagus and cut them in half at a diagonal, making sure the pieces are small enough to eat. Dress the asparagus in a tablespoon of olive oil and season with a pinch of salt and pepper. Bake in the oven at 400 degrees for about five minutes until bright green. Alternatively, you could skip the oven and cook the asparagus directly in the pan once the shrimp has been prepared. Just set the cooked shrimp into a bowl if you decide to cook the asparagus directly in the garlic butter.
Shrimp, shrimp, shrimp...
Next, heat your pan on medium, add one stick of butter, and three cloves of minced garlic. Cook the garlic butter until fragrant, but do not brown the garlic. Throw in the clean, shelled shrimp into the garlic butter; then, season with a pinch of salt and pepper. Cook each side for 30 to 60 seconds, or until light pink and opaque. Once the shrimp has cooked, add in the asparagus and pasta with half a cup of the pasta water.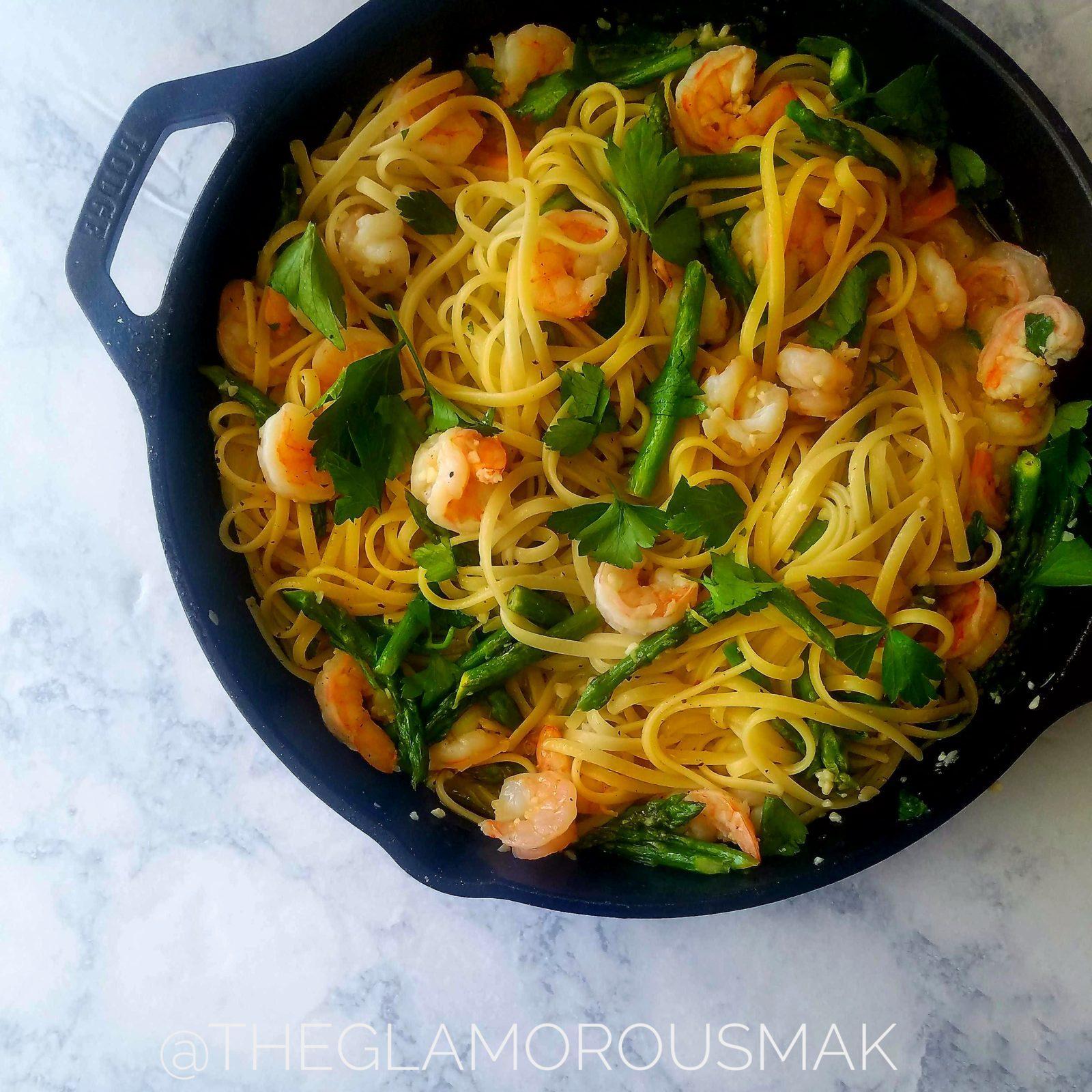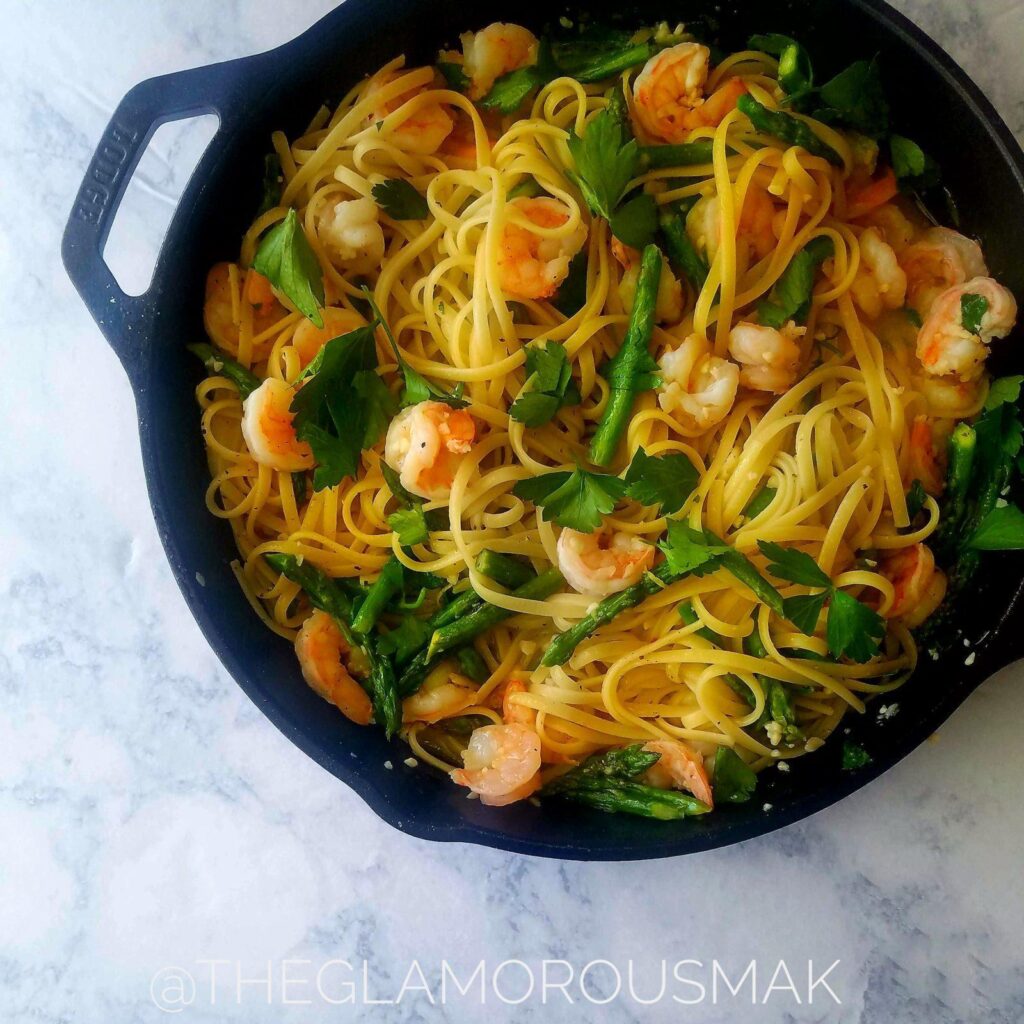 Finish it off...
Finally, add in the zest of one large lemon, and it's juice. Garnish with a fourth of a cup of chopped parsley, parmesan cheese and a pinch of salt and pepper (if needed). I enjoy this pasta a little bit spicy, so I add a large pinch of chili flakes at the end. Stir the pasta together to evenly distribute the ingredients, and serve! Enjoy!
Craving more?
Here are some other recipe(s) I think you might enjoy…
Whipped Feta and Asparagus Tart with Poached Eggs
---
Do you like this recipe?
Let me know by commenting below
Want to remember this for later?
Save this recipe directly to your Pinterest board by clicking the Pin button on the photo below!
With Love,
*Any nutritional data provided is for personal reference only as these are approximations, and data may vary on a case by case basis. Please refer to my disclaimers page.*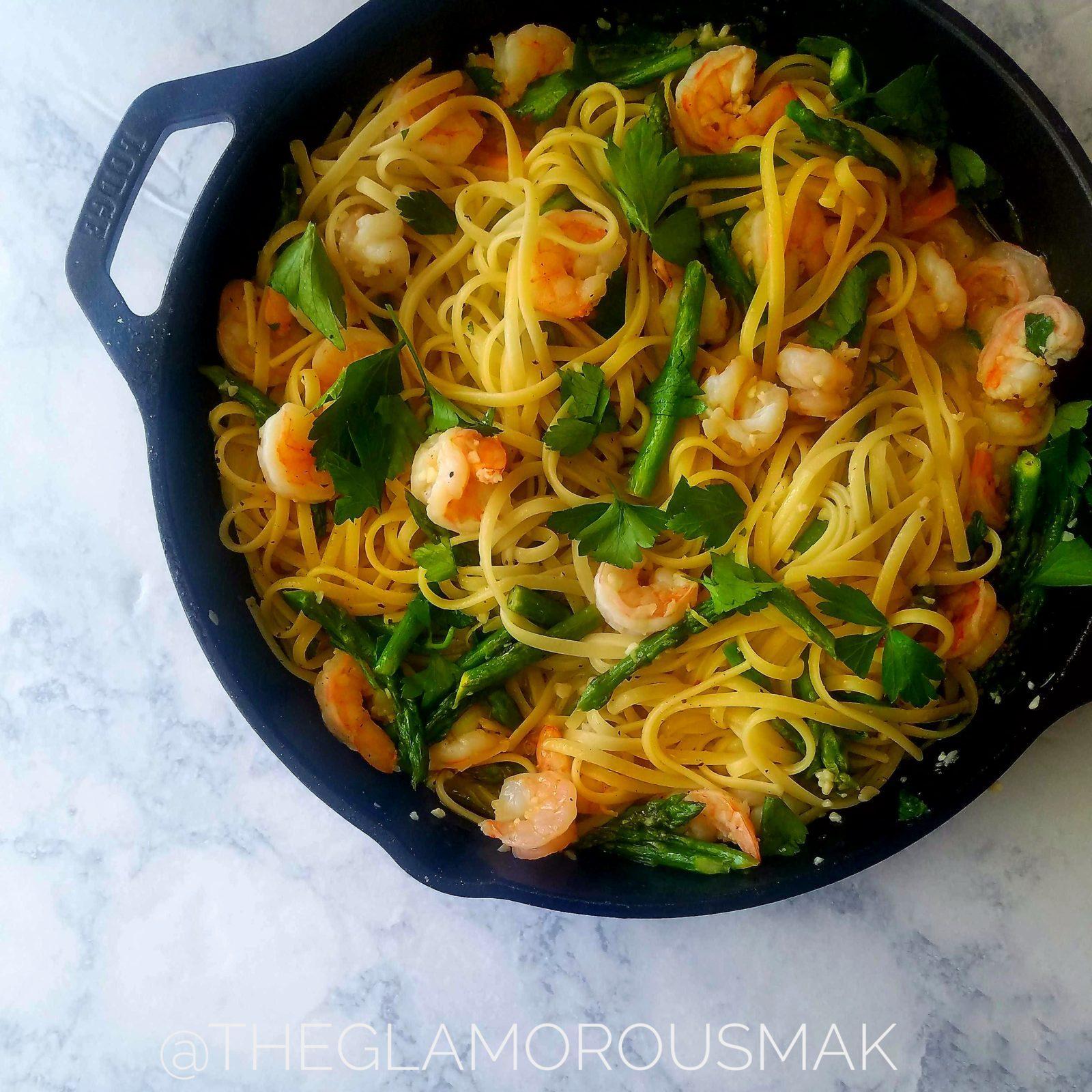 Garlicky Shrimp Pasta
Easy weeknight dinner in 30 minutes or less.
Ingredients
Asparagus
1 bunch Asparagus,, cut into bite sized pieces
1 tablespoon Olive oil
1 teaspoon Salt
½ teaspoon Pepper
Shrimp
30-45 medium Shrimp,, raw, devained
½ teaspoon Salt
¼ teaspoon Pepper
Pasta
½ box linguine
1 tablespoon salt
1 stick butter,
3 cloves garlic, , minced
1 large lemon,, zest and juice
½ cup pasta water
¼ cup flat leaf parsley
Parmesan Cheese, , to taste
salt, pepper, red chili flakes,, to taste
Instructions
Bring a large pot of water to a boil. Add 1 tablespoon salt. Bring to boil again. Cook pasta according to package directions. Drain, but reserve ½ cup of pasta water.
Preheat oven to 400 degrees. Place cut asparagus onto a baking sheet, and coat with olive oil, salt and pepper. Cook for 5 mins until bright green. Alternatively you can cook the asparagus in the saute pan instead of in the oven, but I find this to be quicker.
In a large saute pan, melt butter on low heat. Do not brown. Add garlic, and cook until fragrant. About 1 - 2 mins. Bring the heat to medium low, and add shrimp. Cook til pink and opaque, about 1 min per side. Place the cooked shrimp into a separate bowl. Set aside.
Add ½ cup of reserved pasta water into the garlic butter. Simmer for 2 mins. Add parsley and cook for another 30 seconds.
Finally, add pasta, cooked shrimp and asparagus back into pan. Finish with zest and juice of one lemon, salt, pepper and red chili flakes to taste.
Notes
You want to add the pasta straight into the saute pan from the pot of salted water because the starchy water produced from the pasta helps to create the "sauce."