Chicken noodle, who?
This lemon chicken soup with farro and kale is the overachieving, prettier sister of the traditional chicken noodle soup. Seriously, do you want a major nutritional boost? Check out this recipe. Nutty farro is a protein and fiber powerhouse followed by kale that is packed with vitamins and minerals. No more boring soup with the addition of the licorice-like flavor of fennel, shredded chicken, zesty lemon and fresh thyme. You'll have a feel-good chicken soup made with ten ingredients in less than thirty minutes.
You'll love this recipe because it's...
Simple
Light
Warm
Healthy
Made in 30 minutes or less
---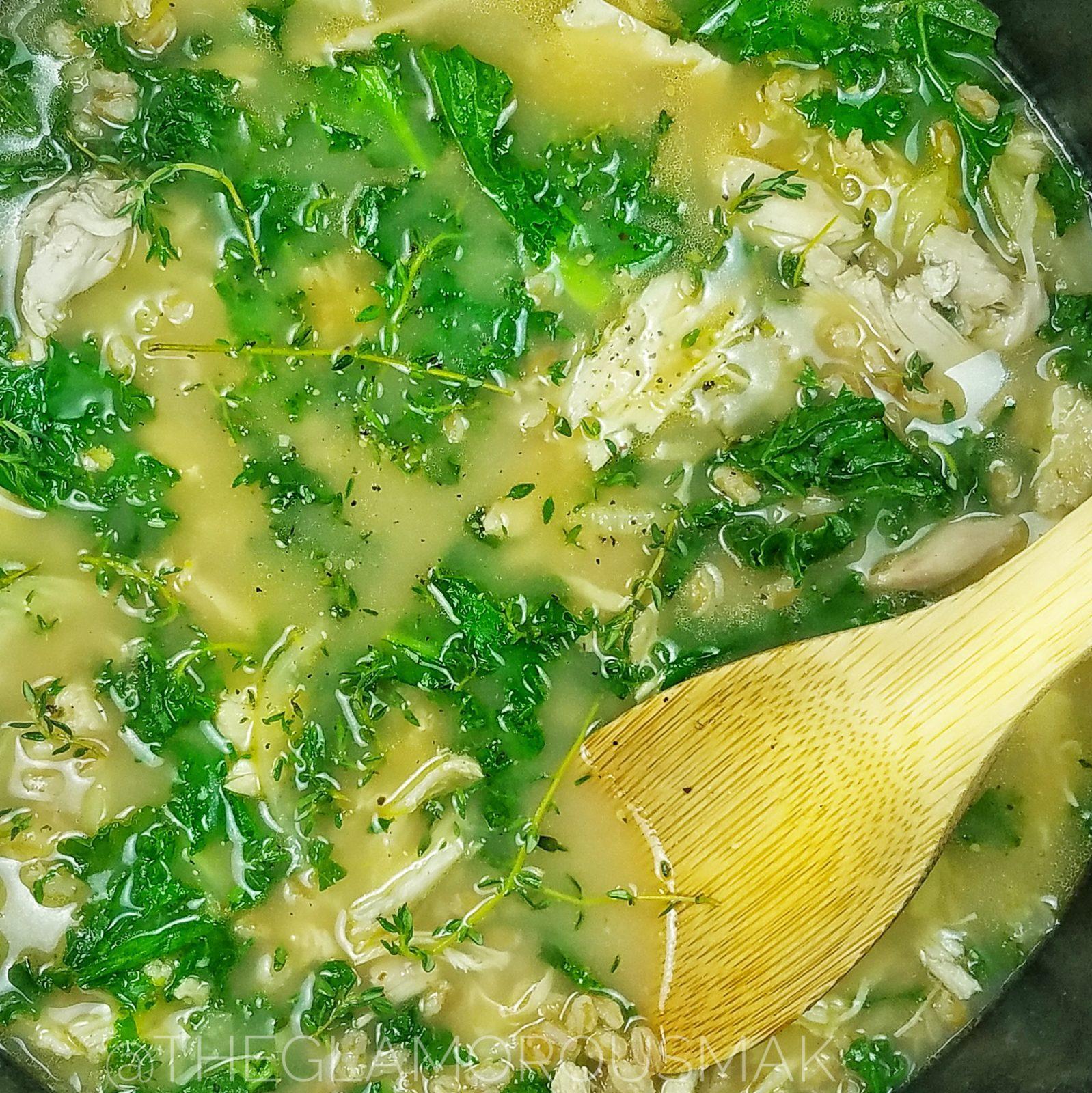 Fennel...
I cannot stress how incredibly easy this soup is to make. To start, cut one bulb of fresh fennel into thin slivers discarding the inner core. I buy my fennel without the stems. However, if you happen to have the tall, green stems, there are a couple things you can do. If you don't want to waste the extra vegetable, you can trim off the frills setting them aside for garnish, and cut the stalks into bite sized pieces. Then, cook it with the fennel bulb in about a tablespoon of oil, similarly to the way you would cook celery and onion. Once the fennel becomes soft, toss in minced garlic cooking it until fragrant.
The easiest chicken soup, ever...
Pour in the chicken stock bringing it to a boil. Cook the farro according to the package directions shortening the cook time by two minutes; I buy '10 minute' farro for quicker cooking time. Once the farro is almost done, add in the zest of one lemon plus the juice, massaged kale and shredded chicken. Season with salt and pepper, then serve with fresh thyme and Parmesan cheese.
I typically have precooked chicken in my freezer from my meal prep Sundays, or I would use store bought rotisserie chicken because you really cannot beat the price of a whole cooked chicken.  As for the massaged kale, all you have to do is gently squeeze the kale between your hands for about thirty seconds. Kale can be tough and bitter, so this helps to break down the fibers which make it more palatable.  After you massage the kale, dump it into soup. Let it cook down for about a minute. That's it. Less than thirty minutes of cook time with only ten ingredients.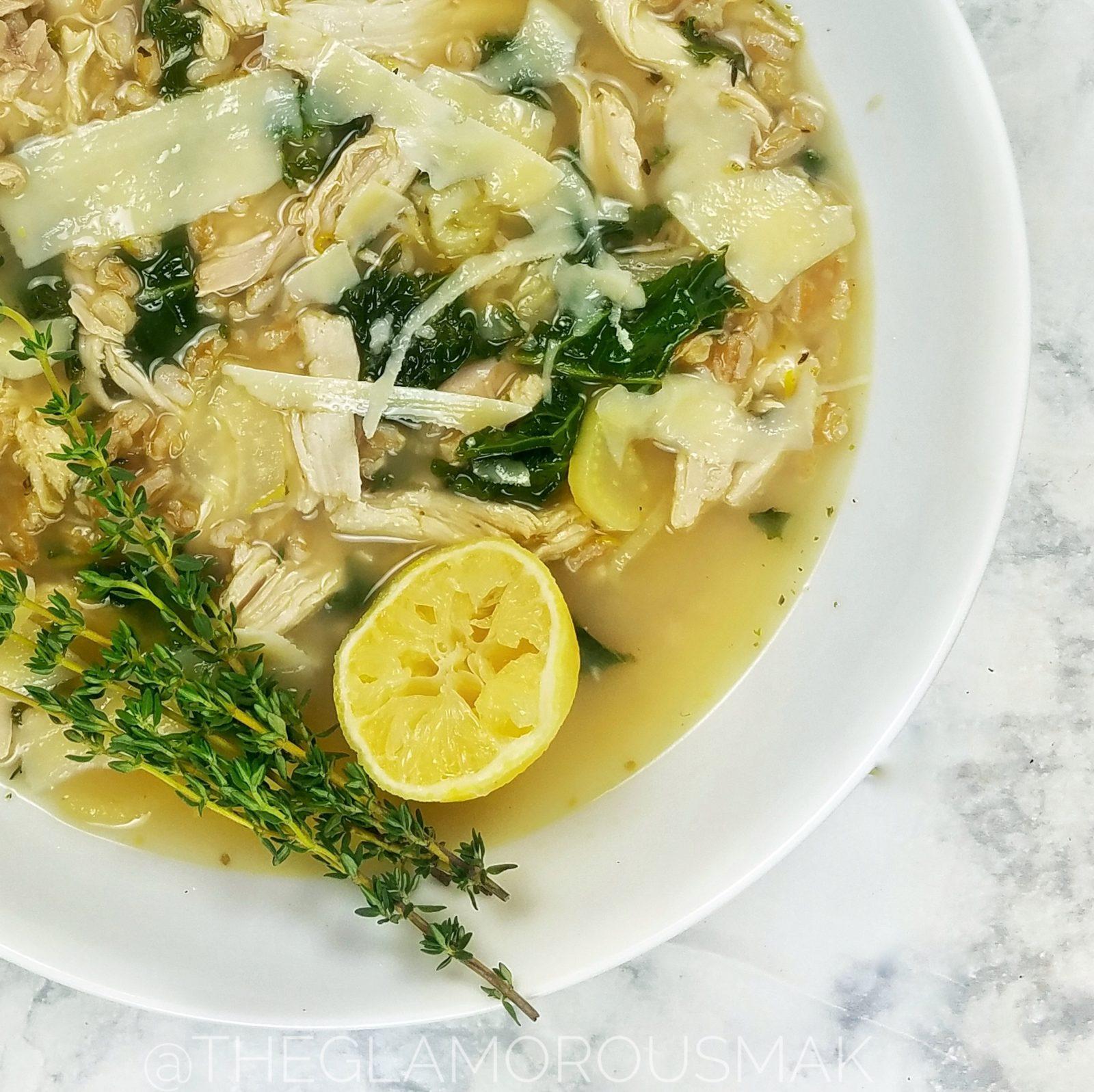 ---
Craving more?  
Use up leftover chicken with this Chicken and Black Bean Taco recipe (pictured below), by filling out the form below, and I will send this recipe straight to your inbox!
[wd_hustle id="chicken-black-bean-tacos" type="embedded"]
---
Here are some other recipe(s) I think you might enjoy…
---
Do you like this recipe?
Let me know by commenting below, sharing this post with all your friends, and follow me on social media!
[DISPLAY_ULTIMATE_SOCIAL_ICONS]
Want to remember this for later?
Save this recipe directly to your Pinterest board by clicking the Pin button on the photo below!
With Love,
Mandy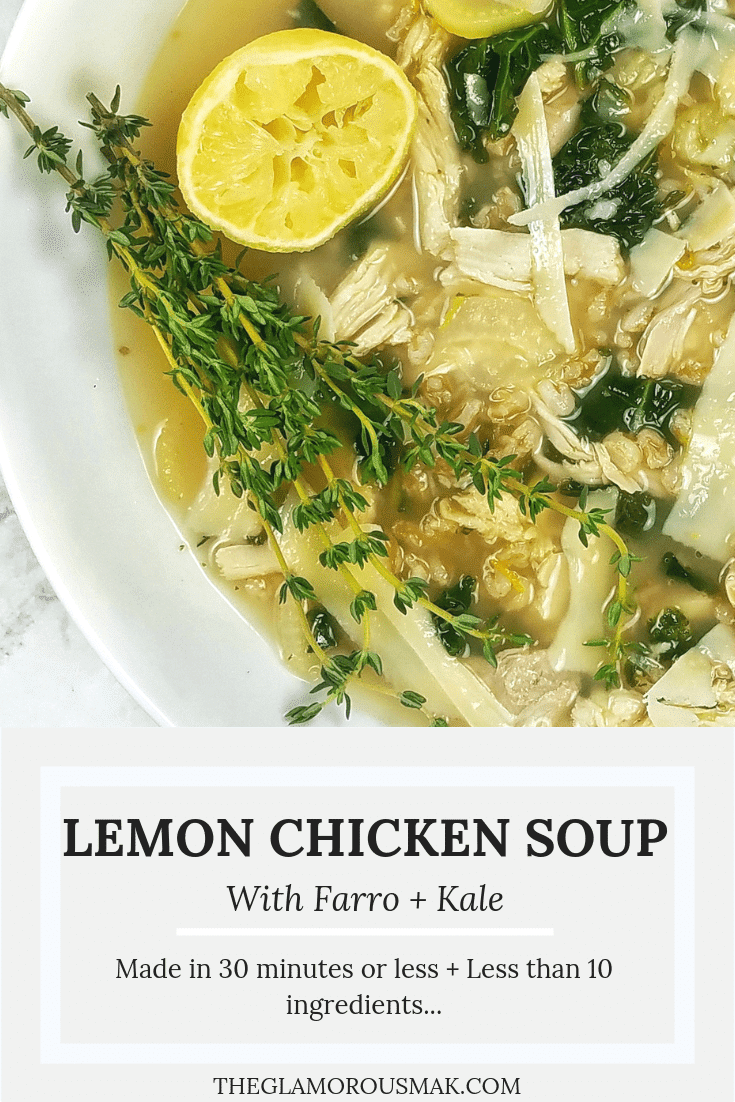 *Any nutritional data provided is for personal reference only as these are approximations, and data may vary on a case by case basis.  Please refer to my disclaimers page.*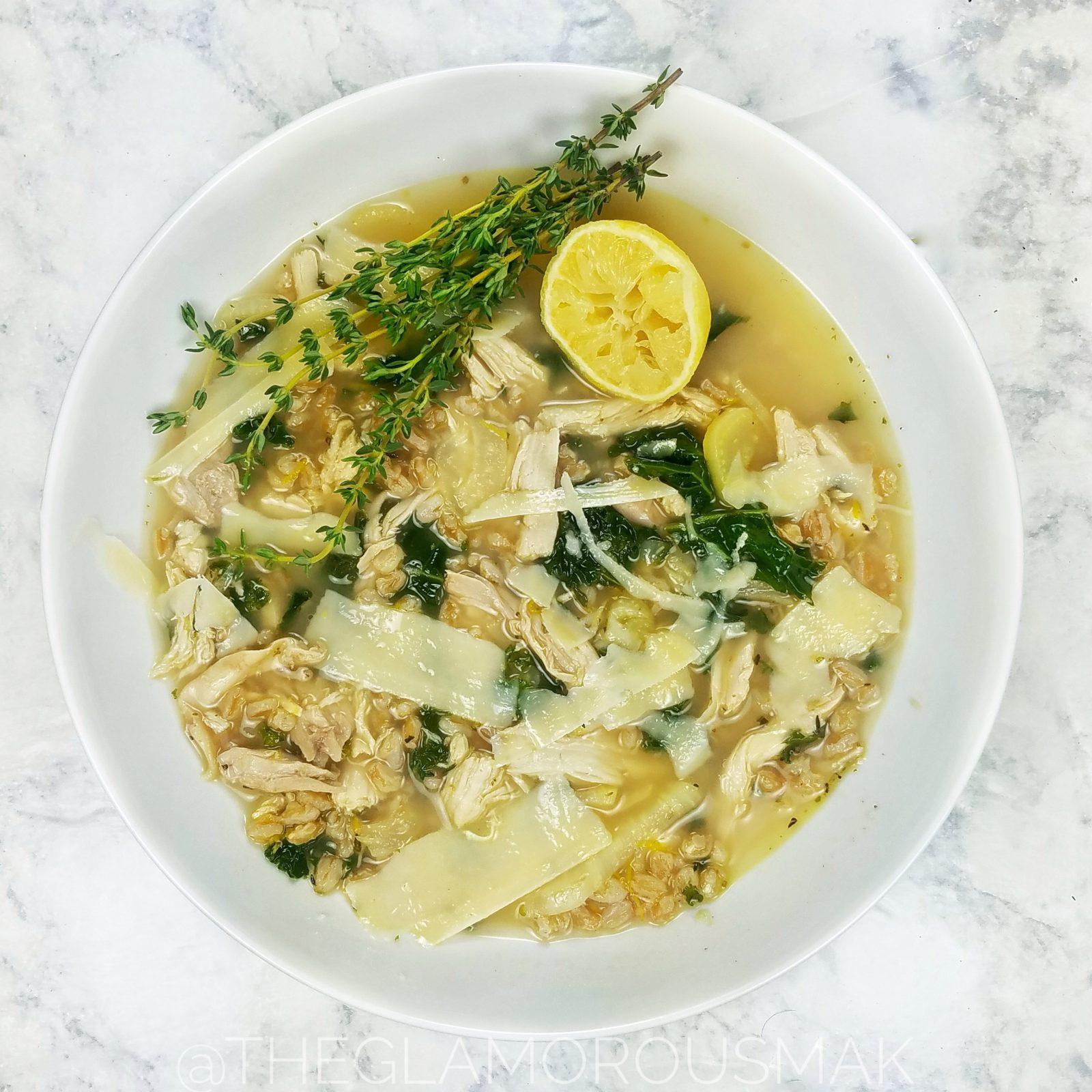 Lemon Chicken Soup with Farro and Kale
This Lemon-y chicken soup with farro and kale is the cold weather staple you need that uses only 10 ingredients in less than 30 minutes. Make as a quick, healthy weeknight meal.
Ingredients
1 bulb Fennel, , thinly sliced
1 clove Garlic, , minced
6 c Chicken stock
1 large Lemon,, zest +juice
1 c Farro
3-4 c Kale
1 c Shredded chicken, , cooked
1 tablespoon olive oil,
S+P, , to taste
Fresh thyme,, garnish
Instructions
Fennel
Heat olive oil in large pot on medium low. Cook fennel until soft. Season with a pinch of salt and pepper. Add in minced garlic and cook til fragrant.
Soup
Once you can smell the garlic, pour in chicken stock, and bring to boil. Next, add in farro, cook for 8 mins or according to package instructions. Lower heat to simmer.
Now, add in kale, cooked chicken, lemon juice and zest. Heat til chicken is warm and farro is al dente.
Serve garnished with salt and pepper (if needed), fresh thyme and Parmesan cheese.
Notes
This is a good recipe for rotisserie or leftover chicken. 
Massage kale before placing into soup by gently gripping between hands repeatedly for about 30 seconds.