This is the best fish taco you will ever eat!
It was a warm, sunny, summer day.  The air was salty from the ocean breeze.  The foam from my pale ale tickled my lips, and the sound of smooth jazz graced my ears.  My lunch was served; I ordered the fish tacos.  The vibrant orange sriracha mayo contrasted with a deep indigo colored taco shell.  Poking out from under the mayo was brightly colored red cabbage, garnished with cilantro.  You could smell the spiciness of the sriracha, and the cilantro smelled fresh and light.  The crunch was delightful, and the flavors danced across my tongue.  This was the kind of fish taco I had been searching for.  A local bar in Portland, ME had created the fish taco of my dreams, and I knew I had to recreate it.
You'll love these fish tacos because they are...
Crunchy
Flavorful
A little spicy
Creamy
Made in 30 minutes or less
Very simple
---
This fish taco recipe has become a staple in my weeknight routine because they are so easy to put together, can be made in 30 minutes or less and are so delicious that my mouth is watering just typing this sentence. Honestly, these will impress anyone you serve them to.  Don't worry, you don't have to tell them how easy it was to make.  It'll be our little secret. *wink*
Want to remember this for later?
Save this recipe directly to your Pinterest board by clicking the Pin button on the photo below!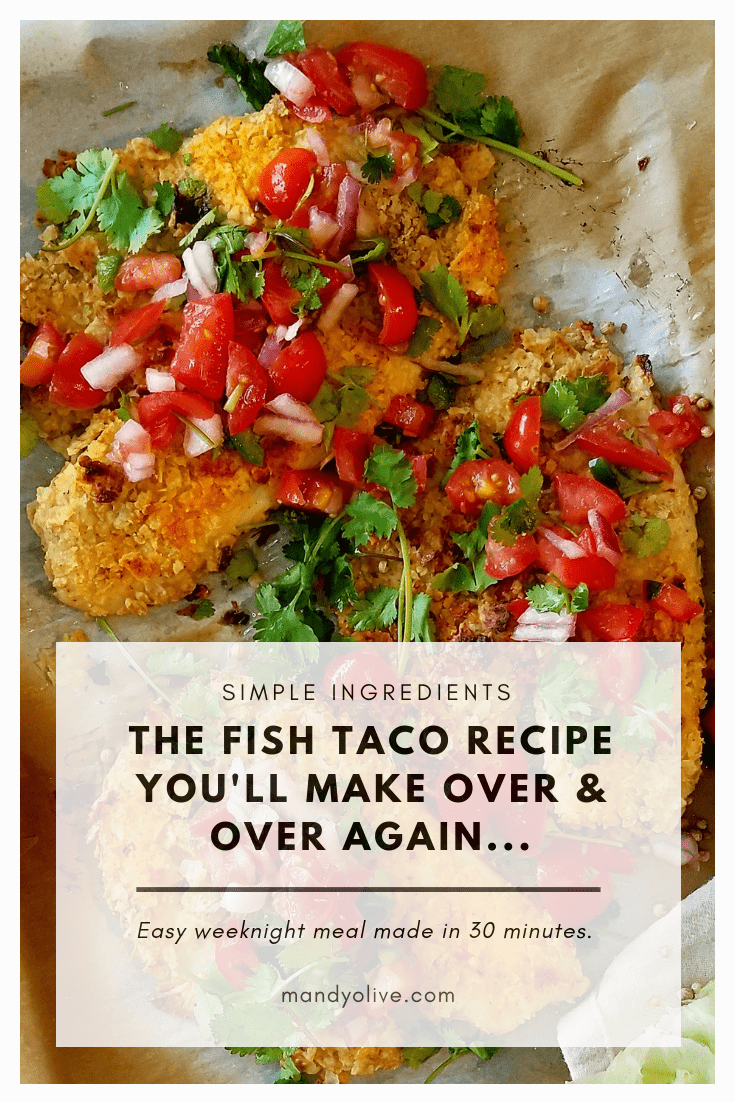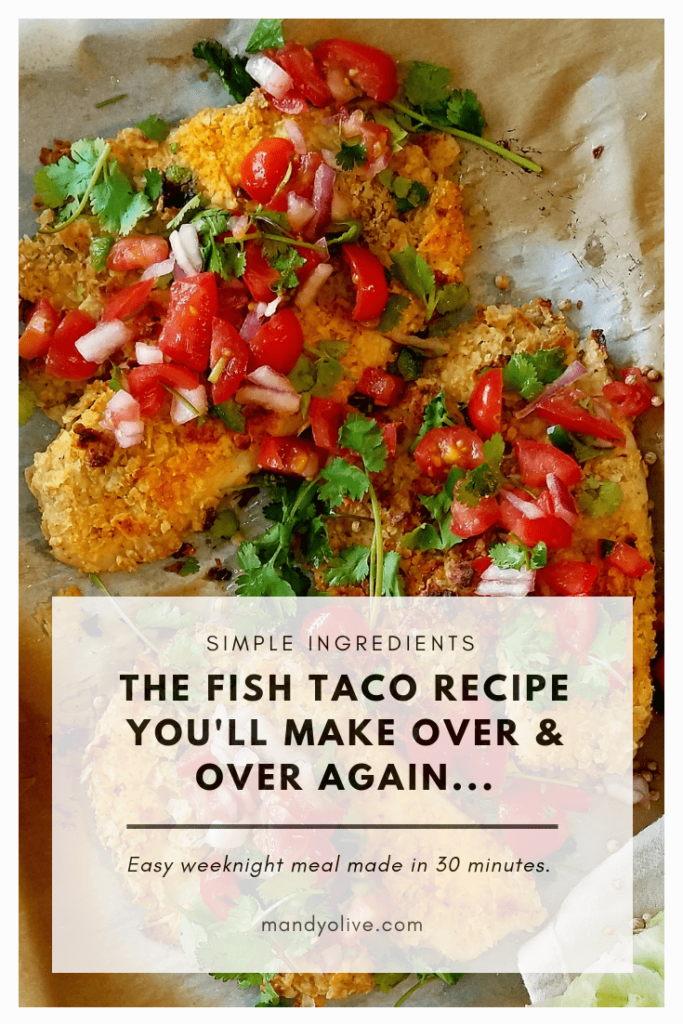 Making the fish tacos...
As I said, this fish taco recipe is very easy since you really just assemble all of the ingredients. Everything can be found premade at your local grocery store from the pico de gallo to the tortilla crusted tilapia. (I usually buy my fish in the frozen section) If you are interested in making all of the ingredients from scratch, you can follow these recipes.
---
Craving more?  
Check out my most popular recipe(s)... 
Starbucks Copycat Mango Dragonfruit Refresher
Starbuck's Strawberry Acai Refresher
Here are some other recipe(s) you might like...
Spatchcock chicken: the only way to cook whole chicken and get crispy skin
Whipped Feta and Asparagus Tart with Poached Eggs
---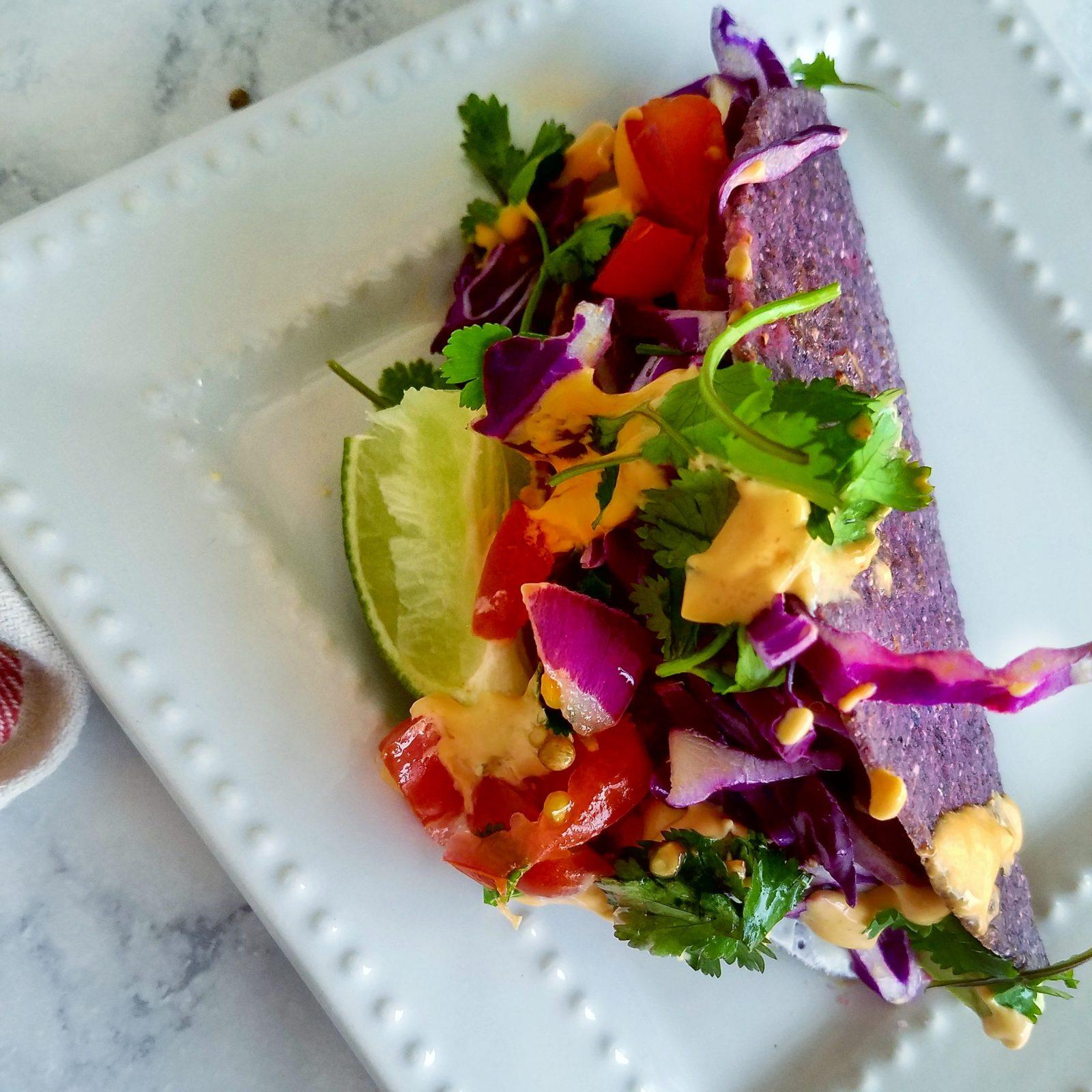 Fish Tacos
This fish taco recipe will become a staple in your weeknight routine. Tortilla crusted tilapia, avocado, pico de gallo, sriracha mayo, red cabbage and sour cream come together to make the best fish taco recipe you will ever eat!
Ingredients
1 - 2 Tortilla-crusted tilapia fillets, I usually buy it frozen to keep it simple, but I have a recipe here.*
Hard shelled tacos*
Fresh Cilantro, roughly chopped
Pico de Gallo, You can find a recipe here
Shredded red cabbage
1 small Avocado, sliced
Sour cream
Sriracha mayo
Lime wedge for garnish
Instructions
Cook fish according to package directions.; then cut fish into large chunks.
Bake taco shells according to directions.
Smear a spoonful of sour cream inside the taco shells on the bottom/sides, then place 2-3 chunks of fish gently pushing to adhere the fish to the bottom.
Add the avocado, red cabbage and pico.
Top with sriracha mayo, cilantro and lime.
Repeat steps 3 - 5 for the rest of your tacos.
Enjoy!
Notes
*important note - You will notice there are no measurements in this recipe.  These are easy to assemble, so I do not think it's necessary.  I use approx. "one tablespoon"  of each ingredient, and two slices of avocado per taco. One filet makes approx. 4 tacos. Make sure it's pico de gallo (fresh salsa), not jarred. I also buy this from the grocery store to save time, but it is very easy to make. I have a recipe, here. Buy stand and stuff hard taco shells (The ones with flat bottoms). It'll save your life, trust me. I buy pre-shredded red cabbage. These are messy, so have extra napkins handy!
*This recipe was inspired by a bar in Portland, ME.  The Porthole.*
*Any nutritional data provided is for personal reference only as these are approximations, and data may vary on a case by case basis.  Please refer to my disclaimers page.*