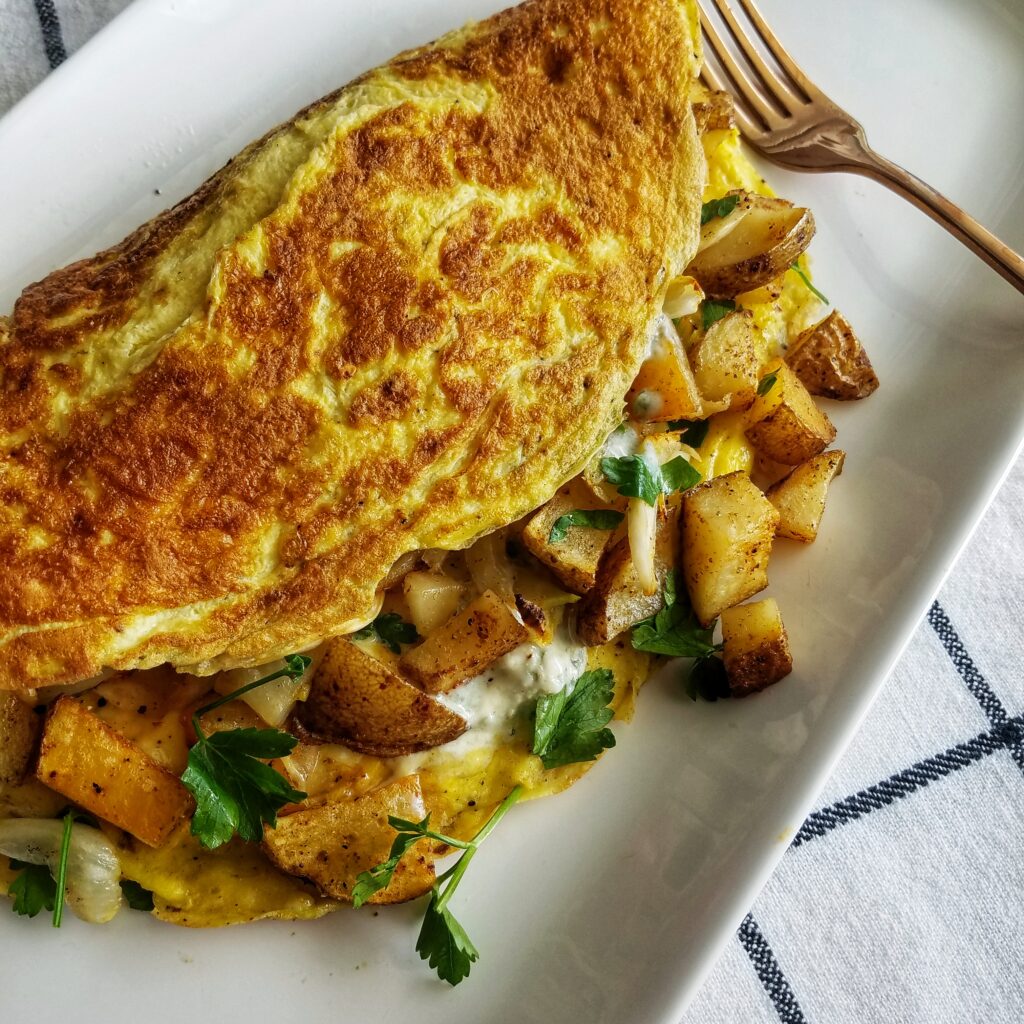 I love eggs. Breakfast, lunch or dinner. They are the perfect ingredient to beef up any meal. This potato and fennel omelet offer a fancier brunch option for those who want a little oomph. This dish comes together quickly and is enough to feed two to three people. If you are not a fan of blue cheese, goat cheese is an exceptional substitute, still tangy but much milder than blue cheese.
You'll love this potato and fennel omelet with blue cheese because it's...
easy
a good use for leftovers
tangy
made in about 20 minutes
hearty
---
Want more fennel recipes? Try this 30 minute Fennel Crusted Pork Loin Recipe
Prepping the potato and fennel omelet
Preheat your oven to 450 degrees Fahrenheit. While the oven is preheating, chop your potato in small, bite-sized pieces. The smaller the pieces the faster it will cook.
Before roasting, toss in olive oil and harissa. Harissa is a blend of chilis and other spices like caraway, cumin, and coriander. It typically comes in a paste form, but I use this dry seasoning and put it on basically everything.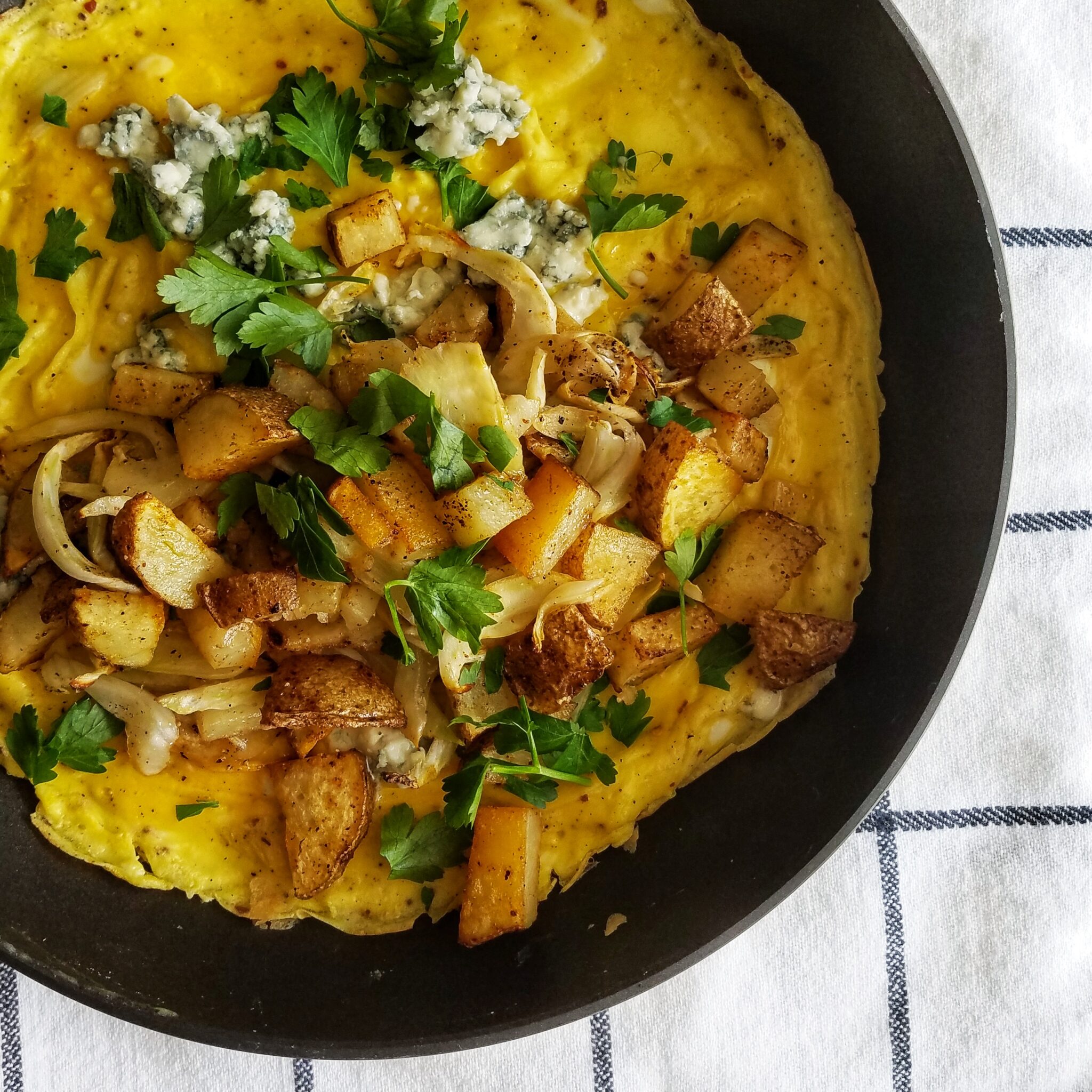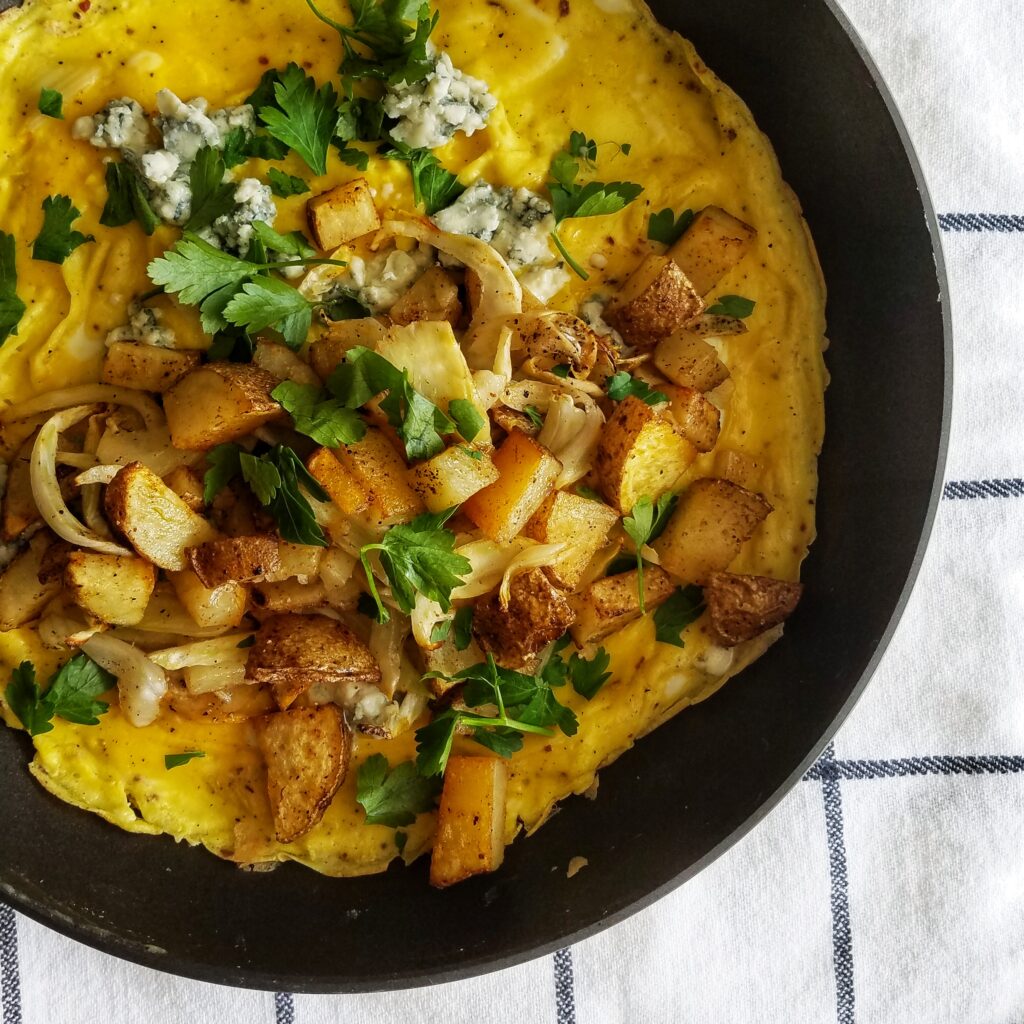 Prep your other ingredients
Let the potatoes cook until fork-tender. In the meantime, prepare your eggs and slice your fennel. Again, slice the fennel thinly. Whip a half a dozen eggs with a few tablespoons of milk or water.
Season the eggs with salt, pepper and chili flakes, then beat until smooth. Once the potatoes have cooked, toss in the fennel and allow the fennel to soften while you prepare the eggs.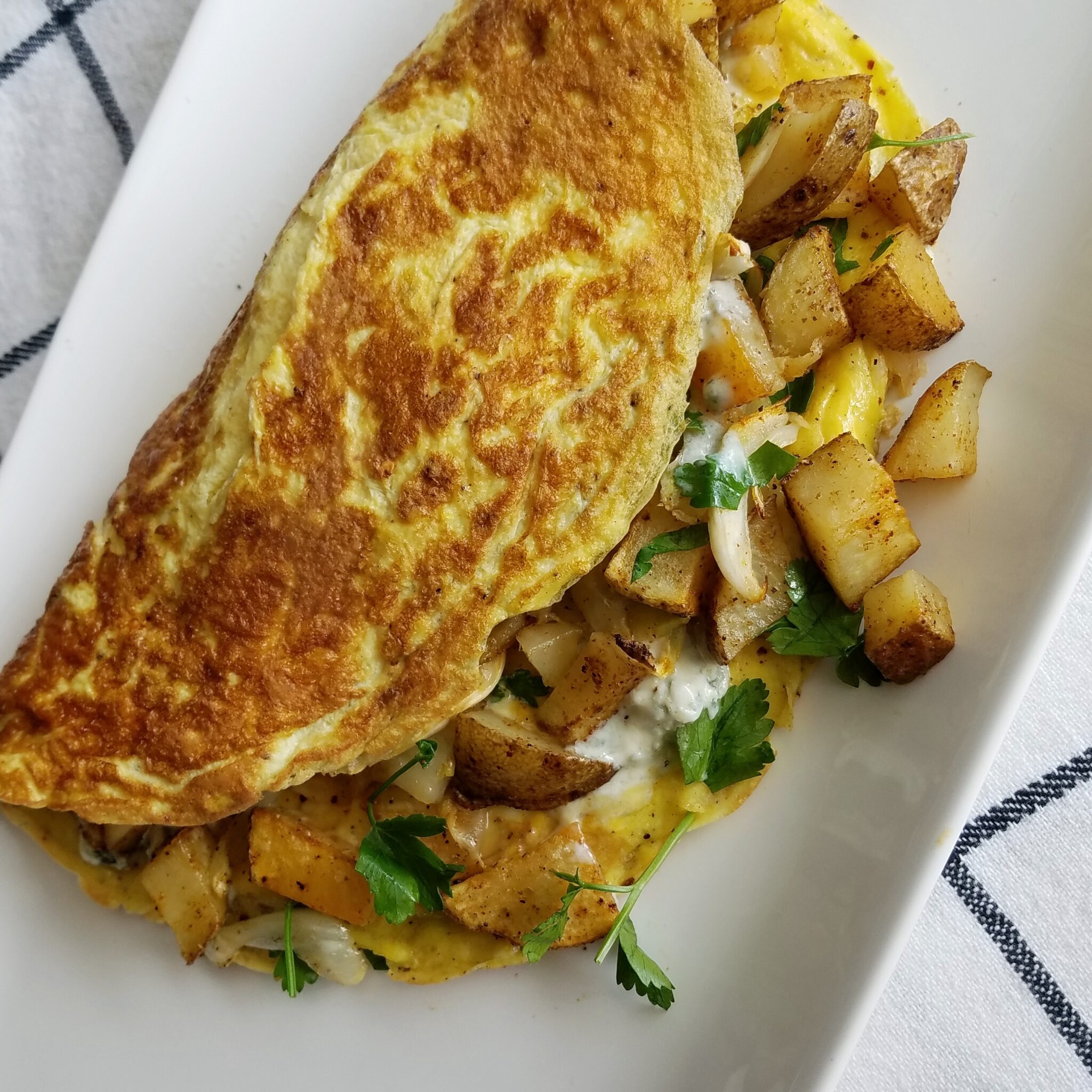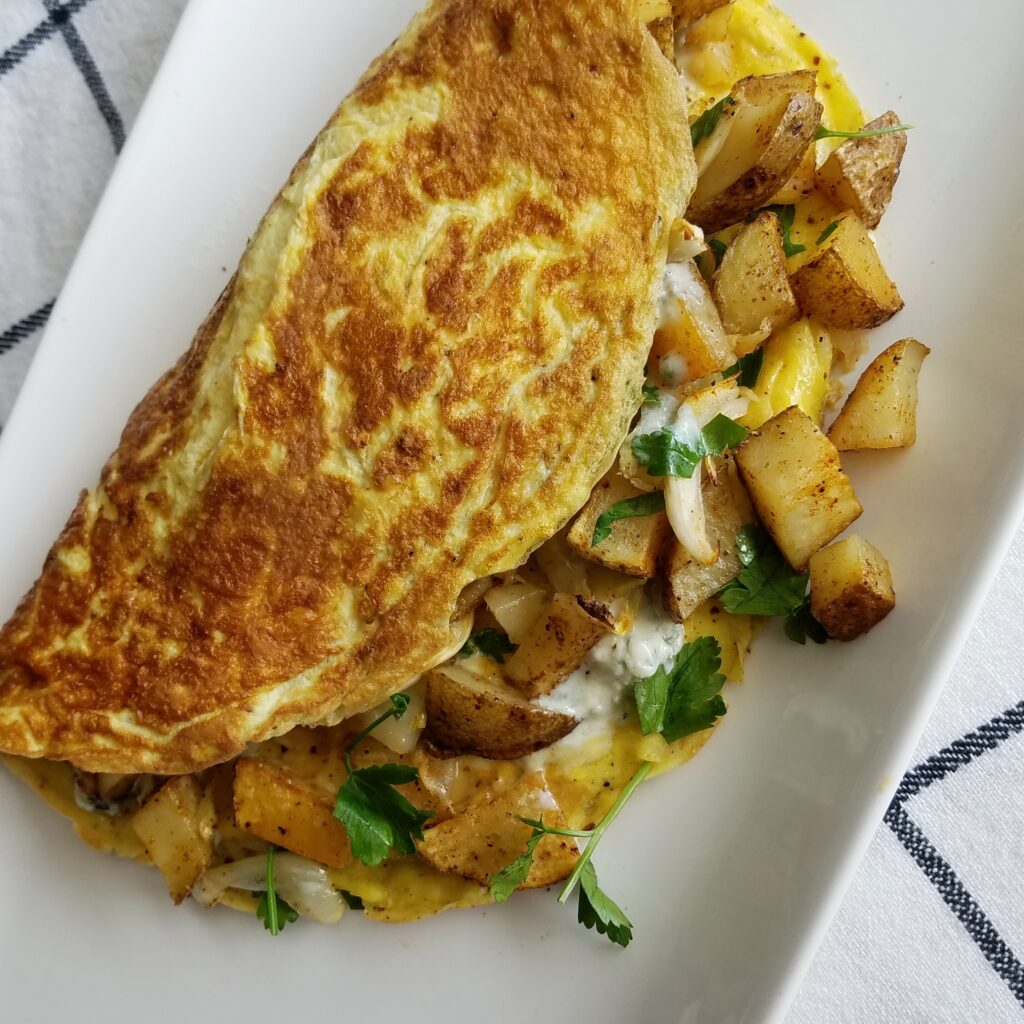 Preparing the omelet
Preheat a non-stick pan over medium-low heat, and drizzle with a small amount of oil. Pour in the eggs and move the eggs around until it starts to set, making sure there are not any thin spots. Let any excess raw eggs pour over the edges of the omelet.
Now, cover with a lid and allow the eggs to set. The top should still be glossy, but not runny. Sprinkle the omelet with parsley and crumbled blue cheese before topping with the potato and fennel mixture. Place the vegetables to one side of the omelet and fold the other side over. Serve this immediately.
---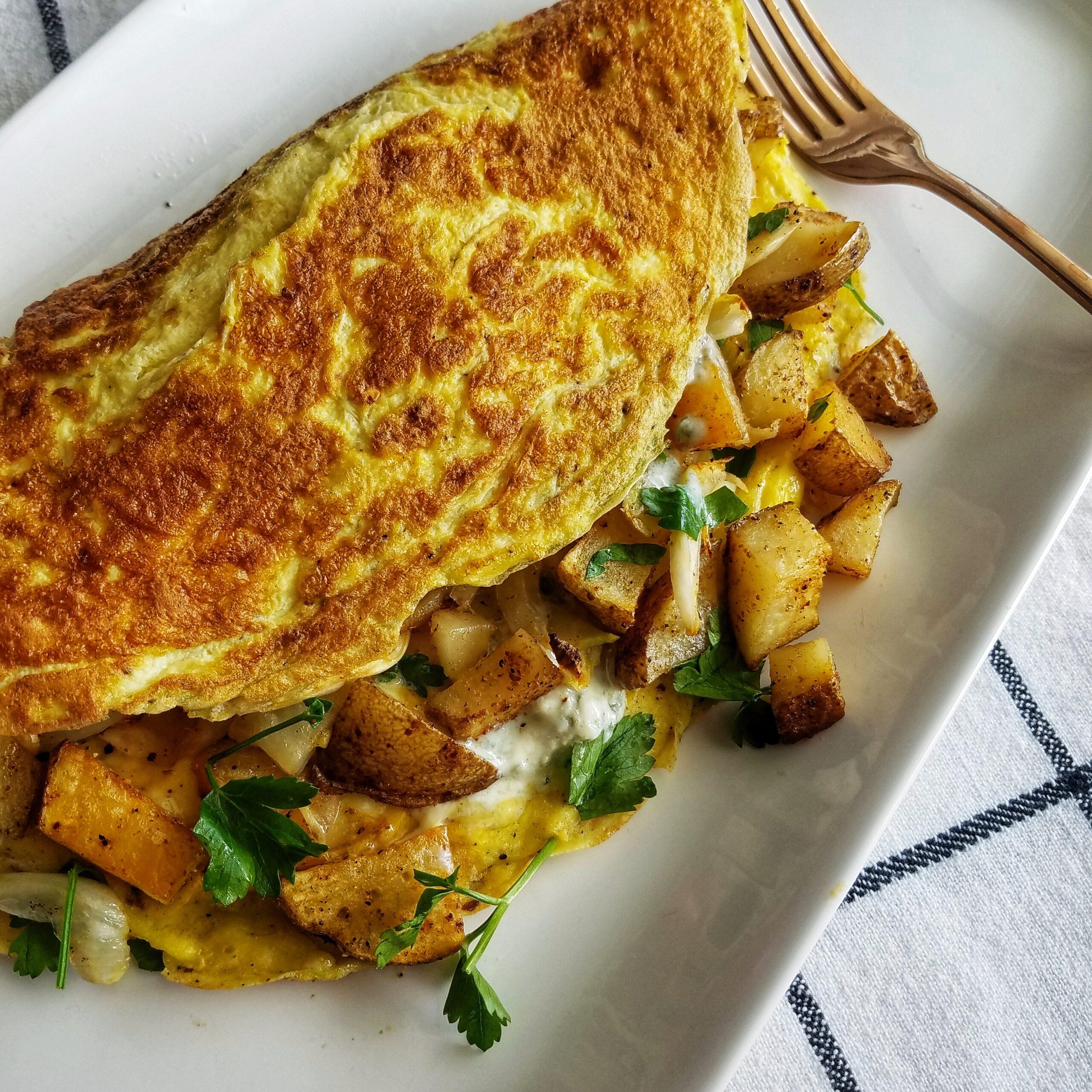 Potato and Fennel Omelet with Blue Cheese
This potato and fennel omelet with blue cheese is the perfect meal to make with fresh or leftover ingredients. You'll love this recipe because it comes together quickly, is hearty, tangy and fresh.
Ingredients
Omelet
6 large eggs, , beaten
3 tablespoon milk or water
S + P, to taste
red pepper flakes, optional
Filling
1 small potato, , chopped into small cubes
¼ small fennel bulb, , thinly sliced
½ teaspoon harissa dry seasoning, plus more to taste (if needed)
2 tablespoon olive oil
1 oz blue cheese, can sub goat cheese
1 handful flat leaf parsley , chopped
Instructions
Toss potatoes in seasoning and oil and roast in a 450 degree Fahrenheit oven.
Meanwhile, beat together eggs, milk and seasonings until smooth
When the potatoes are almost fork-tender, preheat a non-stick skillet over medium-low heat, drizzled with olive oil.
Toss the potatoes with sliced fennel and leave in the oven until your omelet is done. We are just looking to slightly soften the fennel.
Pour in egg mixture stirring vigorously with a rubber spatula. Once a semi-solid mass forms, use your spatula to move the raw egg around the edge of the omelet. Let the omelet sit covered until the raw eggs starts to cook.
Once the egg mixture starts to thicken, but it's still glossy, loosen the edges of the omelet, then sprinkle in chopped parsley and crumbled cheese.
Pour in potato and fennel mixture onto one side of the omelet. Fold the egg over and serve immediately.
Nutrition Information:
Yield:

2
Serving Size:

2 people
Amount Per Serving:
Calories:

954
Total Fat:

57g
Saturated Fat:

18g
Trans Fat:

0g
Unsaturated Fat:

36g
Cholesterol:

661mg
Sodium:

1492mg
Carbohydrates:

55g
Fiber:

5g
Sugar:

6g
Protein:

55g
Nutrition facts are for personal reference only as calories may vary on a case by case basis.