This Smoked Salmon Recipe is by far the best way to have breakfast for dinner.
It's no secret that I LOVE pizza. It's also no secret that Brunch is my favorite meal of the day, so naturally, it made sense to put the two together. Now, let me take you back to Mother's Day, 2017.
I hosted a Mother's Day brunch, where I served a variety of breakfast pizzas: Smoked Salmon, Pesto with Prosciutto, and BLT. The smoked salmon is a definite favorite of mine. Plus, this is a straightforward recipe, so it's perfect for making for a crowd. The photo below showcases the smoked salmon and pesto with prosciutto pizzas.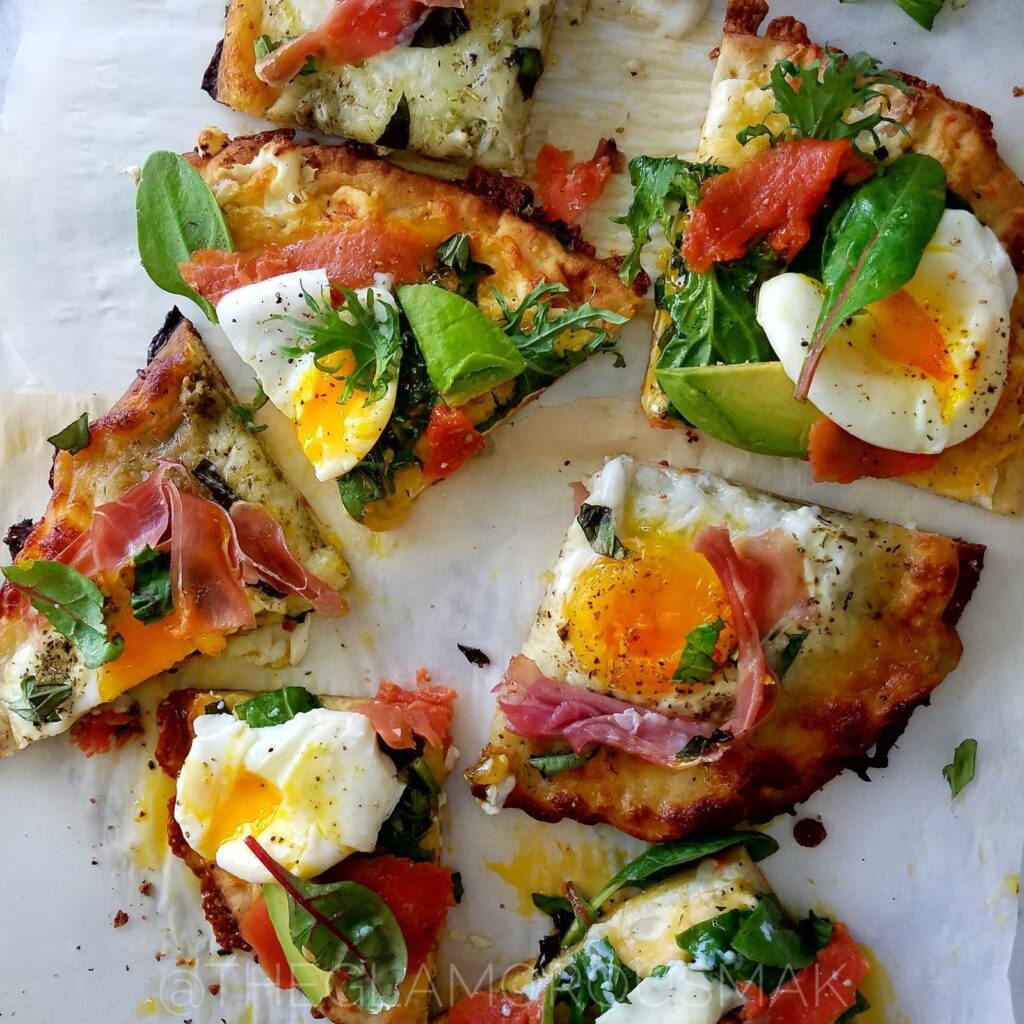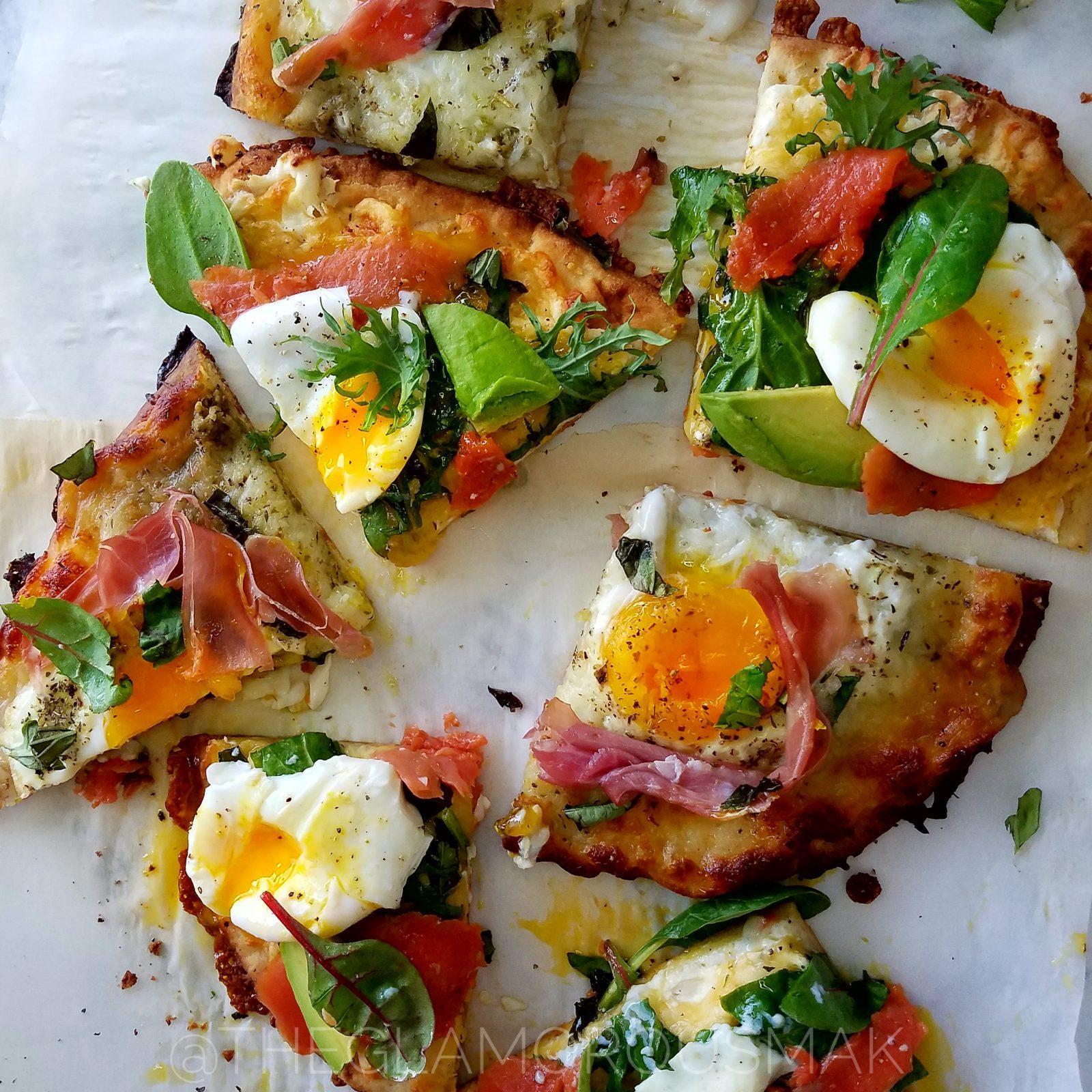 You'll love this smoked salmon breakfast pizza because it's...
Delicious (obviously)
So simple.
Cheesy.
Crispy.
Uses few ingredients.
Preheat the oven and assemble your pizza...
First, take one and a half tablespoons of cream cheese, and spread it across the naan. I prefer garlic naan because it adds more flavor and depth. After, you will add one cup of Gouda cheese and a half a teaspoon of Italian seasoning. For this recipe, I poached the eggs, but you can use the "well" technique shown here, in my Pesto Breakfast Pizza if you prefer to bake the eggs.
Both are useful techniques, but I do like poaching over baked because I find it easier to get extra runny eggs, mostly because I only like the yolk part. Bake at 400 degrees for 8 - 10 mins, or until the cheese is golden brown and bubbly.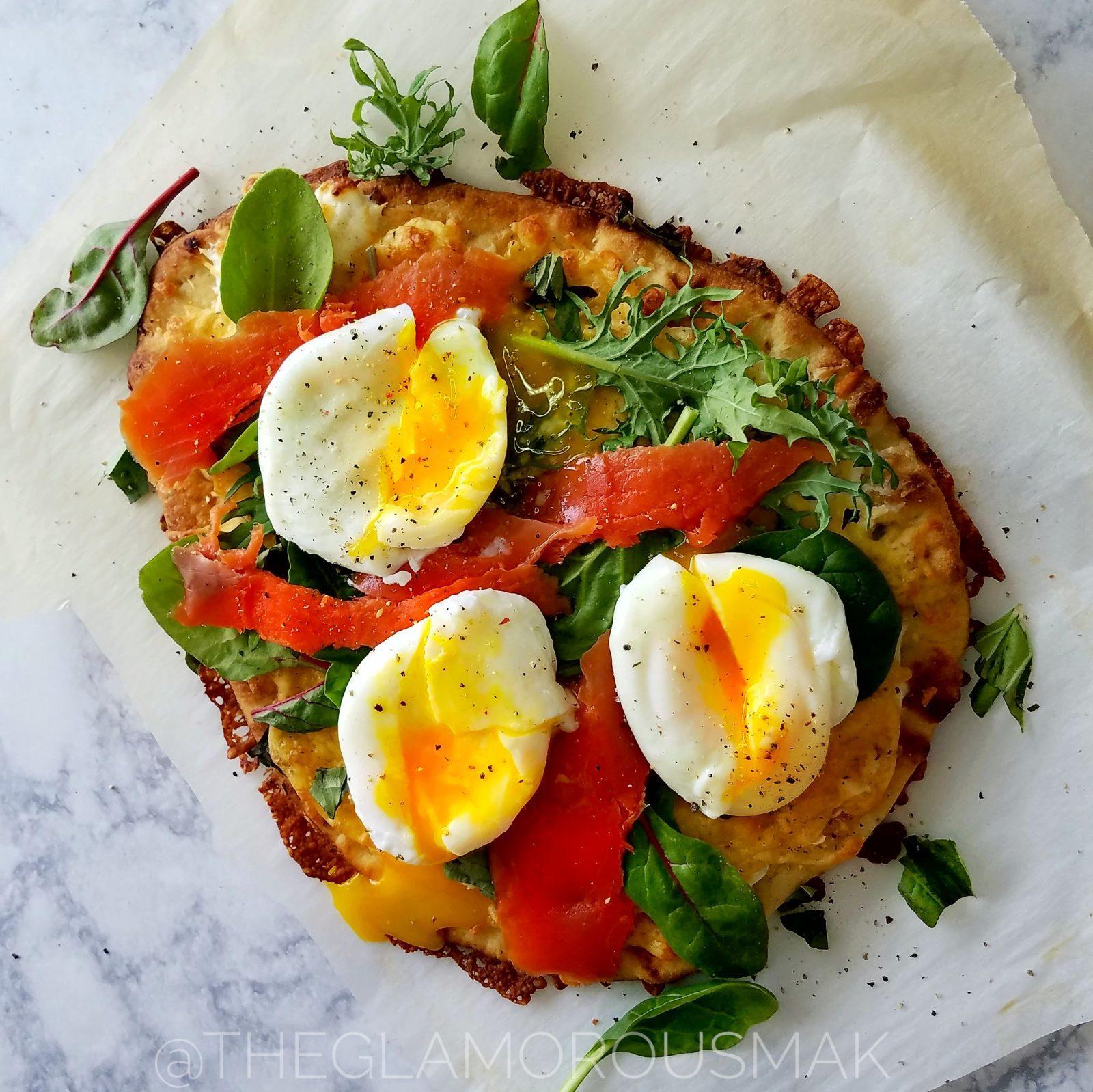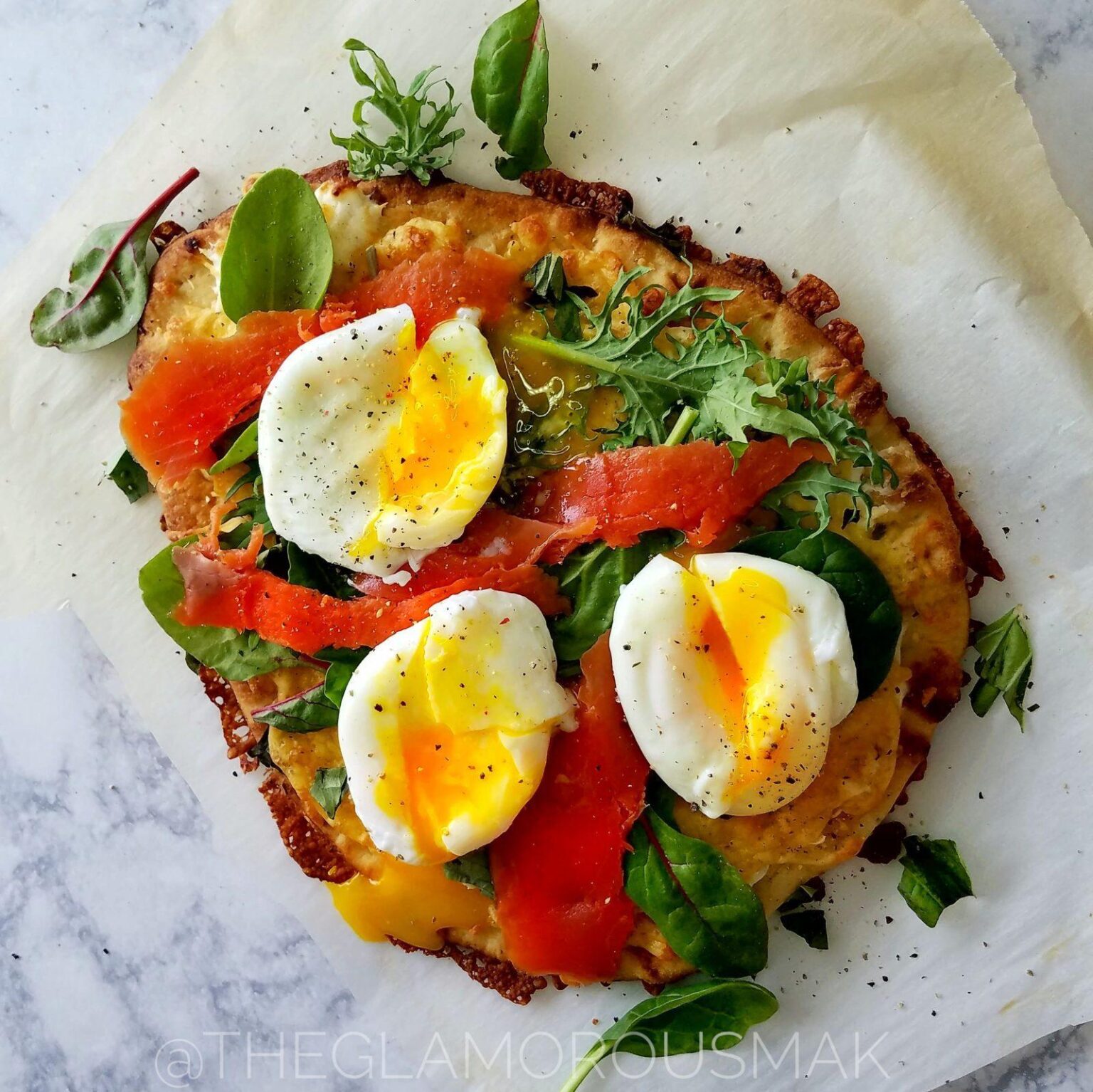 Add your toppings...
When the cheese is nice and melty, top with mixed greens, avocado, and cold-smoked salmon, red onion would be a nice touch, too, but I didn't have any on hand.
Top with your poached eggs, breaking them open to show off that beautiful, yellow yolk. Season with a pinch of salt and pepper; however, depending on the brand, cold smoked salmon can be very salty, so you may not need to add salt. Enjoy immediately.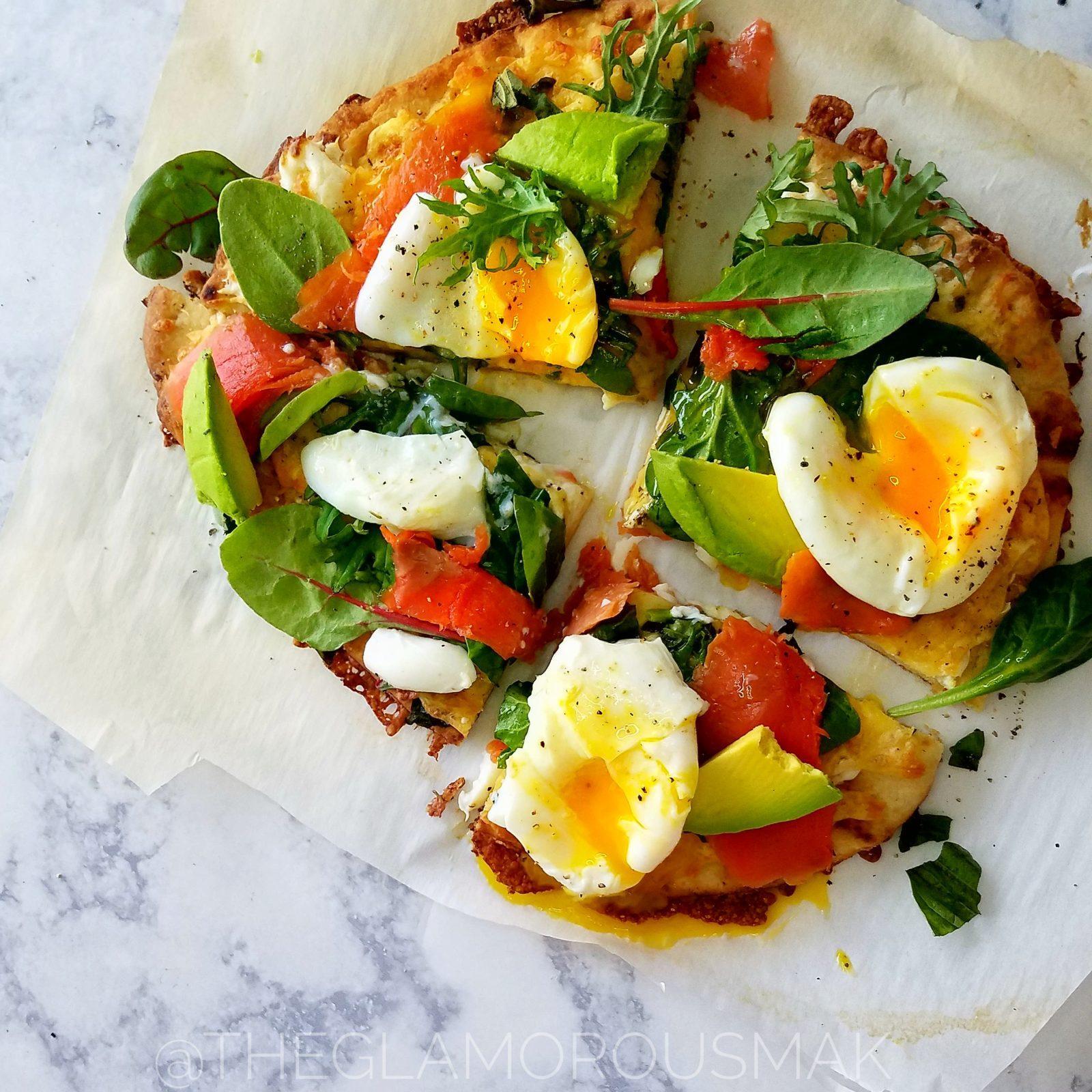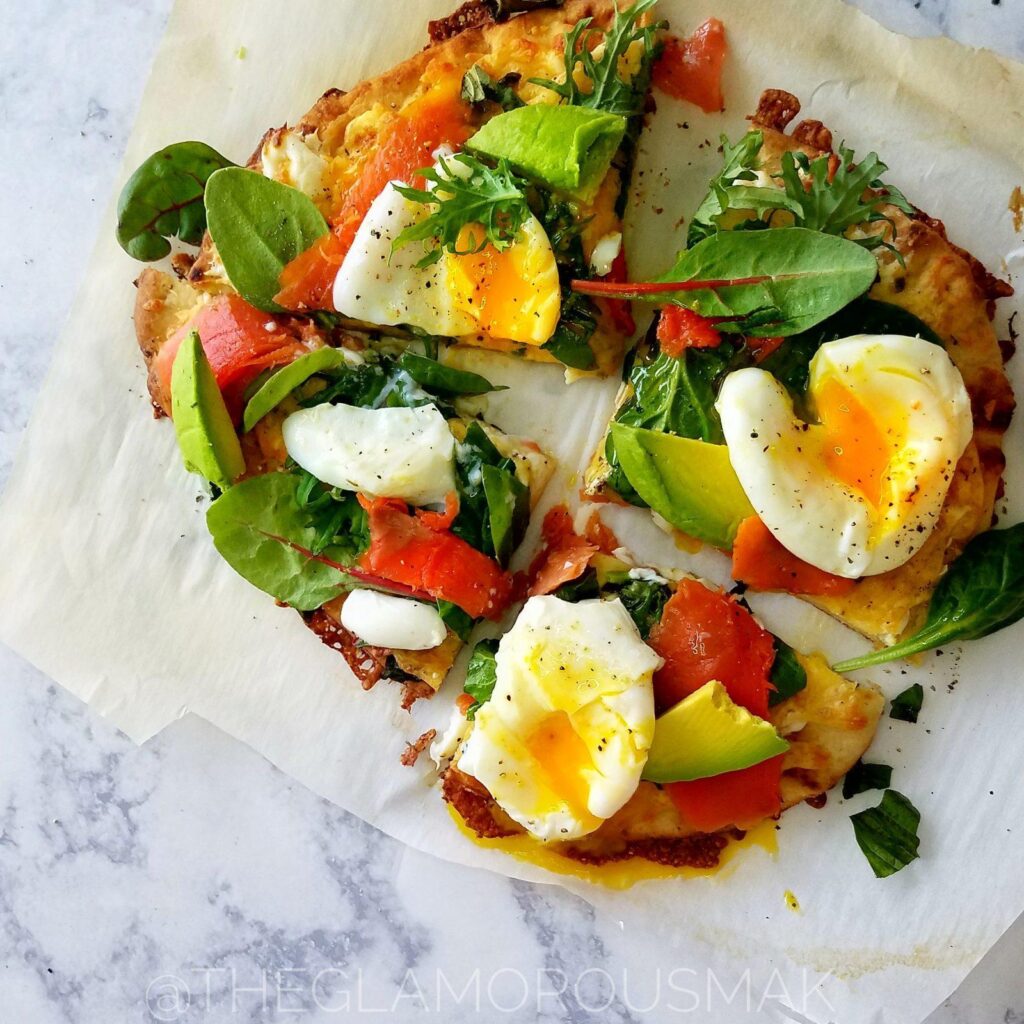 ---
Craving more?
Here are some other recipe(s) I think you might enjoy…
Pesto Breakfast Pizza with Prosciutto
---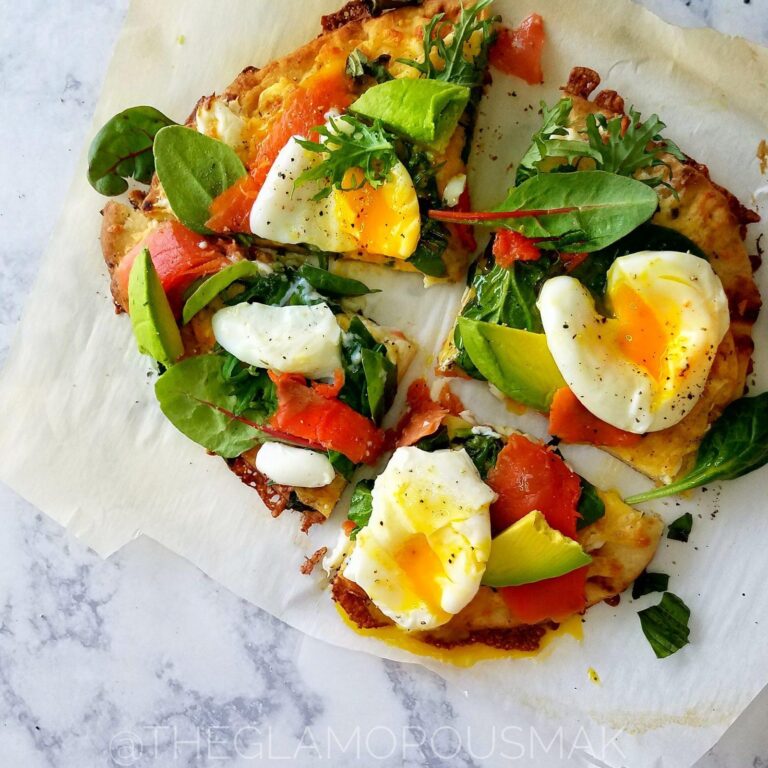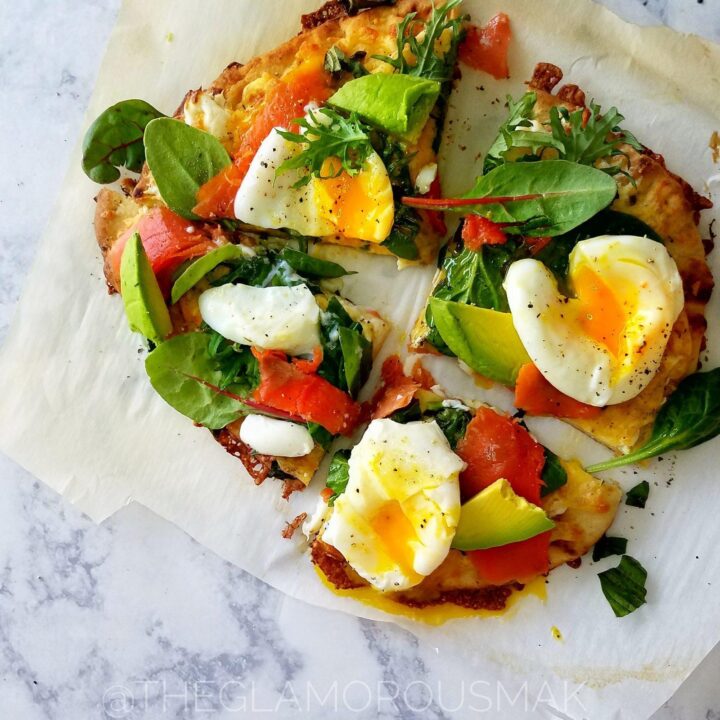 Smoked Salmon Breakfast Pizza
Have breakfast for dinner with this salmon recipe. This smoked salmon breakfast pizza is delicious idea for breakfast or Sunday brunch when topped with poached eggs.
Ingredients
1 piece of flatbread., I prefer garlic naan.
1 ½ - 2 tablespoon cream cheese
1 c. gouda cheese, grated
2 oz of cold smoked salmon
1 small avocado, thinly sliced
3 - 4 eggs
½ c. mixed greens, arugula, swiss chard, spinach, ect.
½ teaspoon dried italian seasoning
Fresh cracked pepper
A pinch of chili flakes, optional
Instructions
Preheat oven to 400 degrees.
Line a baking sheet with parchment paper.
Lay out your flatbread and spread with cream cheese and sprinkle with seasonings
Top with shredded cheese*
Bake for 8 - 10 mins until cheese is golden and bubbly.
Top with smoked salmon, avocados, greens and poached eggs.
Cut and serve. Enjoy!
Notes
Notes **Ingredients will vary depending on the size of your flatbread. This recipe is simple, so use the ingredients as a guide. **Note,  I did not put salt in the ingredients list. Cold smoked salmon can be very salty, so use salt at your own discretion. **Cook times will vary depending upon oven. You may have to place your sheet on the top rack to keep the bottom of the pizza from burning.