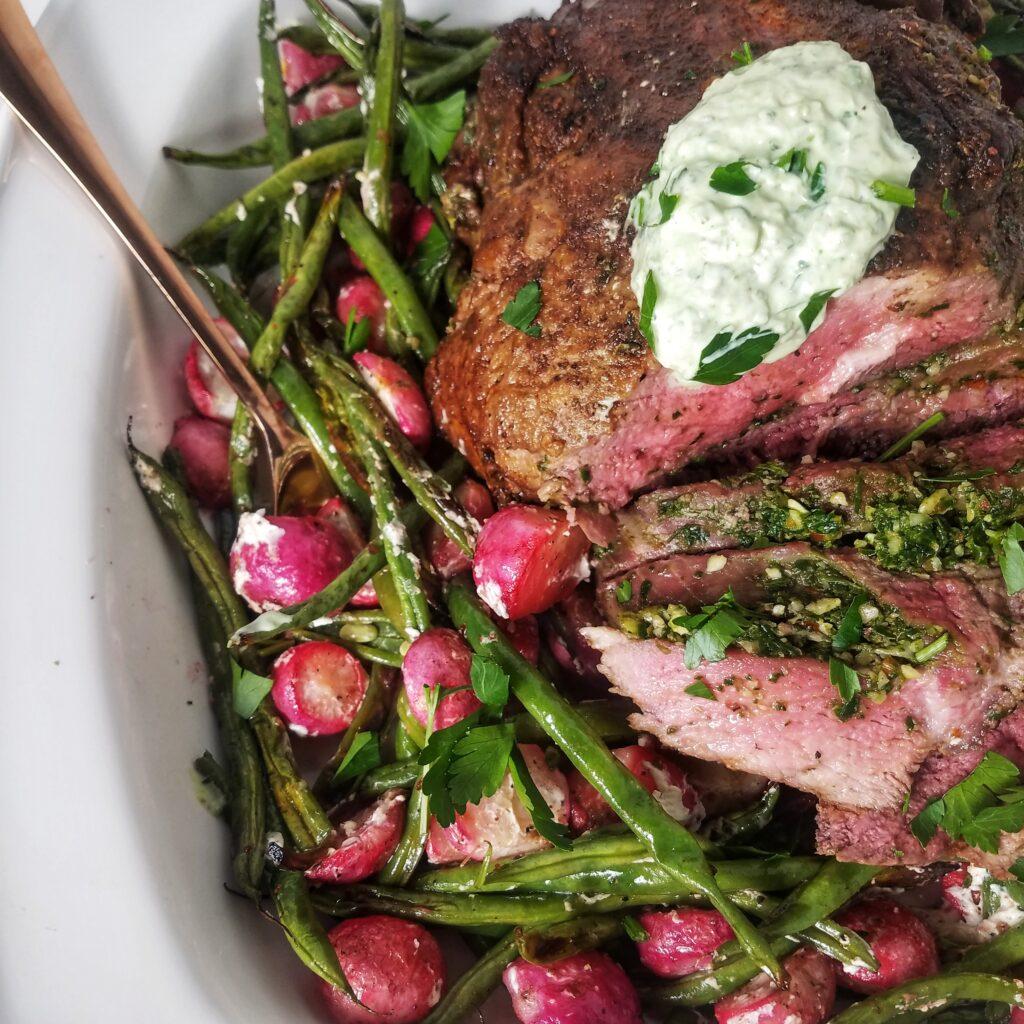 This boneless leg of lamb recipe is topped with an herby yogurt sauce and a blistered green bean and radish goat cheese salad. Serve it for a dinner party and prepare to impress every guest!
You'll love this boneless leg of lamb recipe because it's...
easy
looks fancy
juicy
tender
rich in flavor
---
*Some of the links provided are affiliate links which means I may make a small commission when you purchase through my links. For more information, please see my disclaimers and policies page.*
Pesto
Fresh pesto brings uniformity throughout the dish. It uses a salad blend of kale, swiss chard, spinach, parsley, and mint as the base. To keep it simple, I've omitted the parmesan cheese traditionally found in pesto.

Although you can purchase premade pesto, I would advise against it. This pesto is easy to make and comes together with a few pulses of your food processor. Plus, the greens add extra nutrients, and a bit of the unexpected.
A food processor like this that has a chute.
A few quick notes about the pesto: Chop the parsley, mint mixture, and divide it into three piles. We use the herbs in the pesto, yogurt sauce, and as a garnish for the roasted vegetable salad and lamb roast — additionally, reserve two tablespoons of the pesto for the yogurt sauce.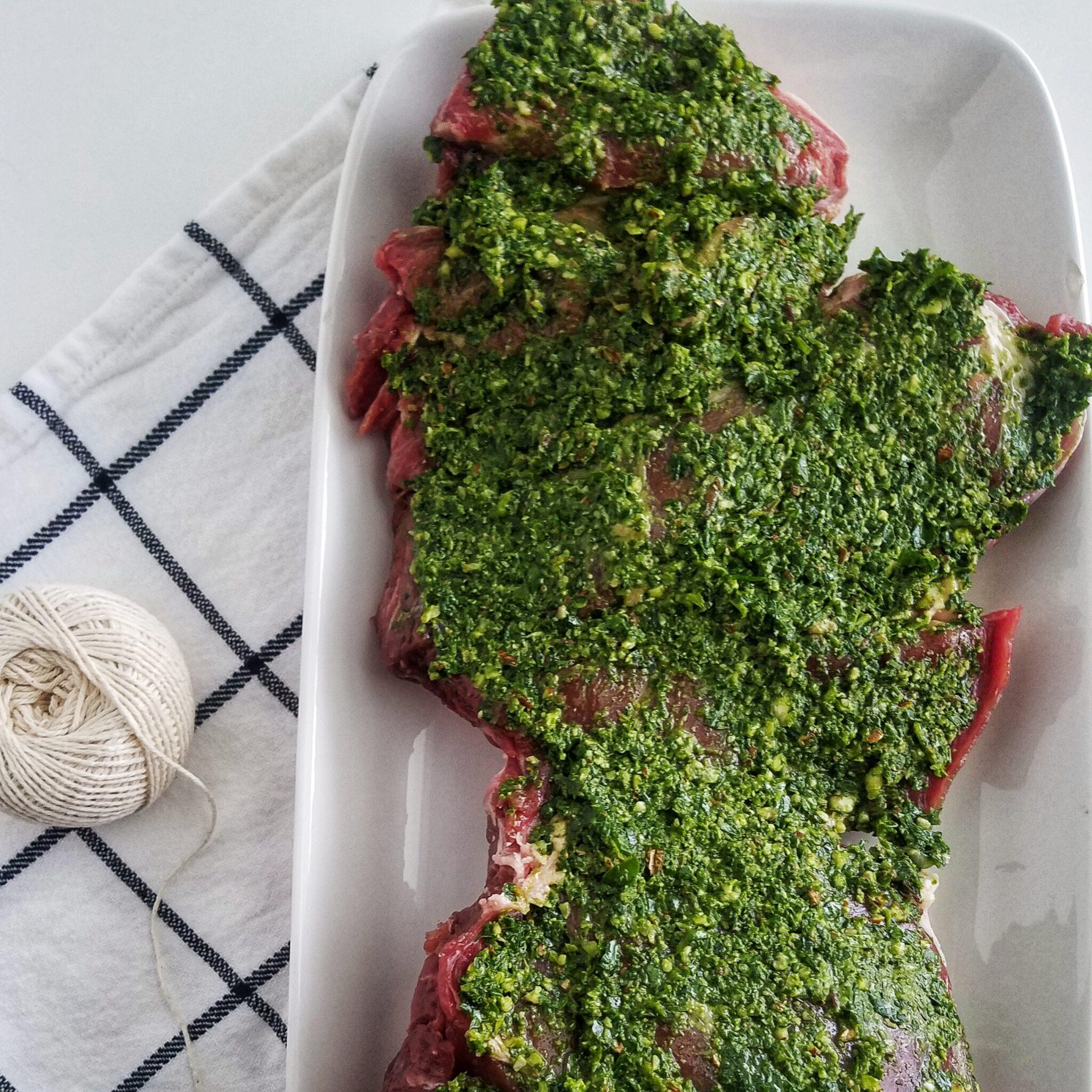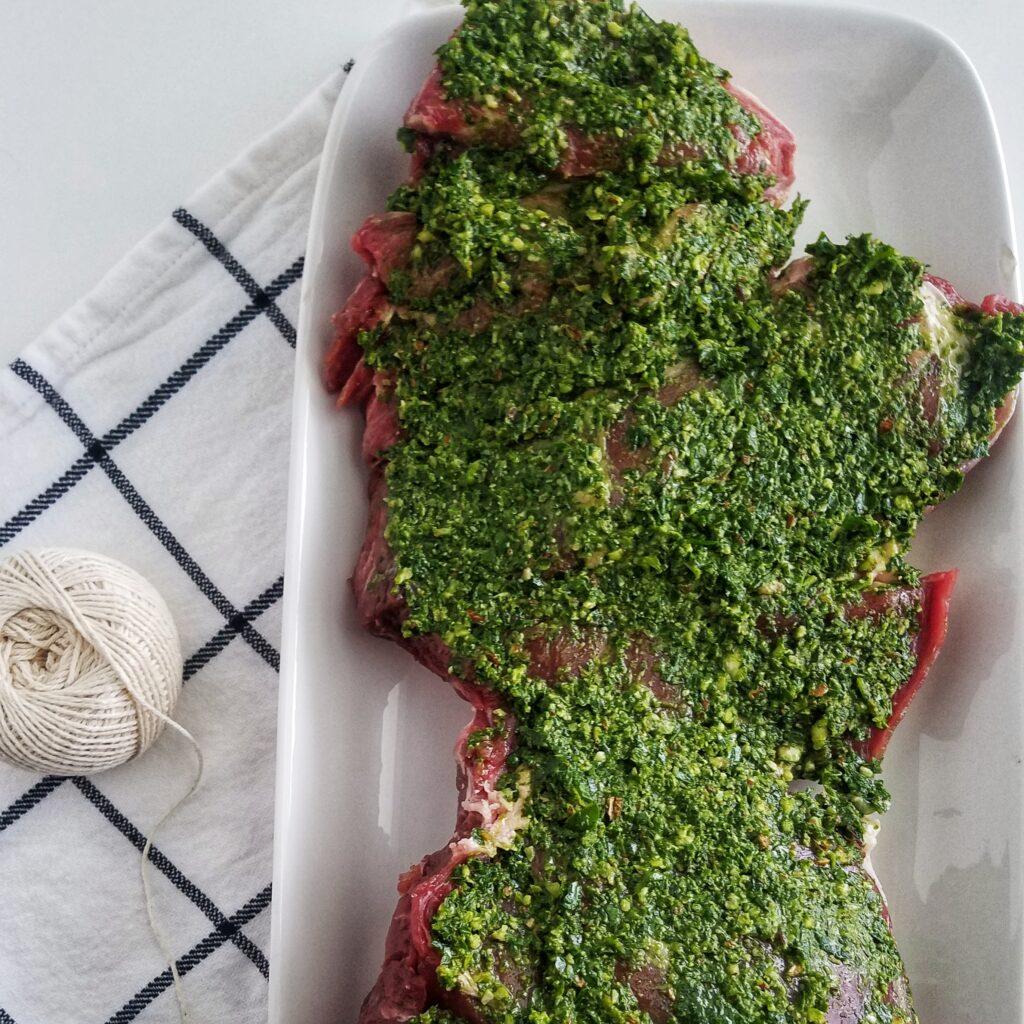 ---
Herby yogurt sauce
In a small bowl, combine a half cup of yogurt with a third of the herbs and approximately two tablespoons of the pesto. Stir in the juice and zest of one small lemon, then season with salt and pepper.
If the sauce is too thick, you can thin it out with water or milk until you reach the desired consistency. Set it in the fridge until you're ready to spoon it on top of the lamb.
Prepping the lamb
Depending on the brand of boneless lamb you have, you may need to cut it open to make the lamb lay flat. Pat the lamb dry with paper towels, and cut off any hard nodules, excess fatty pieces, or connective tissues. You can do this with a pair of sharp kitchen shears.
Afterward, heavily salt both sides of the lamb and spread the pesto on the inside of the lamb. Roll the lamb leg up while tucking in the ends to create a package, securing it with tightly tied with butchers twine. Massage in other seasonings on the outside of the lamb. Keep track of the "seam" as this side will face down when roasting.
Let the roast sit at room temperature for at least one hour. This will allow the meat to better absorb and retain its juices, but you still have to avoid overcooking the lamb! ...more on that in a second.

For this recipe, we are using an (uncovered) enamel dutch oven to sear and roast the meat. Start by heating the dutch oven over medium-high heat, and sear all sides of the lamb in one to two tablespoons of olive oil. After the lamb has browned, turn the roast, so the "seam" of the meat is on the bottom.
I use this 4.5-quart enamel dutch oven and love it!
It's very important to use a thermometer

Whenever I am baking protein, I use both an instant-read and an oven-safe thermometer. The reason for this is to avoid overcooking, especially when meat thickness varies; your thermometer should have a temp alarm setting.
I set the alarm to an internal temperature of 125 degrees because the meat will continue to cook even after it's out of the oven. Be sure to insert the probe into the thickest part of the meat without touching the pan to get a more accurate reading.

After you remove the roast, double-check the temperature by poking it in a few thick spots; my lamb cooked for one hour. Once the lamb is up to temp, set it aside to rest for 20 minutes (uncovered).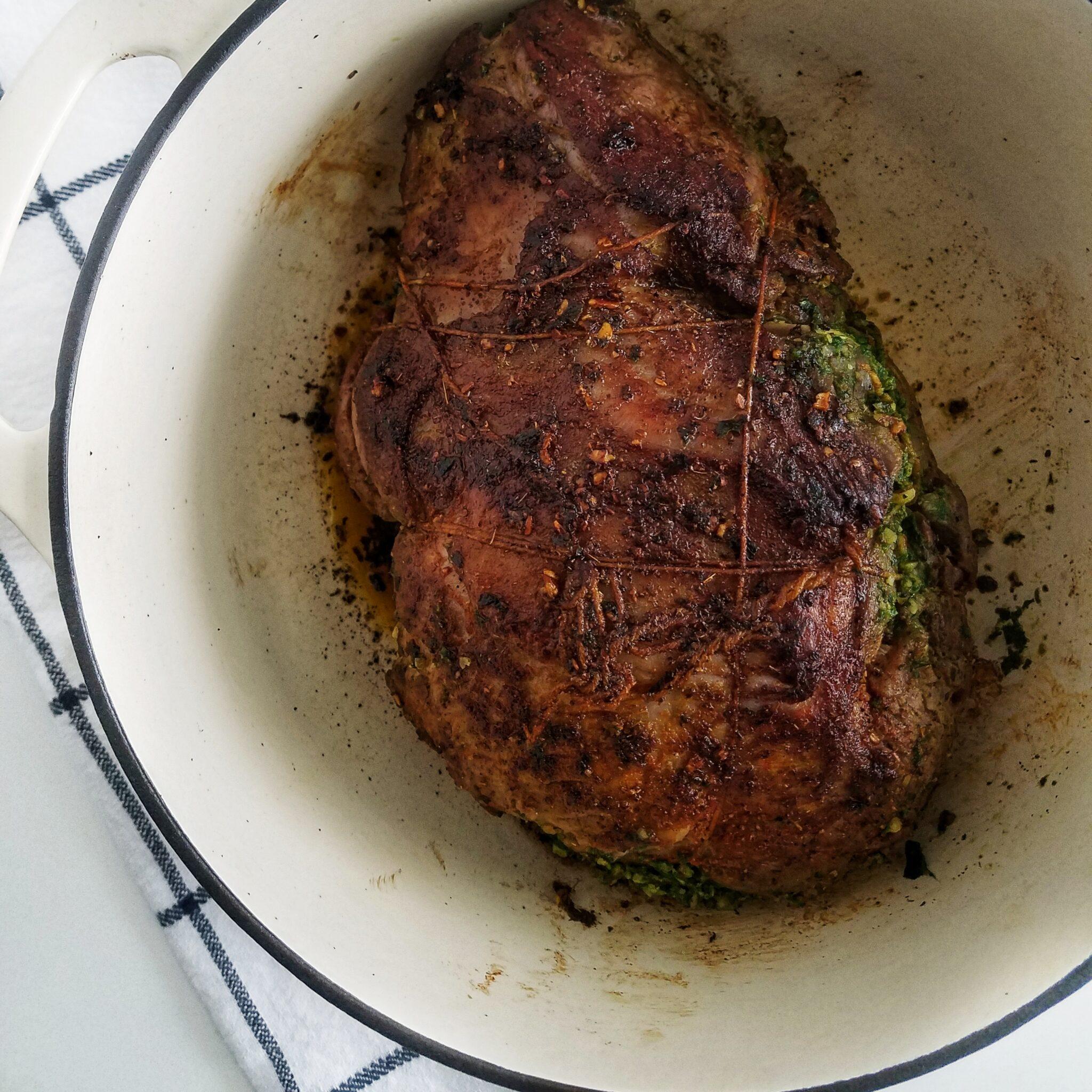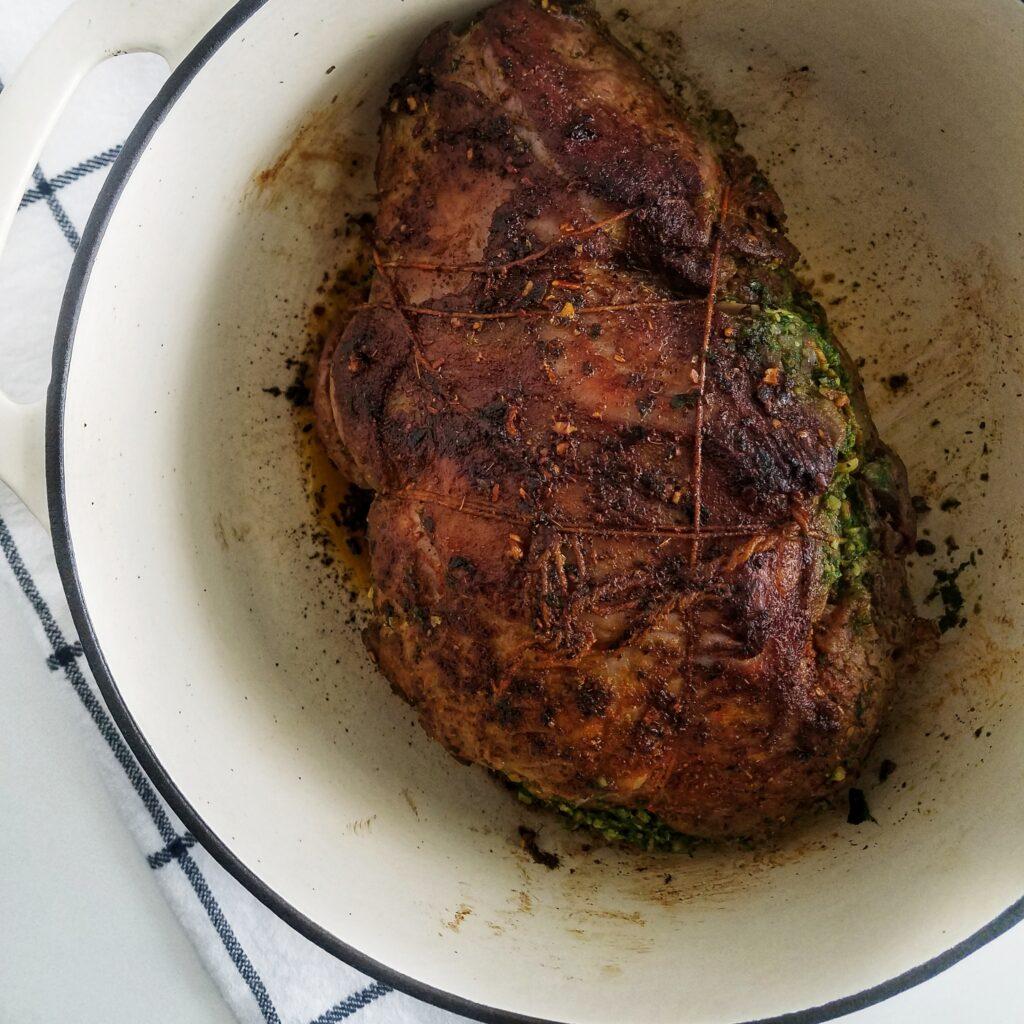 *You can make the pesto and yogurt sauce a couple of days ahead of time and keep in an air-tight container. Also, you can prepare the lamb for cooking up to 24 hours ahead of time. Refrigerate the lamb in a bowl that's been tightly wrapped with saran wrap. Let the meat rest at room temp for one hour before continuing with the cooking process. *
Serve this boneless leg of lamb recipe with blistered green beans and radishes with goat cheese
While the lamb is roasting, prep the vegetables trimming the ends off the green beans and radishes; cut the radishes in half to help them cook evenly.
Now, coat the veggies in olive oil, freshly grated nutmeg, and a good pinch of salt and pepper. If you'd like to add a little heat, sprinkle on some chili flakes.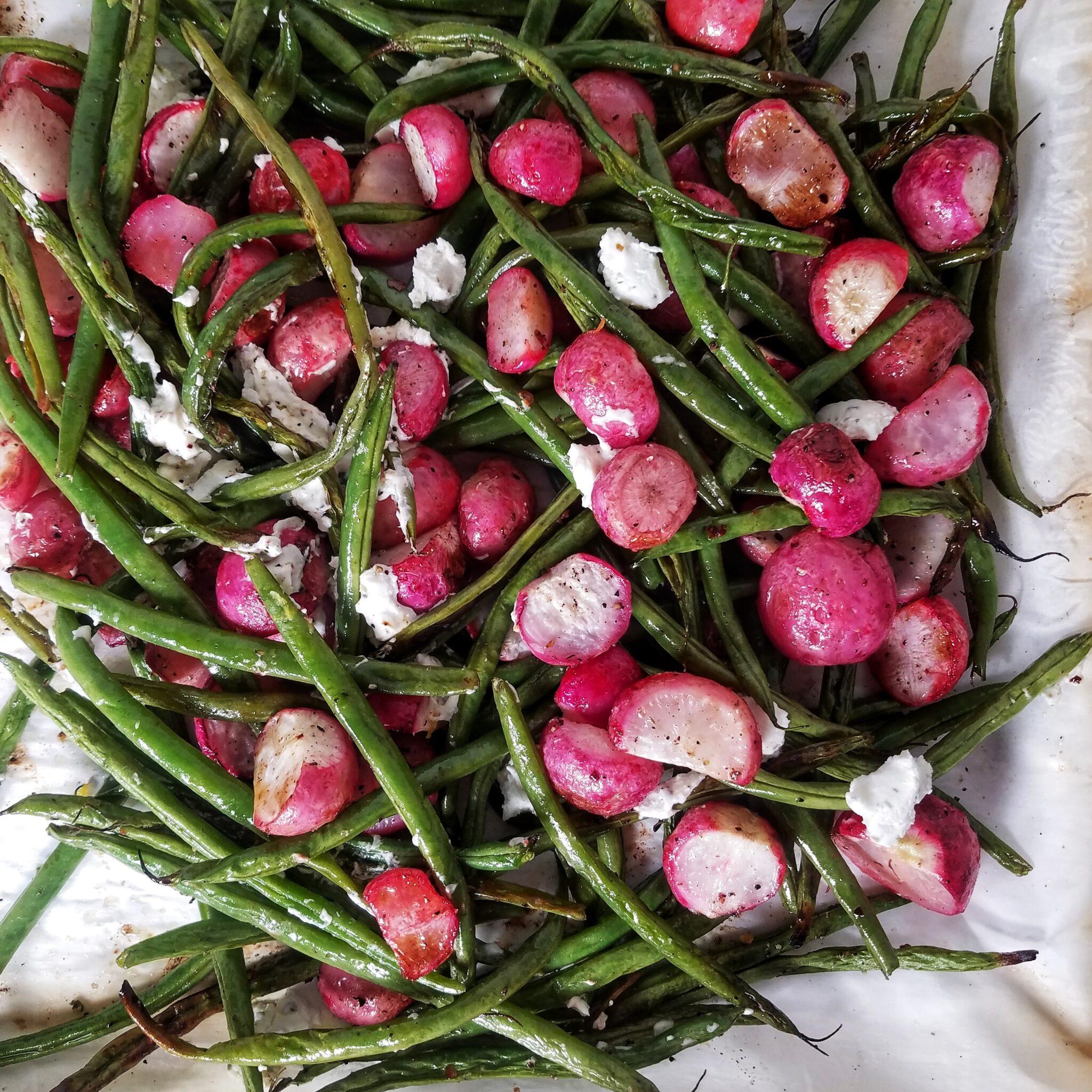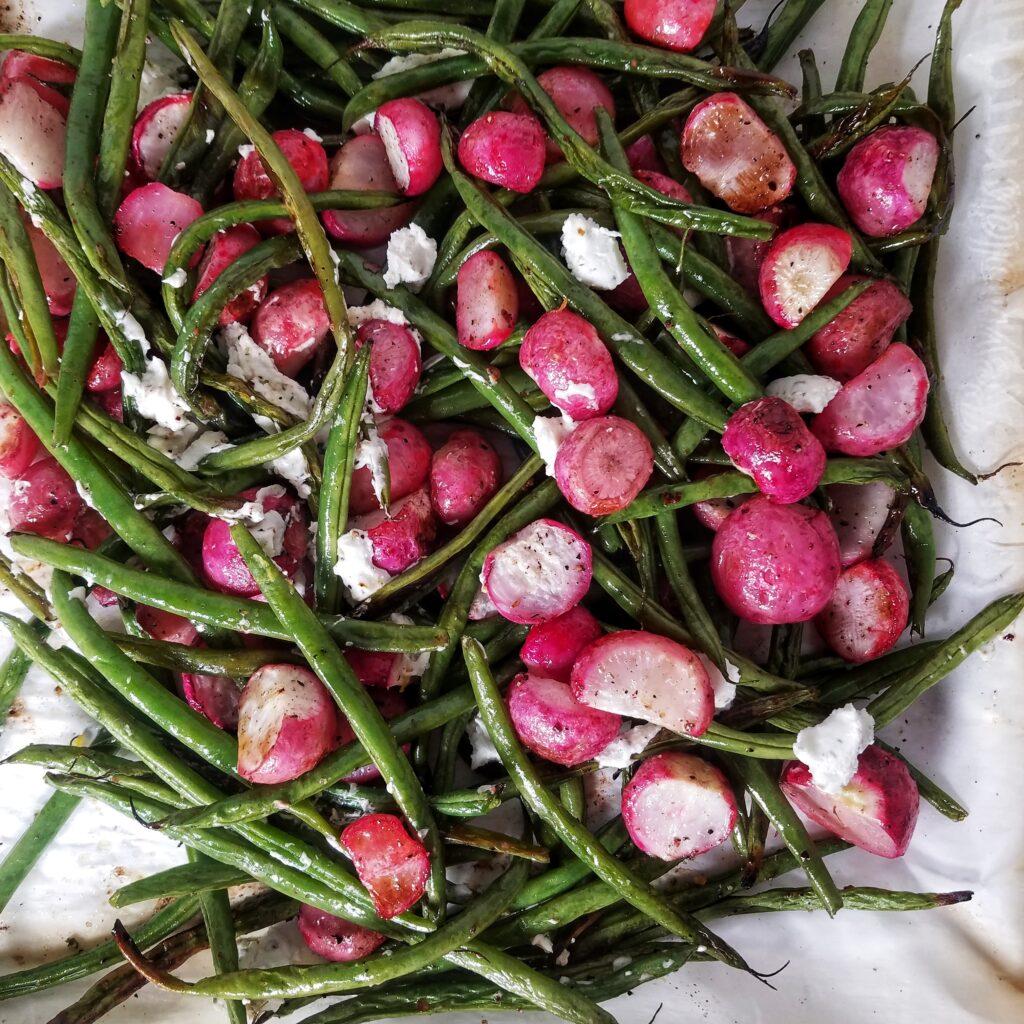 To rapidly cook and caramelize the vegetables, we're going to bump the heat up to 450 degrees. The veggies will be golden, blistered, and fork-tender. This should take about 20 minutes.
While it's still piping hot, toss with lemon and pea-sized chunks of goat cheese. Finally, garnish with the last bit of chopped herbs.
---
Craving more? Check out some of my most popular recipes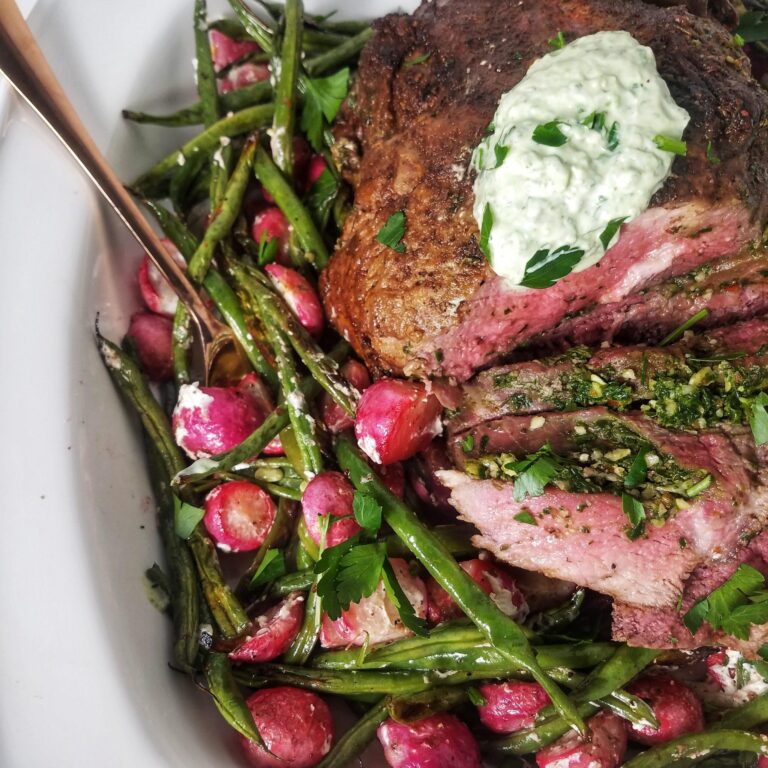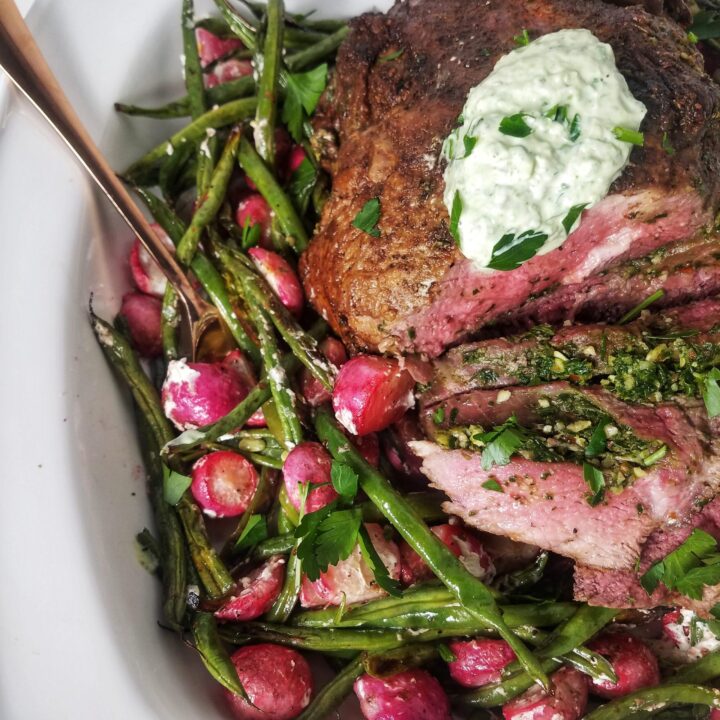 Boneless Leg of Lamb Recipe with Herby Yogurt Sauce Served with a Blistered Green Bean and Radish Salad with Goat Cheese
Total Time:
1 hour
35 minutes
This easy boneless leg of lamb recipe is tender and juicy. Serve with a veggie and goat cheese salad and finish with an herby yogurt sauce. It will surely impress every guest!
Ingredients
Lamb
4 lbs boneless leg of lamb, , Opened and trimmed
2 large pinches of salt
1 teaspoon medium-fine ground fennel seed
1 teaspoon smoked paprika
Fresh ground black pepper
Pesto
2 cups power green salad blend, packed
1 handful parsley and mint, chopped
1 large clove garlic
2 tablespoon nuts, i used almonds
½ cup olive oil
Herby yogurt sauce
½ cup whole milk greek yogurt
2 tablespoon pesto, above recipe
1 small lemon, , zest and juice
1 handful parsley mint, chopped
S + P, to taste
milk or water to thin, optional
Blistered Green Bean and Radish Salad with Goat cheese
1 lbs green beans, , ends trimmed
1 lbs radishes, halved or quartered
2 tablespoon olive oil
S + P , to taste
1 -2 ounces goat cheese
Instructions
Pesto
Add all pesto ingredients into the food processor, except for olive oil. Pulse while adding olive oil (you may not need all of the olive oil). Consistency should be finely chopped not pureed.
Herby yogurt sauce
Mix all ingredients in a small bowl. Keep covered in the fridge until ready to serve
Boneless Leg of Lamb
Cut open lamb so it lays flat. Trim off any excess fat or connective tissues.
Heavily salt both sides
Spread pesto on the inside of the lamb roast
Roll up and tie with butcher twine, then massage with other seasonings and olive oil.
Allow the lamb to rest at room temperature for at least one hour before continuing.
Heat a dutch oven with olive oil and sear all sides of the lamb over medium-high heat. When finished, rotate so the seam side is down.
Place into a 325 degree (F) oven until it reaches temp. When finished, let it rest for 20 minutes.
Blistered Veggie Salad with Goat Cheese
While the lamb is resting, turn up the oven to 450 Degree (F) oven.
Toss veggies in olive oil, salt, and pepper. Place on a baking sheet and roast until fork-tender. (about 20 minutes)
When the veggies are done, toss with goat cheese and garnish with the last bit of herb blend.
Serve
Serve lamb over a bed of blistered veggies topped with yogurt sauce. Garnish with fresh herbs
Notes
chop parsley and mint, divide into three piles. We will use this for the pesto, yogurt sauce and garnish for the salad and lamb. 
Make sure the lamb is seam side down before roasting
Reserve 2 tablespoon of pesto for yogurt sauce
Medium-rare: 120 to 125°F - 12 minutes per pound
Medium: 130 to 135°F -14 minutes per pound
Meat will continue to cook while it is resting
Recommended Products
As an Amazon Associate and member of other affiliate programs, I earn from qualifying purchases.
Nutrition Information:
Yield:

6
Serving Size:

6 people
Amount Per Serving:
Calories:

1165
Total Fat:

81g
Saturated Fat:

27g
Trans Fat:

0g
Unsaturated Fat:

48g
Cholesterol:

293mg
Sodium:

475mg
Carbohydrates:

21g
Fiber:

5g
Sugar:

11g
Protein:

86g
Nutrition facts are for personal reference only as calories may vary on a case by case basis.