How do you make the most mouthwatering chicken sandwich?
You make the most mouthwatering chipotle chicken sandwich by topping it with sauteed bell peppers and white cheddar cheese housed in a pretzel bun. How is this recipe even better? Because this chicken sandwich recipe can be made in thirty minutes or less.
You'll love this recipe because it's...
easy
slightly spicy
great for leftovers
simple
quick
---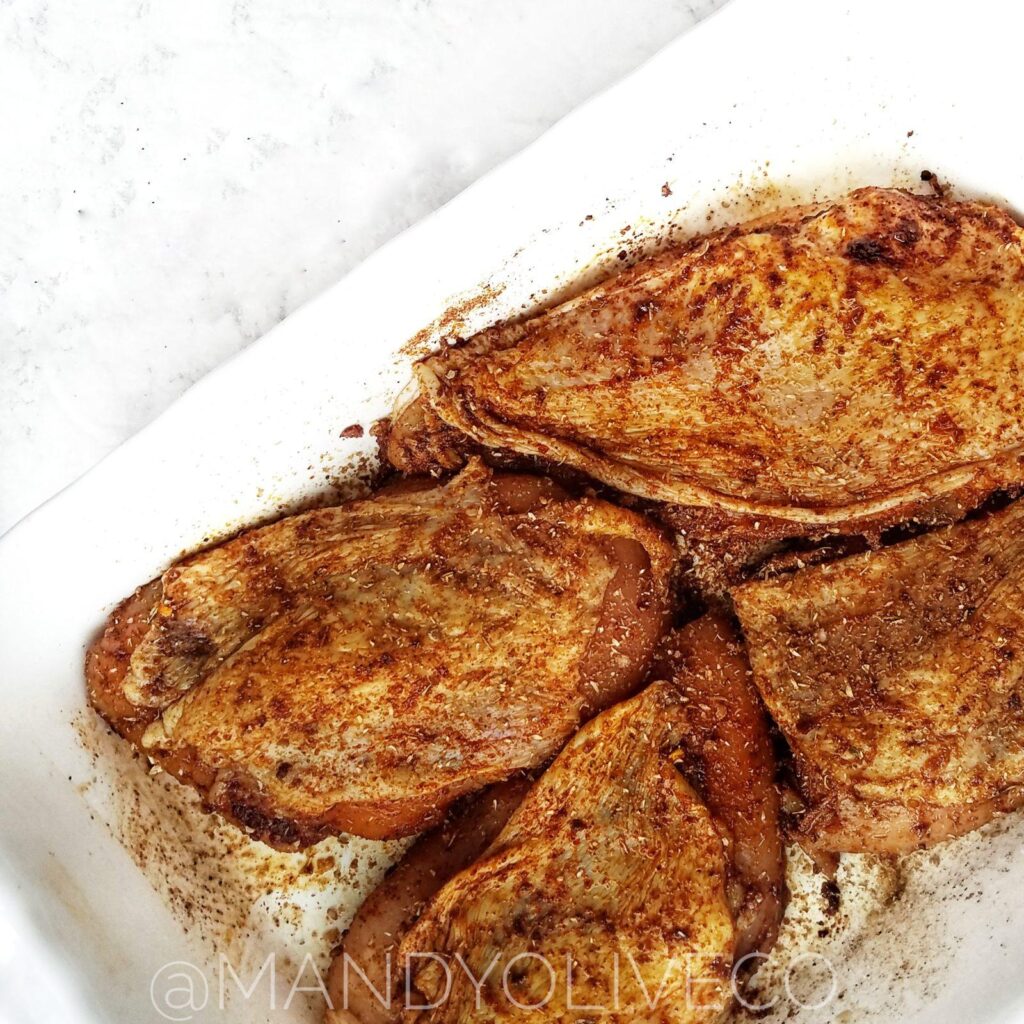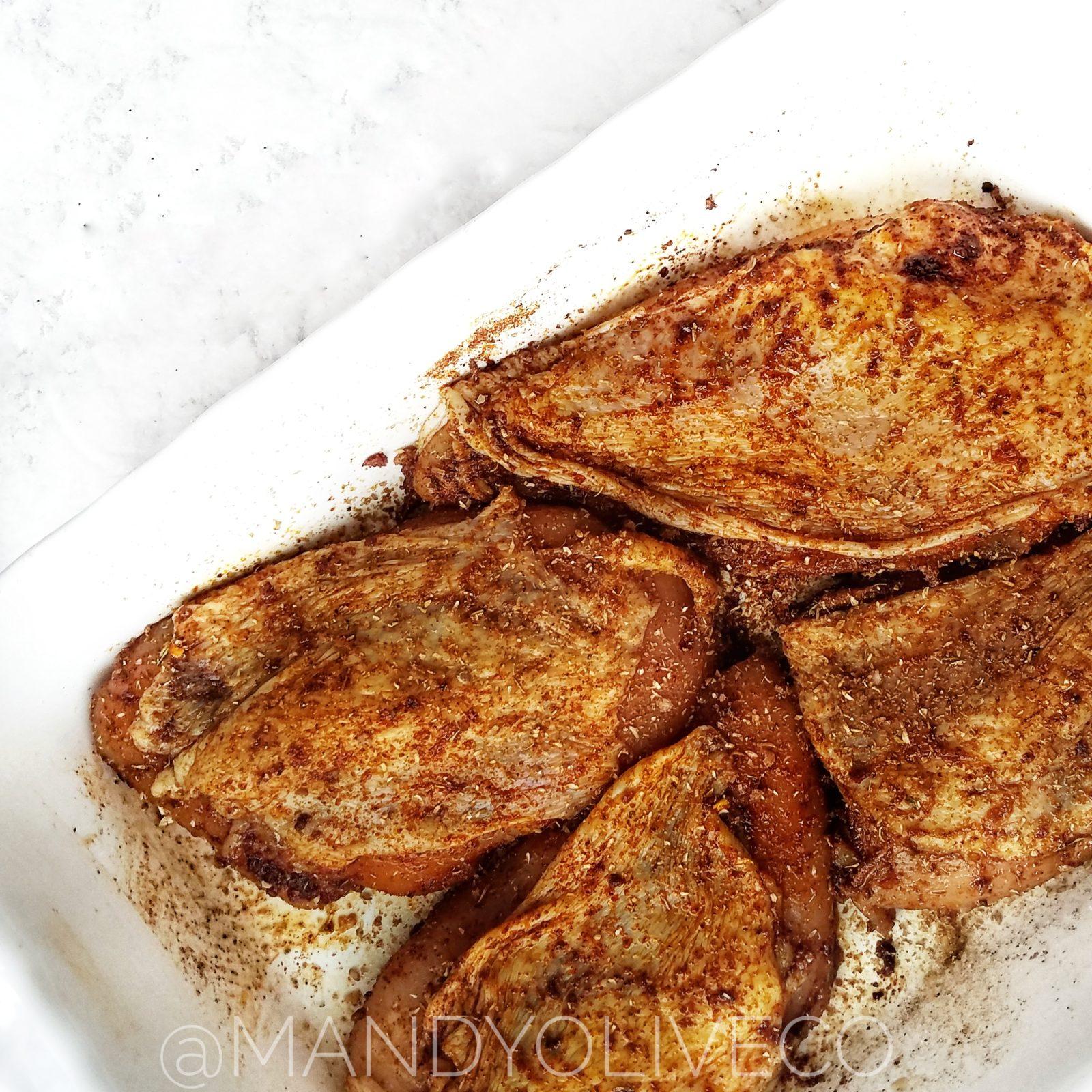 Seasoning the pulled chicken sandwich...
Start by preheating your oven to 400 degrees Fahrenheit, and make the taco seasoning (see recipe below). Coat the chicken breasts in about one to two tablespoons of taco seasoning, a half tablespoon of celery salt, and extra virgin olive oil; then, massage it into the chicken. Place into a lightly oiled baking pan, and cook for about twenty minutes, or until a meat thermometer registers at 160 degrees Fahrenheit. Once it is done garnish the hot chicken with lime juice, and let the chicken cool for approximately ten minutes. Afterward, shred it with a couple of forks (or with the paddle attachment of your stand mixer) to prepare for the sandwiches. In the meantime, prep the other ingredients.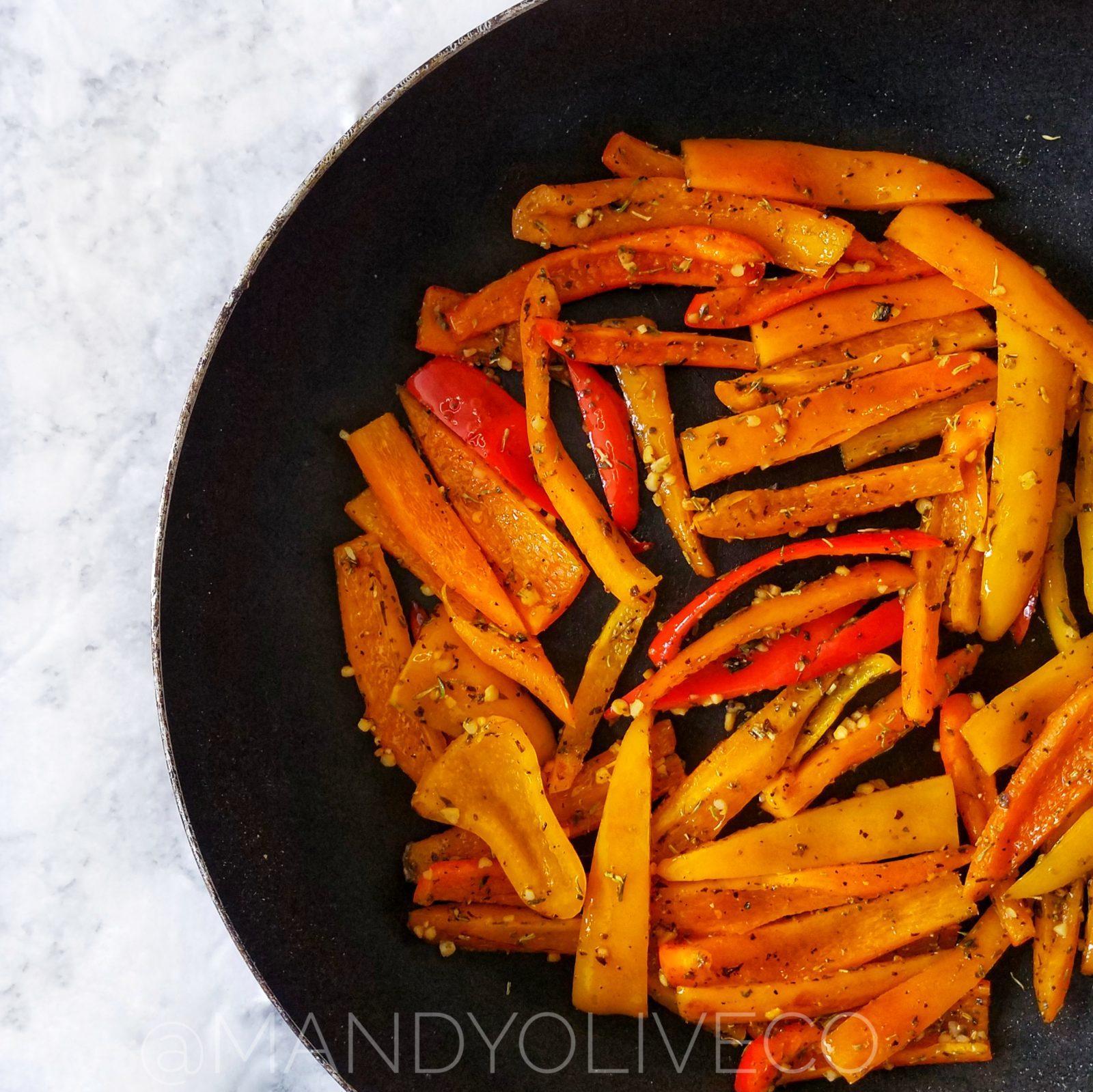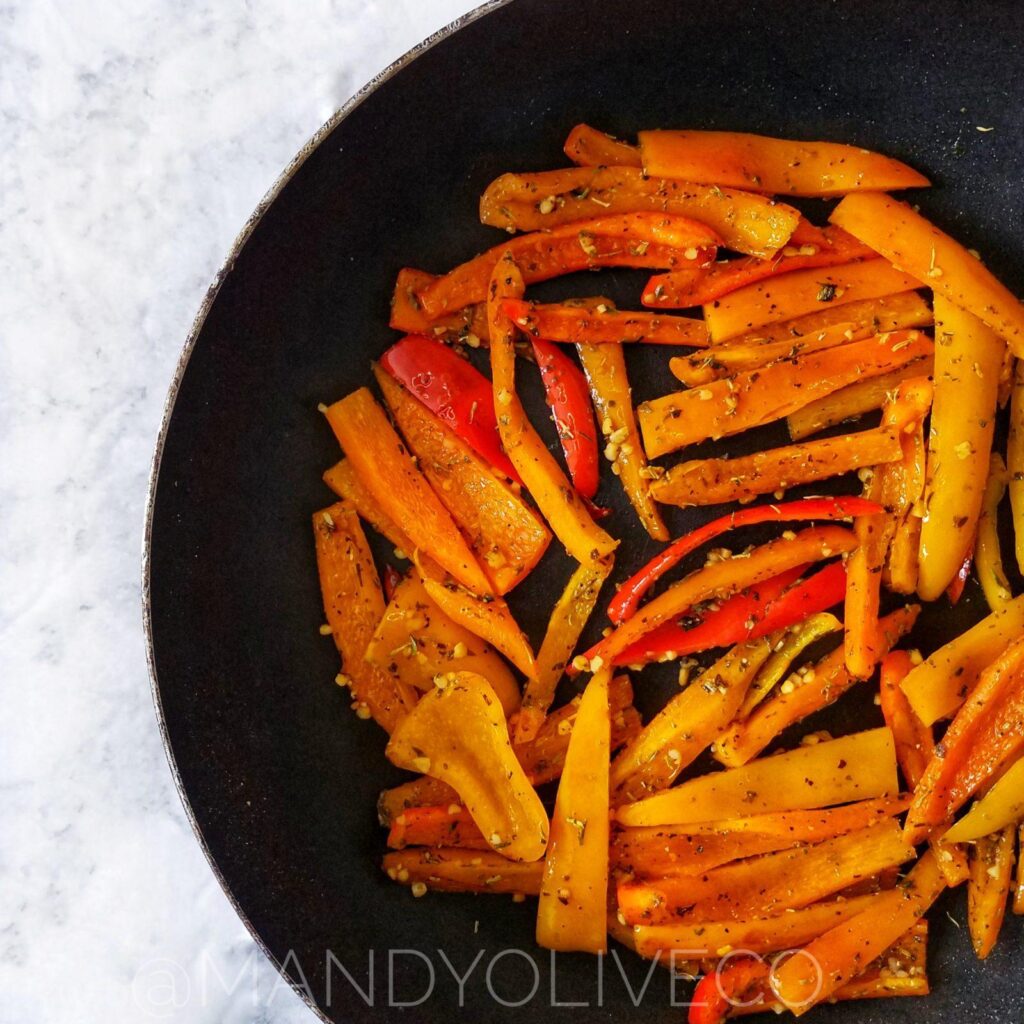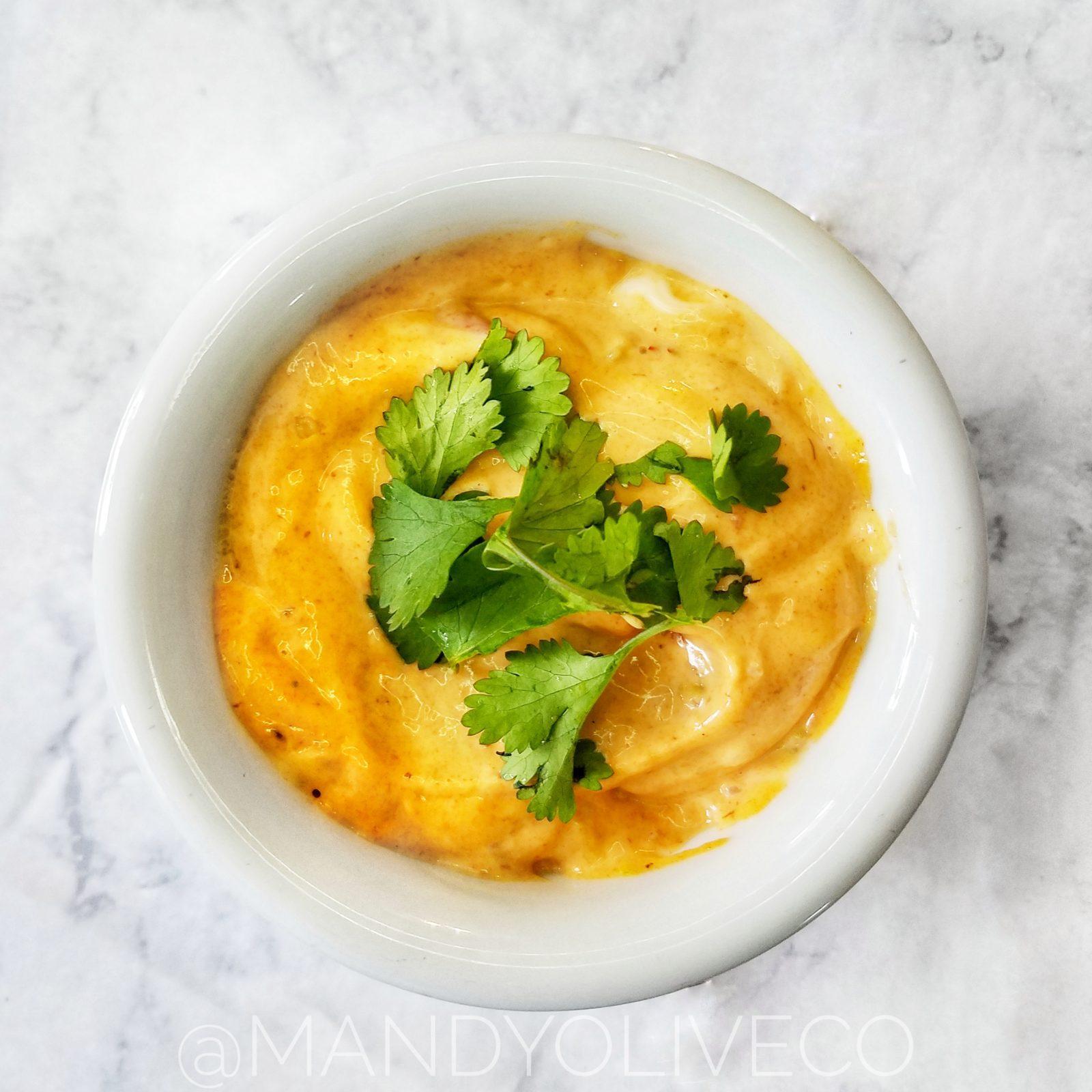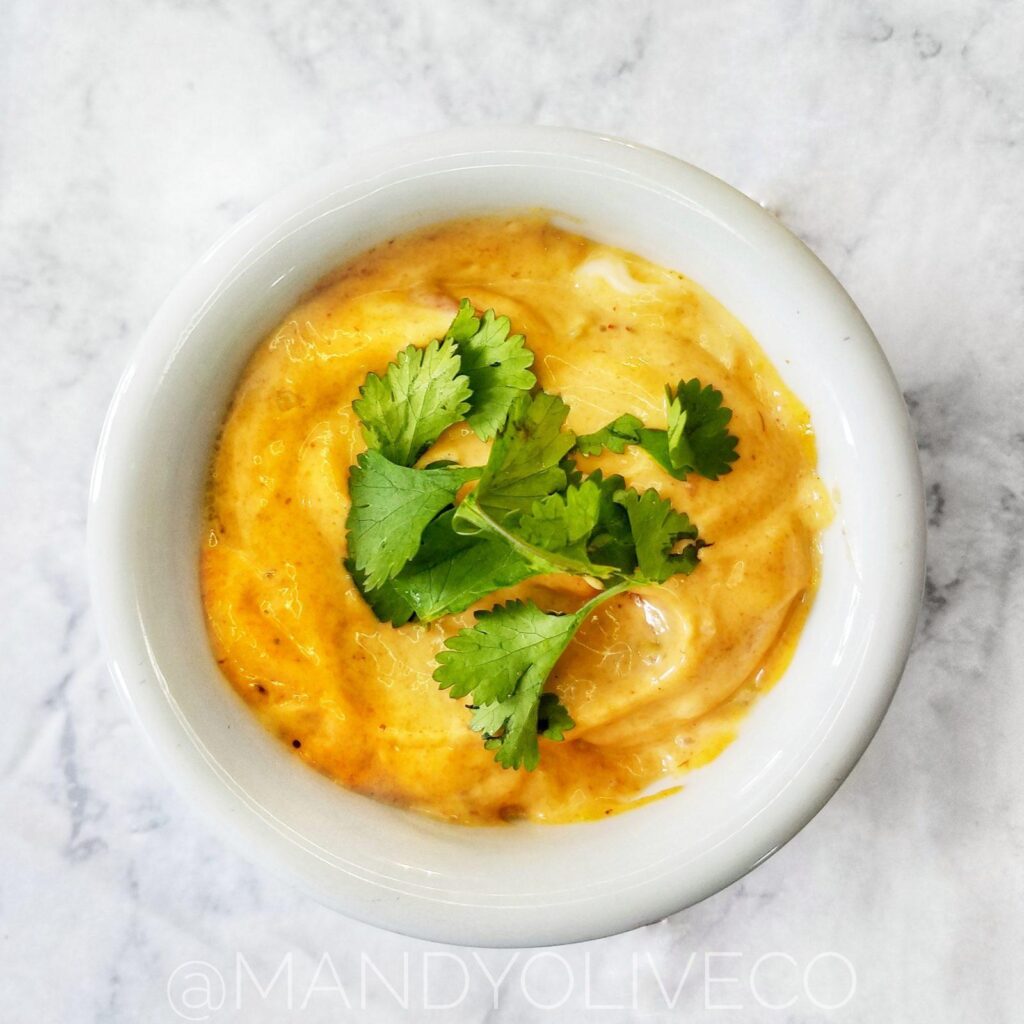 The toppings for this pulled chicken sandwich add panache...
Chicken is kinda boring on its own, so punch up the flavor of this chicken sandwich with some chipotle mayo. This chipotle mayo has a secret ingredient, lime zest. This sauce has only four ingredients: the zest of one lime, ½ cup of good-quality mayo, garlic and (one or two) chipotle pepper. If you have a small food processor or blender, this step is really easy because you can just throw everything into the blender. If not, it's okay. It's still easy, just finely chop a chipotle pepper in adobo sauce, and mix the ingredients by hand. You can toss the shredded chicken in the chipotle mayo or keep it separate. When I made this recipe, I kept them separate for photography purposes, but I think the next time I make this, I will toss them together.
Next, cook 6-8 slices of bacon in a large pan until crispy, and chop your fresh ingredients. Start by slicing a small red onion, and chop a handful of fresh cilantro for garnish. Then, shred about a half cup of white cheddar cheese. Now, thinly slice a bell pepper (about a cups worth). Once chopped, sauteed over medium heat with a tablespoon of olive oil or leftover bacon grease. Season the bell peppers with half a teaspoon of dried herbs, minced garlic and a pinch of salt and pepper. Cook until the bell peppers are soft, about ten minutes.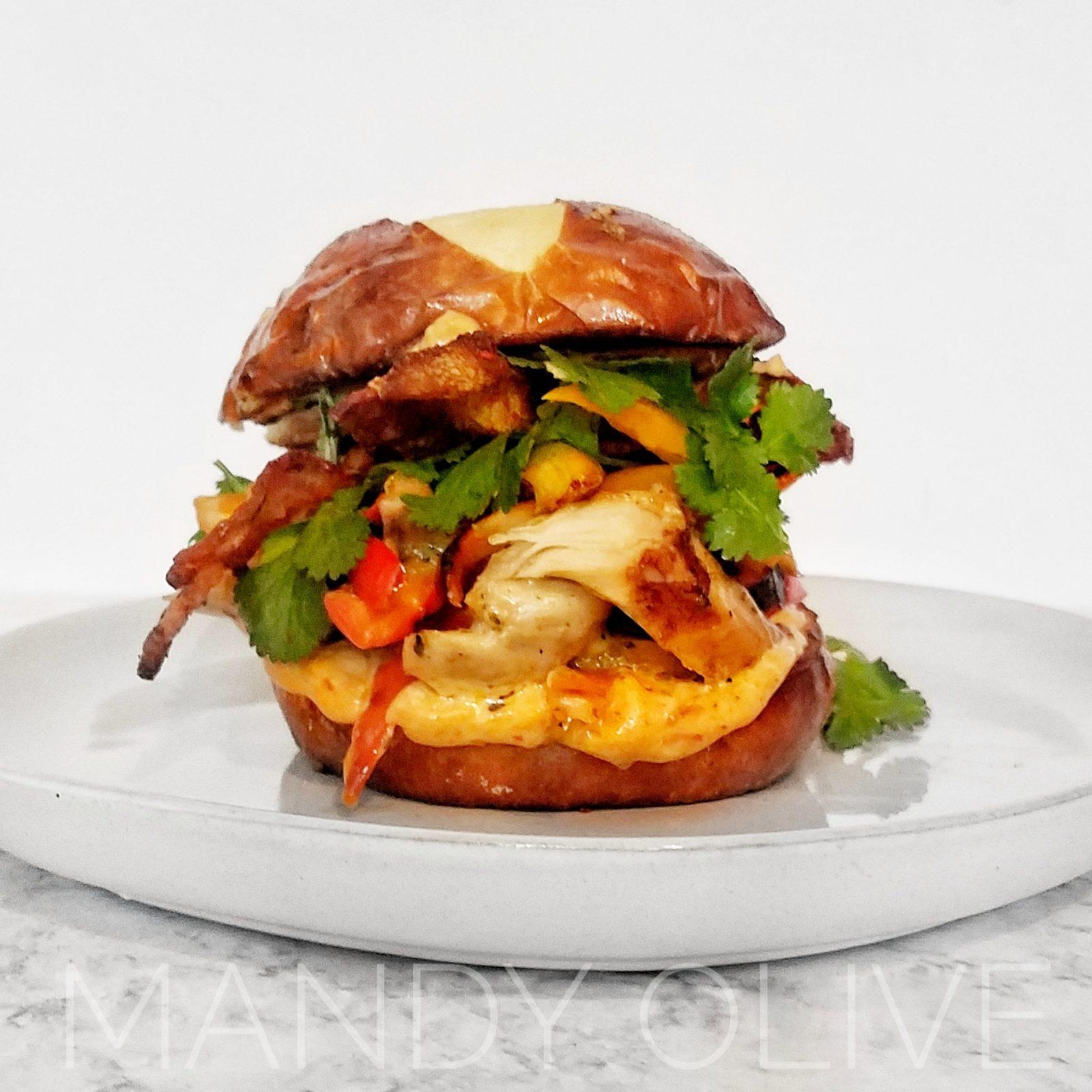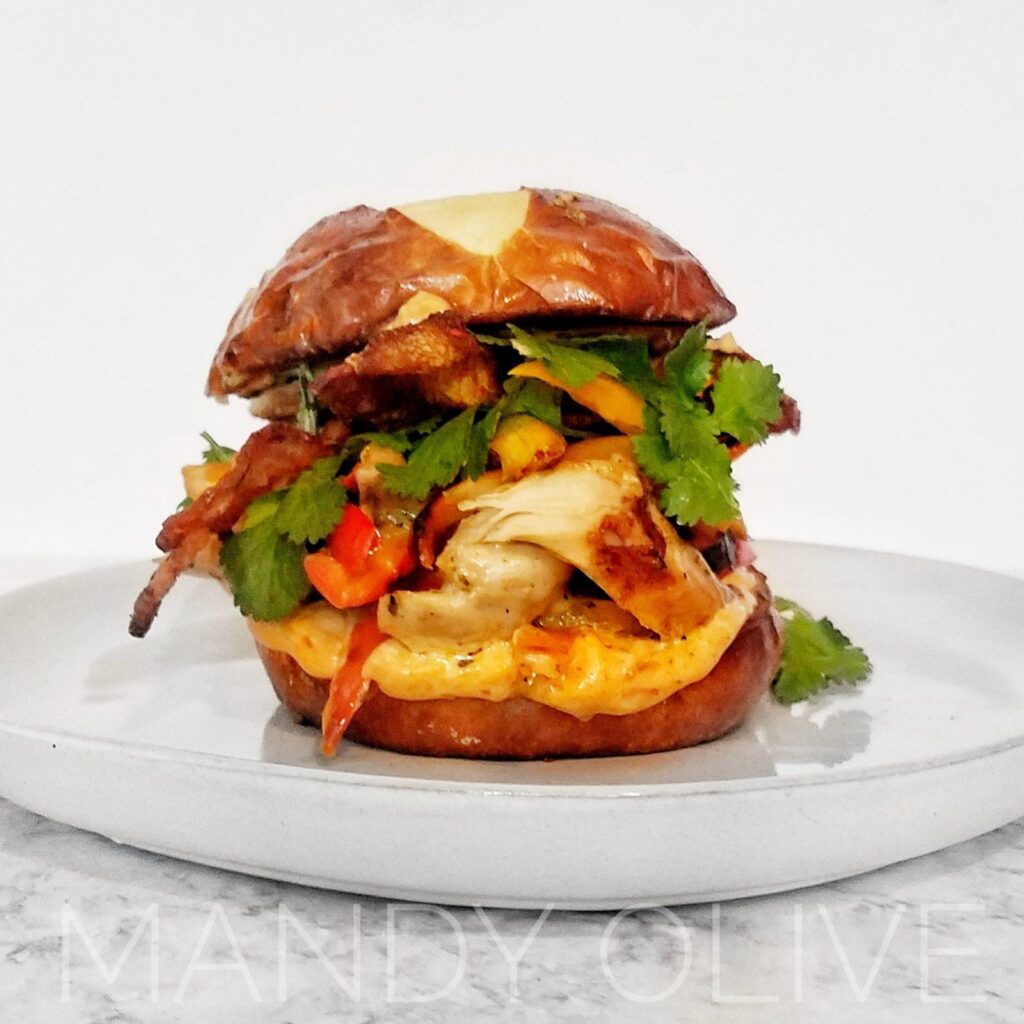 Finishing it off...
Finally, to toast the pretzel buns, pop them into the oven for five to seven minutes. When the buns start to turn golden brown, top them with cheese, and throw it back in the oven until the cheese melts. You can rush this process by using the broiler. Just make sure to watch the buns so they do not burn. Assemble these awesome pulled chicken sandwiches with, shredded chicken, bell peppers, bacon, red onion, and fresh cilantro.
---
Craving more?
Here are some other recipe(s) I think you might enjoy…
---
Want to remember this for later?
Save this recipe directly to your Pinterest board by clicking the Pin button on the photo below!
With Love,
Mandy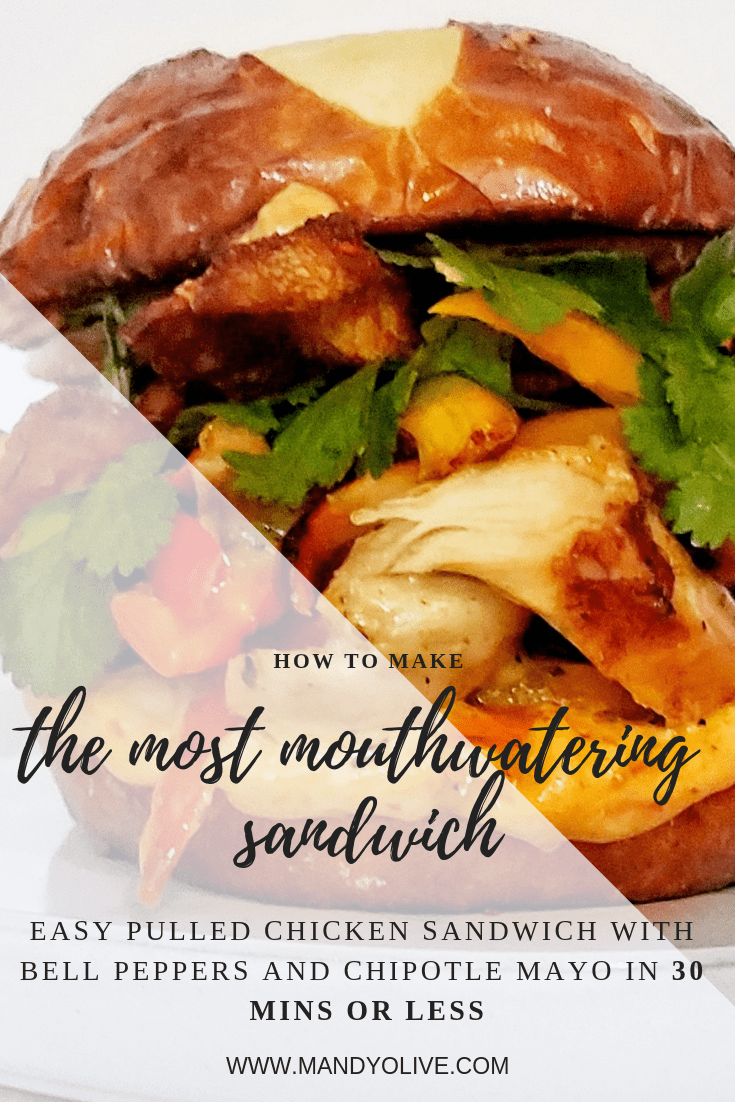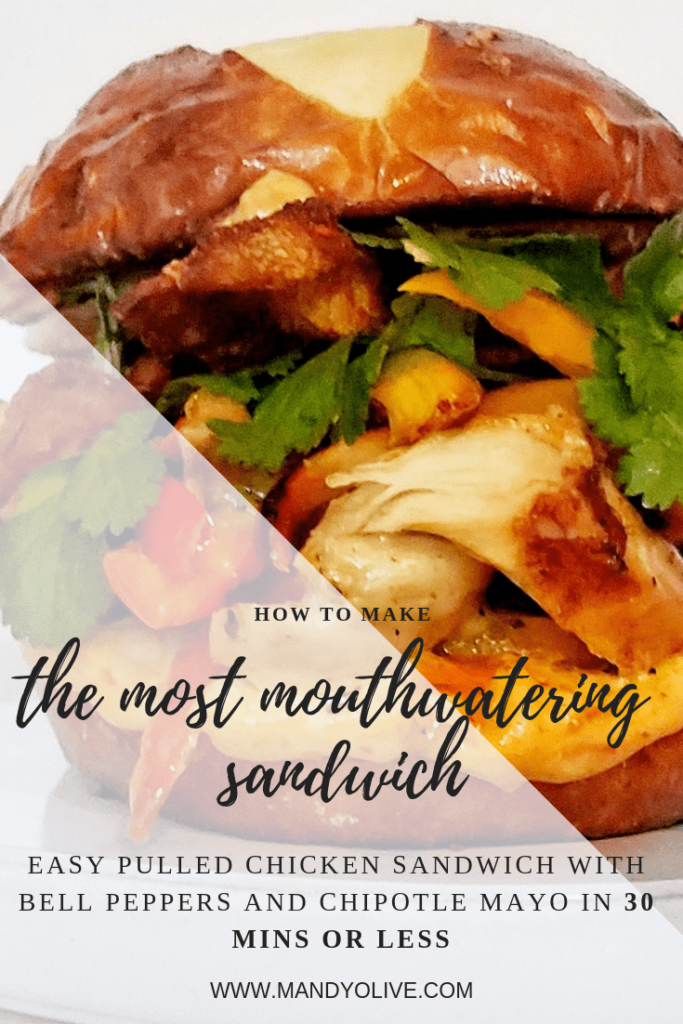 *Any nutritional data provided is for personal reference only as these are approximations, and data may vary on a case by case basis. Please refer to my disclaimers page.*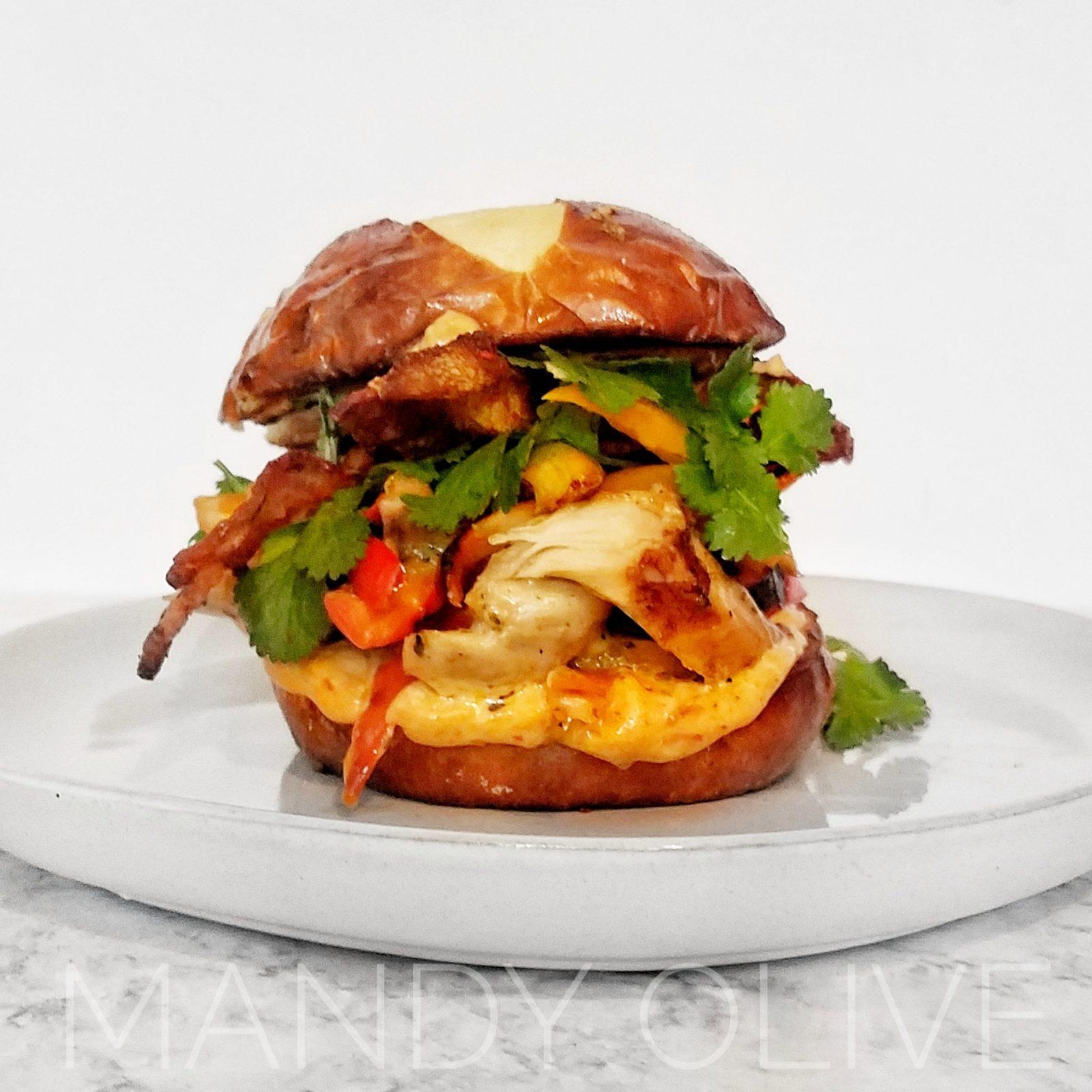 Shredded Chicken Sandwiches with Chipotle Mayo on a Pretzel Bun
This pulled chicken sandwich is smothered in cheese, chipotle mayo, bell peppers, red onion and cilantro on a toasty pretzel bun for a weeknight dinner in 30 minutes or less.
Ingredients
2 chicken breast
½ tablespoon celery salt
2 tablespoon taco seasoning.,, see recipe below
1 small lime (zest + juice), see notes
2 tablespoon olive oil,, divided
½ c bell peppers, , julienne
½ teaspoon dried herb blend
2 clove garlic (divided), finely minced
4 pretzel buns
½ c white sharp cheddar cheese, , shredded or slices
½ c mayo
1 chipotle pepper,, minced
½ small red onion, , thinly sliced
fresh cilantro, , rough chop
6 - 8 slices thick cut bacon
s + p, , to taste
Taco seasoning
2 tablespoon chili powder
2 teaspoon paprika
2 teaspoon cumin
2 teaspoon garlic powder
2 teaspoon dried herb blend
2 teaspoon coriander, , optional
½ teaspoon black pepper
½ teaspoon cayenne pepper (or more),, optional
½ teaspoon chili flakes,, optional
Instructions
Chicken
Preheat oven to 400 degrees Fahrenheit, and make taco seasoning. Season the chicken breast with 2 tablespoons of the taco seasoning and ½ tablespoon of celery salt. Massage the seasoning into the chicken with 1-2 tablespoons of olive oil.
Bake for 20 - 25 mins, or until the meat thermometer registers at 160 degrees Fahrenheit. Once it's done, garnish the hot chicken with lime juice. Reserve lime zest for mayo. Let rest for 10 mins before shredding.
Meanwhile, cook bacon in a pan until crispy. Drain onto a paper towel.
Using leftover bacon grease or olive oil, saute bell peppers, once garlic clove, ½ teaspoon dried herbs and a pinch of salt and pepper. Cook for about 10 mins, or until soft.
Next, mix the mayo, zest of one lime and chopped chipotle pepper.
Now, toast buns in the oven for about 5 mins, or until lightly golden. Top with cheese and finish cooking until cheese has melted.
Assemble chicken sandwiches with chipotle mayo, shredded chicken, bell peppers, cilantro, red onion, and bacon.
Notes
Divide lime juice and zest. Juice for shredded chicken, and zest for chipotle mayo
You can toss the shredded chicken in the chipotle mayo or keep them separate.
Save extra taco seasoning in an airtight container. 
Use broiler to speed up toasting time for buns and cheese. Just be sure to watch the oven. 
Use leftover chicken to make these sandwiches in less than 30 minutes.