Forget pancakes, keep it simple with these crepes...
An easy brunch? Yes. This simple crepe recipe uses only five ingredients and made in less than thirty minutes. This crepe recipe is an excellent base to add whatever flavors you want. It's that simple. In the recipe card, I wrote that you could add vanilla, but cardamom and cinnamon are my go to's when I want to spice it up. Fill these crepes with berries, then top with whipped cream and maple syrup for breakfast food that's sure to please anyone.
You'll love this recipe because it's...
Simple
Uses only 5 ingredients
Quick
Can be made in 30 mins or less
Plus, it's brunch food... need I say more?
---
Get your eggs going...
Start by beating six eggs in your mixer. This step is significant because you want the eggs to be smooth, so take your time whisking. Once thoroughly beaten, about five minutes or so, add one cup of sugar. After, beat the egg and sugar mixture until the sugar has dissolved, approximately another three to five minutes. Next, add in a pinch of salt. If you're feeling fancy, you can add in a splash of vanilla, too.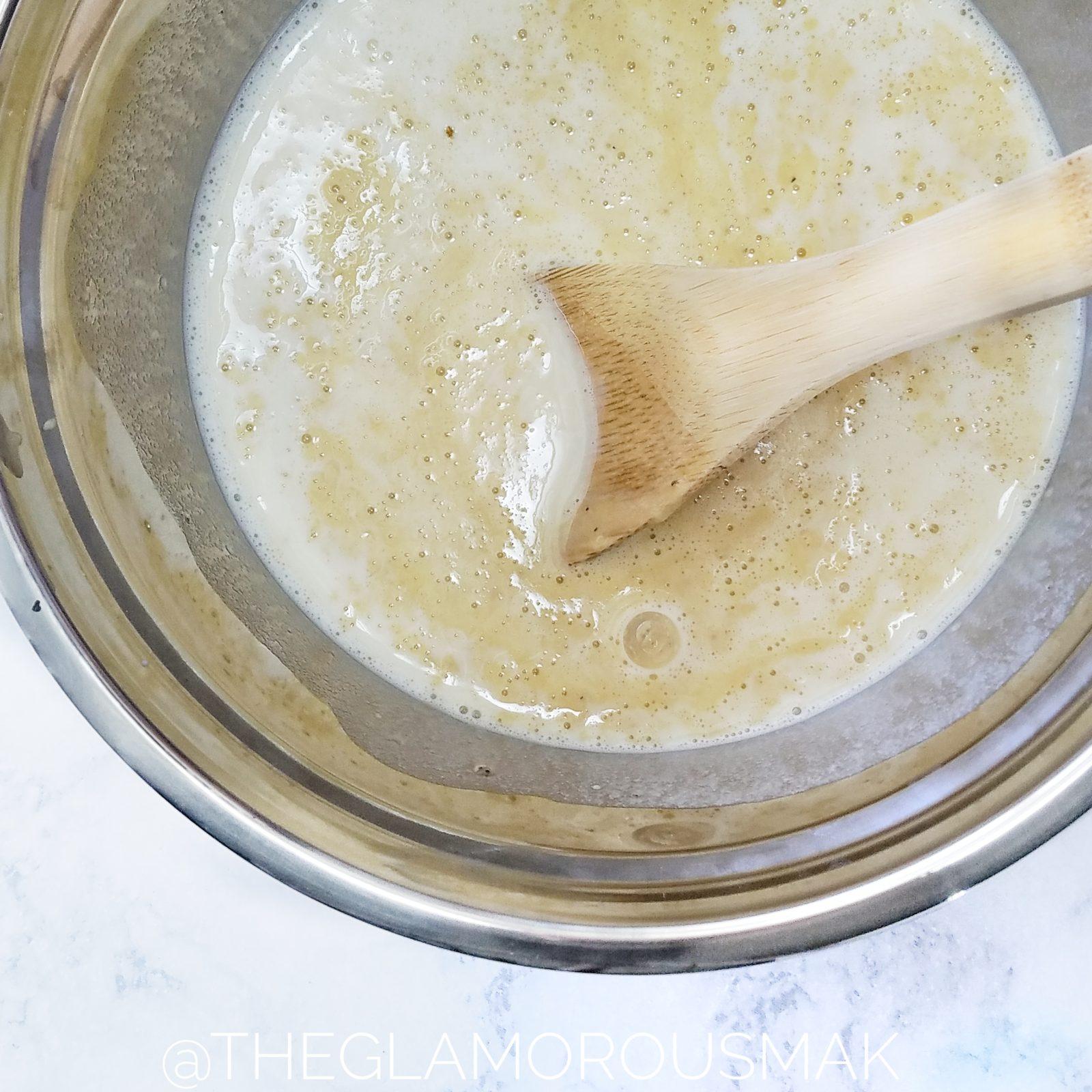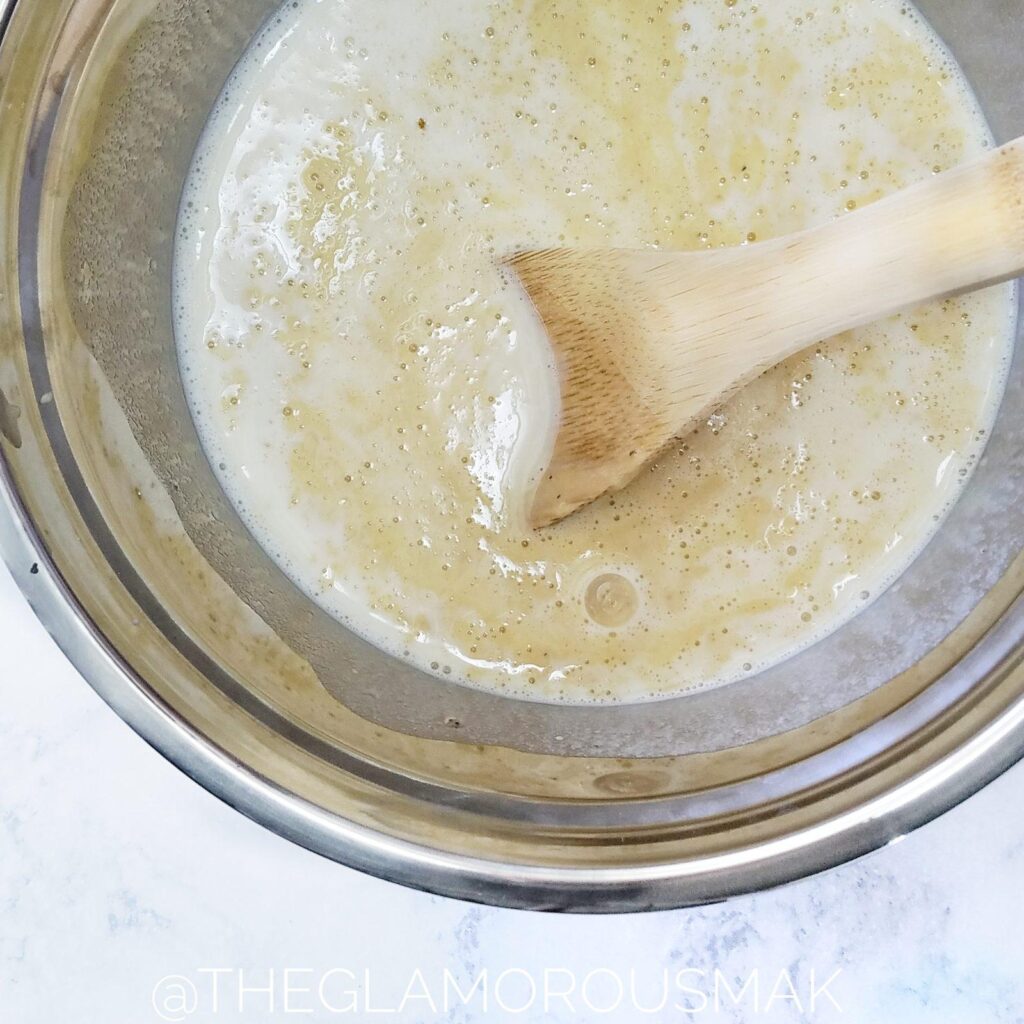 Add the flour...
Now, slowly add in one and a half cups of all-purpose flour; you may not use all of the flour.  The crepe mixture should be the consistency of cake batter.  Add the flour until just incorporated.  Try not to over mix the batter during this step.
Thin it with milk...
Now, gradually pour in about one and a fourth cups of milk. You can use any kind of milk for these crepes, but I prefer whole milk. Again, just like the flour, you may not use all of the milk. The consistency of the batter should be slightly thinner than pancake batter. Keep some milk on standby because as this batter sits, it may start to thicken. If that's the case, just add a tablespoon of milk at a time to thin it out.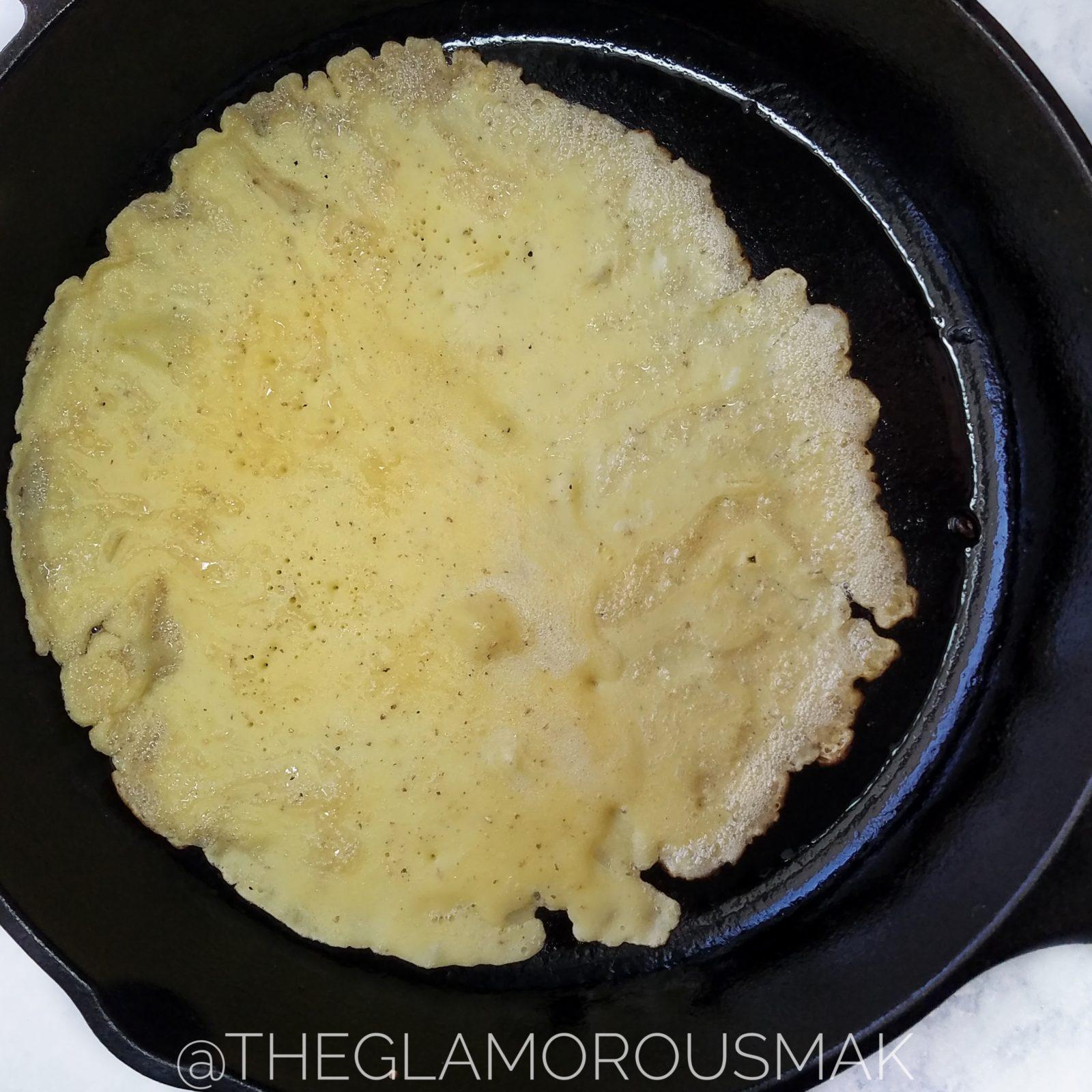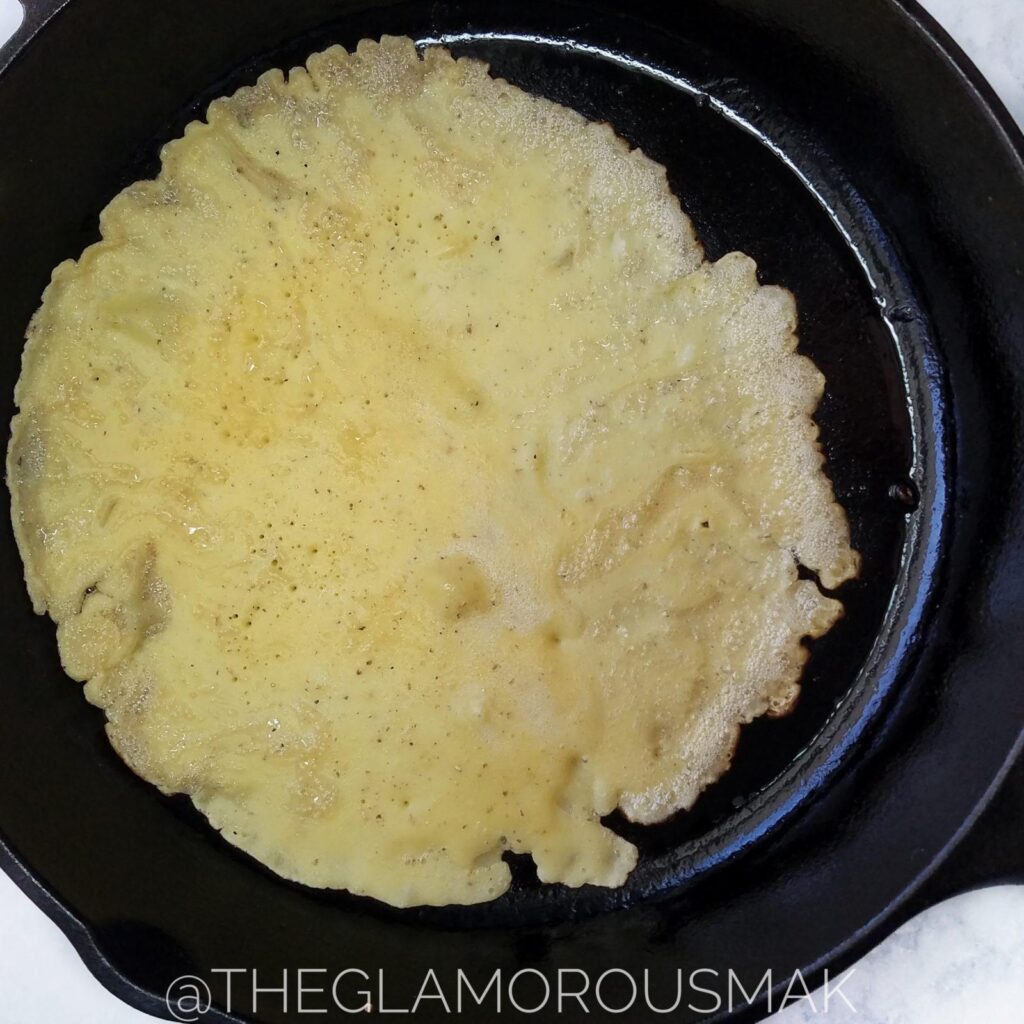 Cooking the crepes...
Heat your cast iron pan on medium heat and coat the pan with a neutral-flavored oil like safflower or canola. Continue to coat the pan with oil between each crepe, or as needed. Now, using a ladle, spoon a half scoop of crepe batter. Immediately, spread the crepe batter into a thin circle by rotating the pan or using the bottom of the spoon. Don't worry if you have trouble. It takes a bit of practice to get the crepes thin.
Once the bottom of the crepe is light golden brown, and the batter is no longer wet on the top, flip the crepe over and cook the other side until it is golden brown, too. When the crepe has finished cooking, let it drain onto a paper towel. Watch the heat as you continue cooking crepes, keeping the heat on the lower side. This recipe will make about twelve crepes.
---
Craving more?
Here are some other recipe(s) I think you might enjoy…
*Any nutritional data provided is for personal reference only as these are approximations, and data may vary on a case by case basis. Please refer to my disclaimers page.*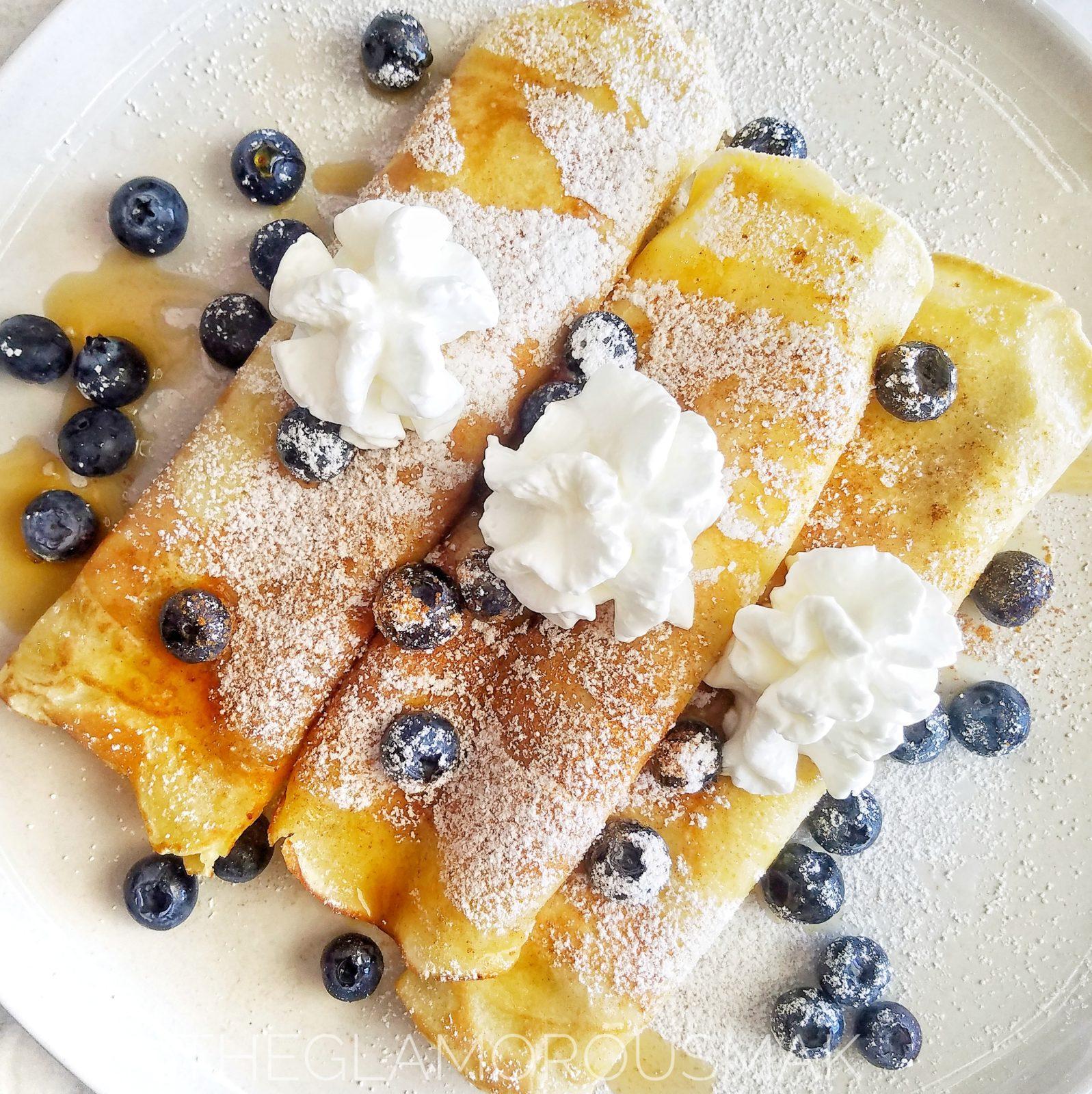 How to make Simple Crepes
How to cook crepes with only 5 ingredients! Make this quick and simple crepe recipe to impress everyone you know! Stuff with fresh berries and top with whipped cream and pure maple syrup!
Ingredients
6 eggs
½ c. sugar
¼ teaspoon salt
1 ½ c. all purpose flour
1 ¼ c. milk
1 teaspoon pure vanilla extract,, Optional
Neutral flavored oil for frying
Instructions
In the bowl of your stand mixer, with the whip attachment, beat the eggs on medium speed for about 3 mins. Add the sugar and beat for another 5 mins. The sugar should be dissolved, and the egg mixture should be very smooth.
Next, switch to the paddle attachment. With the mixer speed on low, add in the flour a half cup at a time scraping down the sides of the bowl. You may not use all of the flour. It should resemble cake batter- try not to over mix.
Finally, slowly stir in the milk, and vanilla if using; the batter will be the consistency of thin pancake batter.
Heat your frying pan to medium heat adding about a teaspoon or two of neutral flavored oil.
Using a ladle, spoon a small amount (about half a ladle full) of batter into the pan; then, quickly spread the batter around by rotating the pan in a circular motion spreading the batter as thin as you can.
Cook for about a minute per side. When the crepe is ready to flip, the underside will be lightly golden brown and the batter will be "dry."
Add a teaspoon of oil before cooking every crepe. Drain the finished crepes onto a paper towel.
Enjoy with butter, cinnamon sugar, maple syrup, fresh berries and maple whip!
Notes
Leave some milk on standby. As the batter sits, it may start to thicken. 
Watch the heat.  The crepes should be lightly golden.