How to make eggs in purgatory (shakshuka)...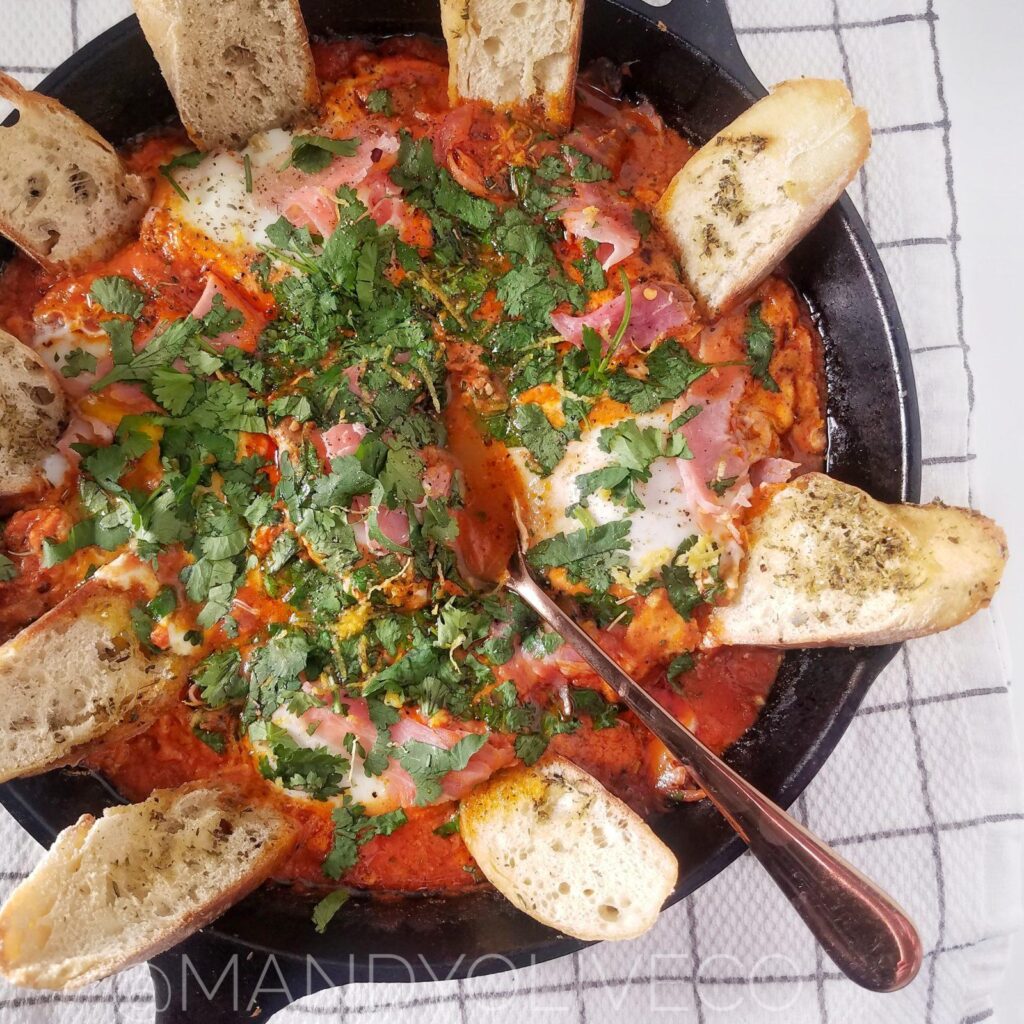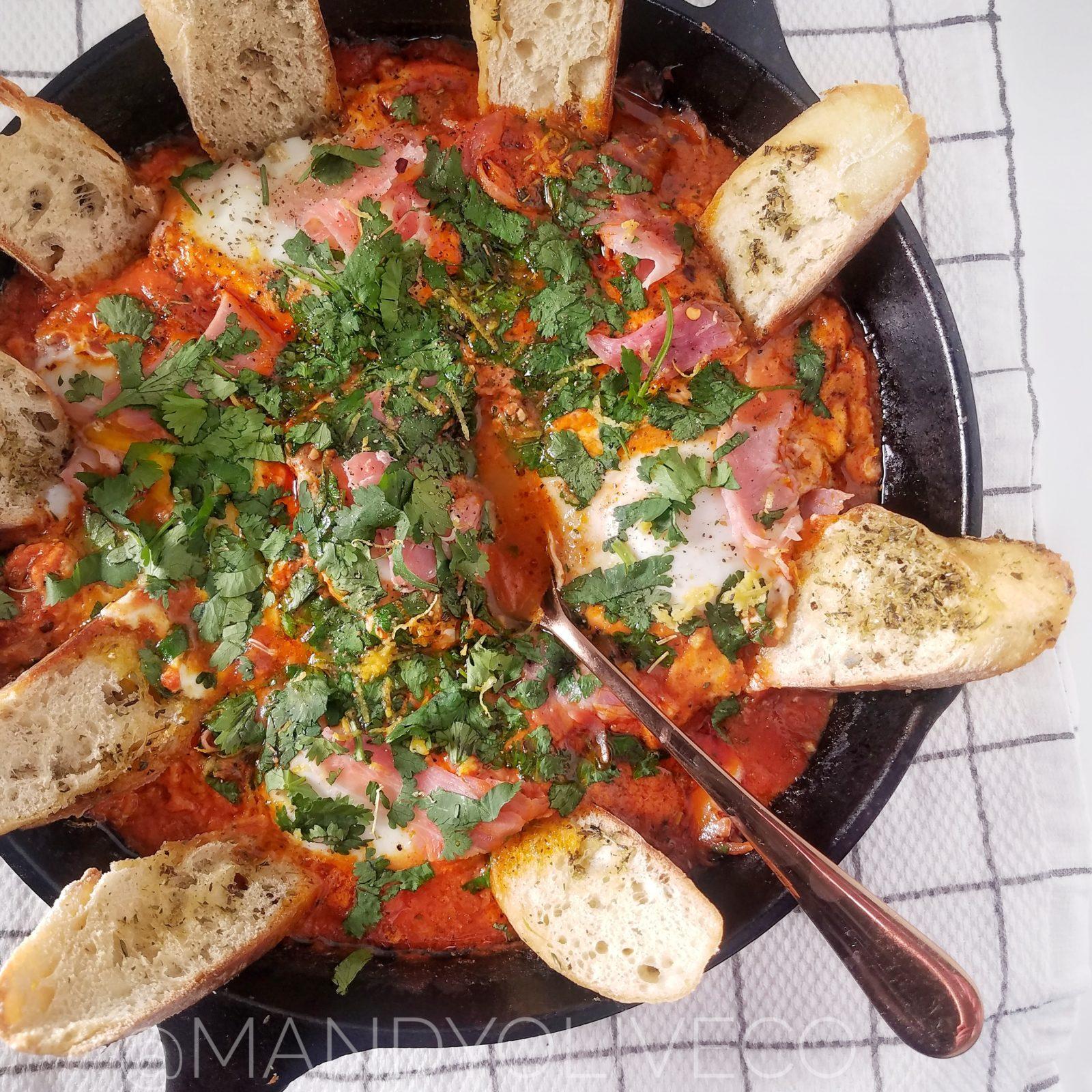 Shakshuka, or eggs in purgatory, has quickly become one of my favorite brunch foods. Although I'll be honest, I am notorious for making this when I need a quick late-night snack. Plus, I almost always have the basics on hand: tomato sauce, eggs, cheese, and bread.
You'll love this recipe because it's...
easy
can be made in 15 minutes or less
uses around 10 ingredients
cheesy
yolky
dippy
---

Variations...
As long as you have the basics, you can make eggs in purgatory. Although, tomato sauce, eggs, cheese, and bread can seem boring. The world is your oyster when it comes to cooking.
So, I encourage you to mix it up with different spices, fresh herbs, and cheeses. I recommend buying a flavored tomato sauce like herb and garlic to give the dish more oomph or using crushed tomatoes for more texture.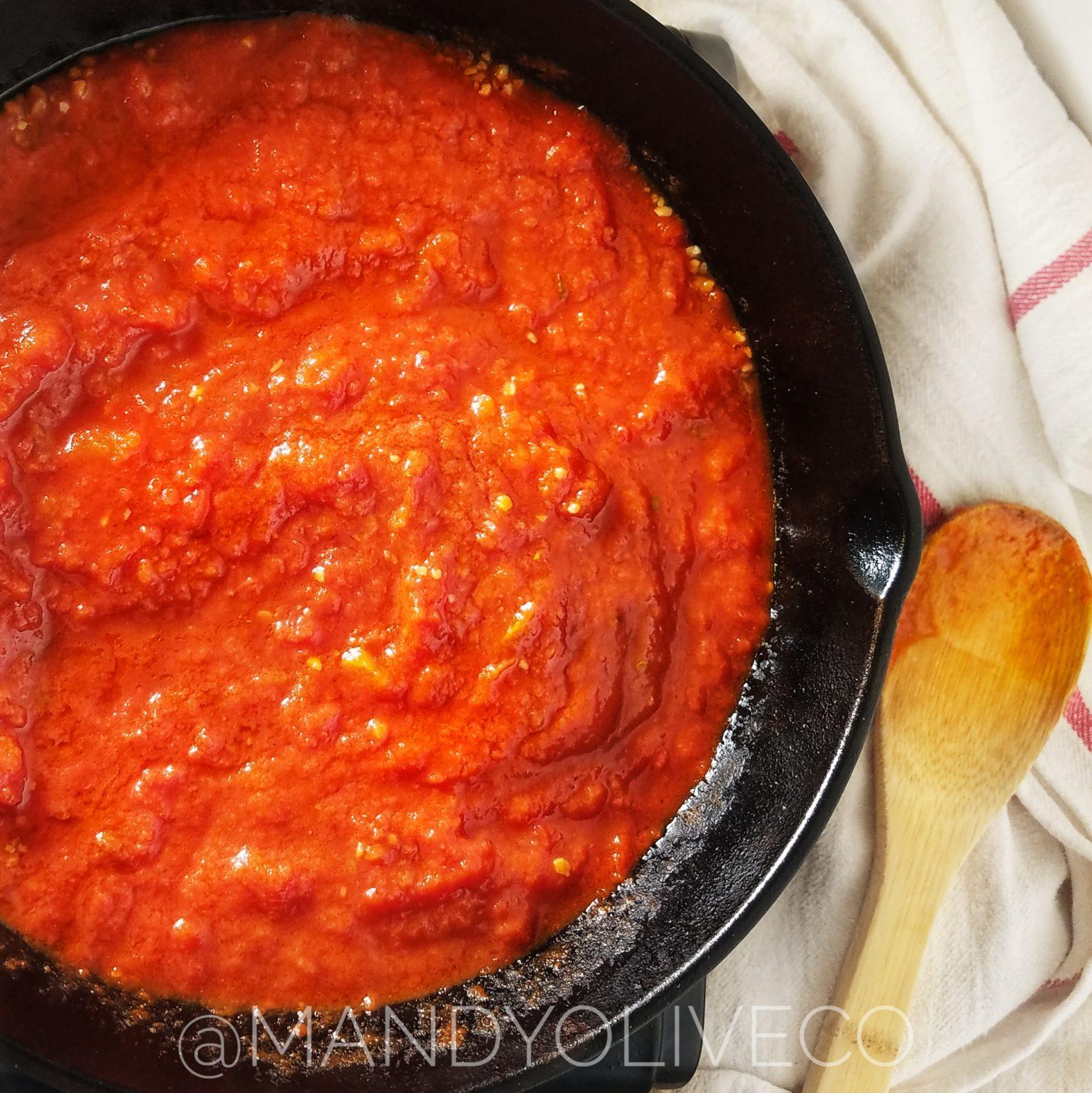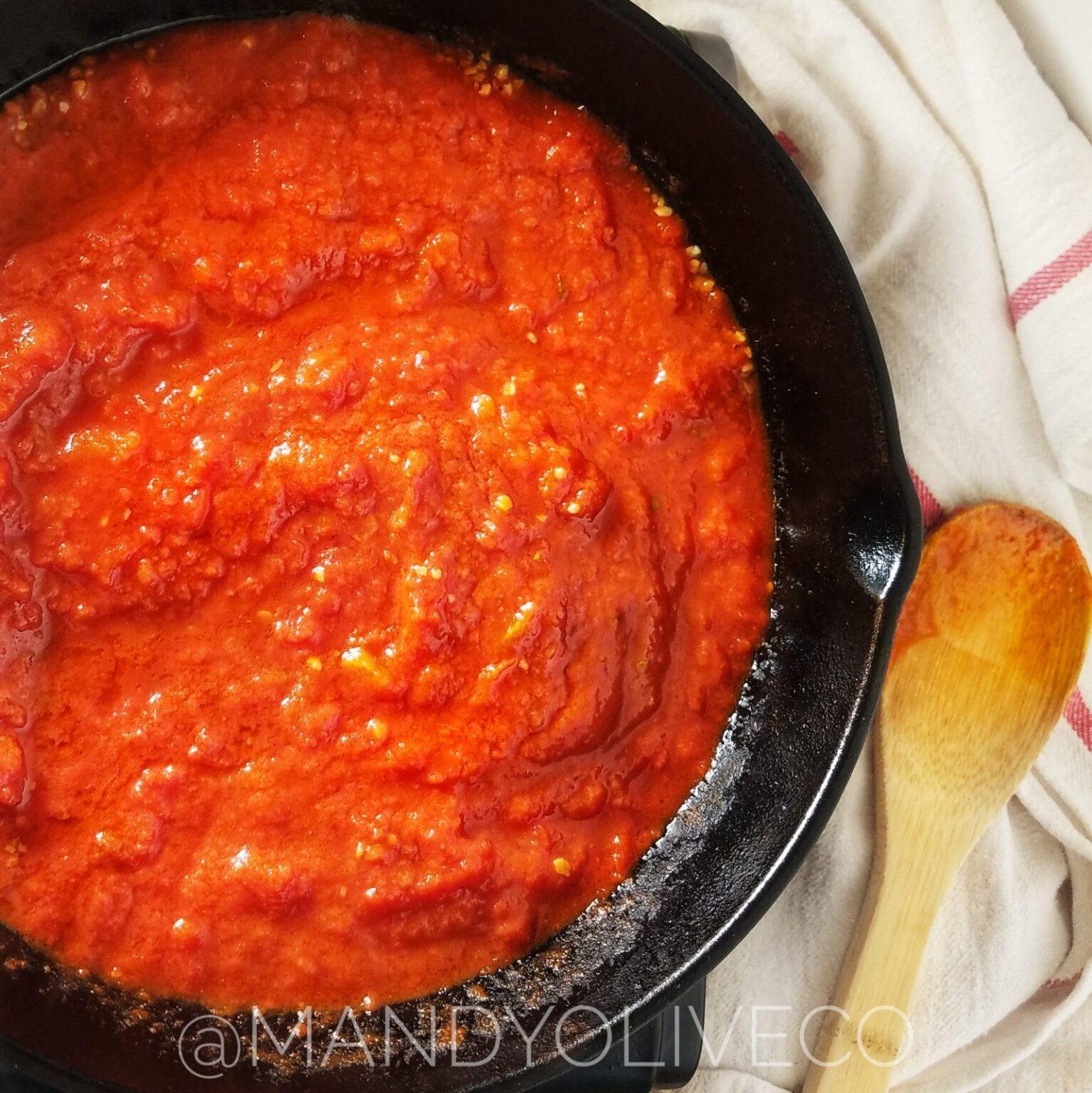 Toasty, crusty bread for dipping...
The first thing I do is preheat my oven to 425 degrees Fahrenheit. While the oven is heating, slice the french bread, and toss it in olive oil, and spices. This gives it a little something extra. After, throw it into the hot oven to toast.
It will only take about five minutes to toast the bread, so keep an eye on it. I will usually flip the bread slices over at the three-minute mark, and shut the oven off using the residual heat to continue toasting it. That way I lessen the chance of burning the bread. If the bread is still in the oven, I will check it before I start cooking the eggs.

Making the shakshuka: eggs in purgatory...
To start the shakshuka, eggs in purgatory, add olive oil to the hot pan and cook the garlic until it's fragrant. Next, pour in the tomato sauce, harissa, paprika, dried herbs, and chili flakes. Cook it for a few minutes while stirring occasionally.
Once the sauce comes to a slight boil, lay slices of mozzarella into the sauce to create pockets of cheesy goodness in the shakshuka. Let the cheese melt into the sauce before adding the eggs. Afterward, crack the eggs into the pan, one at a time. Then, season the eggs with a pinch of salt and pepper.

Finish it off...
Finally, cover the dish with a lid, and let the eggs cook for about two minutes. When the eggs are done, the tops should be just starting to turn white, and the yolk will still be runny. At this point, turn off the heat as the eggs will continue to cook in the tomato sauce.
Finish off the eggs in purgatory with a bit of fresh lemon zest, bite-sized pieces of prosciutto, and cilantro. Serve it right out of the pan with a few spoons and that crusty, golden bread.
---
Craving more? Check out these other brunch recipes.
Mushroom Frittata with Arugula in a Creamy Dressing
---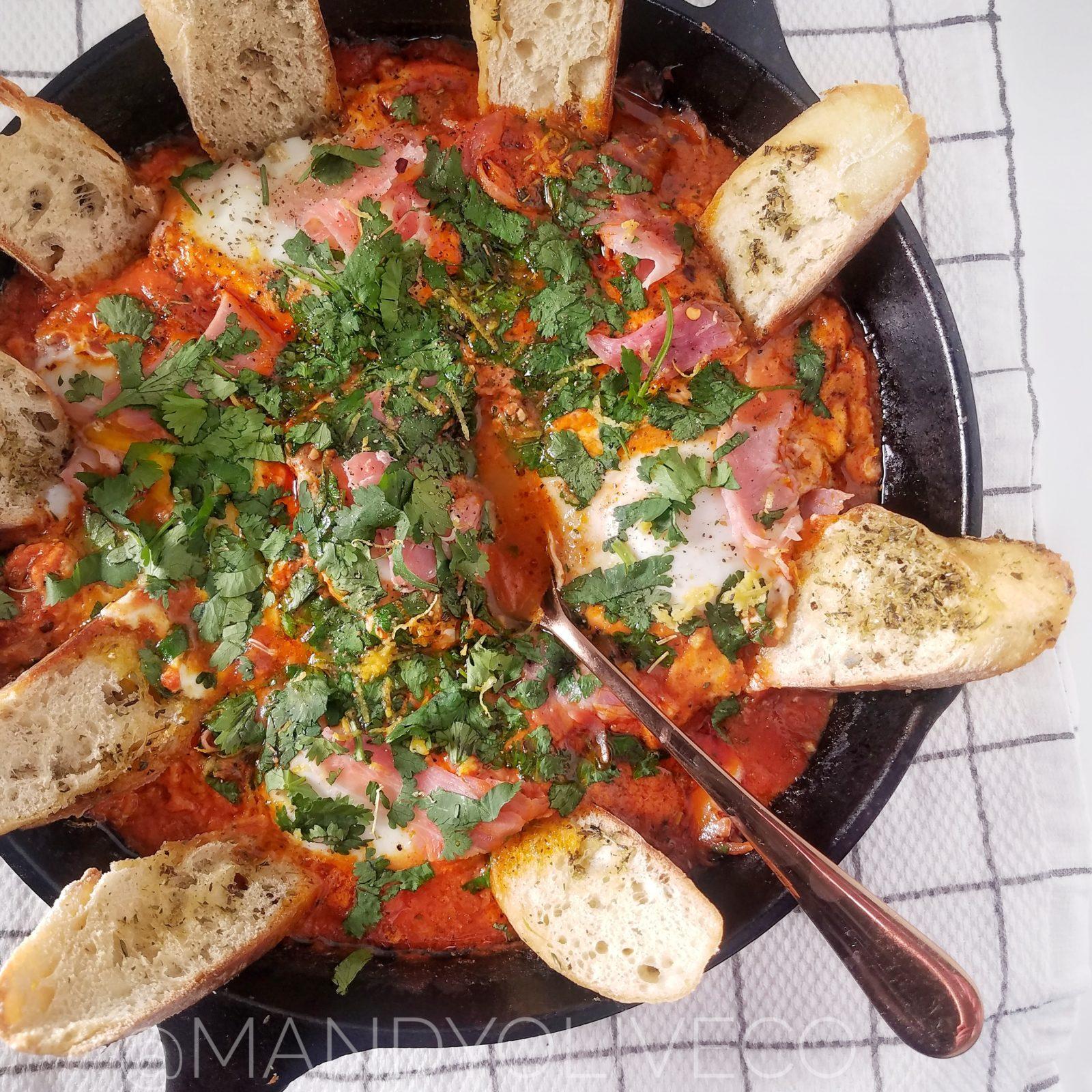 Eggs in Purgatory (shakshuka)
Ingredients
2 tablespoon olive oil, plus more for bread + garnish
2 cloves garlic, minced
1 ½ c. tomato sauce
½ tablespoon paprika
½ teaspoon harissa (paste or seasoning), , plus more to taste
1 teaspoon dried herbs, plus more for bread
5 eggs
½ small lemon, juice + zest
Slices of mozzarella
Prosciutto, rough chop ( garnish)
Cilantro, rough chop (garnish)
French bread, sliced
S + P, to taste
Chili flakes, optional
Instructions
Preheat oven to 450 degrees Fahrenheit.
On a clean baking sheet, toss sliced bread in 1 - 2 tablespoon of olive oil, and a large pinch of dried herbs. Bake in the oven until lightly golden and slightly toasty, 5 - 7 mins.
In a medium pan, heat olive oil over medium-high heat. Saute garlic until fragrant, about 30 sec - 1 min.
Add tomato sauce, harissa, paprika, and dried herbs. Bring to a slight boil.
Place sliced mozzarella into sauce, cover and let it melt while maintaining a simmer.
Crack each egg into the sauce, being careful not to break the yolk. Season each egg with a pinch of salt, pepper and chili flakes.
Cover and cook until the eggs start to white over. About 3 - 5 mins. Yolks should still be runny.
Garnish with prosciutto, cilantro, lemon and a drizzle of olive oil.
Serve out of the pan with spoons and toasts
Notes
I always prefer a cast iron pan
Use a flavored tomato sauce, like garlic and herb, to give it more oomph. 
Try a mixture of tomato sauce with fresh, diced or crushed (can) tomatoes to give it more texture.