Potstickers, dumplings, mandu... whatever you call them, they're easy to make, pillowy, crispy, and freezer-friendly for quick meals.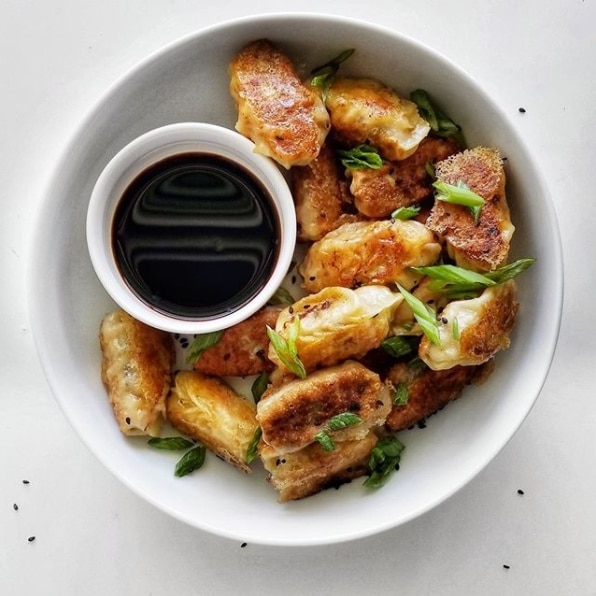 How to make potstickers.
You're welcome to use almost any ground meat/vegetable mixture you like for these potstickers. Regardless of what you choose, the ratio should be at least 2:1 grated vegetables to ground meat. Personally I prefer a 3:1 ratio of grated vegetables to ground meat.
This is important because the vegetables help create a softer filling. When you have too much meat with not enough veggies, you end up with a meatball in the middle of your dumpling.
To start, grate all of your vegetables (this recipe uses cabbage, scallions, and carrots). Once all of the veggies have been grated, sprinkle a very large pinch of fine sea salt into the vegetables.
Let the salted vegetables sit, at room temperature, for at least 30 minutes. Resting the veggies beforehand will help to extract the excess water.
Next, grab a separate bowl or sheet pan. After the grated vegetables has sweat, remove the vegetables by the handful, squeezing to release the extra liquid, placing the squeezed veggies into the new bowl. Repeat until all of the vegetables have been transferred. Discard the excess liquid.
Then, mix the ground meat and seasonings into the vegetables. I do not add any additional salt because I like to dip my potstickers into soy sauce.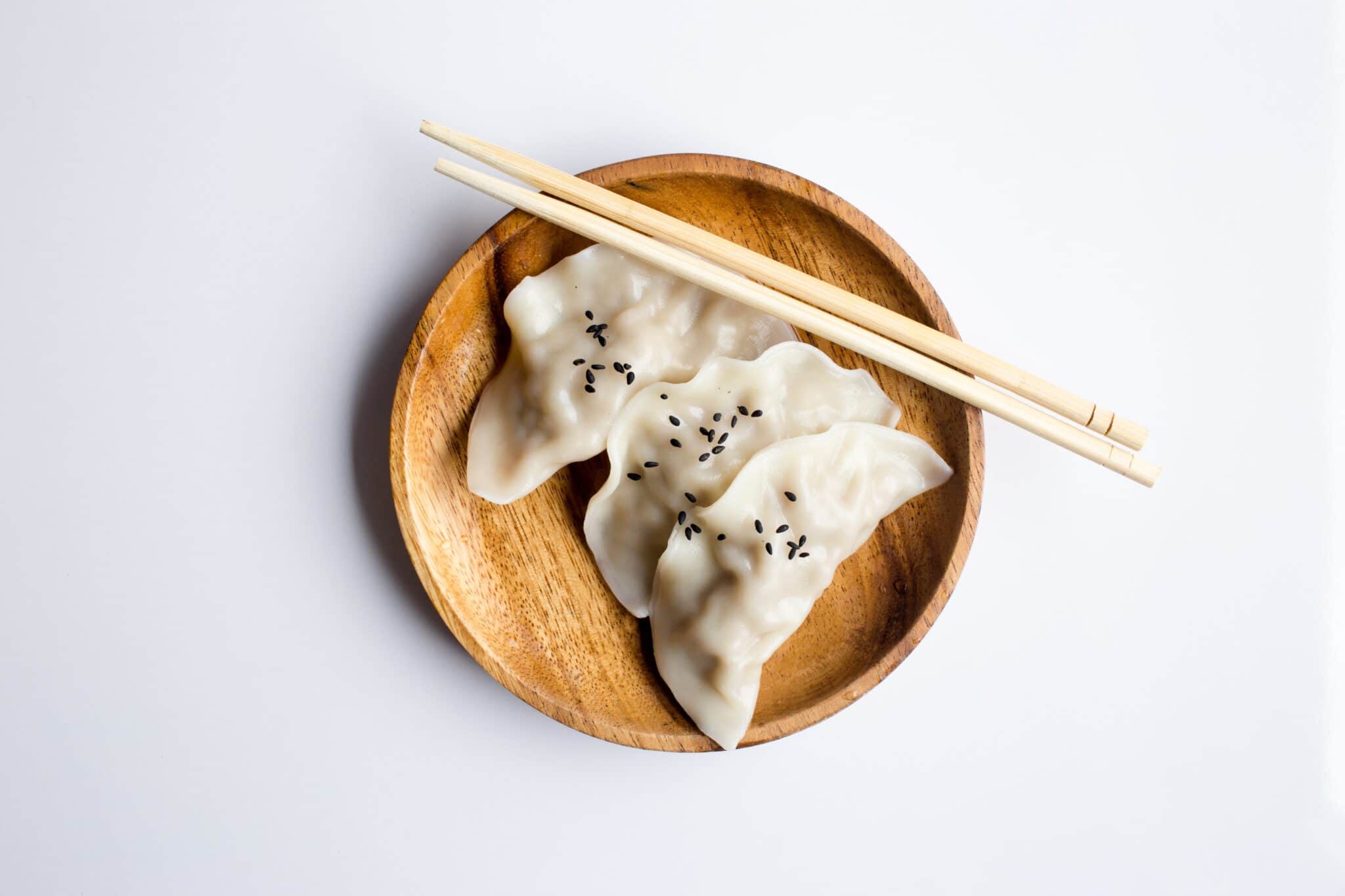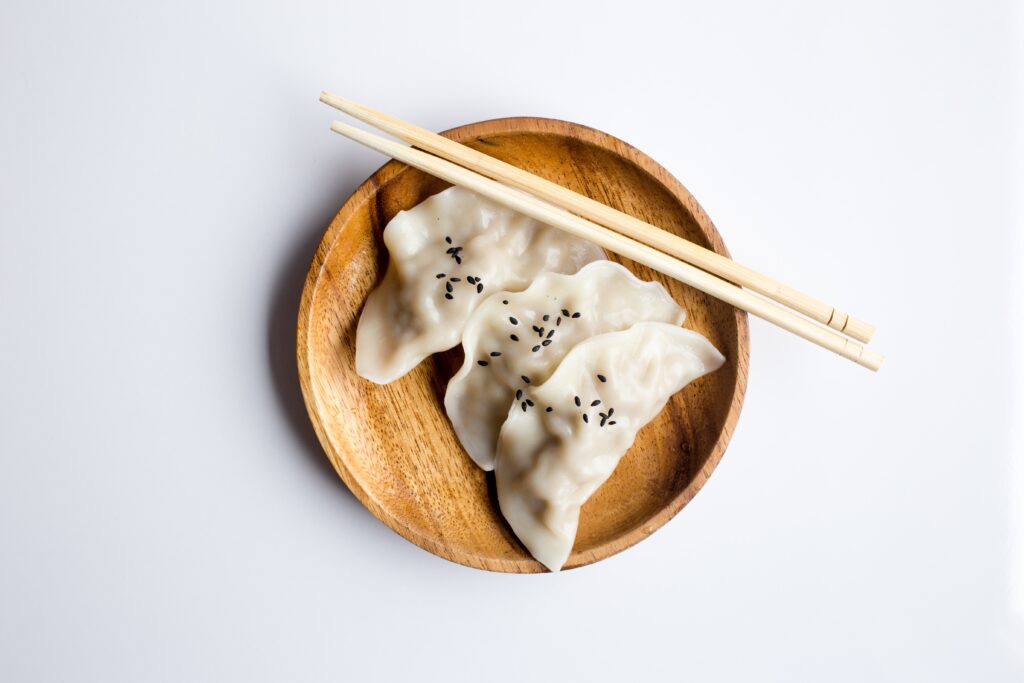 Fold them up.
Set up your station with a small bowl of water, the wrappers, and meat mixture. Use a spoon or small melon baller to scoop a tablespoon of filling into the center of the dumpling.
Next, dip your finger in water to wet the outer rim of the wrapper. After, fold the potsticker in half to create the classic half-moon shape. Seal them by pinching the ends together.
Finish the dumplings by gently pushing down on the center to break up the filling. This will help the center not turn into a meatball when cooking.
Freezing these potstickers.
Lay the finished dumplings onto a baking sheet in a single layer to freeze without sticking. Once they are frozen, transfer to a labeled freezer zip-lock bag.
*Honestly, I would skip pleating the edges. You can't even tell once they are fried. Plus, it takes twice as long to make the finished product.*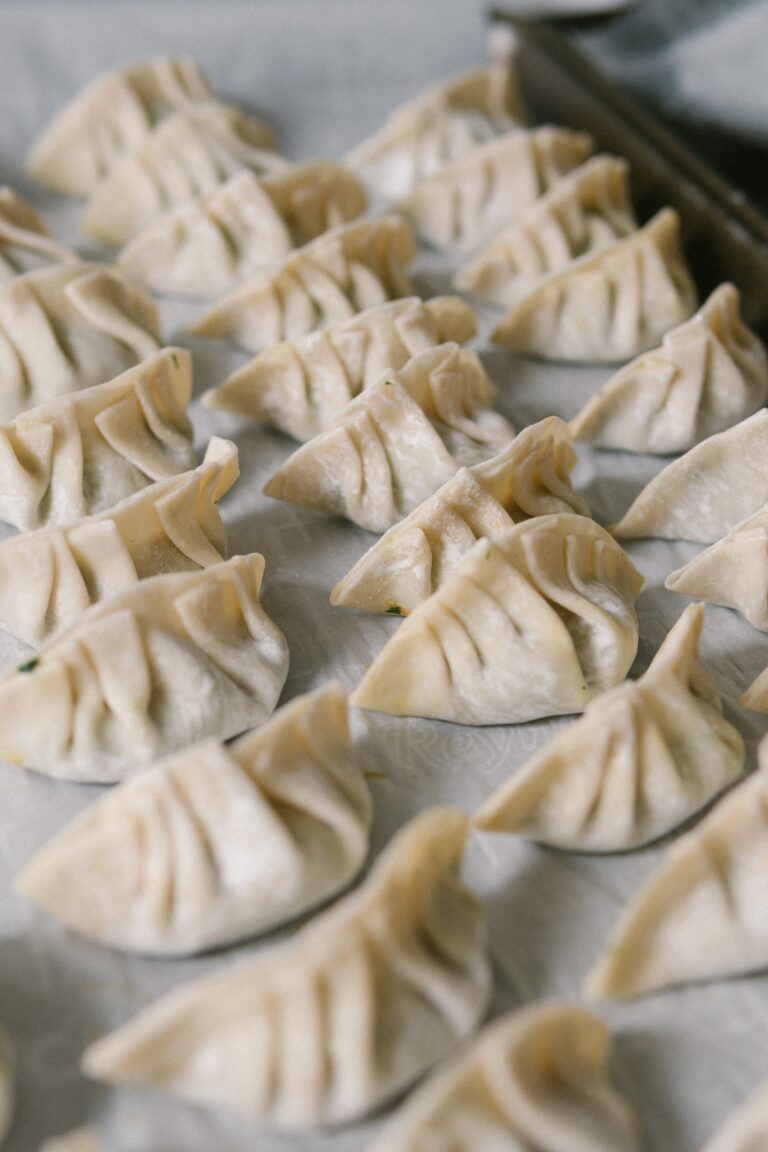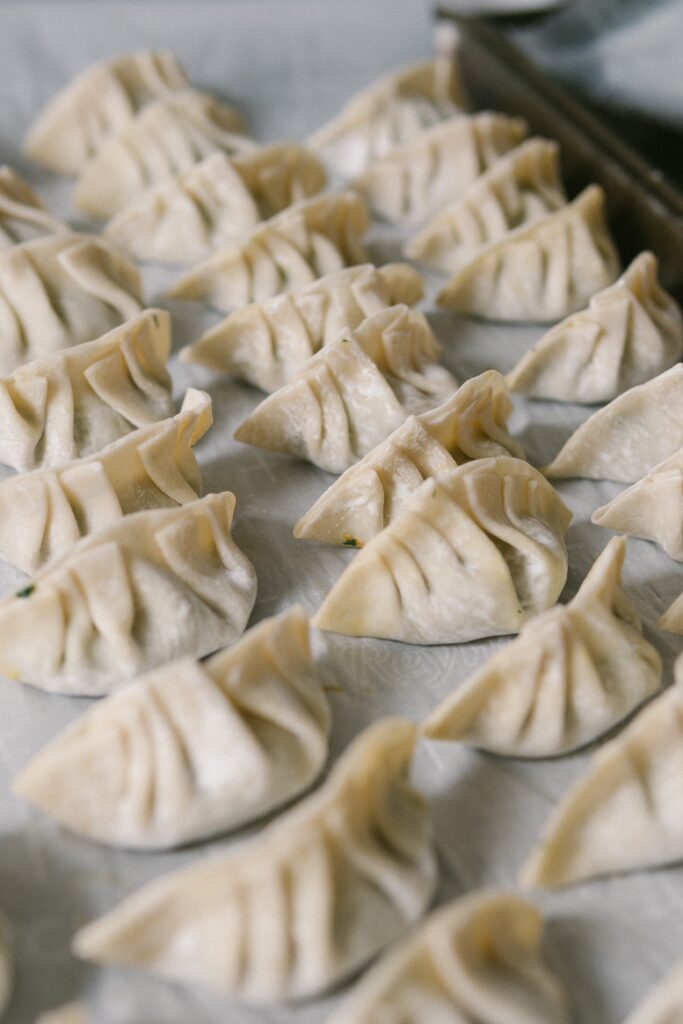 Cook me.
To cook these potstickers, heat up a non-stick skillet over medium-high heat with a couple tablespoons of olive oil. Place the frozen potstickers into the hot pan and brown both sides.
While the potstickers are browning, mix together approximately a quarter cup of water with a teaspoon of cornstarch and a large pinch of sesame seeds. We want enough water to cover the bottom of the pan in a thin layer of liquid, so adjust depending on the size of your pan.
After all sides of the dumplings have browned, pour in the cornstarch water and cover to let steam. Let the dumplings continue to cook for another 3 - 5 minutes, then remove the lid to allow the excess water evaporate.
The water will cook off and leave the cornstarch and sesame seeds. The cornstarch with begin to brown and crisp, creating little webs at the bottom of your pan.
When the cornstarch has become crispy, remove the pork potstickers from the pan and serve with a 2:1 mixture of soy sauce and apple cider vinegar.
craving more? try these recipes.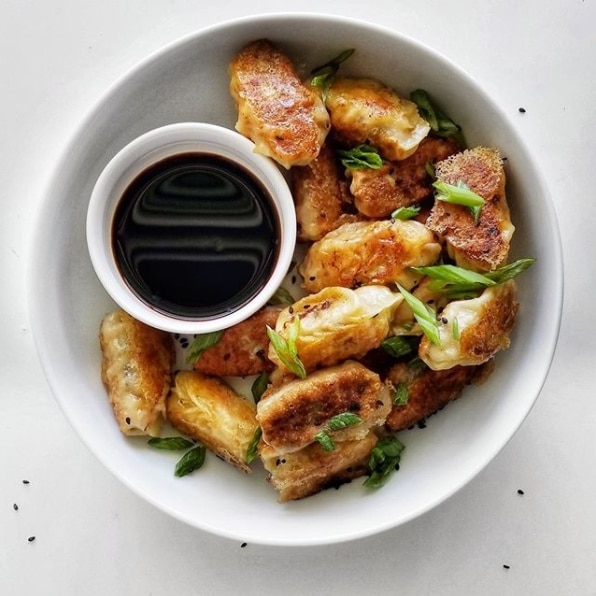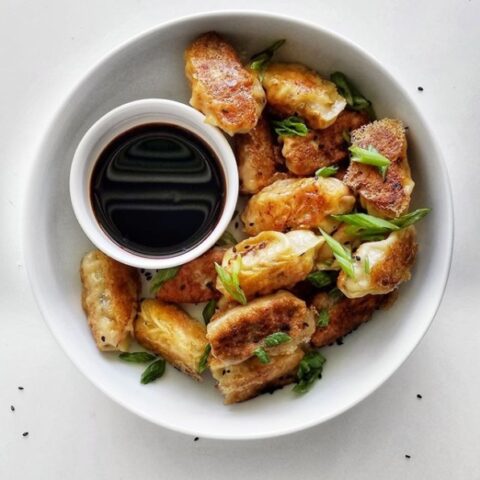 Easy pork potstickers
Total Time:
1 hour
30 minutes
How to make crispy, pillowy, pork and vegetable potstickers that are freezer friendly!
Ingredients
1 pound ground pork
1 head of cabbage, grated
1 extra large carrot, grated
3 - 5 garlic cloves, grated
3 - 5 scallions, sliced into tiny pieces
1 large thumb of ginger, grated
1 heaping teaspoon fine sea salt
potsticker wrappers
Instructions
Grate all of your vegetables *see notes.* Place grated vegetables (cabbage, carrots, and scallions) into a large glass bowl. Sprinkle the veggies with a teaspoon of finely ground sea salt, mixing the vegetables to distribute the salt evenly. Let the vegetables sit for at least 30 minutes to extract the water.
After the 30 minutes has passed, grab a separate mixing bowl (I used an aluminum baking dish). Using your hands, grab a handful of grated vegetables squeezing out the excess water, then transfer them to the other mixing bowl. Repeat until all of the veggies have been squeezed and transferred to the new mixing bowl. Discard the bowl of excess water.
Next, add the ground pork, garlic, ginger, and a large helping of freshly ground black pepper and sesame seeds to your veggies. Use your hands to mix the vegetables with the pork, until everything is completely incorporated.
Then, prepare your station. Fill a small bowl of water and open your wrappers.
Grab one ( 1 ) potsticker wrapper and place about a tablespoon of filling in the center of the circle. I used a very small melon baller to spoon the meat/vegetable mixture. Be sure to not tightly pack the dumpling filling when spooning the mixture onto the wrapper.
After, use your finger to spread a small amount of water around the edges of the wrapper. Then, fold the wrapper in half so that the edges meet-- making a half moon shape. Press the edges together to seal. Once the edges have been pinched together, gently press down on the filling to break it apart. Doing so will help to loosen the filling instead of having a meatball.
Continue filling each wrapper until all of the dumplings have been made.
Freeze the potstickers, on a baking sheet, in a single layer to prevent sticking. Transfer to a labeled freezer-friendly bag.

cooking the potstickers

Browning-- Heat a small amount of oil in a large non-stick skillet over medium-high heat. Once the pan is hot, add your potstickers in a single layer, making sure there's enough room to flip them, then let both sides cook until golden brown-- about 3 - 5 minutes on each side.
Steaming-- After both sides are golden brown, add cornstarch water *see notes* to the pan-- just enough liquid to cover the bottom of the pan in a thin layer. Next, cover the potstickers to steam for another 3 - 5 minutes, then remove the cover to let the rest of the water evaporate. Allow the dumplings to finish cooking, 2 - 3 minutes or until the cornstarch starts to crisp, brown and create webs. Serve hot with soy sauce and vinegar.
Notes
Making the potstickers
The filling should be at least a 2:1 ratio of vegetables to ground meat. This will help prevent a meat puck inside of your potstickers.
I prefer my vegetables to be finely chopped. After I grate the vegetables, I chop some of the mixture in a food processor. This isn't necessary. I just prefer the texture and I think it's easier to make the potstickers.
Cooking the potstickers
*make sure you are using a good non-stick pan when making dumplings! see recommended products below*

For steaming-- mix a few tablespoons of water with a teaspoon of cornstarch and a large pinch of sesame seeds. This will give your dumplings a crispy outer layer. Alt. you can just use water for softer dumplings.
Serving

Stir together a 2:1 mixture of soy sauce and apple cider vinegar. Serve as a dipping sauce.
Other notes
I don't use extra salt to season my potsticker filling because I dip them in soy sauce, but feel free to add more if you'd like.
Recommended Products
As an Amazon Associate and member of other affiliate programs, I earn from qualifying purchases.
Nutrition Information:
Yield:

40
Serving Size:

1
Amount Per Serving:
Calories:

45
Total Fat:

2g
Saturated Fat:

1g
Trans Fat:

0g
Unsaturated Fat:

1g
Cholesterol:

11mg
Sodium:

68mg
Carbohydrates:

2g
Fiber:

1g
Sugar:

1g
Protein:

3g
Nutrition facts are for personal reference only as calories may vary on a case by case basis.