Your weeknight cooking just got a lot easier with these tips.
We've all been there. It's been a long day. You're tired. The last thing you want to do is spend 3+ hours in the kitchen cooking and cleaning, but we've gotta eat. So, how do we actually get dinner on the table in 30 minutes? Here are ten ways to simplify your weeknight cooking.
Before we get into the article, I'd like to invite you to join my email course where you'll learn how to make weeknight cooking faster and easier. If you're interested, you can sign up below.
This article contains affiliate links. Please see my disclaimers for more info
Here are 10 weeknight cooking tips:
1. Know what you're going to make ahead of time
I know it's obvious, but it's necessary. Figure out what you're going to cook and read through the recipe before you get home.
2. Start with a clean kitchen 
Some days that might seem impossible, but everything is more manageable when your counters are clean, your dishwasher is empty, and your trash isn't overflowing.
3. Clean as you go
Again, cooking is easier when you're not struggling to find a section of empty counter space. Moreover, use a "garbage bowl", then you're not wasting time running back and forth to the trash can.
4. Do your prep ahead of time.
No, you don't have to spend your weekend doing a full-blown meal prep session. However, utilizing a few minutes to chop veggies or pre-cook grains helps immensely. Just think about what parts of weeknight cooking take the most time, and try to do one of those things ahead of time.
---
Save this to your pinterest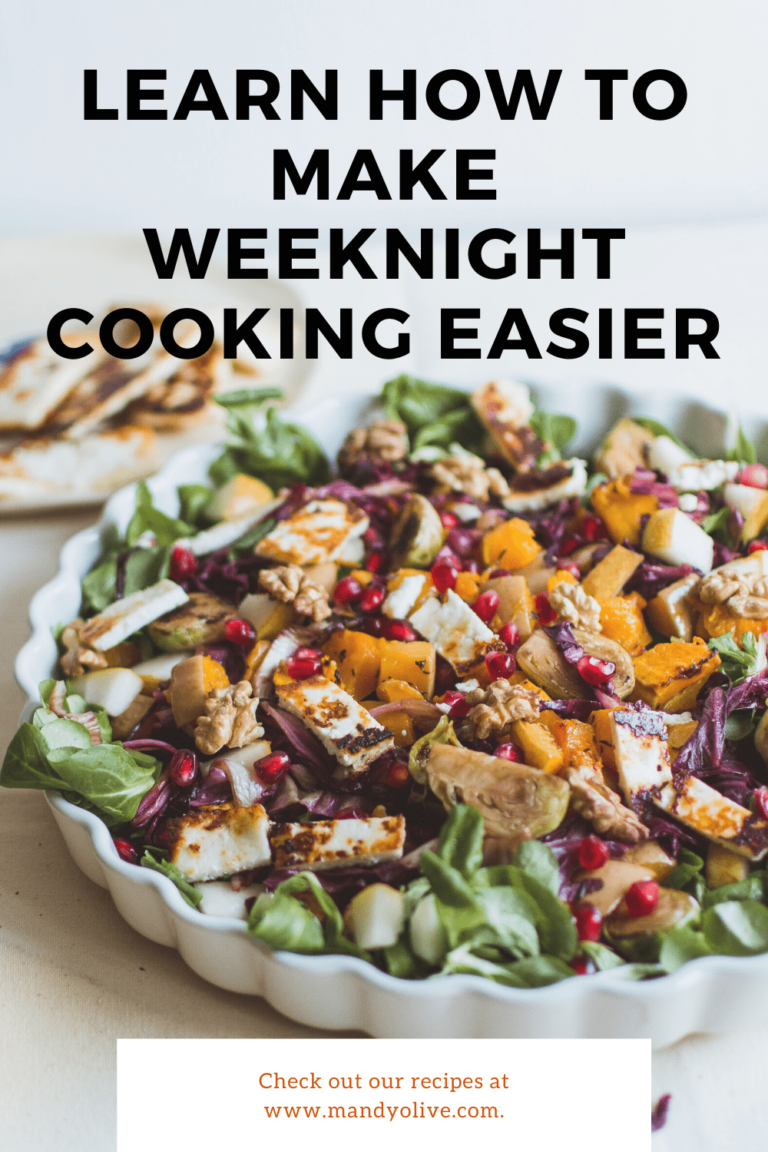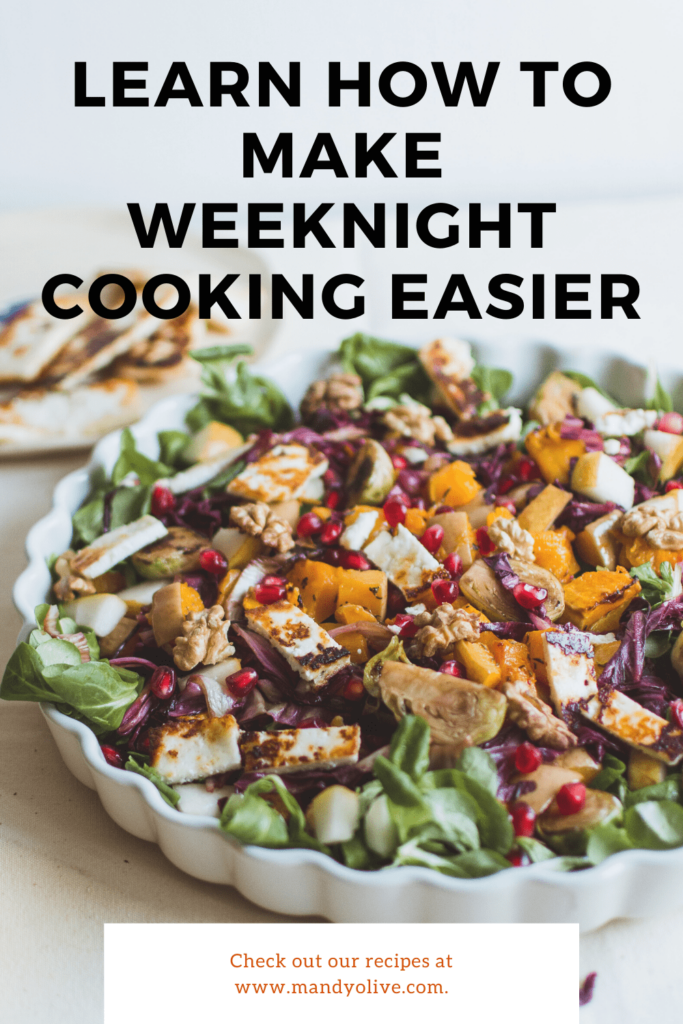 ---
5. Keep your kitchen stocked with canned beans, cooked grains, and prewashed dark green salads. 
That's right, dark greens like spinach, kale, and swiss chard. These types of salad blends can be cooked or served raw. Throw in a handful to add color and additional nutrients. Furthermore, having canned beans or cooked grains means you can throw together a healthy grain bowl with whatever's in your fridge.
6. Get it going. 
As soon as you walk in the door, start preheating the oven or boiling water.
7. Roast your veggies at a high temperature. 
I roast all of my veggies at 450 degrees Fahrenheit. It usually takes about 20 - 30 minutes to cook and crisps them up quickly. I set a timer for 10-15 minutes to remember to check the oven and rotate the baking sheet.
8. Use an excellent spice blend.
Seriously, find (or make) a spice blend you love and use it. My current favorite is harissa, which typically comes in a paste form, but I found one that comes in a dry spice blend, and I sprinkle it on everything.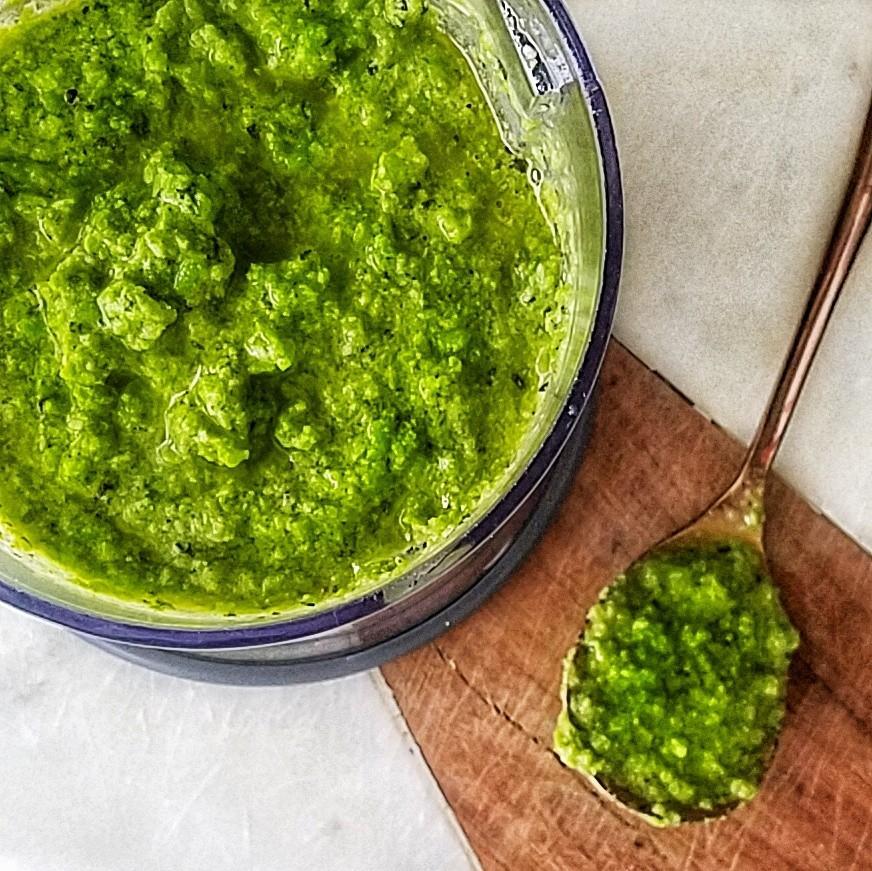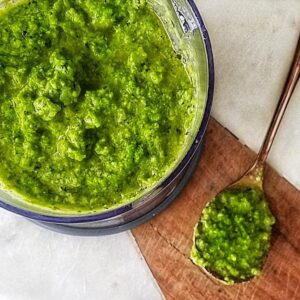 9. Simplify your side dishes.
Roasted veggies are an easy side dish to simplify weeknight cooking. Most often, I cook butternut squash or sweet potatoes coated in harissa and olive oil. If I have an extra block of goat cheese or feta, I'll toss the veggies with a bit of cheese before serving.
Another one of my favorite side dishes is this fingerling potato and pesto dish. Typically I make the pesto ahead of time so I can enjoy it with a variety of dishes all week.
10. Invest in double-duty cookware and dishes. 
Not only does this save space in your kitchen and make clean up a breeze, but when you invest in cookware that can go from stovetop to oven (or oven to the table), it makes weeknight cooking move along swiftly. Here are my favorite multi-tasking dishes.
Craving more?