Pesto Breakfast Pizza for simple, but impressive brunching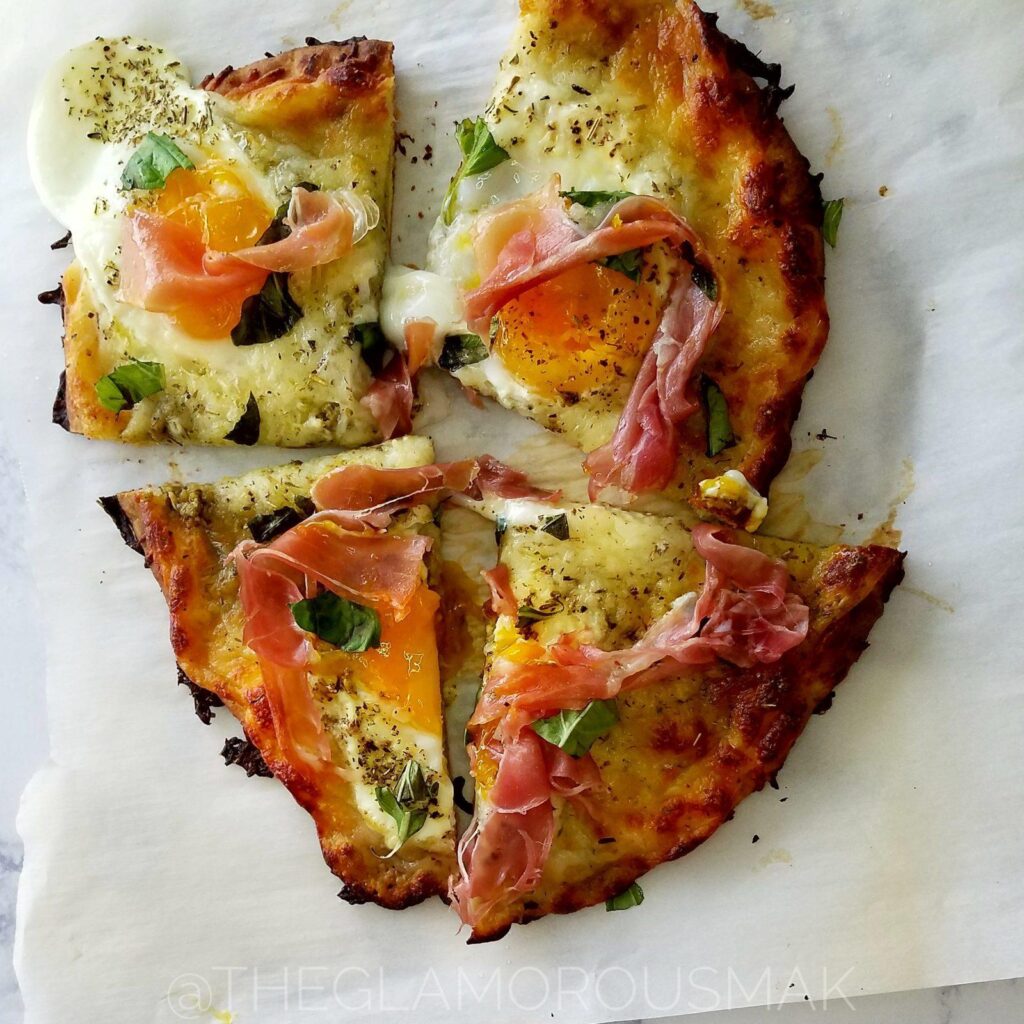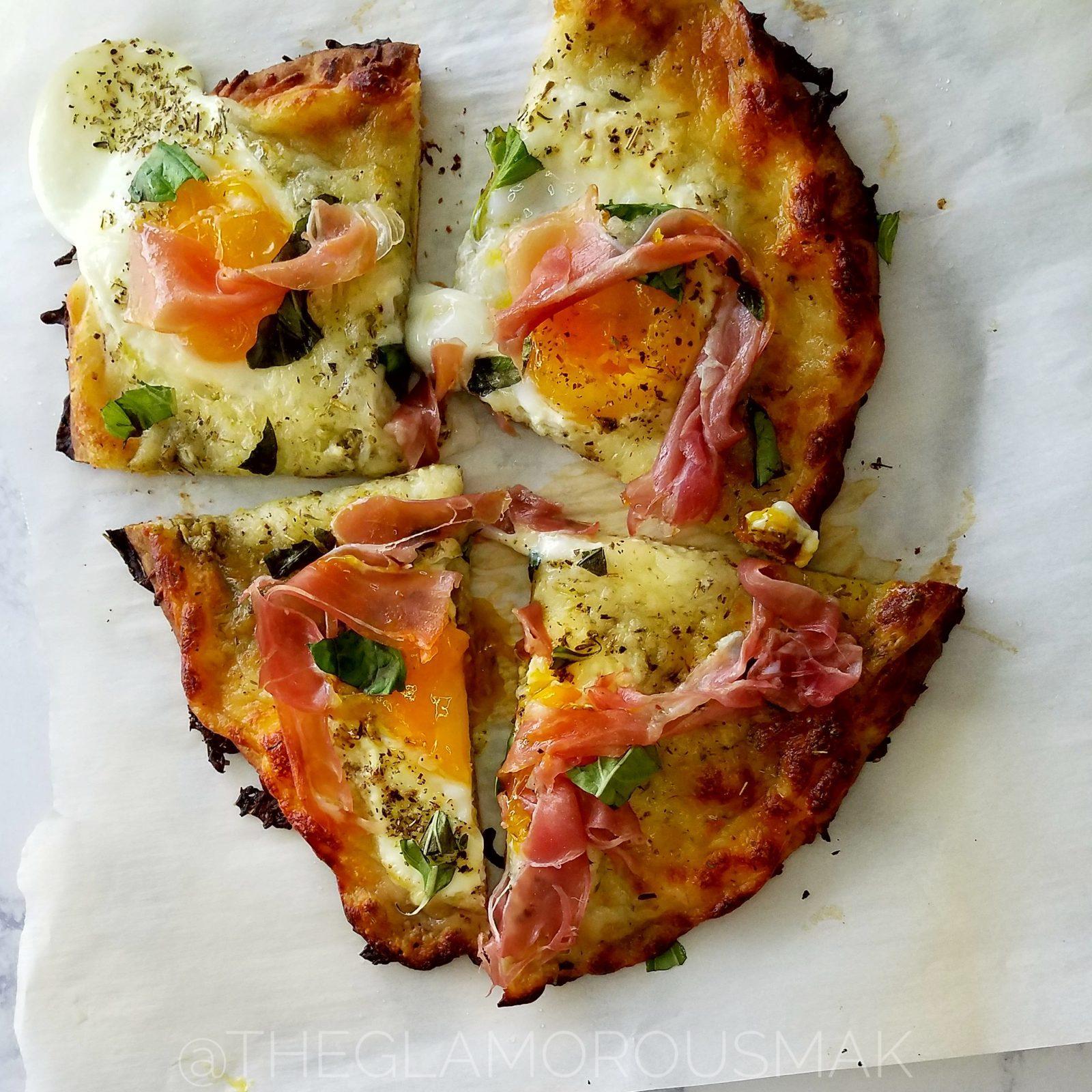 I love this Pesto Breakfast Pizza. I love brunch, and I love mimosas. In 2017, I served this Pesto breakfast pizza with prosciutto for our Mother's Day Brunch along with a Smoked Salmon Breakfast Pizza and BLT Breakfast Pizza. Breakfast pizza is something I make quite often because who doesn't like pizza? This recipe is straightforward, and it will become a staple in your brunching routine.
The photo below showcases the Smoked Salmon and Pesto Breakfast Pizzas.
You will love this because it's
Cheesy
Crispy
Garlicky
Simple
Uses few ingredients
---
Assemble it
Start with your flatbread. I prefer garlic naan because, well, I love garlic. Taking about one and a half tablespoons, spread it onto the flatbread. Then, cover the naan with cheese while creating holes, "wells," for the eggs to sit. Make sure the mound of cheese is high enough, so the egg stays inside the hole you've created. The egg white may spill out a little bit, but that's okay. Just try to keep as much of the egg inside the "well" as possible. I find that small/medium eggs work best for this technique. Next, top with a half a teaspoon of Italian seasoning.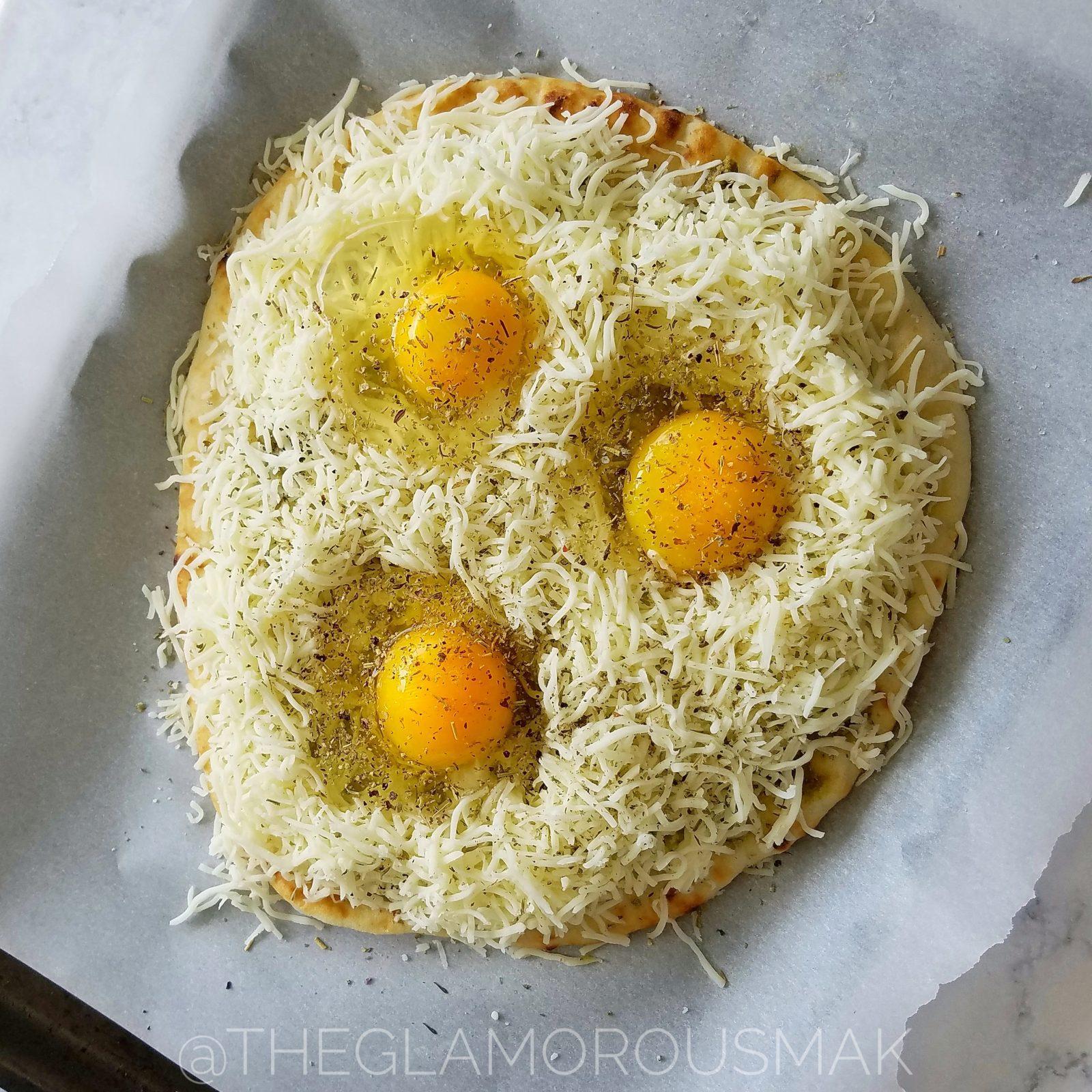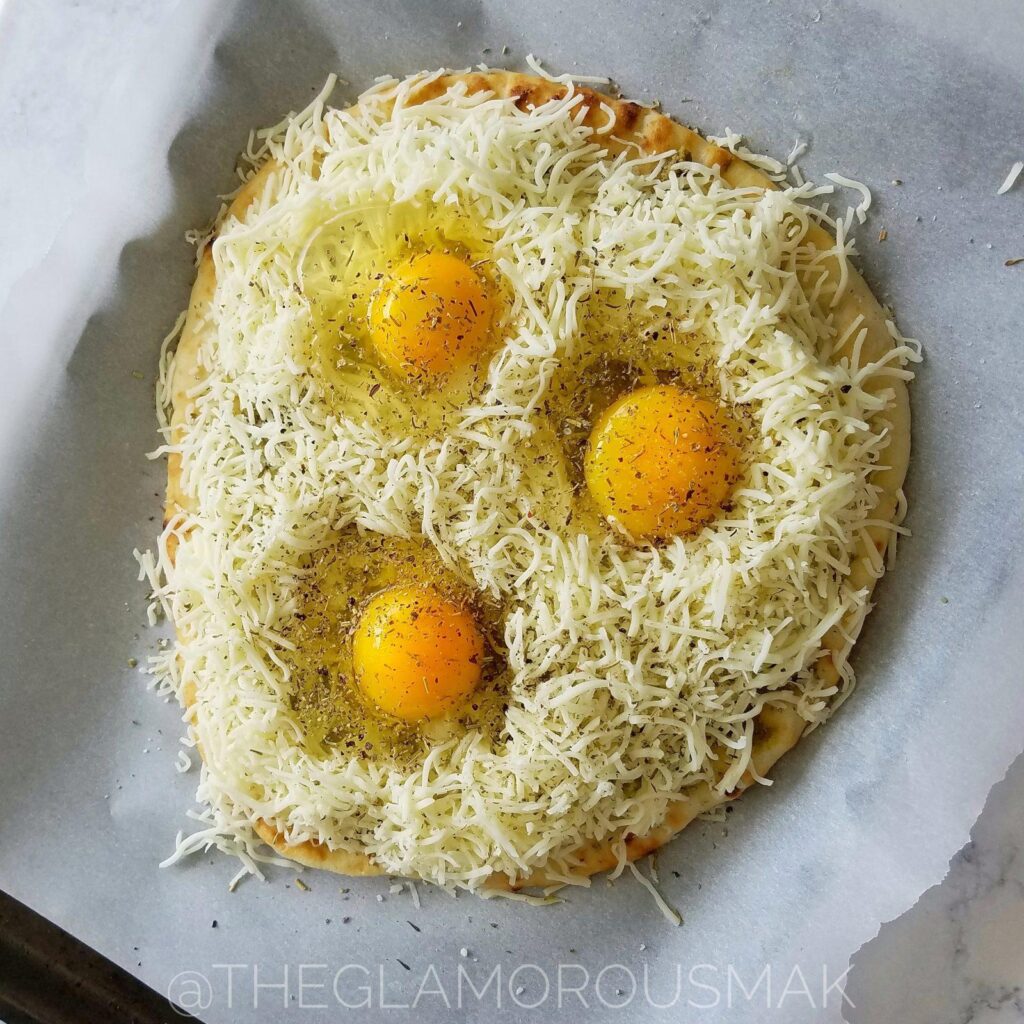 Bake it
Bake it at 400 degrees for 10-15 minutes. Observe the pizza for the last five minutes. The egg whites should be firm, but still jiggle slightly when you gently shake the pan; the egg should be runny. Remember, the eggs will continue to cook after you take the pizza out of the oven.
Add the toppings
When finished, tear the prosciutto into long strips and twist them. Lay the twisted strips of prosciutto onto the pizza in a twisting motion, so the egg yolks are still partially visible. Finish it off with some freshly cracked black pepper and chopped basil.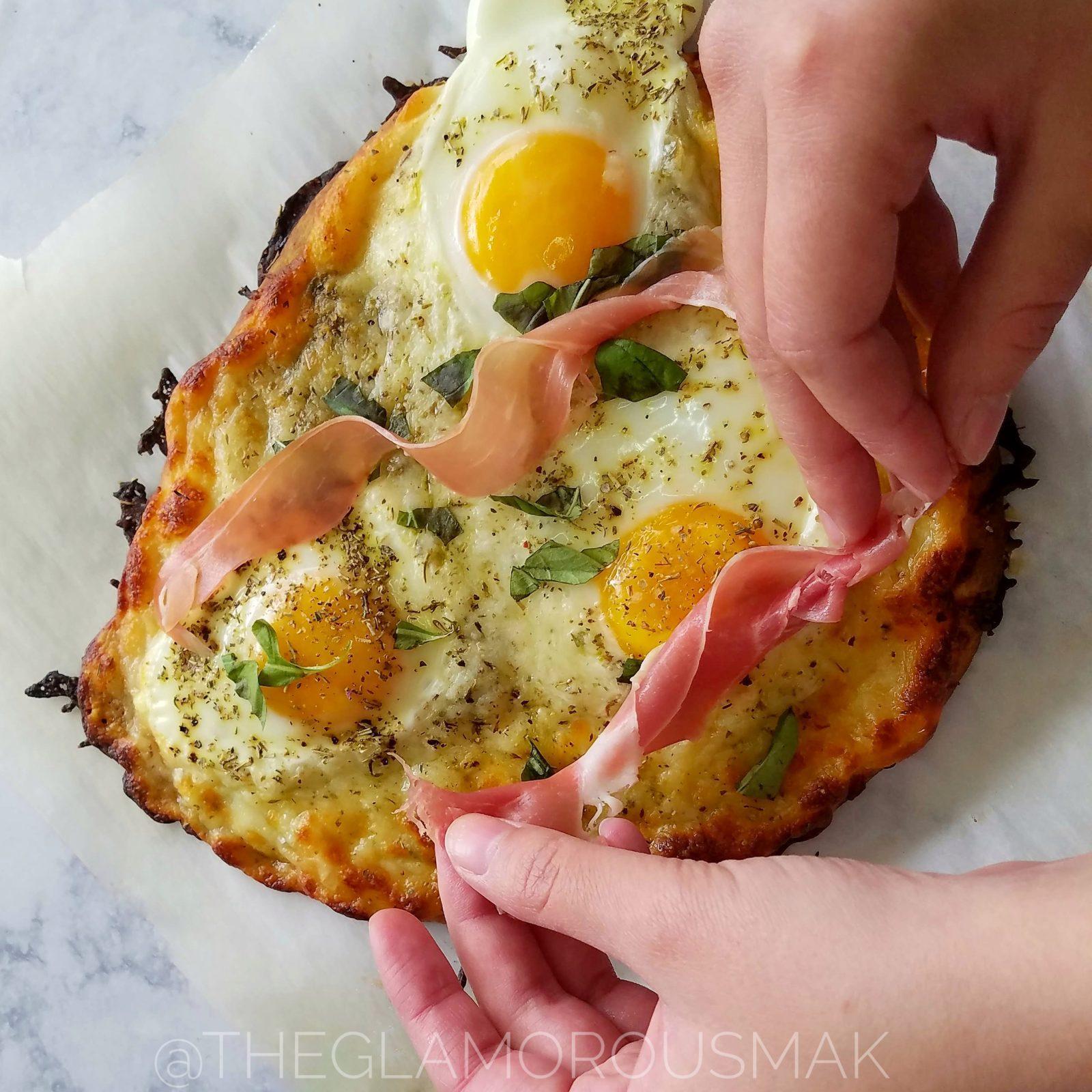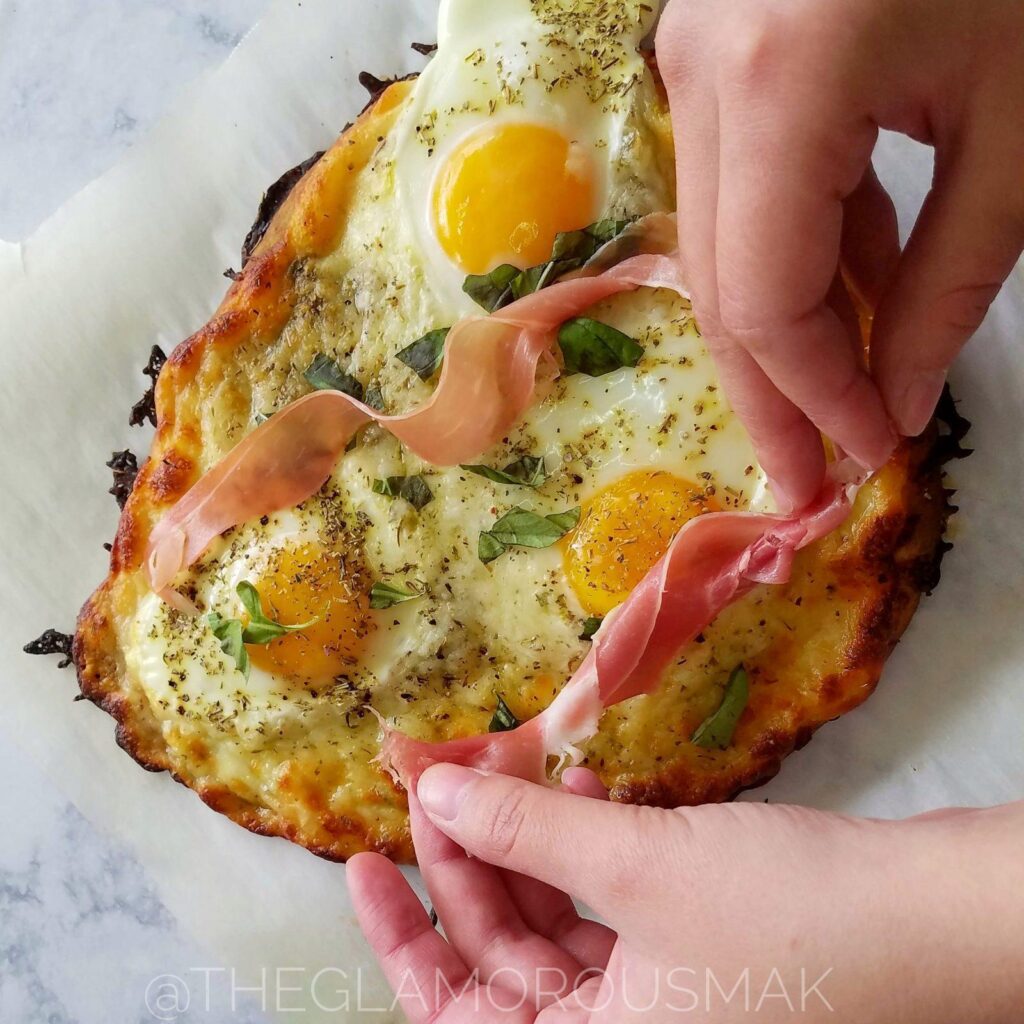 Serve it
Break open the creamy, yellow egg yolks, slice it and serve up this impressive Margarita Breakfast Pizza, Immediately. Enjoy with a glass (or more) of mimosa.
Craving more?
Here are some other recipe(s) I think you might enjoy…
Save this recipe directly to your Pinterest board by clicking the Pin button on the photo below!
With Love,
Mandy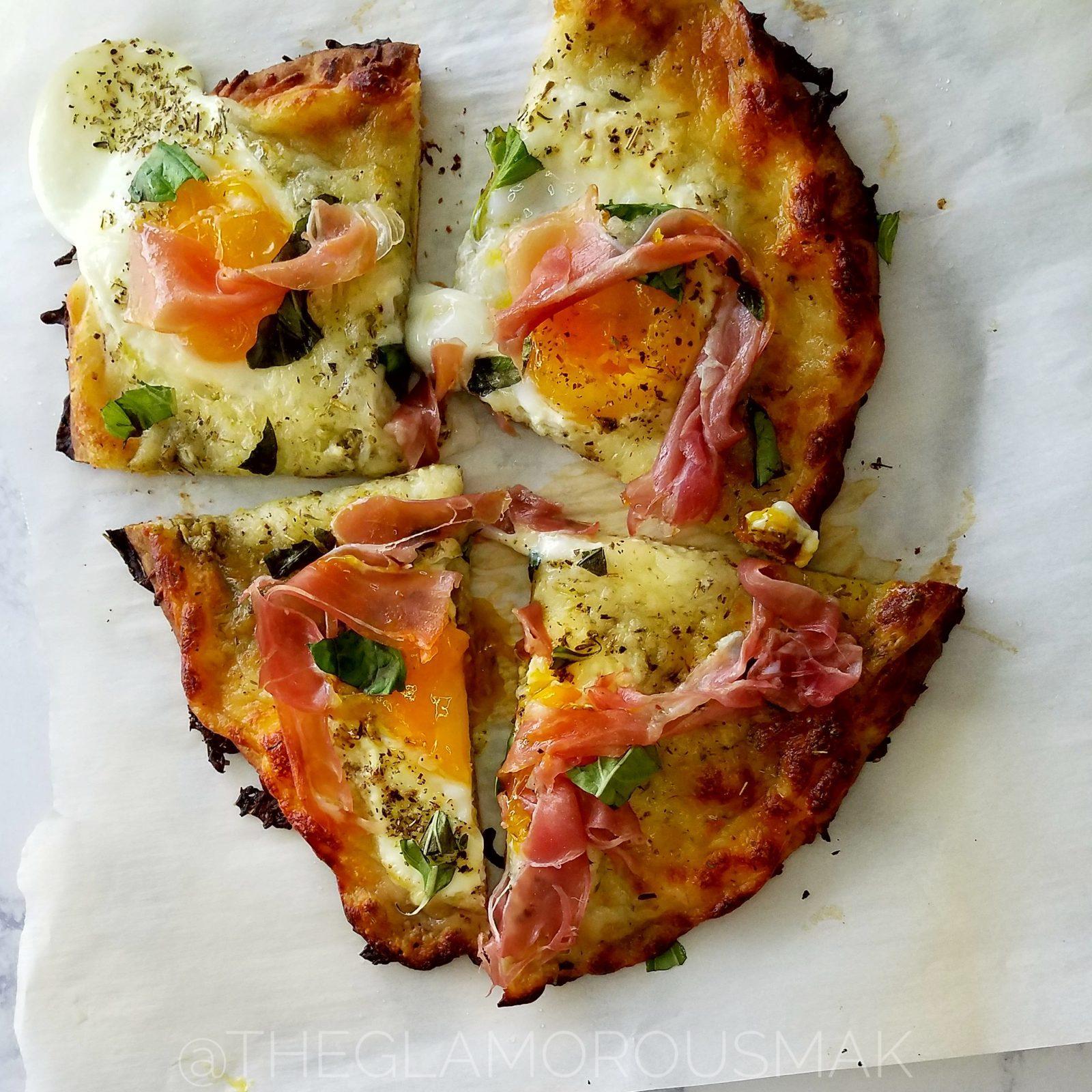 Pesto Breakfast Pizza
This breakfast pizza recipe is topped with prosciutto, and uses pesto as the sauce. It is a quick and easy recipe idea for sunday brunch.
Ingredients
Naan or other flatbread
1 ½ tablespoon Basil pesto
1 - 1 ½ c. Cheese, , shredded (I used an Italian blend)
3 - 4 eggs
½ teaspoon Italian seasoning
½ teaspoon Garlic, optional
2 slices of prosciutto
Freshly cracked black pepper, optional
Fresh basil to garnish
Instructions
Preheat oven to 400 degrees and prepare a baking sheet with parchment paper.
Spread pesto over Naan.
Spoon garlic and spread. Top with cheese creating "wells" (shown above), one "well" for each egg.
Crack open eggs and gently lay each one into the "wells" you've formed.
Bake for 10 - 15 minutes. Rotating the pan halfway to ensure even cooking. Watch the oven closely the last 5 minutes.
The egg whites should be firm, and the egg should jiggle slightly when the pan is shaken gently. The eggs should be soft and runny.
Top with prosciutto, fresh basil and season with a pinch of pepper.
Enjoy!
Notes
Note, I did not add salt to the ingredient list because prosciutto tends to be pretty salty.  Typically, I find I don't need to season with salt, so use salt at your own discretion. You can also poach the eggs instead of baking them.  Sometimes, I prefer poaching over baking because I have more control over how soft the egg yolk is. If you do bake the eggs, make sure to watch them closely as eggs tend to over cook easily.  Remember, you want the egg yolks to be soft and runny.  They will continue to cook as they cool. When creating the "wells" the mounds of cheese should be high enough to keep the egg from spilling over the sides; however, it's okay if some of the white seeps out.  One of my eggs did overflow a bit, see the photos above.  Just try to keep as much of it in the hole as you can.  Generally, I prefer medium eggs over large ones. Measurements and cook times may vary depending on the size of your flatbread and eggs.
Nutrition Information:
Yield:

2
Serving Size:

2 people
Amount Per Serving:
Calories:

238