Spring is almost here, and Starbucks just released their NEW Iced drinks. Two of which showcase creamy coconut milk: the iced pineapple matcha drink and the iced golden ginger drink. This article will show you how to make Starbucks Iced Golden Ginger copycat drink at home.
Want more starbucks copycat recipes? Sign up for my newsletter, so you never miss a new one!
This article contains affiliate links please see my disclaimers page for more info
---
You'll love this recipe if you…
love Golden Milk lattes with coconut milk
enjoy the Starbucks version
are looking for an *almost* exact recipe
want something sweet and spicy to amp up your morning routine.
---
What is in Starbucks Golden Ginger Drink?
As for all of my Starbucks copycat recipes, let's start by talking about the ingredient list for Starbucks iced pineapple matcha drink.
According to the Starbucks website, these are the ingredients
Coconutmilk [sweetened]
Ice
Pineapple Ginger Syrup
Golden Ginger Blend [sugar, turmeric, and other natural flavors]
For the notes of ginger [and a note about the sugar]
Starbucks pineapple syrup contains ginger. Since the original Starbucks recipe includes ginger, you may have to add extra ground ginger, but this is based on your taste preferences.
Starbucks is also notorious for adding a lot of sugar to their drinks. If you are one of those with a sweet tooth, use sweetened coconut milk and you may need to add an extra pump of syrup so always taste and adjust to your taste buds.
How to make Starbucks Golden Ginger Drink
When it comes to traditional golden milk lattes, I love using Minimalist Baker's 4-ingredient golden milk mix as a base recipe. However, if you would like some extra health benefits, you can buy a premade mix online by Tazo. It's there Golden Turmeric Milk Latte. Find it here.
To ensure we don't end up with clumps of the powder, we are going to make a slurry, first. Start with three teaspoons of golden milk powder and mix very well with a few tablespoons of coconut milk to make a loose paste.
Once you've made a slurry of the golden milk powder, you can slowly incorporate the rest of the coconut milk, making sure agitate the golden milk latte continuously.
Afterward, pump in the pineapple syrup, and stir. The equivalent of one pump of syrup is approximately a half of a tablespoon. Pour this Starbucks Golden Ginger Drink over ice and enjoy.
Where can I get the ingredients?
Coconutmilk – my favorite brand is 'so delicious' (unsweetened); however, you may want to pick up a sweetened version since the golden milk powder doesn't contain sugar. It just depends on your taste buds!
Pineapple Syrup – Get it here.
Tazo Concentrate Golden Turmeric Latte (optional)
---
Craving more? Check out these recipes.
---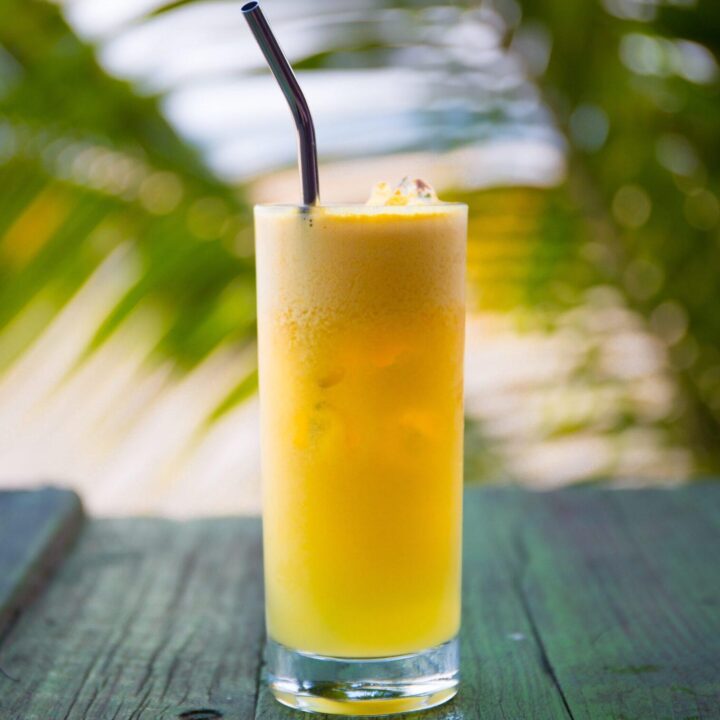 Starbucks Iced Golden Ginger Drink Copycat Recipe
A copycat recipe for Starbucks Iced Golden Ginger Drink
Ingredients
Golden Milk Base
4 tablespoon ground turmeric
2 teaspoon ground ginger (plus more to taste)
1 teaspoon ground cinnamon (optional)
Iced Golden Ginger drink
3 teaspoons golden milk base. (If using Tazo turmeric latte concentrate skip this step and jump to notes.) 
1.5 - 2 cups coconut milk
4 pumps pineapple syrup [about 2 tablespoons]
ice
Instructions
In a small cup add in powder ingredients with 2 - 4 tablespoons of milk.
Mix thoroughly until the slurry is a smooth, loose paste. This helps prevent clumps of powder in your drink.
Continue to slowly add milk, stirring to ensure the mixture stays smooth.
Once all of the milk has been added, stir in syrup.
Pour your Golden Ginger Drink over ice, and adjust flavoring as needed.
Enjoy!
Notes
1 pump of syrup = approx. ½ tbsp
*always start with less and adjust as needed.
Golden turmeric base:
Please note that Starbucks golden ginger powder has sugar added to it, so you may need to add more syrup or use sweetened coconut milk if you prefer your drink on the sweeter side.
Instead of making the Golden milk Base, You can purchase a TAZO Brand golden milk mix online. (See recommended products) Mix equal parts Tazo golden milk with coconut milk. Stir in syrup and pour over ice.
Since Starbucks pineapple syrup contains ginger, you may have to add extra ground ginger to your liking. Again, this is dependent on your taste buds and the brand (or age) of the ground ginger you use.
Be sure to check the section below for product recommendations.
Size conversions:
12 oz - 2 teaspoon golden milk base, 1 cup milk, and 3 pumps syrup
24 oz - 4 teaspoon golden milk base 2 cups milk, and 6 pumps syrup
Recommended Products
As an Amazon Associate and member of other affiliate programs, I earn from qualifying purchases.
Nutrition Information:
Yield:

1
Serving Size:

1
Amount Per Serving:
Calories:

140
Total Fat:

8g
Saturated Fat:

4g
Trans Fat:

0g
Unsaturated Fat:

3g
Cholesterol:

20mg
Sodium:

204mg
Carbohydrates:

191g
Fiber:

21g
Sugar:

103g
Protein:

16g
Nutrition facts are for personal reference only as calories may vary on a case by case basis.