Light, airy fluffy foam with rich espresso, creamy milk, buttery, nutty syrup, and drizzled in chocolate caramel sauce.
Making Starbucks iced cocoa cloud macchiato is simple to make at home, so you can drink one everyday without the $6 price tag.
What are Starbucks iced cocoa cloud macchiato ingredients?
Find links to all the ingredients located in the recipe card (recommended products heading) at the bottom of this page.
Ice
Milk (Starbucks uses 2%)
Brewed espresso
Cloud powder (egg white powder)
Toffee nut syrup
Caramel sauce
Mocha sauce
*this article may contain affiliate links. please see my disclaimers page for more info*
Cloud powder
The cloud powder is made with a mixture of Sugar, Arabic Gum, Egg White Powder, Rice Protein, Citric Acid, Sea Salt, Natural Flavor, Xanthan Gum.
I wanted to make it easy to make at home, so we are making a basic meringue. A meringue is a mixture of egg whites, sugar, and a pinch of salt.
As for the eggs, this recipe calls for egg white powder. Egg white powder is dried egg whites that have been pasteurized, making it safe to use in recipes that don't require baking.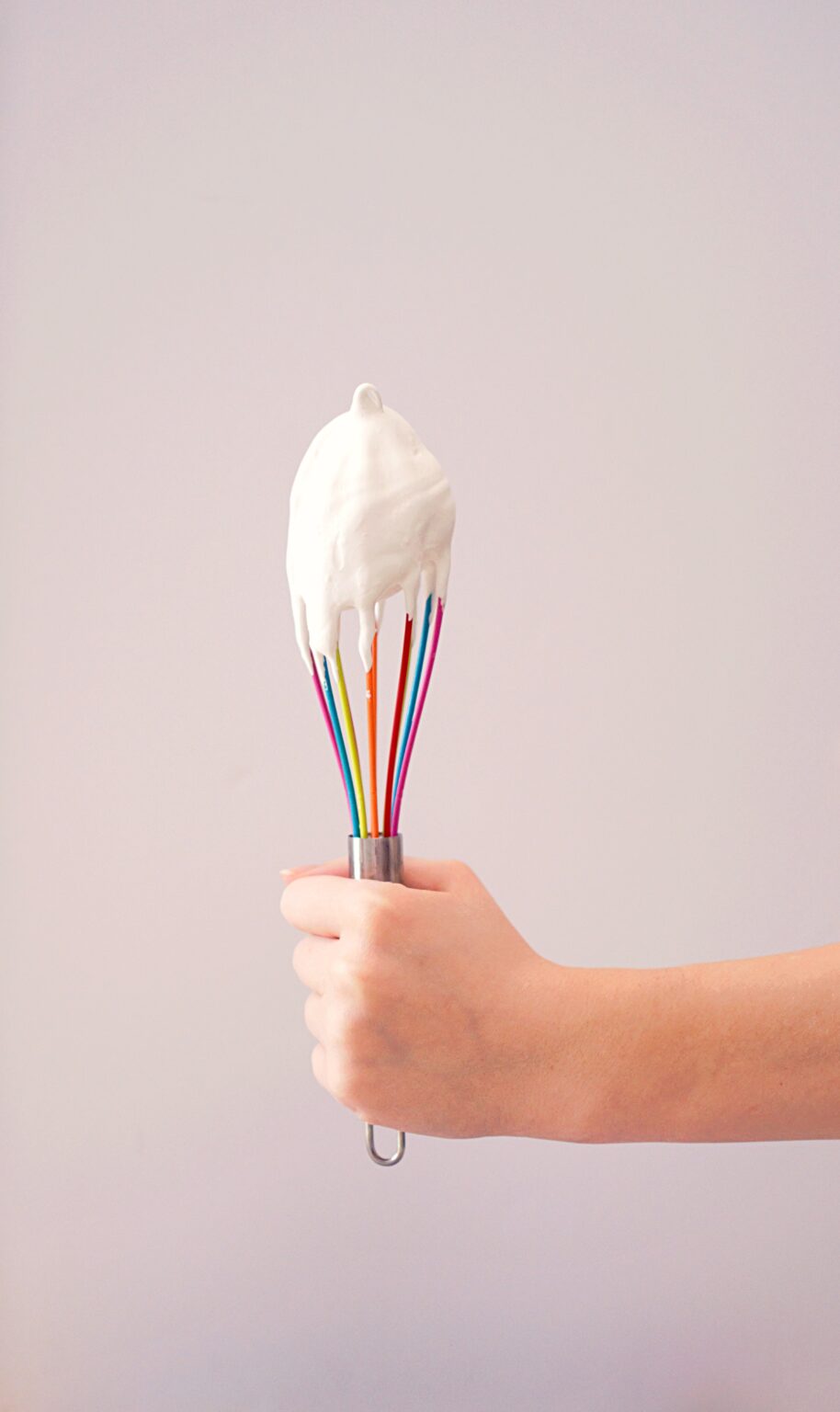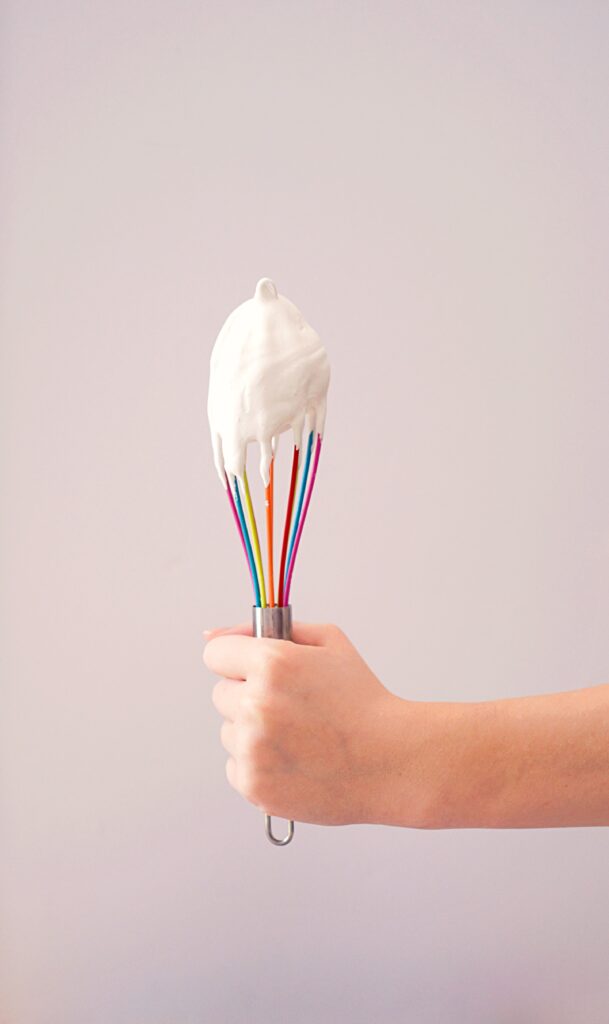 It's simple to use. All you have to do is mix the egg white powder with water to reconstitute the albumen.
I use this egg white powder from Amazon.
To make the cloud, whisk together water and egg white powder until foamy. After, slowly add in powdered sugar and continue to whisk until stiff/firm peaks form.
When the cloud is ready, the peaks will hold it's shape on the tip of the whisk. It'll take about five minutes to whip, but if you're doing it by hand, it'll take a few minutes longer.
Don't worry, if you don't have an electric whisk, you can whip it by hand. Just be prepared for an arm workout.
If you're going to make this frequently, you can purchase a small hand whisk. This milk frother has a whisk attachment. I don't think it works as well as a regular electric mixer, but it gets the job done, and we're only whipping one egg. So, pulling out your kitchen aid seems unnecessary.
But the whipped egg whites will not keep so you'll have to make it as you need it.
Making Starbucks iced cocoa cloud macchiato
A venti Starbucks iced cocoa cloud macchiato uses three ounces of espresso with two pumps of toffee nut syrup to flavor the drink.
If you don't have an espresso machine, you can just brew extra strong coffee using your favorite brewing method by doubling the grounds. You may have to use four ounces of water to account for the coffee grounds soaking up some of the water.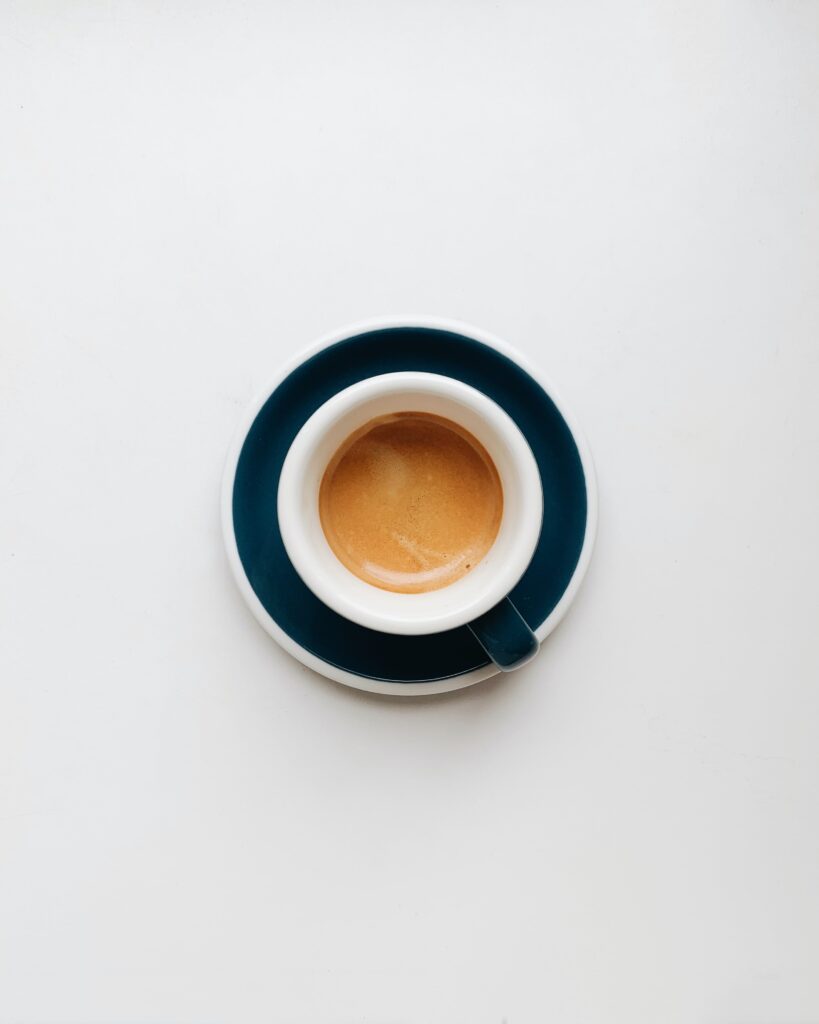 Once the coffee has brewed, stick it in the freezer to rapid chill, to keep the ice from melting.
I make my own coffee house inspired drinks at home every day, so it made sense for me to purchase an espresso machine.
I started with a cheaper one similar to this one.
But if your in the market for a better one, something like this espresso machine will make a better quality espresso.
When you're ready to drink your homemade starbucks iced cocoa cloud macchiato, use a glass jar with a lid to shake the toffee nut syrup, milk, espresso, and ice. After, spoon the cloud fluff into your coffee and drizzle with caramel and mocha sauce.
---
Craving more? Here are some more recipes I think you'll enjoy.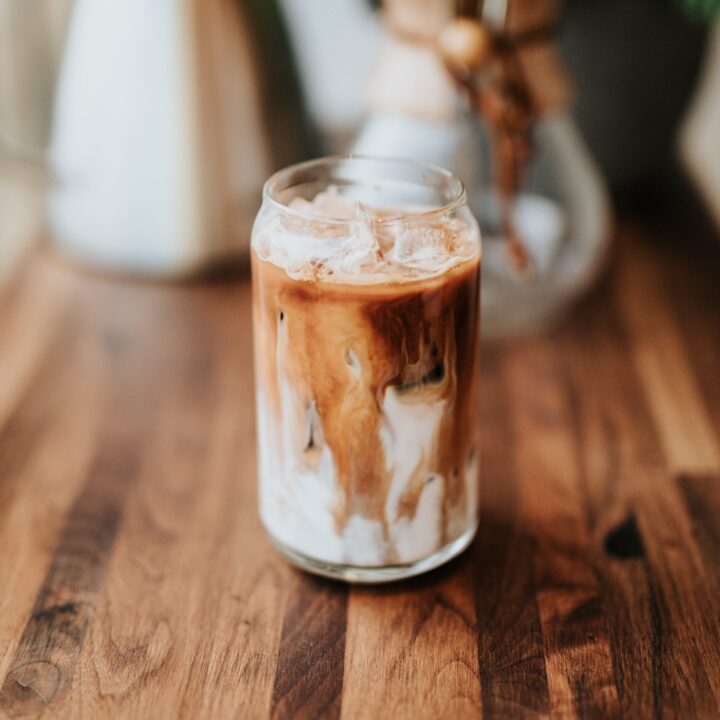 Starbucks Iced cocoa cloud macchiato
Starbucks iced cocoa cloud macchiato copycat recipe is easy to make at home!
Ingredients
Cloud
3 tablespoons of water*
2 tablespoons powdered sugar
a small pinch of fine sea salt
iced macchiato
3 shots espresso, 3 ounces strongly brewed coffee
¾ c. milk (up to 1 cup). Starbucks uses 2%
Ice
Instructions
make the espresso

Using your espresso machine, brew 3 ounces of espresso. If you don't have an espresso machine, brew extra strong coffee using your favorite brewing method. Once it's brewed, rapid chill in the freezer.
making the cloud

Mix together one ( 1 ) egg according to package instructions with a very small pinch of salt. The directions on my package said one tablespoon of egg white powder with three tablespoons of water.
Whisk the egg white until it starts to foam. After it's foamy, add in one tablespoon of powdered sugar. Continue to whisk until soft peaks start to form. Then, add the last tablespoon of powdered sugar and whisk until firm/stiff peaks form. When you turn the whisk upside-down, the egg whites will hold it's shape. At that point, it's ready to use.
Whipping will take about 5 minutes with an electric whisk. It's absolutely possible to do it by hand. It'll just take a little longer.
iced macchiato

Using a glass jar with a lid, fill with ice, chilled coffee, toffee nut syrup, and milk (plus caramel and mocha drizzle, if you want it mixed in vs on top). Cap the jar and shake to combine. Spoon the egg white cloud on top and serve with a reusable straw.
Notes
*use egg white powder to water ratio for one egg per package instructions.*
Tips for a stronger brew: use double the coffee grounds and/or try using a french press.
Whipped egg white do not keep, so make it with every coffee.
One pump of syrup equals approximately ½ tablespoon*
tall (12 oz) one shot espresso -- 1 pump of syrup
grande (16 oz) two shots espresso -- 2 pumps of syrup
venti (24 oz) three shots espresso -- 2 pumps of syrup
Nutrition Information:
Yield:

1
Serving Size:

1
Amount Per Serving:
Calories:

250
Total Fat:

29g
Saturated Fat:

11g
Trans Fat:

0g
Unsaturated Fat:

17g
Cholesterol:

43mg
Sodium:

478mg
Carbohydrates:

141g
Fiber:

2g
Sugar:

111g
Protein:

18g
Nutrition facts are for personal reference only as calories may vary on a case by case basis.