Carbonara is a pasta dish that uses a base of eggs, crispy pork, black pepper, and hard cheese to make a rich, creamy sauce. This basic carbonara recipe is great for two things: weeknight dinners and using up those leftover items in your fridge.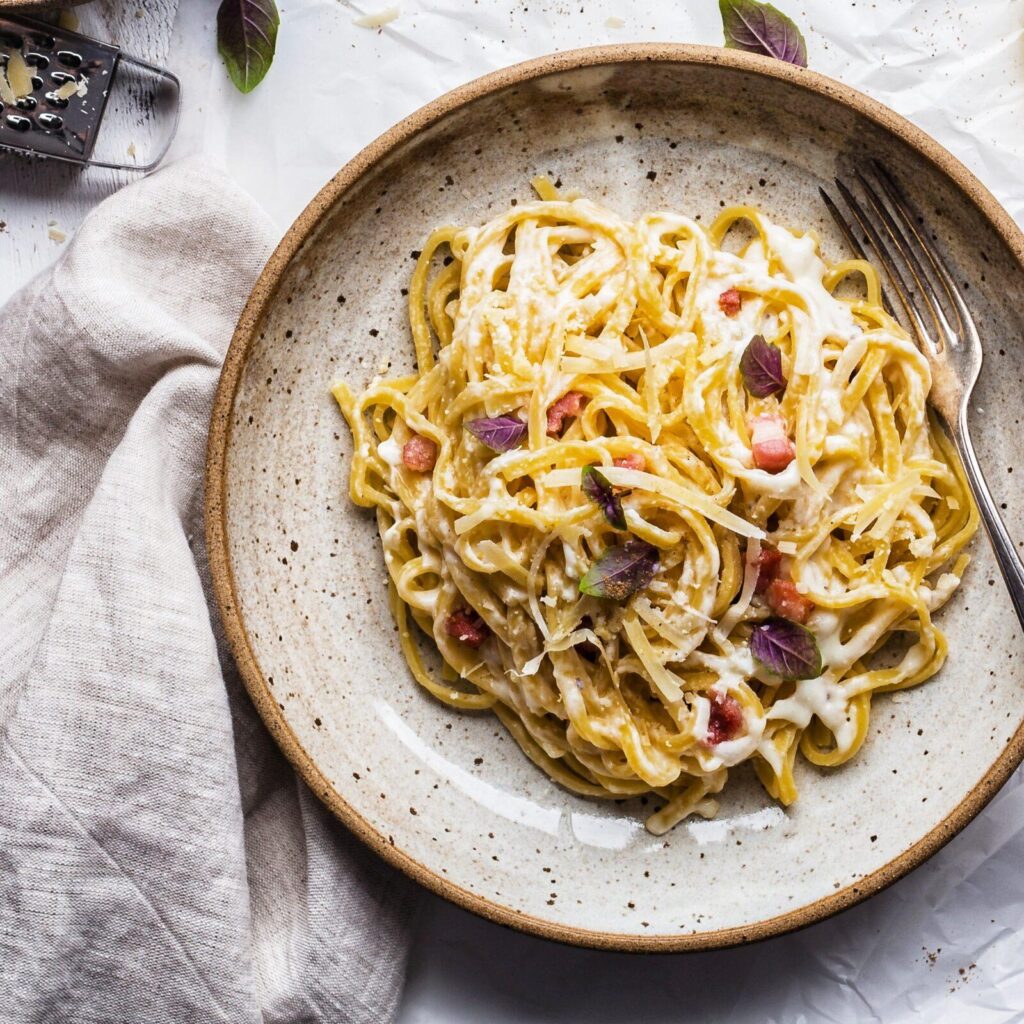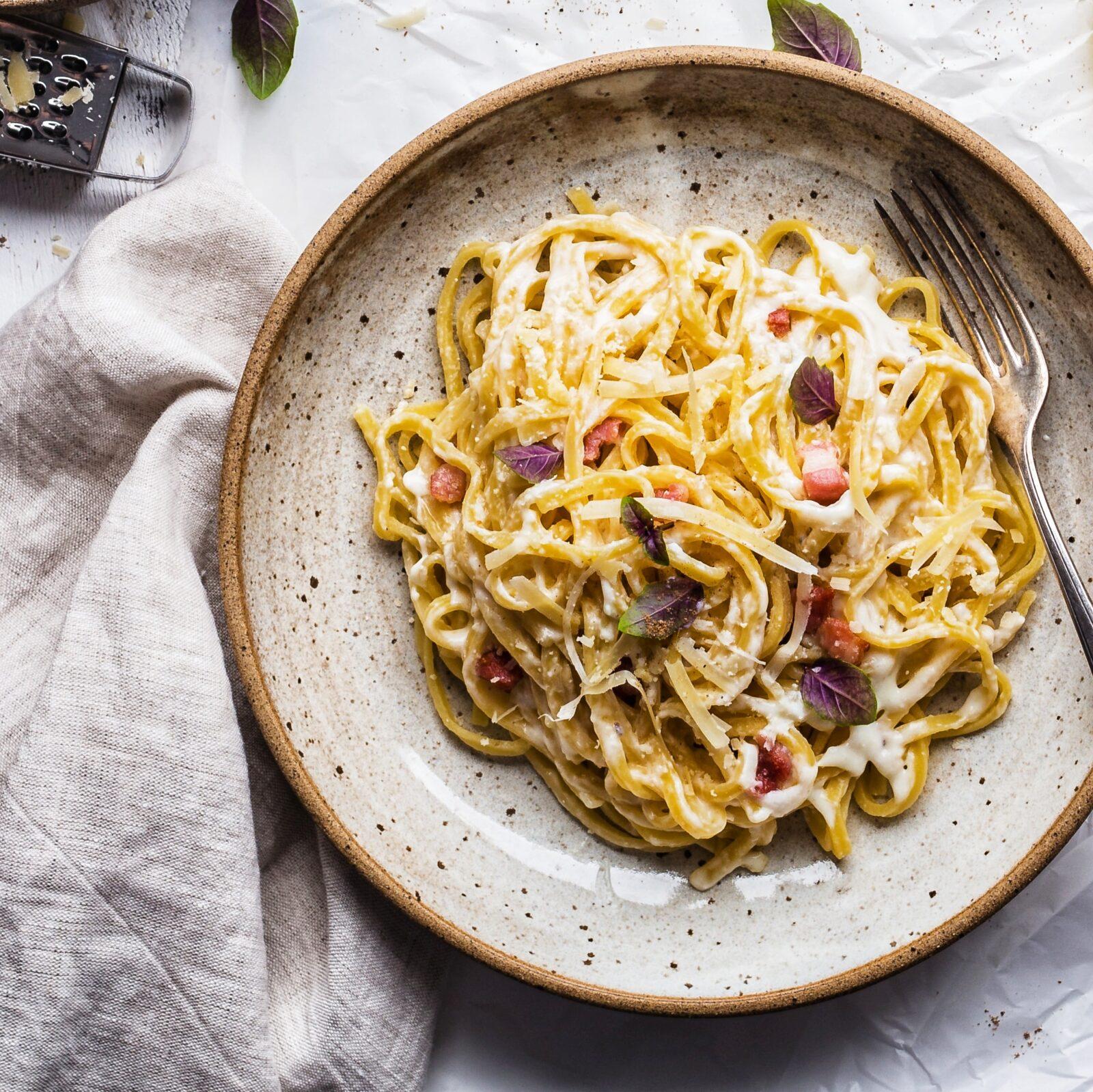 Seriously, if you want to bump up your weeknight pasta game, try adding these ingredients to your carbonara.
jarred roasted red peppers
roasted Brussels sprouts
asparagus
dark greens like spinach, swiss chard, or baby kale.
shrimp
peas
zucchini
You'll love this recipe because it...
uses items you probably already have on hand
is an indulgent weeknight meal
can be made in about 30 minutes
pairs well with leftover veggies or proteins.
---
This post may contain affiliate links. Please see my disclaimers for more info.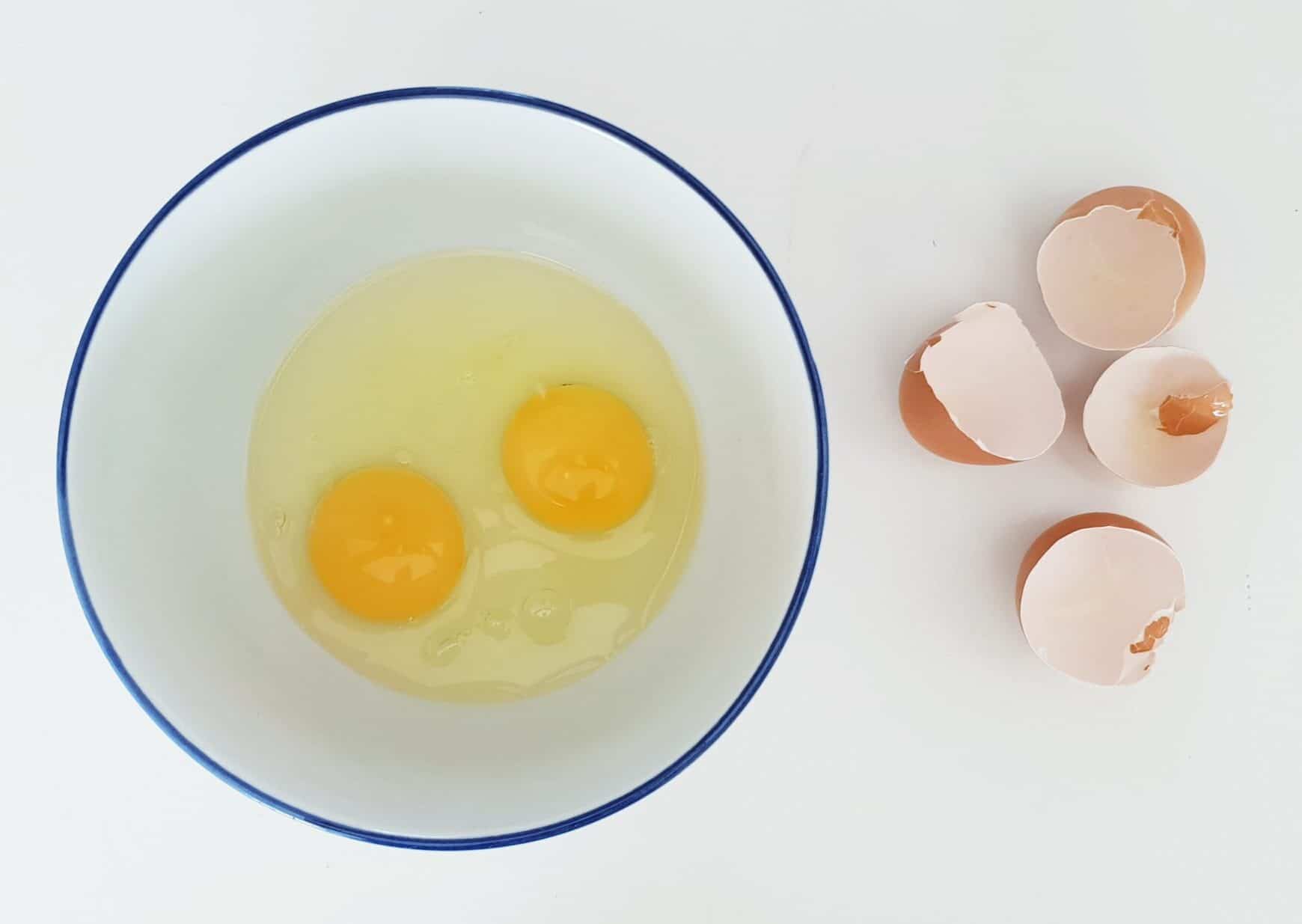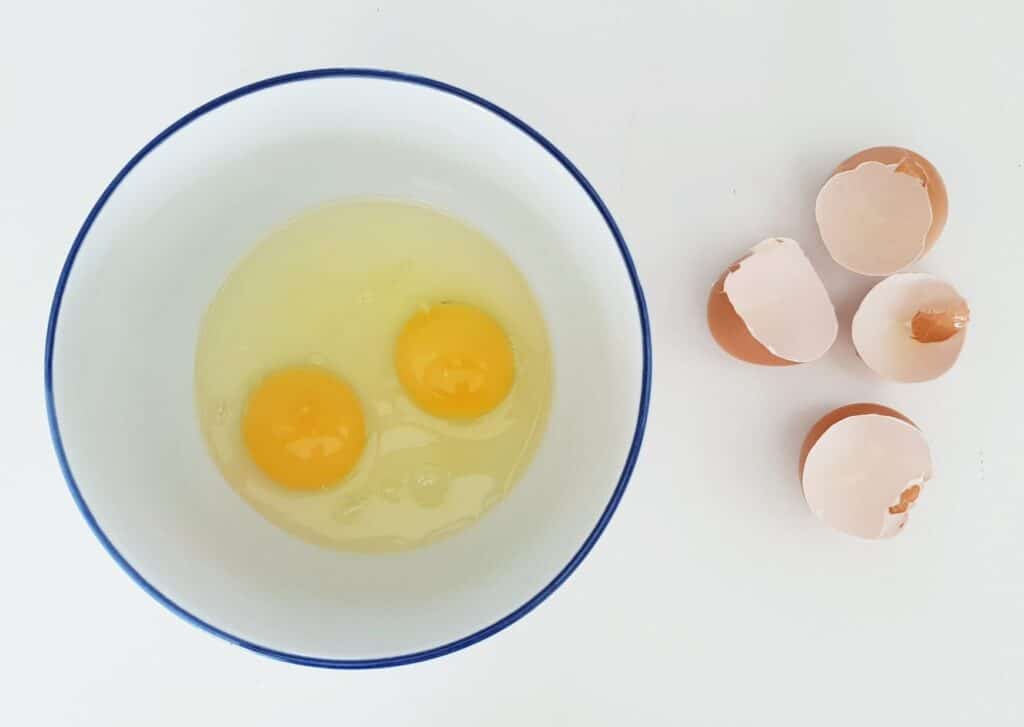 It starts with eggs.
The silky, creamy sauce starts with eggs. I have the luxury of fresh farm eggs at my fingertips, thanks to my sister-in-law. Although regular, store-bought eggs work perfectly, if you have access to fresh farm eggs, I highly recommend it because the yolks are richer, making this pasta dish more luscious.
It's essential to prepare the sauce while the pasta is cooking. The pasta must be hot when adding the egg mixture so that the heat of the pasta cooks the raw eggs.
However, we have to do this off the heat to ensure we don't scramble the eggs.
Start by mixing the eggs with the grated cheese and a large pinch of pepper, whisking it until smooth. Set it aside until the end.
Crispy bacon makes everything better
Pan-fry pancetta or thick-cut bacon until the edges start to crisp, but not harden. I usually have slices of pre-cooked bacon, ready to go in my fridge for breakfast or sandwiches. That way, I can reheat it in a non-stick pan when I want a bit of bacon.
Next, allow the bacon to drain on a paper towel. If your bacon produced a lot of grease, mop some up before adding in the garlic. We only need about two to three tablespoons of bacon grease. For the garlic, I use a Microplane, like this one, to grate it finely. Turn the heat to low and soften the garlic, don't brown. If your pan is too hot, take it off the heat completely, so you don't burn it.
Making the carbonara.
Afterward, add the hot pasta to the pan and coat with the egg mixture. Once the pasta has been coated, slowly pour in the pasta water and toss to thin out the sauce. The starchy pasta water will help to stretch the sauce as well as make it creamier.
Finally, mix in the last few ingredients. I always sprinkle a large pinch of red pepper flakes and a squeeze of lemon to cut through the richness of the sauce — don't forget the zest!
Serve on a heated plate, so the pasta stays hot!
Craving more?
Check out these...
Garlicky shrimp and asparagus pasta
Fancier Italian sausage and pepperoni pizza
7 ways to make weeknight dinners better
10 tips to simplify weeknight cooking
---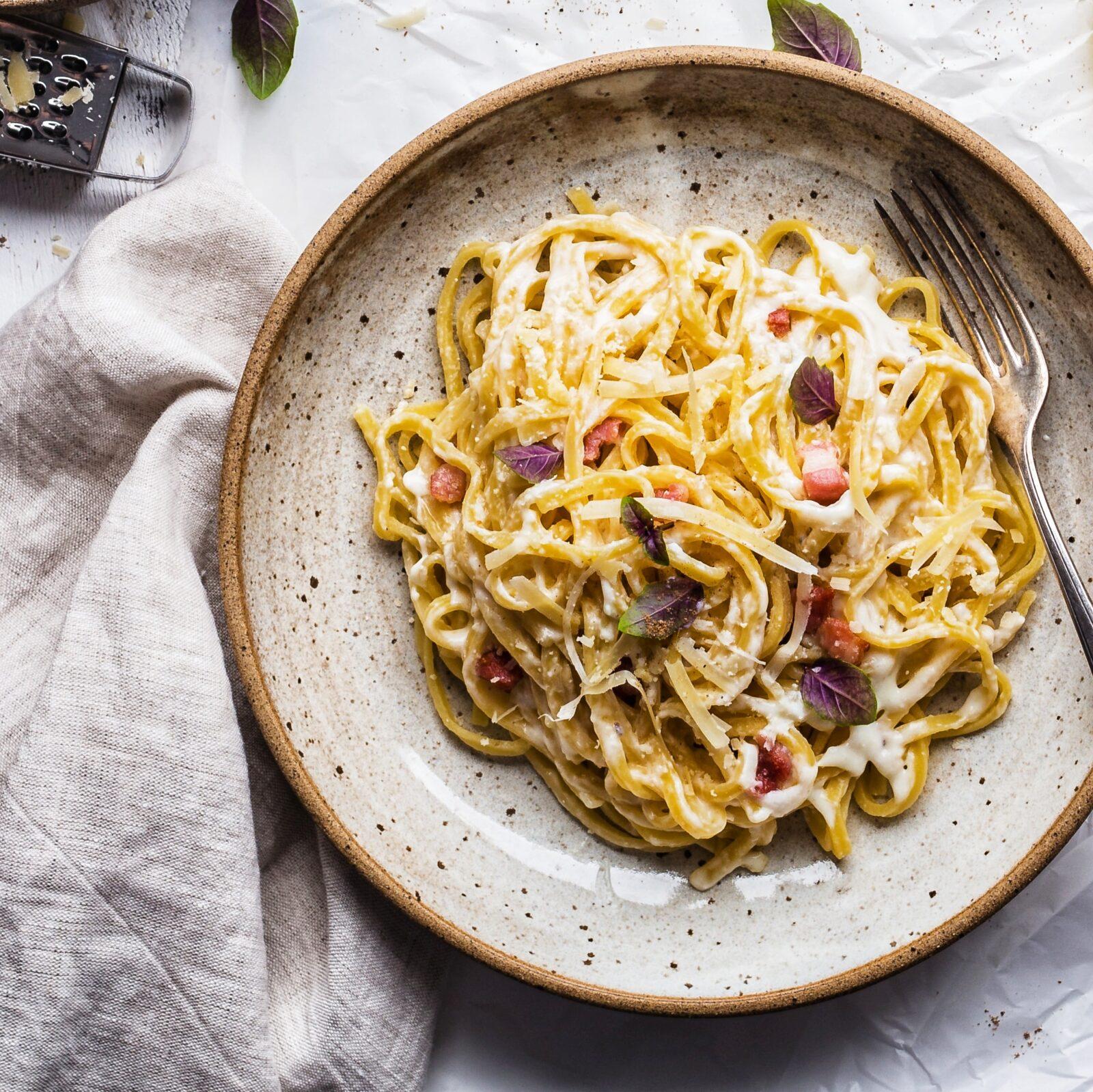 How to make Carbonara
This basic Carbonara recipe is perfect for weeknight dinners. Made in about 30 minutes and perfect for using up any leftovers taking up space in the fridge.
Ingredients
Salt
2 large eggs and 2 large yolks, room temperature
⅔ cup grated Parmesan or Pecorino Romano, packed (plus more for serving)
1 tablespoon olive oil
3 oz pancetta or thick-cut bacon, sliced into pieces about ¼ inch thick
3 cloves garlic, grated
1 lb spaghetti
Freshly cracked black pepper
1 handful fresh flat-leaf parsley, chopped
½ small lemon, zest, and juice (garnish)
red pepper flakes, optional
Instructions
Bring a large pot of salted water to a boil over high heat. Add pasta and cook until almost al dente. Reserve one cup of pasta water before draining the pasta.
In a mixing bowl, whisk together the eggs and cheese — season with a pinch of salt and a liberal amount of black pepper.
Meanwhile, heat oil in a large skillet over medium heat, add the pork and sauté until the fat renders and the edges start to crisp. Drain the bacon on a paper towel.
Turn heat down to low and cook the garlic until fragrant (about 1 min.). If needed, let the pan cool slightly before adding it. We're not trying to brown the garlic, just soften it.
Remove the pan from the heat altogether. Add the pasta to the pan. Quickly toss the egg mixture until it thickens. Thin out the sauce with the reserved pasta water until it reaches the desired consistency. Doing so will help make the sauce creamier. You may not use all of the pasta water.
Toss in pancetta, lemon, parsley, a pinch of chili flakes, and more pepper. Serve hot.
Notes
add leftover veggies or dark greens for extra nutrients. 
toss with egg mixture off the heat to ensure it does not scramble. 
Nutrition Information:
Yield:

4
Serving Size:

4 people
Amount Per Serving:
Calories:

529
Total Fat:

28g
Saturated Fat:

10g
Trans Fat:

0g
Unsaturated Fat:

15g
Cholesterol:

225mg
Sodium:

696mg
Carbohydrates:

48g
Fiber:

2g
Sugar:

9g
Protein:

21g
Nutrition facts are for personal reference only as calories may vary on a case by case basis.